News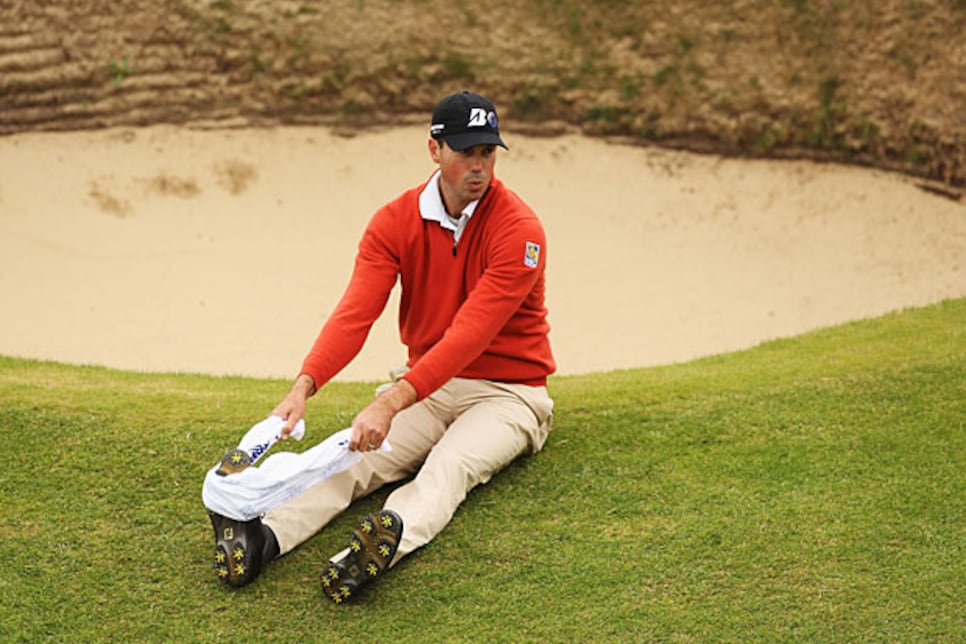 The stretching didn't work for Matt Kuchar in England, but hopefully he'll be loose in Canada.
Welcome to another edition of Fantasy Fix, where we're contemplating moving to Northern Ireland in hopes of capturing our first major. It's amazing that a place so small could produce three people so good at something in such a short time. Then again, Tulsa did give the world of pop rock all three Hanson brothers. With the third major in the books, MMM-Bop we go to the next event, where hopefully, we'll find a little more success.
The PGA Tour heads north of the border for the RBC Canadian Open. For many years, this was considered a big-time event, but more recently it's known as the site where Tiger Woods hit one of the greatest fairway bunker shots of all-time in 2000 to win his third "Open" of the year. Also, for the last decade, the tournament has played a game of musical chairs with its venues, so be careful when looking at players' track records. This year, it will be played at Shaughnessy Golf & Country Club for a fourth time, the last of which was in 2005 when Mark Calcavecchia won.
Random tournament fact: Jack Nicklaus, AKA "O(fer) Canada", never won this event despite finishing runner-up a record seven times. How bad was it for the Golden Bear? He couldn't even win it after tournament officials let him design a course for it -- Glen Abbey -- which opened in 1976.
Carl Pettersson. Last year, the Swede made the cut on the number, but boy was he glad he stuck around for the weekend. After firing a third-round 60, Pettersson shot a Sunday 67 to hold off Dean Wilson by a stroke. That victory, however, came at St. George's (not to be confused with Royal St. George's). This time he's back at a course he's never played, making him a total toss up.
), but that doesn't mean Mr. Consistent -- until last week -- won't be trying to win. Speaking of which, how is it possible that he hasn't won yet in 2011? That can't continue much longer.
So much has been talked about the demise of American golf, but at the Open Championship, despite another foreign winner emerging, there were plenty of strong showings by U.S. players. Here are three we like to continue the momentum into this week:
Anthony Kim. It's about time, AK! Kim, everybody's favorite young gun early in 2010, played his best golf since having thumb surgery last year. Another RBC guy, he has played well in Canada with top 10s in his only two trips, including a T-3 in 2009.
Rickie Fowler. While we're still waiting for that first PGA Tour title, the 22-year old appears to be getting closer. He played in the final group at the AT&T National and then contended for the first time in a major at the Open, finishing T-5.
Lucas Glover. The Beard struggled to scores of 73 and 74 over the weekend at the Open. But his T-12 to go with his win at Wachovia shows that more titles should be in his future -- even if a razor isn't.
The L&L Boys. Last week's British Open was supposed to be the site of either__Luke Donald__ or Lee Westwood's first major championship. We were duped. Instead, neither of the top two players in the world even made it to the weekend playing in front of their home fans. This week, Donald, who is sponsored by RBC, is in the field. He finished third in this event last year, but more importantly, since it's not a major (unless you're Mike Weir), you can probably count on him contending.
"Hey, Alex. Hope all is well. I just wanted to hear your thoughts on my announcing performance during the Open. I thought you'd appreciate my honesty, especially when declaring Phil Mickelson might be the worst short putter that ends up in the Hall of Fame. Zing! Get it? Anyway, take care, Paul Azinger."
Paul, thanks for the email, and yes I did enjoy hearing your opinions during ESPN's coverage. One beef. Enough with talking about the 2008 Ryder Cup. We get it, you won as captain. It didn't help that J.B. Holmes and Boo Weekley morphed into Nicklaus and Palmer for a week or anything... No, Zinger didn't write me, but that doesn't mean you shouldn't. Please feel free to e-mail me
with comments, questions or just to make fun of my picks. And of course, you can follow me on Twitter
When do you do go against a two-time winner of an event? When the guy is playing as badly as Jim Furyk. Also when neither of his two titles came at the course on which this event will be played. How off is Furyk? Well he did by far the worst impersonation of Open Championship starter Ivor Robson in ESPN's otherwise funny piece.
FREE FANTASY BASEBALL ADVICE
After sitting out nearly the entire first half of the season, it's time to go pick up Phil Hughes again. He's been solid in his two starts since coming off the DL and he added a new curveball before his last outing (Apparently, he tinkers with his motion almost as much as Padraig Harrington with his golf swing). Plus, he plays for the Yankees. A broken-down D-Train, Dontrelle Willis, might be able to win 15 games pitching in pinstripes.
IT'S TIME TO REGAIN TOP FORM
Paul Casey. What happened to this guy? After a win in Bahrain in January, he looked poised for a big year. Instead, the former No. 3-ranked player in the world has struggled since. Coming off a made cut at the British, though, perhaps he can turn things around at an event he enjoys playing.
Geoff Ogilvy. Finally over his shoulder issues, the Australian was a dark horse pick by many at the British Open, but failed to make the cut. Perhaps the expected easier weather conditions will help.
Ryan Moore. The dapper one has been playing well of late, including a runner-up at the Travelers Championship. With this year's event being played at Shaughnessy in Vancouver, the Seattle native should have a little extra motivation to perform for the fans.
Spencer Levin. Another guy who hasn't won this year but has been close, Levin already has 10 top 25s this year. He didn't get one at the Open (T-44), but it's tough to stay that high on the leader board when you post an 81 one of the rounds...
HOME COOKING PICK OF THE WEEK
Nick Taylor. The Winnepeg native was a college star at the University of Washington, winning the 2010 Ben Hogan Award. The 2007 Canadian Amateur champion made the cut in this event in 2008. He turned pro within the last year, so he has plenty of time to fulfill his promise. This is a good tournament to get started.
SNEAKY SELECTION OF THE WEEK
Ben Crane. The deliberate one has only played in this event once, finishing T-2. So why hasn't he played more and why is he back this year? It could have something to do with the fact that runner-up came at Shaughnessy. Apparently, Crane was taking his time (shocking) and waiting for the tournament to return...
*-- Alex Myers is a contributing editor for GolfDigest.com. Feel free to e-mail him
) since he has self-esteem issues.*