News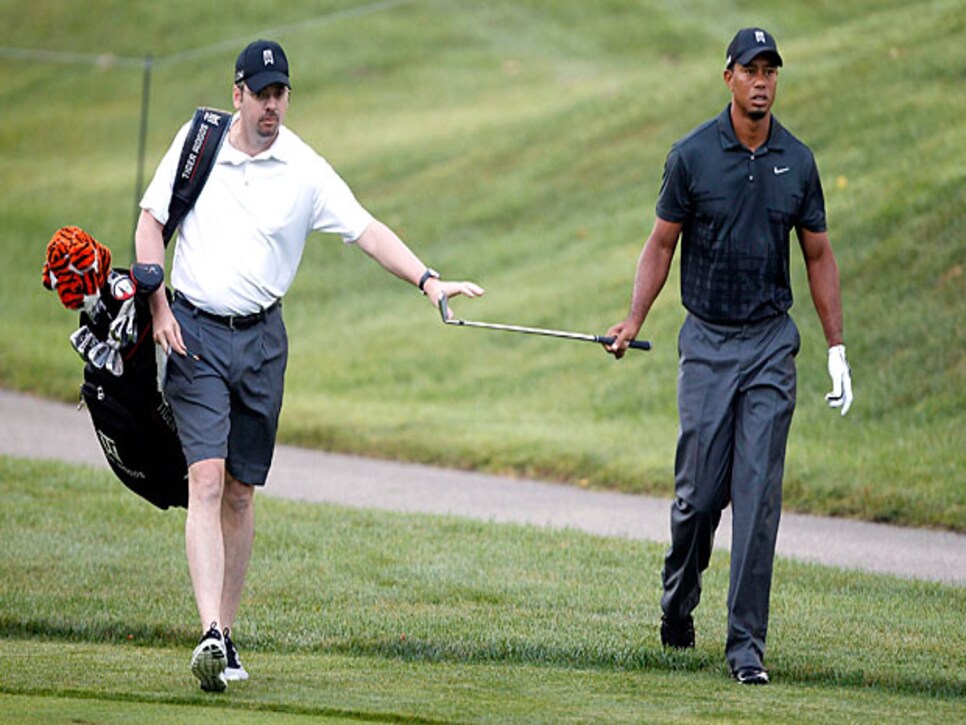 The one thing certain about Tiger's game right now? His caddie is far less intimidating these days.
Welcome to another edition of Fantasy Fix, where we're still trying to get "Take Me Home, Country Roads," out of our heads following CBS' coverage of the Greenbrier Classic in West Virginia. Hearing it over and over drove me so close to insanity that I thought I saw Bob Estes nearly win the tournament. Wait, that actually happened? This week, there shouldn't be as many surprises with a small, elite-field event, but that doesn't mean picking a winner will be easy. Here are some thoughts.
The PGA Tour heads to Akron for the WGC-Bridgestone Invitational at Firestone Country Club, where my grandfather once parred the last four holes during a leisurely round. How do I know this? Because he's only told me about it 273 times.
Random tournament fact: I'm not sure if you've heard, but Tiger Woods is returning to competitive golf this week.
Hunter Mahan. Last year Mahan picked up the biggest win of his career with a closing 64 to top Ryan Palmer by two shots. But after a great start to 2011, which included marrying a former Dallas Cowboys cheerleader, Mahan has been struggling. In his last five events, he has two missed cuts and his best finish was a T-30 at the AT&T National. In short, there are better options this week.
Did you hear? Tiger Woods is back this week! It's true! Actually, it's a pretty interesting event for him to make his return. Until last year's dreadful 18-over, T-78 performance (the worst of his pro career), it was to the point where tournament officials could have saved everyone else time by not even playing and having Tiger just show up Sunday evening to accept the trophy. Now, questions surround the 14-time major champion like never before
. No matter what he does, Woods will be the dominant storyline here. And while he's certainly excited to be back, just finishing a tournament should be satisfying. We'll consider any finish inside the top 20 a bonus.
Matt Kuchar. A disappointing final-round 73 left him T-9 here last time after an eight-year gap between qualifying for the prestigious event. More disappointing? The last tournament we picked him to win (the Canadian Open), he didn't even make it around for the weekend. In fact, Kuchar has missed the cut in his last two events. We guarantee that won't happen this week. OK, so there isn't a cut...
Steve Stricker. How good has the Strick Show been this year? In 12 stroke-play events, he hasn't missed a cut and has been in the top 20 11 times. Expect another high finish this week at an event where he's placed in the top 10 the past two years.
Phil Mickelson. After a runner-up at the British Open, we correctly picked against Lefty at the Greenbrier. Mickelson missed the cut to continue his up-and-down play in 2011 and there's no reason to invest a lot in him this week, either. Lefty was in contention through two rounds here last year before closing rounds of 71 and 78 dropped him to T-46. He's finished better than T-43 here just once in the past seven years.
Scott Stallings. While I applaud Stallings' performance at the Greenbrier Classic (though a bit begrudgingly since it came at the expense of Wake Forest product Bill Haas), I'm not expecting much this week. The PGA Tour rookie is headed to Firestone for the first time and while anything he does here will be a bonus, the hangover from picking up his first victory will be tough to overcome. Look how poorly Darren Clarke fared in his first event after winning his first major
. And that's someone who's a real veteran when it comes to playing with hangovers...
"Hey, Alex. Nice meeting you at media day for the Barclays. Nice birdie on the 18th hole as well! Take care, Matt Kuchar."
Thanks, Matt. I wasn't sure you were still watching, but since you were, I hope you took some notes. Fine, you got me. Kuchar didn't really write, but that doesn't mean I didn't make that birdie, or that you shouldn't give me a shout some time. Please feel free to e-mail me
with comments, questions or just to make fun of my picks. And of course, you can follow me on Twitter
SEMI-SLEEPER TO KEEP AN EYE ON
Stewart Cink. He falls under this category only since the field is so strong, but Cink hasn't won since his British Open triumph at Turnberry two years ago. Before that, though, a win here in 2004 was arguably the biggest of his career. In total, he has four top 10s at Firestone, so it's a good place for him to get back on track.
RANDOM BALL-STRIKERS TO WATCH OUT FOR
Bill Haas. The former Demon Deacon finished T-33 in his first trip here last year. After a mid-season lull, he's starting to pick it up again, as evidenced by his playoff loss in West Virginia last week.
Robert Allenby. The Australian didn't play last year, but he has four top 10s and eight top 25s in nine starts here. Why does he feel so at home here? Well, I hear there's an Outback just down the road.
INTERESTING STORYLINES (OTHER THAN TIGER)
Rory Sabbatini. Sabbo is back from his odd hiatus that may or may not have been a suspension (It was tough to tell since the PGA Tour doesn't announce such things and he was able to play in the U.S. and British Opens since they are run by other organizations). As he is at a lot of events, the South African has been hit or miss here. His only two top 25s in seven starts at Firestone were T-2s.
Padraig Harrington. The Irishman has only finished outside of the top 30 in three of 12 attempts. Of course, everyone remembers the on-the-clock incident in 2009, in which he had a meltdown while battling with Woods on the 16th hole Sunday after being told he was on the clock for slow play. He is still looking for his first win in nearly three years, but we wouldn't be surprised to see him back in contention here.
ON-THE-RADAR EUROPEANS TO WATCH
Lee Westwood. Plagued by a calf injury last year, Westwood withdrew after a couple of rough rounds. In the two years prior at this tournament, though, he finished solo ninth and T-2. And now, according to Tim Rosaforte, he's been working with the Stockton brothers on his putting. It's gotten to the point that If you're not working with the Stocktons, then who are you, really? In this case, it certainly can't hurt Westy.
Rory McIlroy. The reigning U.S. Open champ has gotten himself mixed up in a little controversy with a couple comments recently, but he should still get a warm reception from the Akron fans. He showed much improvement in his second trip to Firestone last year with a T-9 and there's no reason to think he won't do at least that well again. Unless he gets into a Twitter battle with Nick Faldo, of course.
UNDER-THE-RADAR EUROPEAN TO WATCH
Alexander Noren. The Swede is enjoying a career year with two European Tour wins thus far in 2011. In his last one, the recent Nordea Masters, he held an 11-shot lead heading into the final round. Remind you of anyone else? Perhaps a certain player who always wears red on Sunday? Yeah, that guy. Oh, and in case you still haven't heard, he's back. At least for now...
*-- Alex Myers is a contributing editor for GolfDigest.com. Feel free to e-mail him
) since he has self-esteem issues.*