News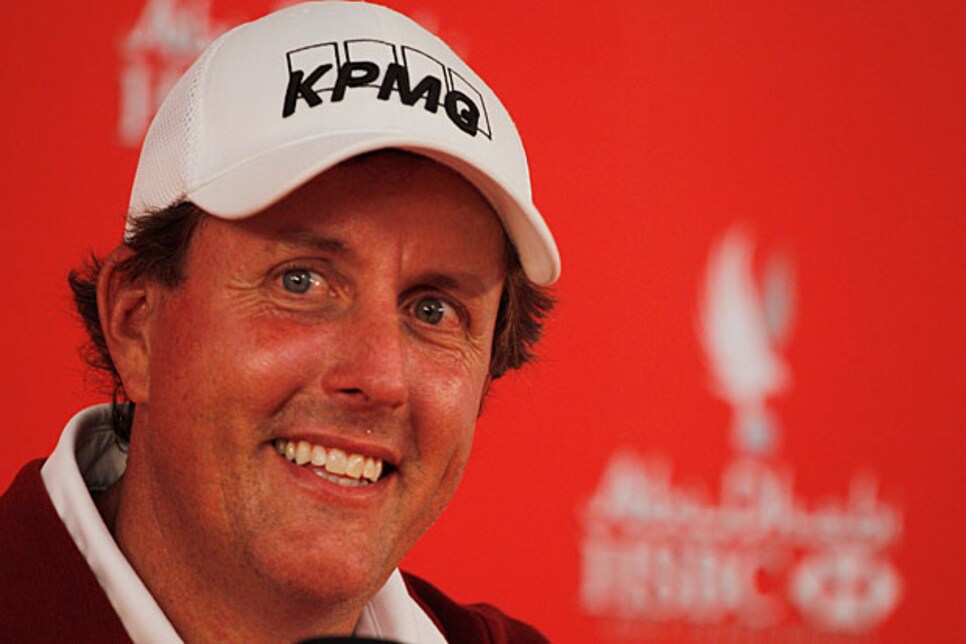 Phil Mickelson certainly looks a lot happier now that he's back to eating burgers.
Welcome to another edition of Fantasy Fix, where we've never had a problem marking our ball. Of course, we've never had slow-mo cameras following us around on the course, either. In any case, we're coming off an exciting week -- from Padraig Harrington's controversial DQ to Martin Kaymer's dominant win in Abu Dhubai to Bill Haas' thrilling victory at the Bob Hope. OK, so maybe that last thing didn't happen, but the Fantasy Fix favorite came close and perhaps a new favorite was born in the affable Jhonattan Vegas. This week has plenty of potential for more great golf, and of course, more DQ's as well, so let's get to it.
The PGA Tour's West Coast swing continues with the Farmers Insurance Open at Torrey Pines. For the first two days, players will alternate between the tougher, more famous South Course (site of Tiger vs. Rocco) and the less treacherous, but equally-as-beautiful North Course. Which course a player is teeing it up on Thursday and Friday should definitely play into how you set your lineup in daily leagues. Just look at last year, when 14 of the top 15 after day one played the North. (For the record, I recently played the South Course. I struggled, but still unleashed a double-armed, knees-bent, leaning-back fist pump when I tapped in for par on No. 18. Unfortunately, I think my lame attempt at humor went over the heads of the three random middle-aged men I played with, none of whom spoke a word of English...)
Random tournament fact: Apparently, Farmers Insurance provides coverage to people other than farmers. Good to know. The company must also have a pretty big ad budget since its commercials feature the father from the movie "Juno".
Ben Crane. Last year, Crane took advantage of the North Course with an opening 65 and held on for a one-shot win. He's been under par in 15 of 19 career rounds during this event and he also had a T-7 in 2009. Plus, in the past few months a looser, more-likeable Crane has emerged. He's still tough to watch and play with due to his brutally slow pre-shot routine, but his informative and hysterical videos
have certainly raised his profile and his popularity. I, for one, owe him a debt of gratitude for making the snake shaker a part of my normal workout routine.
He's back! OK, so Tiger Woods' 2011 debut isn't surrounded by the same buzz as the last two years when he returned from knee surgery in 2009, and in 2010 when he returned from, well, uh, you know
. Still, his presence breathes life into any PGA Tour event, and this week he returns to a course where he's won his past five times, including one of the most memorable victories of all-time. You want a bold prediction? I'll say he doesn't win, but he plays well enough down the stretch to pick up a backdoor top five and build some momentum for what could be a monster season.
Hunter Mahan. The three-time winner returns after a two-week hiatus during which he was married to former Dallas Cowboys cheerleader Kandi Harris. Enough said.
STUD OF THE WEEK (FOR STRICTLY GOLF PURPOSES)
Nick Watney. The California native has three top 10s in his last four trips to Torrey, including a win in 2009. I would have liked to see him get another tournament under his belt before teeing it up this week, but his impressive track record is too good to overlook.
DON'T BE SURPRISED TO SEE THESE GUYS MAKE A RUN
Lucas Glover and Charles Howell III. Glover has three top 10s in his last five starts here and Howell has never missed a cut in his eight appearances, including finishing in the top 10 on half of those occasions. Howell, who traditionally plays well at the start of the season, is also coming off an encouraging T-13 at the Bob Hope.
GIVING INTO THE HYPE PICK OF THE WEEK
Rickie Fowler. Has anyone who didn't win a tournament in his first 33 starts as a pro ever been talked about as much? Seriously, it's time for Mr. Orange to start winning. Maybe it will be here, where as a rookie last year, Fowler produced a T-5 on the strength of an opening 67 on the North Course, followed by three straight 70s on the South.
"Hey Alex, I just wanted to thank you for picking me as a top sleeper to watch in 2011. I'm sorry I haven't gotten off to a good start, but I'm going to try to get it going this week. Sincerely, Troy Merritt."
Wow. You know you're desperate when you start making up fan mail from Troy Merritt of all people. Seriously, though, please feel free to email me with comments, questions or just to make fun of my picks. And of course, you can follow me on Twitter
BETTER STAY AWAY FROM THESE CARNIVORES
Phil Mickelson. The hometown boy is a three-time winner, but he hasn't fared as well in recent years. Also, he has been a slow starter the past few seasons, a trend that appears to be in effect this year with his lackluster T-37 in Abu Dhabi. In other words, if you have restrictions on player use, I think there are a lot of better weeks to use him. The good news for his fans? He is no longer attempting to be a vegetarian.
Kevin Stadler. If you're tempted to pick another successful tour pro's son in the wake of Bill Haas' near win at the Hope, don't do it. Unlike his father, Craig, who found success at Torrey Pines, despite an annoying tree
, the younger walrus has shot 77 his last two times on the South Course to miss playing the weekend. I think it's safe to say that with Craig's commercials Smith & Wollensky Steakhouse that neither father or son has ever considered being a vegetarian.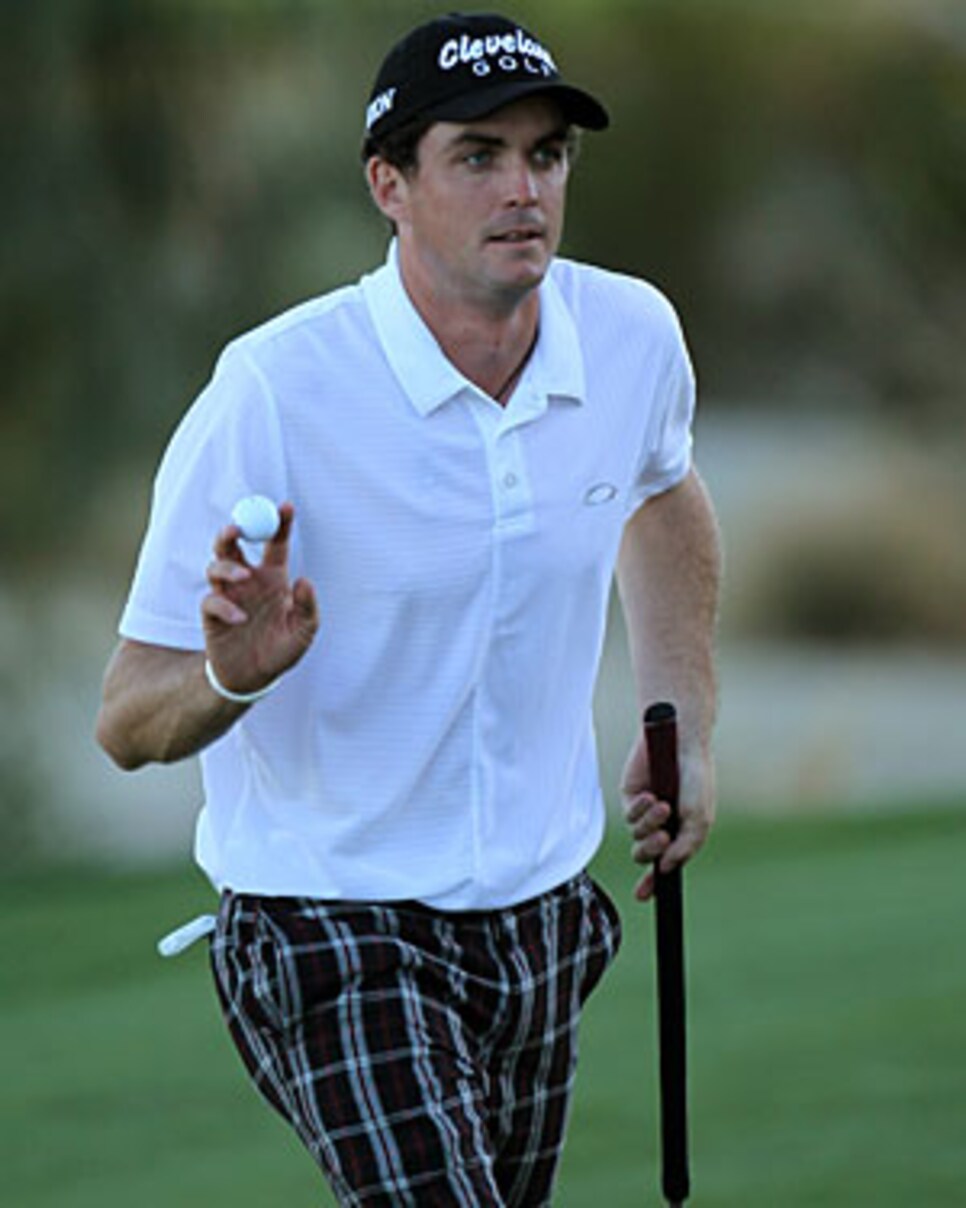 WHERE IN THE WORLD IS SERGIO GARCIA?
This has all the makings of a popular TV show. A young, talented golfer whose been linked to attractive women, does beer commercials and travels a lot, falls off the face of the earth when his golf game goes south. He goes into hiding while continuing to collect endorsement checks and thinks he's in the clear until a determined detective (I'm thinking David Caruso -- I mean, how much longer can CSI Miami possibly last?) starts chasing the former star all over the world in an attempt to bring him to justice. The crime? Killing a once promising career. One thing we know is that he's not at Torrey Pines this week unless he plans on secretly laying low in Tiger's gallery.
UPDATE: Mystery solved. After a second two-month break since the PGA Championship in August, Garcia will be back in action at the new Volvo Golf Champions event in Bahrain. While only time will tell if he regains his passion for the game, clearly, the man still likes to travel.
Michael Sim and Marc Leishman. Both men from Down Under tied for second here last year. Sim, who also happens to be one of our top sleepers for 2011, shot a second-round 62 on the North Course. Speaking of which, why do they even bother using both courses and why is there such a difference between the two tracks? It's like tournament organizers want to throw the players a bone to help boost their self-esteem. The timing for that doesn't seem right, though, considering players are coming off a week in which 20-under par didn't put them in the top 20.
RANDOM, BUT FITTING MOVIE QUOTE
"Discovered by the Germans in 1904, they named it San Diego, which of course in German means a whale's vagina." -- Ron Burgandy from Anchorman, AKA the greatest comedy ever made. It's science...
GUY YOU'VE NEVER HEARD OF WHO COULD WIN
Last week's selection in this spot, Chris Kirk, flirted with actually winning. A bad final round of 70 (Yes, that's a bad final round at the Hope) dropped him to a very respectable T-7. This week, we'll highlight another rookie from the Nationwide Tour Class of 2010
who is coming off a T-7 as well: Keegan Bradley. The St. John's product is a nephew of LPGA Hall-of-Famer Pat Bradley, but hopefully, no one at Torrey will purposely call him by his aunt's name as a joke. In the words of Ron Burgandy, "You stay classy, San Diego."
*-- Alex Myers is a contributing editor for GolfDigest.com. Feel free to email him
since he has self-esteem issues.*