News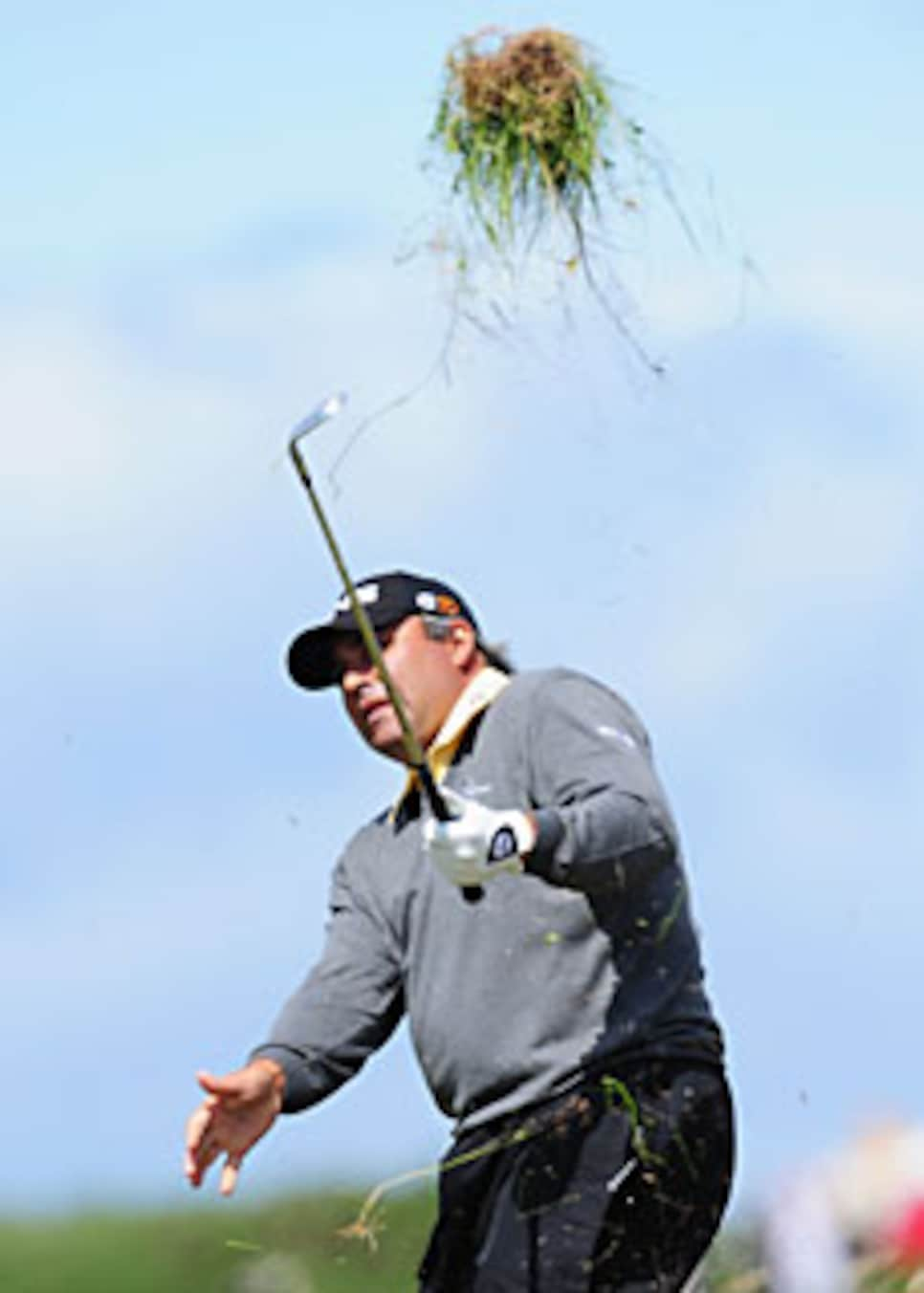 The USGA has made clear the main thrust behind its groove rule is limiting players' ability out of the rough.
The USGA's recent proposal to "further clarify" its condition of competition on grooves comes with a powerful -- albeit unstated -- message to equipment manufacturers who think they can design their way around the groove rule: Stop now.
Although the notice contained several technical aspects, perhaps its most ominous wording came in a couple of simple sentences. "Manufacturers are reminded of the intent of the new groove regulations as stated in the February 27, 2007 Notice to Manufacturers: The objective of this change is to limit the effectiveness of grooves on shots from the rough to the effect of a traditional V-groove design."
So what does that mean? Let's say a pro hits a 90-yard shot out of the rough with a current wedge and generates 10,000 rpms of spin and that spin would be reduced to 5,000 or 6,000 with the proposed 2010 groove. Then along comes a wedge design that incorporates a groove that conforms to the new USGA standard, but produces 7,000 to 8,000 rpms of spin from the same condition. The USGA will not deem such a club conforming, despite it meeting the technical threshold of the rule.
"We are trying to make it crystal clear that the rule was intended to return the grooves' effectiveness on shots from the rough to that of traditional V-grooves," says Dick Rugge, senior technical director of the USGA. "That's an important factor. It was our clear intent. We developed a number of helpful provisions in the rule for manufacturers. These provisions are not meant to be ways to get around the intent of the rule. If we chose to look the other way in these areas, we wouldn't be upholding our responsibility."
But while Rugge sees it as upholding the USGA's responsibility, some manufacturers view it as something entirely else.
"It's like moving the goal line just as someone is about to score a touchdown," says Michele Szynal, spokeswoman for Callaway Golf, who added the company had products ready to show its tour players starting in August so they could be ready for their January 2010 deadline. "It's our job to maximize golf club performance within the written rules. That's pretty tough to do when the rules change monthly."
"It is not a rule, it is a process to control the future," says Benoit Vincent, chief technical officer for TaylorMade. "It's like the adjustability rule. The USGA said submit your adjustability and we will tell you if it's OK. I said 'That's not a rule. That's submit your stuff and if we see something we don't like we will rule even further.' If it's outside what they have studied and what they know, then they will rule against it. So what they are doing here with grooves is typical of what they do."
Not that the USGA argues Vincent's point. Rugge says, "You can't always be predictive of what someone might come up with" and admits, "We've seen some sophisticated designs in the patent literature, and these [designs] are not what we had in mind." One of those patents may have been patent # 2409-014316, application 6A1, filed Sept. 25, 2008 by Bridgestone Sports, a design that included shoulder notches added to each side of the groove at angles of less than 60 degrees. Imagine that instead of a U-shaped groove, the tops of each groove would angle away from the walls of the groove, rather than staying parallel. According to the patent, that angle would increase spin while adhering to the 2010 guidelines for groove spacing and "cross-sectional area." The change the USGA announced on Monday stipulates "the wall of the groove must be substantially 'plain' and 'planar' " and "would disallow features such as bends, indentations in or protrusions from the [groove] wall."
So given that, will there ever be another significant innovation in groove design in the history of golf? Vincent thinks there still is room. "It's the same thing as a patent," he says. "Does a patent mean there will be no more product created? No. There are millions of ways to design around patents. There is no way to regulate life with rules. That's a fantasy. Every ruling organization thinks they have everything under control. Until something comes along that they haven't thought about and then they have to do another rule. They are trying to do their best effort in their current knowledge to slow down innovation. Is it going to last forever? No chance. They will have to rule again, several times in fact, over the next few decades if they want to continue to slow down innovation. But that's OK. They want to slow down innovation. I give them that. They will slow down the progress of fast and significant advancements. But to stop it entirely is a fantasy. It is impossible."
Perhaps. But the USGA has an ally -- at least in this instance -- in that although the rule presents specific geometry that needs to be adhered to, there is no hard and fast limit on spin, making it a guessing game for manufacturers and allowing the USGA additional leeway. "We don't have a spin threshold for evaluating grooves," says Rugge. "Maybe we should, but we don't."
Which confuses Vincent. "You look at the spirit of the rule, it is a geometry-driven ruling," he says. "They quantified the geometry. Why would you do all of that to define the geometry if you're going to turn around and say, 'Oh no, it's not about the geometry, it's about the spin.' Now it's true, they do re-state what the intent is, but there are no specifics. All the specifications are around geometry."
But despite manufacturers concerns, Vincent sounded perhaps the most important sound of all -- one bordering on resignation of the reality.
"You can be as mad as you want at them, [but] they always win," he says.