News
Finchem Memo Seen As Biased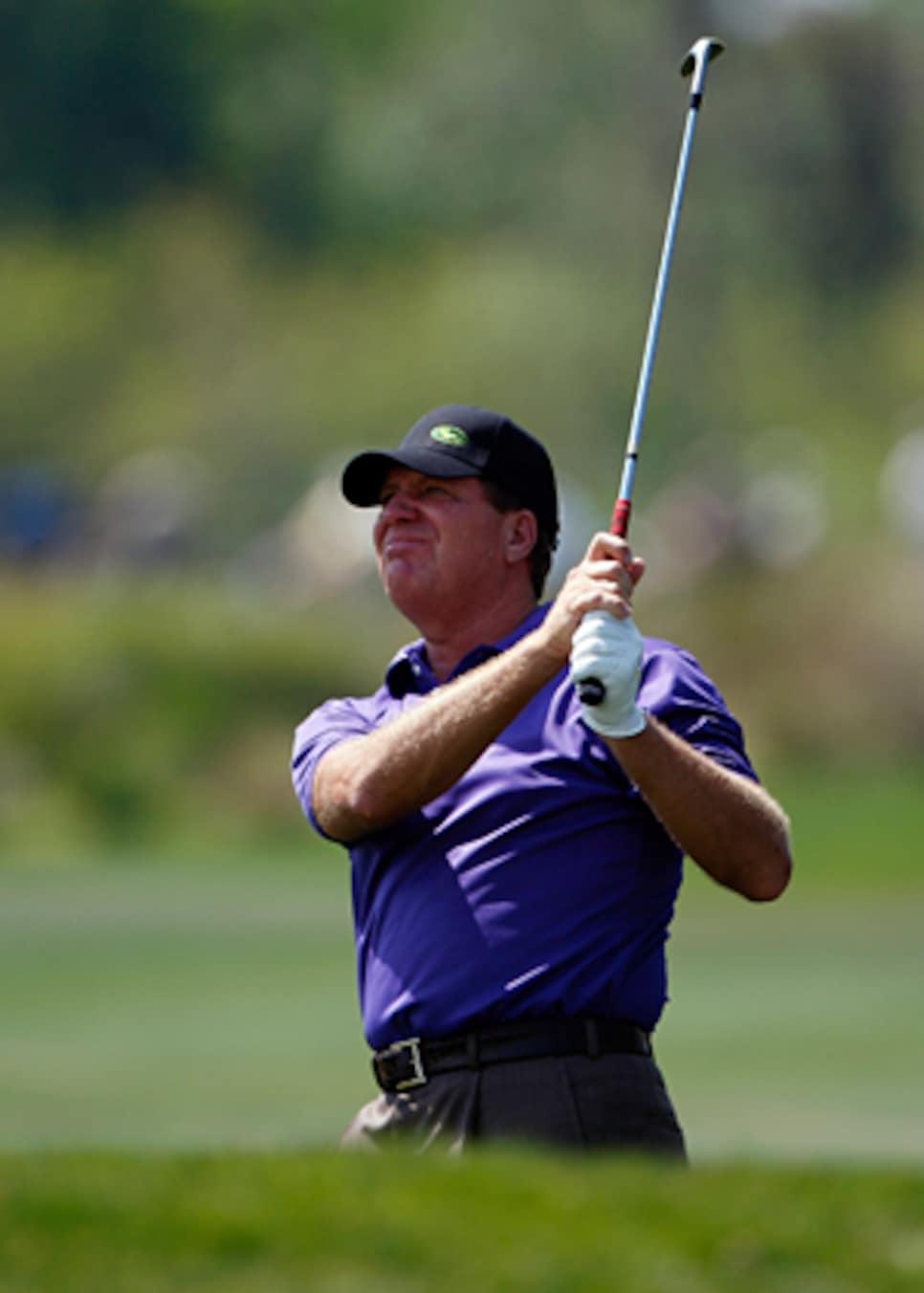 Steve Elkington had been exempt on the PGA Tour for 23 consecutive years.
ORLANDO, Fla. (AP) -- PGA Tour commissioner Tim Finchem sent a memo to tournament directors to explain why Steve Elkington needed invitations to get into tournaments this year. At least two players criticized Finchem for favoritism.
Elkington had been exempt for 23 consecutive years until the former PGA champion finished 183rd on the money list last year and lost his card. Four other times he finished out of the top 125. He had a 10-year exemption for winning The Players Championship in 1997.
The Associated Press obtained a copy of Finchem's memo, which was dated Nov. 23.
"I think it's out of line," said David Duval, a former major champion who also has only conditional status this year. "It never crossed my mind to ask Tim to do that for me."
Tim Herron, who has been writing tournaments for exemptions this year, said it smacked of favoritism.
"That's terrible of the tour," Herron said from Bay Hill, where he is playing as a past champion. "The tour needs to be unbiased and treat everyone the same. That's like a slap in the face. Nothing against Steve Elkington. But the tour is supposed to represent the players as a whole, and not just one player."
Elkington has played five times this year, although he has yet to receive a sponsor's exemption. He got into four tournaments through his status as a past champion, and played last week at Innisbrook because of a top-10 finish in Puerto Rico.
Elkington told KRIV-TV in Houston he wonders how anyone could believe Finchem or the PGA Tour is showing him any favoritism.
"All I did was call Tim Finchem to see if he could get the board to consider giving me a year since I met the requirements for the Hall of Fame, which is 10 wins and two wins in the majors," he said.
"I won the PGA and the Players Championship which counts. Finchem came back to me and said that wouldn't happen, but he said that he would be happy to write a letter for me and let the tournaments know my status has changed and how much I have meant to the tour over the last 23 years."
He also told KRIV he wasn't upset with the comments made by Duval and Herron.
"No, I'm not bothered by what Duval and Herron said," Elkington said. "It's a complicated situation and I don't begrudge anyone who gets to play because everyone wants to play on tour."
Finchem was in meetings with the policy board and with Arnold Palmer and not immediately available for comment.
"We've done it with other players," Rick George, chief of operations for the PGA Tour, said Tuesday. He declined to identify those players. "If there's a unique change in eligibility or status ... we've done it a number of times."
In the memo, Finchem extols Elkington's career as a 10-time winner on the PGA Tour, and points out that "he has also been a tournament favorite for his work with the sponsors."
The unique circumstances? He received a 10-year exemption for his Players Championship victory in 1997, then finished 85th on the money list after the exemption ran out. When he finally lost his card, Elkington could not use his one-time exemption for being top 50 in career money because he had fallen to No. 57.
Elkington fell out of the top 50 in career money in 2006 and never climbed back in over four years of being fully exempt.
"Because Steve will be in the conditionally exempt Past Champions category in 2010 after so many years as an exempt member, we felt it was prudent to inform you of his situation as he will be writing many of you requesting a sponsor exemption," Finchem said in the memo.
"Please do not construe this communication as an endorsement for him to receive a sponsor exemption. Rather, it is merely intended to present you the facts of his 2010 eligibility status."
One tournament director said he had received 10 e-mails from other tournament executives who felt pressure to give Elkington an exemption. The director spoke on condition of anonymity to The Associated Press because he has not awarded his exemptions.
George also confirmed the tour wrote a similar memo on behalf of former PGA champion Mark Brooks, who has limited status and who must play at least 15 tournaments this year to be able to defer his retirement package. That memo was sent only to tournaments where Brooks had asked for an exemption.
The tour also sent a letter explaining that Billy Mayfair was not fully exempt because a magazine reported his status incorrectly.
"We've answered a lot of questions from a lot of players about this," George said. "If someone has a unique change in eligibility, we'll do that for them."
Duval questioned why Finchem had to write tournament directors instead of Elkington pointing out the situation in his own letter. He also questioned why the memo referred to all of Elkington's achievements.
"Isn't that kind of already known?" Duval said. "I assume they know I won the Open Championship and The Players Championship. I wrote all my letters by hand. I told them how much I've enjoyed their event, how much I've supported their event and that I hope there's room for me. I didn't get any offers to have a letter written on my behalf."
George said Duval already used one-time exemptions for being top 25 and top 50 on the money list. He said Finchem was not playing favorites.
"If there's a unique change to a player's status that we feel tournaments need to be aware of, we do that," he said.
Herron chose not to take his one-time exemption from career money, but he has found exemptions hard to come by this year. Among those asking for exemptions are Elkington, Duval, Rocco Mediate and John Daly.
Herron has tried to earn a spot through qualifying at four tournaments. He has received two sponsor exemptions, at the Honda Classic (where he earned his first PGA Tour victory) and the Pebble Beach National Pro-Am, where he was paired with actor Bill Murray.
"I talked to some tour executives, and they said getting exemptions is about competition," Herron said. "But I thought when we were in this position, we were supposed to do this ourselves."