News
Golf Digest Podcast: Winning Olympic gold has Justin Rose thinking big. Career Grand Slam big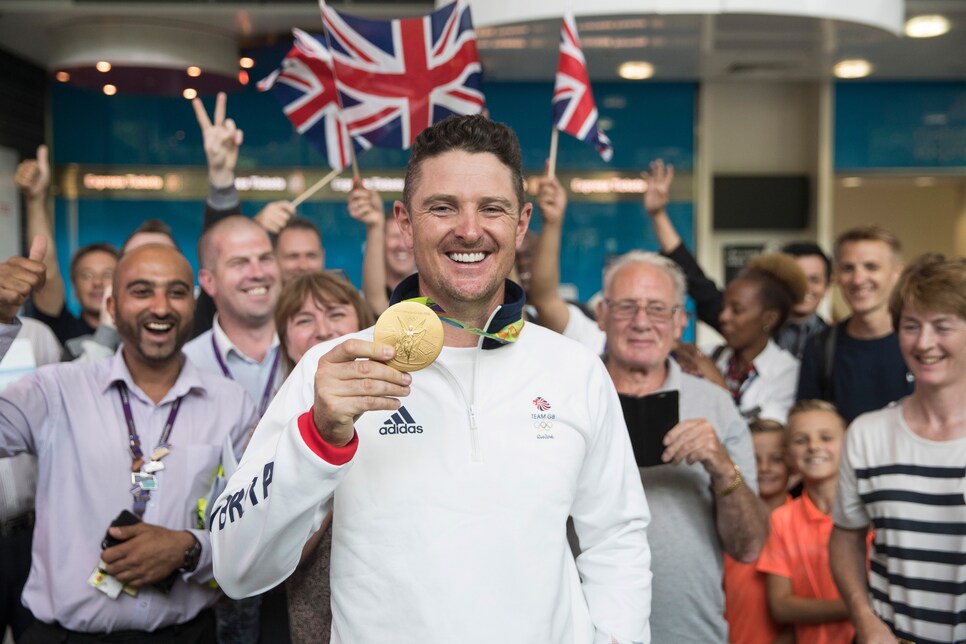 From the moment the gold medal was placed around his neck last August in Rio, Justin Rose has been coming to grips with the profound notion that he will forever be an Olympic champion.
Exactly what that means for a golfer remains unclear, even seven months after the fact. In the run up to golf's return to the Games after a 112-year absence, there was much debate about just how winning the title might compare to a victory in a major championship, the later cradled by decades (if not centuries) of tradition.
The positive reaction the Olympic tournament received from the golf public specifically and sports fans in general suggests Rose's victory will not lose luster as time passes. Even he, with his 2013 U.S. Open victory as a basis of comparison, has sensed this in the time since Rio.
"The thing that blew me away, if I compare it to my U.S. Open, I almost feel like it is 10-fold the reaction I received post-tournament," Rose said.
Rose joined me for the latest Golf Digest podcast, where he discussed the Olympic experience and the impact the victory has had on the 36-year-old Englishman. He shares some fun stories, along them a humorous one (at the 9:06 mark) involving his 7-year-old son, Leo, pretending to put the gold medal over a statue, just like he saw them put it on dad, only to have a bit of an unfortunate mishap.
More seriously, Rose explains how the gold medal has helped him focus as he gets ready for the Masters—where he has yet to miss the cut in 11 starts and has four top-10 finishes in the last six years—and the major season ahead. Long removed from his coming-out party as an amateur at the 1998 Open Championship, having won 13 times on the PGA and European tours, Rose is at a point where it's no longer about quantity, but about quality.
"I'm in the doing phase of my career," Rose says. "It's not going to happen unless I make it happen now. I'm not going to stumble across it. I've put in the hard yards and I've got the experience under my belt. So now it's about execution and performance."
Rose believes he's got another 10 years to cement his legacy, one that he thinks can include more majors. He even has the audacity to think it might include them all.
"The ultimate dream would be to steal one or all four of them," Rose says. "To win four majors, but to win the right four, would be absolutely incredible."