The Loop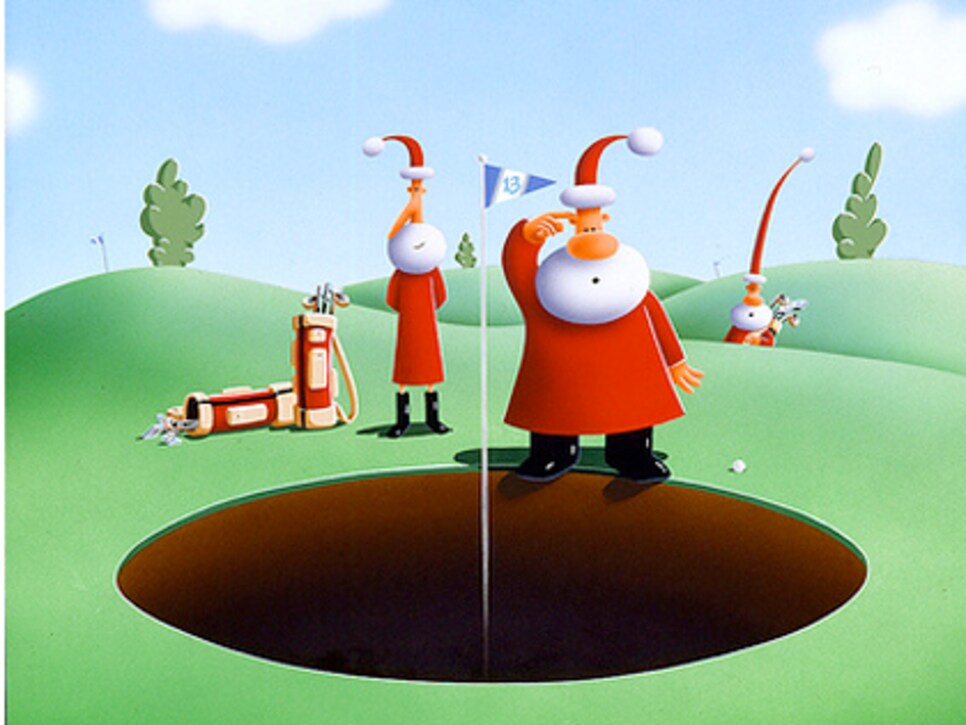 Just a quick update on the Pinehurst Trip Planner Contest. We've received a few hundred entries so far. I'm back and forth between Ambush itineraries and the entries for this contest, picking six winners to go to Pinehurst will be a tough task. Here are a few I thought you might enjoy:
Pete Wilson of Phoenix, Ariz. nominated Jack Goode Sr.--the Trip planner for the Bitner Boys Annual Golf Outing. It started in 1981, when Pinehurst was a three-day golf outing for less than $300. The original three have been at it for almost 31 years. Wilson says, "The guy deserves a rest. I can attest as my first trip to Pinehurst this year--that is a fitting place to relax."
Steve Ponciroli of St. Louis, Mo. is nominating Raj Bhuyan, who Ponciroli refers to as a "planner extraordinaire." You have to like Raj's style. In the five years he has been coordinating their buddies trip, the venues have been: Ireland, Pebble Beach, Bandon Dunes, Whistling Straits and Pinehurst. Ponciroli says his trip includes "A website, draft events prior to the trip, calcutta auctions, nightly evaluation of results, next-day pairings, detailed brackets displayed at the club highlighting the players, matches and total points." He says Raj's "gold standard" is the awards banquet chronicling the trip and recognizing individual and team winners, "all pulled together in a 30-minute PowerPoint presentation set to music."
Frank Olive of West Palm Beach, Fla. nominates Captain Nick. For 18 years Captain Nick has put on a "write-your-check-and-show-up" tournament for as many as 30 golfers. He organizes courses, tee times, nightly cocktails, daily meals, a stat sheet, trophy, banquet dinner, free housing and airport shuttle service for all. Several weeks prior to the '08 tournament, Olive says, "Hurricane Ike decided to use Houston as its United States bulls-eye. With weeks of power outages, no a/c in Houston, limited communications, major city cleanup, and course closures, Captain Nick took charge, found us 18 open holes, and the trip was on. With a little luck and a lot of hard work, the 18th Annual was a huge success."
Patrick Sheposh of Rochester, Mich. says  Ken Regalado has been, "The Julie McCoy" of his trip. "Minus the looks and narcotics issues." Sheposh sent in a link to their website: http://fallgolfouting.wordpress.com/. Sheposh ends with, "Ken Regalado deserves this trip."
From Larry Fletcher of Ellisville, Mo. nominates himself. "I am THE planner and have been for years," he says. "I say to all, I drew the short straw but, on some level, I do enjoy the challenge. Your description of me; type-A, controlling, etc. is right on. I'm anal and like everything to be well orchestrated. Mainly so the group thoroughly enjoys the trip." After some details of his trip Fletcher says, "I really do look forward to the 'work' of many more before my 'final hole.' What a game!"
Michael Lauricella of Way, N.J. has sent in one of my favorites so far: "No one deserves a trip to Pinehurst more than our Dad. The man is a machine--he works a ton, yet still always has time for his family. When we were young it was basketball, now it's golf. For the last 10 years he has been planning trips. He started playing golf more because we (his two sons) fell in love with the game. Kiawah, Puerto Rico, Scottsdale, Cape Cod, Williamsburg! Airfare--his dime. Dinner--his dime. Hotel--his dime. Green fees--his dime. Activities for non-golfing mom and sister--his dime. Pinehurst--his devotion to us.
Keep 'em coming. The contest closes at 11:59 p.m. on May 15th.
The ironic thing is I used to live on 34th Street, but I can't remember any miracles. Now my North Pole is in Brooklyn.