Golf Digest editors discuss the inspiration behind our January 2013 cover
*[#image: /photos/55adb51cadd713143b44a01e]|||JANUARY2013GD.jpg|||Inspiration for our best conceptual ideas here at Golf Digest come in different shapes and sizes. Often times, a brainstorming conversation on the golf course among editors and writers will spur a feature. Or perhaps a meeting, with all of our minds working together, results in a new project.
One of our most popular covers of the year, the January 2013 issue of Golf Digest (see Letters to the Editor below), however, was the product of some field research by our Style Editor, Marty Hackel.
Mr. Style tells the story about how he was at the prestigious Wentworth Club this summer, at a formal dinner in which PGA Tour stars Rory McIlroy and Graeme McDowell attended. The Northern Irishmen were dressed to the nines in tuxedos, laughing and enjoying themselves. His mind instantly recalled one of his favorite photographs, the famous Slim Aarons' shot "Kings of Hollywood" from 1957.
"I thought, 'We could do a really cool shot if we recreated the shot in the Kings of Wentworth, in that image," Hackel says. "I wanted to take a picture with my camera phone in the front of the hotel, but because we couldn't find two other tour players, I just kept the image in the back of my mind."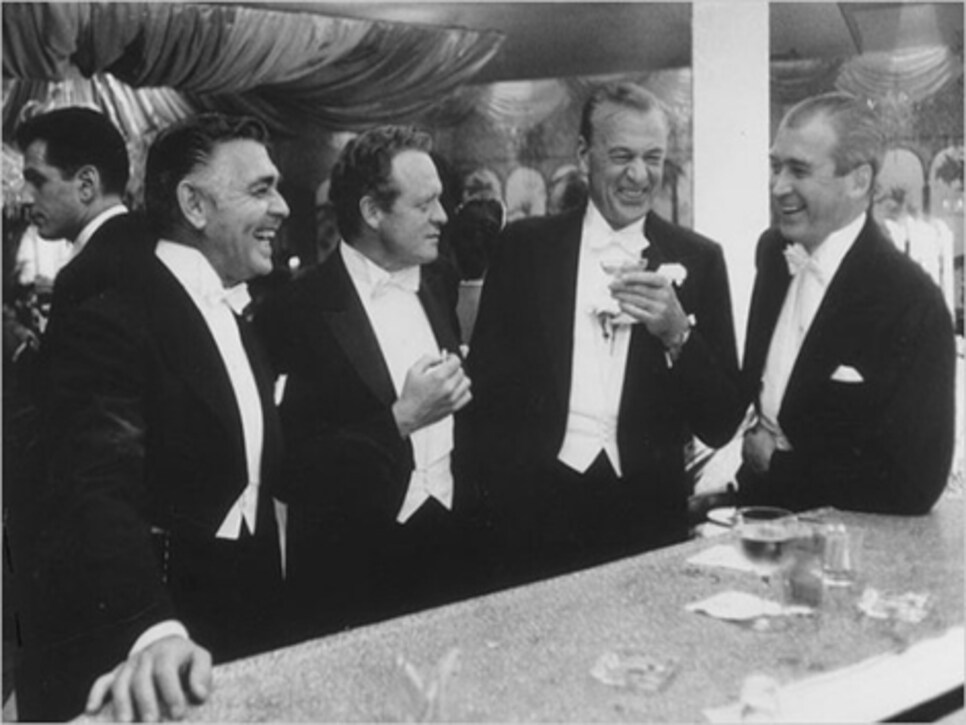 "Kings of Hollywood" was taken by legendary photographer Slim Aarons at Romanoff's in Beverly Hills during a New Year's party in 1957. From left to right: Clark Gable, Van Heflin, Gary Cooper and James Stewart laugh about Aarons' brief acting bit in an upcoming movie.
When it came time to plan out our annual Buddies trip issue, which this year featured a ranking from our 1,100 golf-course panelists on their favorite places to visit with their friends, in addition to a piece by senior writer Tim Rosaforte on buddies trips taken by PGA Tour players, Mr. Style's acute memory served us well.
"Often we've focused on buddies-trip guides to specific locations, like Las Vegas (2011) or Myrtle Beach (2010)," says Pete Finch, our Senior Editor of special projects and the editor of our buddies package. "This year we asked the supremely plugged-in Tim Rosaforte to brief us on the world of buddies within professional golf, an area we hadn't given much attention to in the past. That's what our fun cover shot featuring McDowell, McIlroy, Lee Westwood and Ian Poulter is all about."
The result was a photo shoot at pristine Liberty National, in the shadows of New York City, in which we asked legendary photographer, Golf Digest's Walter Iooss Jr. to execute Mr. Style's image. Just like Slim Aarons had captured the moment shared by Clark Gable, Van Heflin, Gary Cooper and James Stewart at a New Year's party in Beverly Hills in 1957, the four European stars were photographed enjoying themselves on the fairways of Liberty National.
"I told [the four Euro Ryder Cup players] the story behind the Aarons photo before our shoot, and they got a big kick out of it," Mr. Style says.
"The cover was really Marty's vision which he pulled off perfectly," adds Golf Digest Director of Photography Christian Iooss.
Response to our January 2013 cover has been overwhelmingly positive—we included a selection of comments from our readers below:
"Dear Golf Digest, WOW!!!! I am completely in awe over this months cover!!! Your cover boys are a visual embodiment of the game!!! I asked my daughter if she wanted Teen Vogue and she said, "No way, Golf Digest!" She is the lone golfer in our home. We enjoy discussing the articles and deepen our knowledge of the game. Bravo at a standout cover!!!!" -- Libby Almeida, El Dorado Hills, Calif.
"Thank you for the great cover photograph of members of the European team on the January 2013 issue. Whether by design or by accident, I believe you captured eloquently a piece of why we lost the Ryder Cup. The obvious camaraderie; conviviality and friendship along with complete comfort in who they are is captured in this photograph and contributed mightily to the "team" effort that once again we could not equal. Once again, a picture is worth a thousand words. I hope Tom Watson asks you for copies to be provided to all his players at the appropriate time." --John Robertson, Carmel, Ind.
"Dear Editor, First of all, congratulations on the excellent cover of the 01/2013 edition of Golf Digest. I love it! . . . Reading Golf Digest is truly inspirational and educational to me. Thank you!" --Rafael Torres Antonioli, Wexford, Pa.
And please continue to send us your feedback throughout 2013, as we'll be responding to your notes periodically in the new year. (mailto:Letters@golfdigest.com).