The Loop
Golf Digest co-founder Barnett dies at 89
The last link to the founding of Golf Digest is gone.
John (Jack) F. Barnett, one of Golf Digest's founding fathers with William Davis and Howard Gill, died at age 89 Sunday morning in Houston. He had moved there toward the end of 2010 with his wife, Helen, after living 15 years in a home overlooking the Connecticut River in Old Lyme, Conn.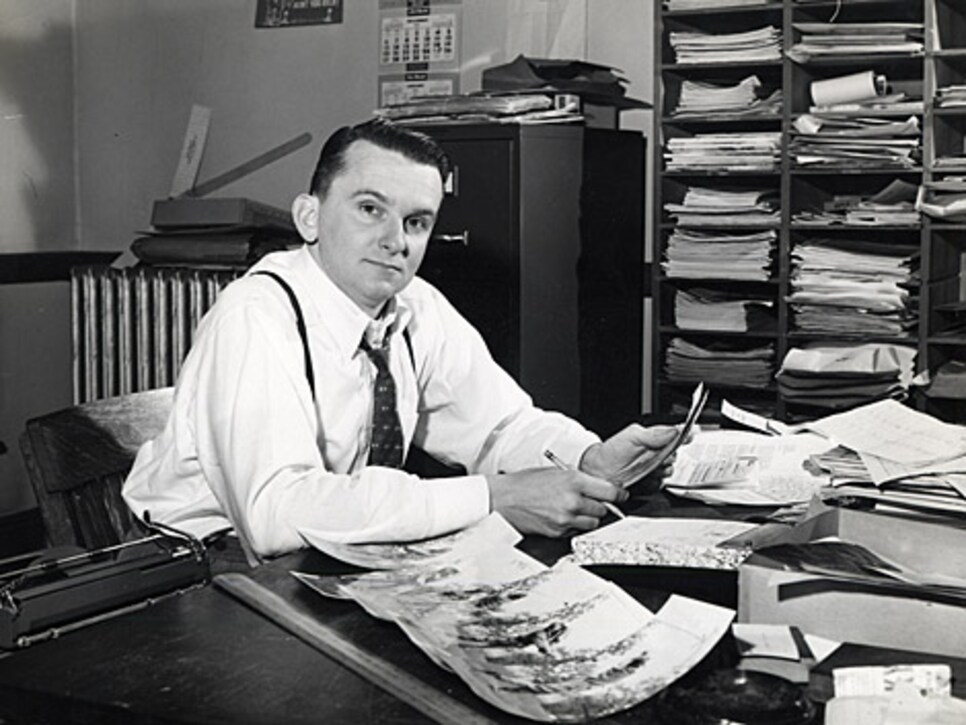 *Barnett was present at Golf Digest's 60th anniversary celebration last August. Photo from Golf Digest Resource Center
Barnett had suffered a stroke on New Year's Day, and after numerous stays at a hospital and a nursing center, he was brought home two weeks ago to be with family members. Golf Digest was honored to have Barnett and his extended family present during the magazine's 60th anniversary gala last August in New York City on the USS Intrepid aircraft carrier, where Davis had served in World War II.
Golf Digest's founding trio were classmates at New Trier High School in Winnetka, Ill., on the North Shore in the Chicago area, and they all attended Northwestern. They each served in the military and then entered the business world, Davis and Gill selling advertising and Barnett editing the house publication for the Thor Washing Machine Company in Cicero, Ill.
It was Davis, their "glorious leader," as Barnett referred to him last November, who started the magazine in 1950 with two issues, basically put together out of his house. After the first-year managing editor Gordon E. Smith left for another job, Davis needed more writing and business-side manpower. In 1951, he sought out his old high school mates Barnett and Gill, and they came on board, all three helped by $1,500 stakes given to them by their fathers. By May 1952 the magazine was being sold nationally.
The dynamic of the threesome's working relationship has been the subject of many a conversation by those who knew them. Barnett, who had the most writing background of the three, having been co-editor for two years of the high school paper, always gave credit to Davis for many of the ideas that affected Golf Digest's business and editorial direction. For a long time, Barnett said, the drill was for Davis to come up with ideas and for Gill and Barnett to execute them. (One such idea was the famous "Don't Ask What I Shot" button campaign in 1953 with President Eisenhower.)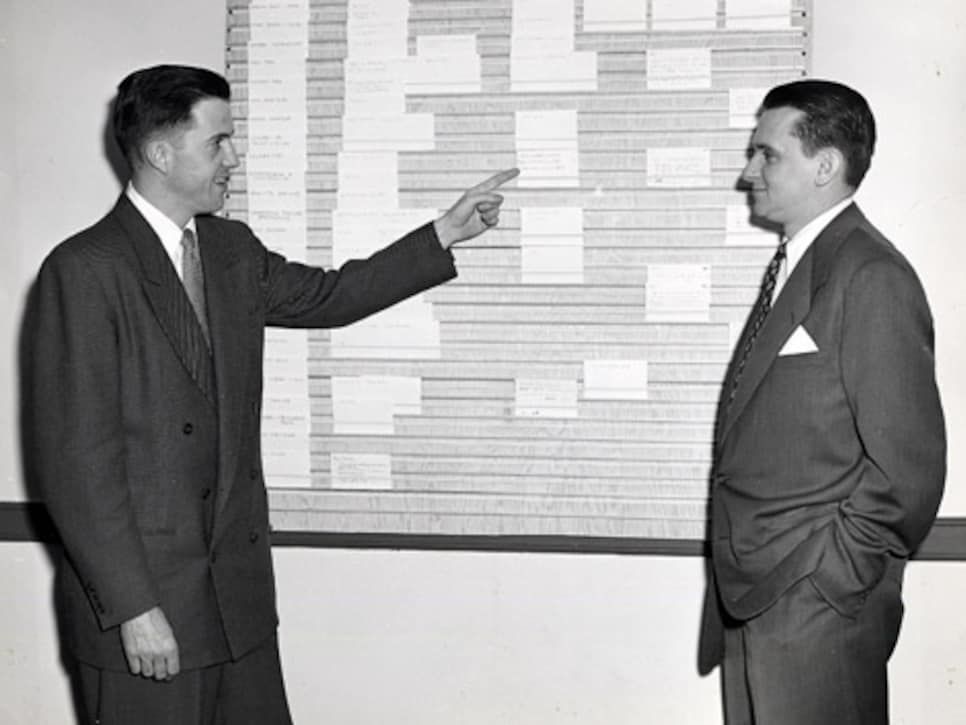 Barnett, right, worked closely with another co-founder Howard Gill. Photo from Golf Digest Resource Center*
But if Barnett is the last link to Golf Digest's founding, it is how the three combined their talents that helped the magazine grow. If you had to label each partner, Davis was the idea man, Gill the entrepreneur and public face of the magazine, and Barnett the common-sense, get-the-work-done guy. (Davis passed away in 1991; Gill died in 1996.) Each of them had to utilize a variety of skills that often went beyond what their masthead title required. Barnett, for instance, was listed over the years as editor, publisher, general manager and vice president and now is on our masthead with Gill as co-founders and Davis as founder. The three shot much of the photography in the early years, too.
Barnett was greatly involved in the startup of Golf Digest's international expansion, led our book-division development, and also had ties to circulation and publicity. He made the key hire in the 1950s of the late John P. May, who went on to become a prolific workhorse for the magazine in words and photos. Barnett had taken a pause from Golf Digest day-to-day operations in the late 1950s to work in Chicago at Advertising Age, but he rejoined Golf Digest in 1964 when the magazine moved from Illinois to its Connecticut location.
After The New York Times bought Golf Digest in May 1969, Barnett slowly pulled away from magazine duties and three years later retired to focus on investments. After moving to Old Lyme, he assisted with Yacht Racing magazine, which he had founded in 1962 in Chicago with Knowles Pittman, a high-school friend, and which became known as Sailing World. The Barnetts had celebrated their 50th wedding anniversary on Oct. 15.