The Loop
Golf Digest Ambush: Are You Next?
The latest Ambush (#14) is out in this month's magazine. Here's a link to the story of Dave Walker, his family, some relentless friends and the Bristol Harbour Resort in Canandaigua, N.Y. Poor Glen Wilson. He sent in the itinerary but missed the actual Ambush. He was out buying beer. Here's a link to the Ambush video:
As I'm reading through this month's batch of entries, I pass on some of the names and clips from the itineraries I'm considering:
John Barry of Virgina Beach will be with 52 friends in Myrtle Beach for their annual golfathon. They're playing Long Bay, Litchfield Plantation, Willbrook Plantation, Blackmoor Golf Club and the West Course at Myrtle Beach National. They have 12 people in their group of 100 members turning 40 this year.
Brian Wise of Montgomery, Ill. is leading 12 former Iowa Hawkeye football players on three nights at Lake Geneva in Wisc. "Four rounds of golf, one day on the pontoon boat and 20 cases of beer," writes Wise. The cost is $564 per person. "Tax included."
Tim Graves of Binghamton,____N.Y., says that his trip got started because he kept complaining to his wife about how he and his friends had become so spread out across the country. "She couldn't take it anymore," says Graves. "So she worked out a trip as a surprise for my 30th birthday." Ten years later the 24 players have a name (the GBO—the Graves Boys' Outing) and they have a cost-effective trip. They get three rounds of golf, two nights of lodging at the Binghamton Regency, prizes and a "cash match" for $290 per player.
I may join up with Mark Madek from Oscoda, Mich. They have 88 guys meeting at Lakewood Shores for the Fellowship Invitational. "The best thing about the tournament is the friends you make through the years," says Madek. "We have several generations playing together: dads with sons; grandfathers with grandsons. We experience life's lessons and memories that last a lifetime. On Friday morning we have a bagpiper escort the group to the first tee for the honorary first tee shot. Last year my two bothers and I hit simultaneously in honor of my father, who passed away in March."
Tyler Trofholz of Schuyler, Neb. wrote in on behalf of his father, Dana. "The name of the tournament started as G.A.N.T.," wrote Trofholz. "This meant, Golf Across Nebraska Tournament." It started as four friends from the '68 graduating class of Schuyler Central High School who would scramble in two-man teams for a trophy. This year is the 25th anniversary and the group has grown to include additional friends, significant others and kids. About 50 players will compete this year at Schuyler Municipal Golf Course in what is now called the Johnny Kriv GANT Memorial. "The tournament was renamed a few years ago when one of the original four members of the group passed away."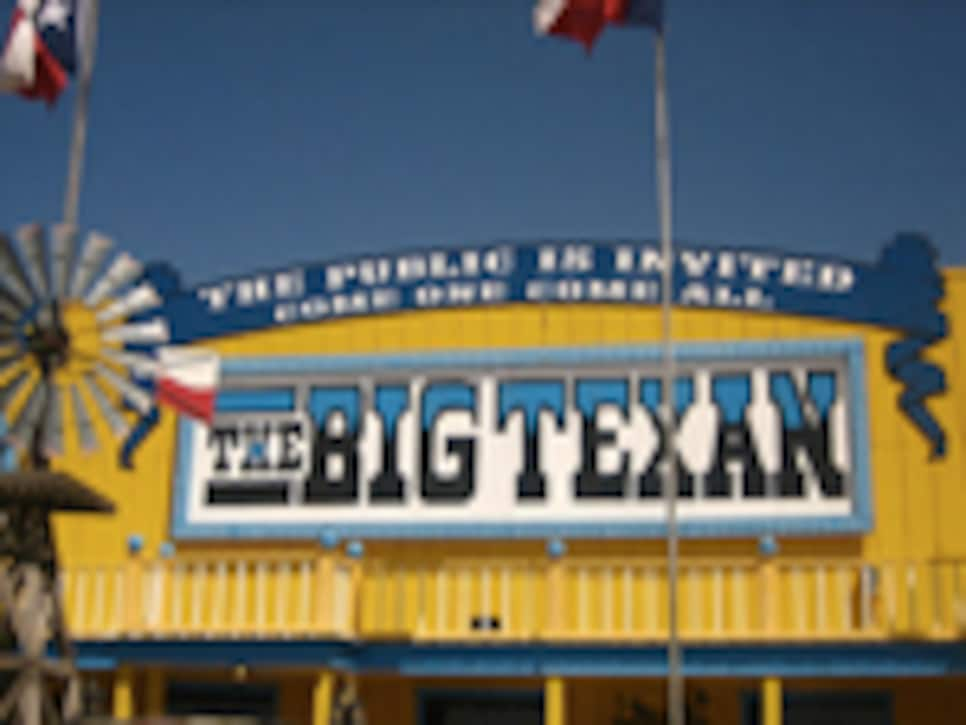 Later this month Byron Kolding's foursome from Bristow, V.A. will tee off at the Bandon Dunes course at 6:00 a.m., followed by an 11:10 a.m. at Pacific Dunes and a 4:10 p.m. on Bandon Trails. "I'm sure we will feast after that," says Kolding. (Four Texas Kings please . . .) Their average age is 60 and they figure they'll walk 12 miles and hope to hit less than 300 shots each.
A lot of good trips to choose from this month. Thanks again for all of your interest in the Ambush.
Do you have a trip you want to submit for an upcoming Ambush? If so, click here and tell us about it. You never know, you and your group of buddies might be next.