The Loop
Golf Digest Ambush - Are You Next?
Another month and another Ambush. I've received and read through 1,200 submissions so far. The September Ambush story about the Baroo Cup is now on-line and so is their Ambush video.
Johnny Cash has been everywhere man, but I've Ambushed in Sea Island, Scottsdale, Destin and Orlando, Florida. I stayed at Pinehurst, Wild Dunes in South Carolina and Garland in Michigan so far. I'm going to shadow one of the three itineraries listed below and will write a story about their annual event in the November issue of Golf Digest.
Share your thoughts in the comments box below.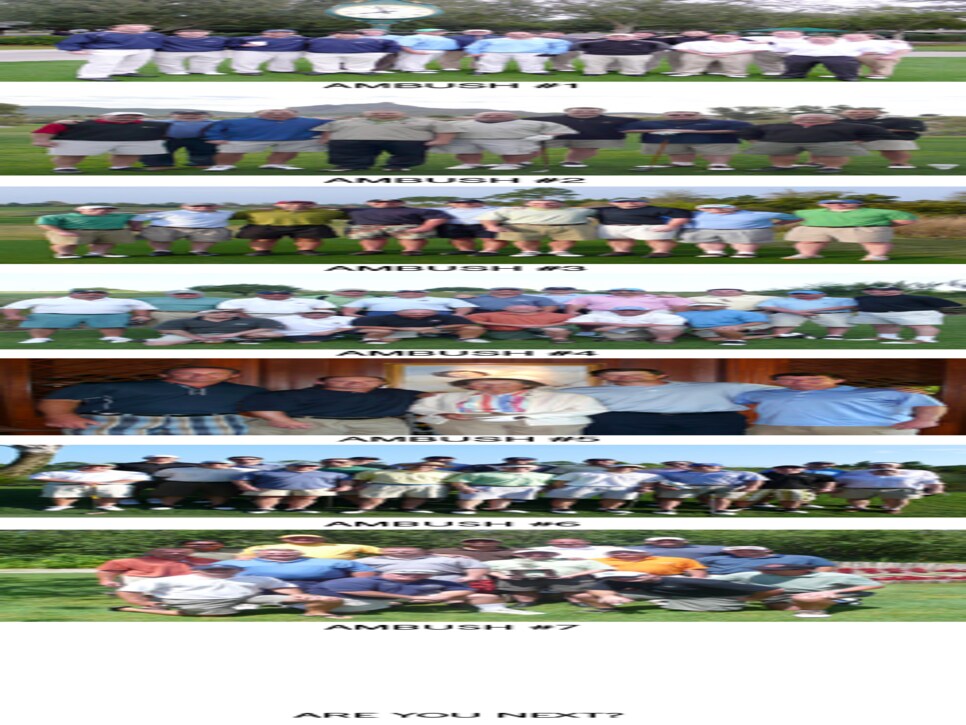 From Phil Terranova of Green Lake, Wisc.: The "GREEN LAKE CUP" is Big Green vs. Little Green (actual lakes in the area). Background: We're coming up on our 4th annual Green Lake Cup, which is a modified Ryder Cup formatted tournament with 24 players. I started this tournament because my family grew up vacationing in Green Lake and as a kid, I would watch my Dad go off with his buddies and play golf, and then come back and talk for hours about their rounds. This is what really got me hooked on the game. I wanted to recreate these experiences with my friends. Not only has it become a great tournament, it has turned many of my friends into golf junkies. The Green Lake Cup is what every player gears up for during the short playing season in Wisconsin and is often the topic of discussion whenever there is a gathering amongst friends (the wives and girlfriends hate it!). Even weddings are planned around it. Format and History: Day one is a two-man best-ball on the wide open Links course of Lawsonia. Day two is a two-man scramble on the traditional layout of Mascoutin. And day three is the singles matches on the dreaded tree-lined Woodlands course of Lawsonia. Once you play in the tournament and you're either put on Big Green or Little Green--you're on that team for life. Each year new captains are selected by vote from each team, and they're responsible for selecting the pairings the night before each match. The golf is taken pretty seriously, to the extent that the opposing teams don't talk to each other during play. After golf we head back to the home base and everyone loosens up and has a few drinks and then slowly the players will start to separate for deliberations with their captain to discuss the next days pairings and who they think would match up well. The captains then head to a closed room where they select the match-ups, which are later revealed to the rest of the players. We order different colored shirts every year for each day and team. It's pretty sweet when golfers at the course we're on start seeing these guys with the same outfits and they start asking what tournament is being played that day. Then they watch the players on the range and quickly realize that we're nothing special to watch. We have indexes ranging from two through 30. Last year the captain of Little Green three-putted the 18th hole on the final day to lose the match and the chance to retain the cup. The players would absolutely go nuts if we were ambushed and it would be a great memory to put in the tournament history books.
From Jim McCormack of Hingham, Mass.:__ My friends and I have been playing in a three-day golf tournament for the past 19 years that we affectionately call the Cuda Classic. This year is our 20th anniversary. The tournament is named after its founder Robert "Cuda" Barrett. Dick Kehoe has taken over the responsibilities of organizing the weekend for the rest of us. The first 18 years we played at the Mt. Washington Resort, last year, due to construction, we played at the Balsams, and this year we're playing at Mt. Snow in Vermont. We play four-man teams in a 36-hole match. We also have a low gross winner (wins the green jacket) and a low net winner (wins the red jacket). We used to have 44 players, but it has been cut back to 28 these past few years. Some memorable events from this weekend include: joining a wedding and going through the reception line with spikes on, a hole in one, and many a late night in the Cave (Mt Washington Resort bar).  The group consists of guys who have known each other for almost 30 years. The average age of the group is probably 42. If you can join us this August I can promise you wont go home without a few good laughs, most likely as a result of having beers with Minna and Dickie.
From Mark Vitale of Placitas, New Mexico:__ Sam Jones and his brother-in-law, Bruce Fleming, along with their wives, went to St. George, Utah. While there, Sam and Bruce played golf and decided this was a wonderful place to come and have a golf vacation. Thus, they started the annual Roadrunner Golf Association St. George Invitational Golf Tournament. Over the years the number of invitees grew from four to forty, which is what it will be in 2008--the 18th annual. The tournament lasts five days. The program is 25-plus pages and includes the event details for each day, pairings, assignments for each player, a record of each players past scores, last year's results, entry forms for each day, the payoffs for this year's events and golf wisdoms scattered throughout. The invitation is based strictly on the players that are out to have a good time regardless of how they play. The first day is a get together banquet dinner at the Best Western Abby Inn with entertainment provided by the members of our group (our own version of Carnac and a special song). Events for the four days of golf include two-man teams, four-man teams, 54 hole individual, 90 hole age group, and Las Vegas scramble. In addition, we have a number of individual events including long drive, birdies, pars in a row, par 3 totals and par 5 totals, special teams, fairways hit, and last man standing. All of the events are done by flights. Each evening the handicaps are adjusted and pairings are adjusted. We also have a special assessment in the extremely unlikely event that a player makes a hole-in-one, an eagle or an albatross. The tournament doesn't come off without a lot of effort. Starting a year ahead, Sam makes all the hotel, course and tee time reservations. The last few years we've added an evening massage (we are all getting old!). A month before the tournament, the official program is assembled and printed with a theme for that year's event. Hope to see you there.
If I don't see you this year--there's always next year. Thanks again for your submissions.