The Loop
Golf Digest Ambush: Are You Next?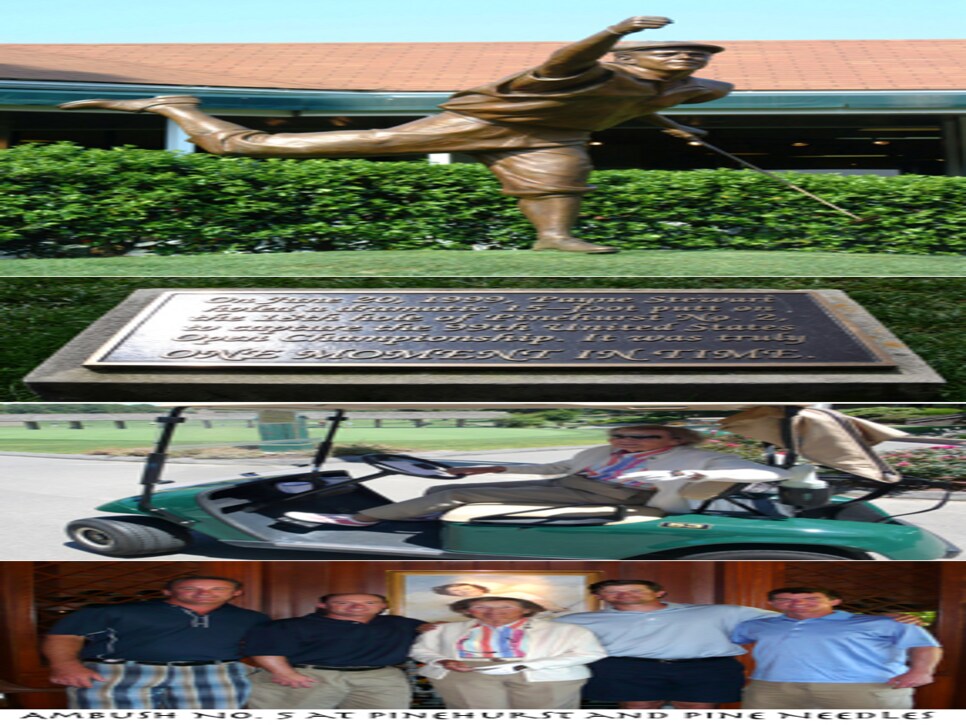 Last month I Ambushed Tom Messmer, Tim O'Neill and Mike Cornelius at Pinehurst as they celebrated their 40th birthdays. They submitted an itinerary that earned the envy of, well, a Golf Digest travel editor. And then they helped me Ambush Peggy Kirk Bell, legendary instructor and owner of Pine Needles in Pinehurst, N.C. Bell turns 87 later this year, but she is still as sharp as a new tee. She had lunch with us, gave us a free lesson that you can see in the latest Ambush video and told us she thought Annika is the best female to ever play the game. Then she walked down and watched us tee off, granting a mulligan to Tim O'Neill. Their story appears in the current issue of the magazine and on golfdigest.com.
I have this month's Ambush down to the following five finalists. Let me know your thoughts on which one I should meet up with by clicking on the comments link at the bottom of this entry.
From Courtney Joyner of Chicago, Ill.:__
"Honey, we need to move the baptism. I'll be at the Meetings that weekend." True story. No, it's not a gathering of Buffett, Gates, Pickens, and others in Davos, Switzerland. It's people like Salty Dog, Taylor, Jones, The Brothers Herrmann, and The Overcusser. The Meetings began in 2000 as a long weekend with seven guys getting away for a "man conference." It is now a five day trip (three days of golf) with a new location every year (determined by planning committee). The membership is now sixteen strong and there is a waiting list to join. If you can't make it one year, you better have a good reason or you drop to the bottom of the list. The only person to miss and be back the next year was Brent Douglass, due to open-heart surgery. It has not been determined if he thinks all the baboon-heart jokes were worth coming back for. Besides bragging rights and having an incredible time, the players compete for two trophies: The Cup and the Shane Sullivan Award for Individual Achievement. The Cup was upgraded in 2007 to a 3-foot trophy complete with Stanley Cup type carrying case. The Sully is decided on by the namesake and is not necessarily given out every year. Day one is the four-man scramble and Day two is a four-man modified shamble. On one of the practice days, a 9 hole round, is added and includes a different challenge on each hole (ex: teeing off with a putter, playing the hole with one club, etc.) Please tell Walter Iooss, Jr. to bring Vendela, Stacy Williams, and the Matty G. arrow for the Ambush photo op. Itinerary: In Chicago, Illinois. Evening activities will consist of poker and beverage consumption. Thursday, August 7th: Harborside - Port Course. Friday, August 8th: Pine Meadow. Saturday, August 9th: Cantigny.
From Leonard D'Angelo in South Lyon, Mich.:
Garland Resort in Lewiston, Mich. (Aug. 1-4). The Mid-Michigan Golf Invitational (MMGI) has been a Michigan golf tradition for the past 16 years. The event always takes place in the state of Michigan, and traditionally in the beauty of Northern Michigan, which has some of the best golf in the nation as far as we are concerned! The usual attendance is 16 guys, with at least six of those being core members that have been around since day one. Others come and go as their wives allow (which we all refer to as "the scheduling department"), and others have been lost to unfortunate tragedies (cancer, car accidents). But as with many men, the simple act of getting together for a long weekend of golf once a year helps heal the pain of the loss, and also helps to keep their legacy alive and honor their memory. Every year the field is handicapped by a nonsensical formula derived by Tony Kornaga, the founding member. His unique ability to botch even the most simplistic math, when it comes to handicapping as well as to the cost of the annual event or especially keeping his own score, has become lovingly known as "Kornagian mathematics," and is the source of much ribbing year after year. For one long weekend, as long as the "scheduling department" clears it, forget about your worries and your strife, let it all hang out and relish the fact you'll be made fun of for years to come. And should something terrible happen, God forbid, you'll be remembered forever, once a-year, as a fun loving goof. I'm relatively new to this thing, but I can tell you this is one heck of a group of guys who are every bit deserving of being honored in Golf Digest.
From Hunter Williams in Atlanta, Ga.:
This is a trip that has been going on for about 15 years. It's known as Cattail, named after one guy tried to hit out of a particularly bad lie and only came back with six cattails, which he promptly stuck in his golf bag like clubs! The trip is anywhere from 12 to 24 guys and takes place the last of July in Myrtle Beach (OK, it's cheaper that time of year and all of the guys like to "hydrate" all day). We are mostly in our mid-forties and know each other from college, hometowns or this trip. Richie Harris is the guy who puts it together each year and does a great job. Below is the itinerary and a sampling of the flavor of the trip from one of his e-mails. We've all played the Dunes once before and it is a great old classic course. The last time we played we went out after a storm and no one else was on the course but our group. It was heaven! Here's the e-mail: "Hey boys, Just about Cat-time! Only five weeks away. Thurs: 1:42 p.m. at Kings North, Fri: 8:41 a.m. at Grande Dunes, Sat: Noon at The Dunes --can sleep a little, who knows maybe we will have a Bloody Mary brunch. We are at 20 with several people wanting in. I'm sure we can talk Joe Nicks, Tommy Ray, or someone else into making us 24. Sorry to hear Eric M. can't make it this year, and of course Ricky D. got the "pink slip" for breaking the rules. [No Pain Allowed; It's about Me] I will be sending out requests for handicaps in a couple of weeks, and we all know what fun that leads to. Plus, I will just assign you what I want anyway."
From Chuck Young in Pensacola, Fla.:
We have a group of 72 guys, who every year for the past seven years, gets together on the Robert Trent Jones Trail for two days of Ryder Cup style competition. We call it the RTJ Cup. There are two teams of 36. Nearly all of the 72 have a connection to Pensacola, Florida. The first three years of the event it was played at various sites along the Trail, but for the past four years it has stayed at Capitol Hill. (Driving between days became cumbersome.) Everyone travels on Thursday (most play a practice round). Friday morning is two-man scramble, afternoon is a two-man best ball. Saturday is alternate shot and Saturday evening is singles. Everyone stays on site. We rent out two villas--one for each team. It's an amazing trip. Included in this year's price of $550 per player: Three nights at the Marriott, four rounds of golf (typically the Senator for two, the Judge and the Legislator), pizza Thursday night, dinner Saturday night, and adult beverages at the villas Thursday, Friday, and Saturday. This has traditionally been an all guys event, no wives or girlfriends; with the exception being 2006 when one guy came back from Iraq and used some of his time to come play in the event. The organizers rented an on-site cabin for him and his wife. It's by handicap (that's were the stories really begin and end) so the playing field is level (like a carrier on the open sea). One player won the American Amateur Classic while others have trouble carrying enough balls to get through 18 holes. This will be my fifth year and I don't think I have ever had this much fun playing golf.
From Dirk Smith in Scottsdale, Ariz.:__
Our foursome's annual pilgrimage is golf in its purest form--90 holes in two and a half days, grinding it out amid the 100-plus degree dog days of summer. This is our fourth annual guy's only trip. The amount of abuse we put on each other is topped only by the sweat we lose. The most eclectic guy in the group, a diabetic, always conveniently gets "fuzzy" in the heat when his scores start to rise. I'm a professional meeting planner so the role of scheduling this trip falls on me, and believe me when I share, the invasion of Normandy was likely easier to plan than getting all of these guys organized. I would love you to Ambush them! Itinerary--Palm Springs area on Saturday at La Quinta Resort (Dunes 7:15am), (Mountain at 1:15pm), Sunday at PGA WEST (Stadium Course at 7:15am), (Nicklaus Tournament Course at 1:15pm) and Monday at PGA WEST (Greg Norman Course at 8:37am).
Do you have a group (or know of a group) worthy of an Ambush? Tell us about it. You may be next.