The Loop
Golf Digest 2016 Hot List Summit blog: The advantages, and possible pitfalls, of launch monitors

This week is Golf Digest's annual Hot List Summit, a congregation of scholars, scientists, retailers and testers searching for the same goal: What clubs belong in your bag? Assistant editor Joel Beall is your Hot List Summit correspondent.
When searching for new equipment, there are two types of golfers: Those seeking more distance and those that want to find the perfect fit for their game. We call this second group "liars."
Certainly feel and workability are two ingredients in the recipe, to varying degrees. But from the 36-handicappers to the pros, distance is what primarily fuels a club purchase.
"No one is coming in saying they want to hit it straighter," said one of the clubfitters. "They want to hit it further. Now, hitting it straight is a plus, and it's what they should be saying. But that's not their mission when they are about to drop a ton of money."
Often, consumers think of a new product as automatically longer. In theory, that's sound reasoning. Additionally, in talking to retailers, customers will be swayed by a club brandished by a tour star -- think Jason Day's TaylorMade's M1. As these professionals hit it a mile, the thought process goes, "Their clubs will help me, too."
However, a customer won't buy a driver without taking a few hacks; in many instances, retailers refuse to allow one to leave the store until this happens. And a driving range can only tell so much. This is where launch monitors come into play.
In its basic sense, a launch monitor analyzes what happens when you hit a golf ball. Swing speed, launch angle, ball speed, spin rate, smash factor, carry and total distance are numbers this device measures. Added up, this instrument can paint a relatively precise picture of your swing and contact process.
"It used to be look, sound, feel mattered in buying a club," replied one retailer. "Now, what the launch monitor says plays into that."
Added another retailer: "You can't do business in today's market without it."
For example, I tried 22 drivers with the use of a launch monitor. I have a higher swing speed than most, and not all these clubs were built for that path. But most of the data was consistent.
Here are two of the clubs I tested and the type of stats a user can get:

Pretty cool, right? You can see if your swing speed necessitates a stronger or more flexible shaft, where the ball comes off the club face, if you're swinging too steep or shallow, what type of ball matches your spin rate. In the right hands, this information can be illuminating.
But there are big, BIG pitfalls that can be associated with launch monitors.
The first lies with the fitter. A launch monitor can be manipulated to push out amplified results thanks to wind-aided and dry-course conditions. At its extreme, close to 40-50 yards can be added to a normal golfer's production.
Why would a fitter do this? Simple: If a golfer who averages 240 yards tries a club that is bringing 280-yard numbers, chances are they are going to pull the trigger on a purchase. To some, this nefarious approach is an epidemic across the industry. (Note: Golf Digest's Mike Stachura ran my testing, and assured me it was performed in normal conditions. If anything, knowing Mike, I was likely hitting my shots into a virtual 40-mile gust.)
The second has to do with the consumer. Many retailers say that a customer won't come in to try out multiple clubs; they want a specific product. If they are infatuated with a club, and it feels, looks and sounds to their standard, they will dismiss the launch monitor's reading.
"They think, 'Well, I'll figure it out eventually,' " said a retailer.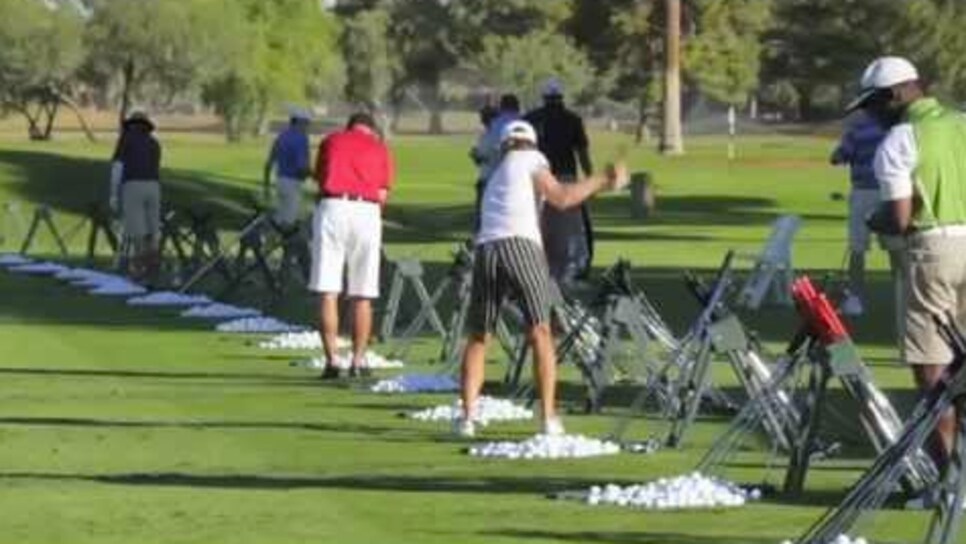 The thing is, you shouldn't be measuring your best shots. You should track your worst. Most clubs deliver close to the same results on shots hit on the sweet spot. How you respond to a mishit should be the foundation of your purchase. Yet most users throw out a bad shot as an aberration on the launch monitor.
But here's the biggest problem with launch monitors, and it goes back to the original premise. One retailer mentioned -- and all of his constituents agreed -- that distance is what grabs a hold of golfers. In looking at my own stats, I'll admit that stat is where I first looked. How far did I hit it?
Yet, while it's the most attractive figure, it's arguably the least helpful. What golfers should be looking at is dispersion. Is the club, for better or worse, being hit consistently? Offline, ball speed and, yes, yardage -- are they matching up?
"You shouldn't buy a club you can occasionally hit 300 yards, but also produce 250-yard shots hooks or slices," said a retailer. "It should be, Can I walk up to the tee with trust that I know where this is going?"
So yes, distance can be your ultimate destination. But don't let it steer your purchasing ship.