News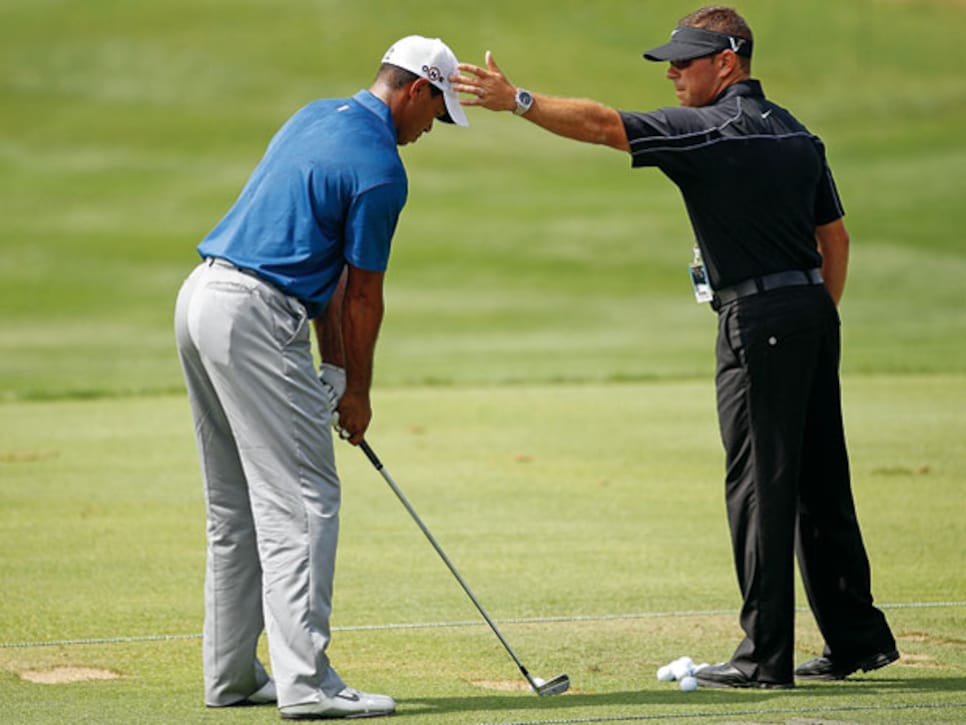 Tiger Woods by nature doesn't like change. Of course, he's dealing with as many changes at once as any athlete has ever had to endure, and the only way back to normalcy is more change. It is in this spirit that Woods is considering hiring Sean Foley as his new swing coach.
By giving Foley, 35, an audition last week at the PGA Championship at Whistling Straits, Woods signaled that he's ready to end the experiment of working on his swing alone, undertaken when he split with Hank Haney in May and initially intended to last through the year. It meant that Woods will be employing new concepts that are radically opposed to Haney's, exposing Woods' consciousness to the disturbing thought that all of his hard work and dedication since 2004 was at least somewhat misdirected. By working with Foley, Woods would become part of a stable of players and rivals, including Sean O'Hair, Hunter Mahan, Justin Rose and Stephen Ames. In bringing Foley to his team, Woods would be introducing an extrovert into an inner circle whose mantra is omerta.
All these changes, of course, would be calculated toward getting back on track to an unchanging goal: breaking Jack Nicklaus' career record of 18 major championships.
Woods got the ball rolling when he called Foley toward the end of the worst tournament week of his career at the WGC-Bridgestone Invitational, where he finished 18 over par at Firestone with a major at perhaps the most potentially penal golf course extant awaiting him. Woods came to Whistling Straits early for some hard preparation and on Tuesday in a practice round with Mahan and O'Hair, Foley videotaped Woods swing. They worked on the practice tee three more times before the week was out, the final time before Woods' third round on Saturday.
Woods' play at Whistling Straits was spotty but encouraging. In finishing T-28 at 286, he drove so poorly (hitting only 37.5 percent of the fairways) that he was often in deep-fescue scramble mode, and nowhere more than on the par 5s, which he played in a cumulative (and mind-boggling) one over par. He was pretty good with the irons, and putted brilliantly or badly. As he has in all four majors, he suffered from rally-killing mistakes, like reaching five under for the championship Sunday to get his name at the bottom of the leader board, only to three-putt the ninth and double-bogey the easy 10th.
But Woods was positive about the way he hit the ball, especially on the practice range, emphasizing that it harkened back to earlier days. As for Foley, Woods was non-committal but not coy after his final round.
"I like some of the things he had to say about my golf swing and where I needed to go," said Woods. "I like the direction because I was able to hit some of the shots I used to be able to hit feel-wise. When you get that kind of contact again, it's good. As far as working down the road, I'm sure I'm going to see him a little bit more. I still want to pick his brain. I don't really have all of his whole concept yet. But I would like to get to know him more before I fully get into it."
Foley also showed restraint. "We are literally in the sharing ideas stage. There's nothing official," the instructor said from the Milwaukee airport Sunday morning as he awaited a flight home to Orlando. "I really enjoyed talking to Tiger about the concepts of my teaching and finding out what he's looking for. I think he can tell that I like to challenge my players, and that I'm not going to be a 'yes' man. I'm always going to be who I am. That's it."
Indeed, candor is Foley's métier. Consider this assessment: "I want to get Tiger back to a place physically that he has been before, but with a new understanding. If he had understood what was so good about what he did before, he wouldn't have changed it. At the same time, I want to give him a better awareness of what he is doing now. The reason he has been hitting it where he has is that he didn't understand. As good as he is, as much work as he put in, the stuff he was working on couldn't have been right, or it would have worked better."
Foley's natural jauntiness, which might be jarring in Woods hermetically sealed world, could prove to be a hurdle. There is also the question of his other longtime players losing time with Foley because of Woods. But O'Hair supports the partnership, and Mahan is for it as well, saying, "I think it will work fine. I think hanging around Tiger would be a good thing. I think it will only benefit all of us, really, if that happens."
As for Woods, he is already familiar with Foley's operation from playing regular practice rounds with O'Hair. According to a source familiar with the budding relationship, "Tiger is really taken with Foley's intelligence."
No doubt it's considerable. Born near Toronto to a Scottish father and Guyanese mother, much of Foley's boyhood was spent living with his family in cultural centers such as Los Angeles, San Francisco, Vancouver and Toronto. He attended Tennessee State, a historically black school in Nashville, where he played on the golf team, majored in political science and philosophy, and graduated with a B.A. in 1998. He said learning to deal with being a minority on a campus that was predominantly black was a challenge that became one of the most important experiences of his life.
"At first I was trying to impress everyone I met, and I wasn't being accepted," he said. "I learned I had to be secure in myself before others would accept me. It led to a lot of really great friendships. I carry that lesson today."
Foley remembers seeing Woods and his father, Earl, give a clinic at the 1995 National Minority College Golf Championship, where he was competing. "We've joked about that day," said Foley. "I've always been a huge Tiger fan. I've always appreciated what he is doing in a historically Caucasian sport. And I think because of my experiences I have empathy for that cause and for him."
An avid reader, Foley's conversations can contain allusions to Copernicus and Newton, biomechanics or myelin, the material that grows on neural pathways through rigorous practice, facilitating repetition of human movement. "For me, the ultimate easiest golf lesson would be with a mechanical engineer," said Foley. "I wouldn't have to change how I personally think about the swing. With Tiger, it wouldn't be over his head, and the material wouldn't be new to him."
At Whistling Straits, Foley gave Woods two specific drills. They involved having caddie Steve Williams hold a club shaft against the right side of Woods' head as he swung, preventing him from moving his head laterally on the backswing. "There is no reason to have lateral movement off the golf ball," said Foley. "It impedes the proper turn and forces the eyes to make a new calculation. There are 15 reasons why it's bad."
It's a habit Woods developed early. "It's how I was taught as a junior growing up, how to hit the ball farther, always move off the ball," said Woods, who also worked on lessening the move under Haney. "But things have changed, technique has changed."
Foley also had Woods place a glove under his right armpit and keep it there to the top of the backswing, forcing his arms closer to his body, ultimately preventing them from dropping behind him on the forward swing. It has been the cause of Woods' most persistent bugaboo -- getting "stuck." Said Foley: "Tiger continued to be stuck because he wasn't doing the right thing to become unstuck."
Foley also has views on Woods' much criticized lowering of the upper body into the ball. "Hogan's head probably dropped more than Tiger's," said Foley, "but Tiger has been dropping his head away from the target as well. That's a death move that changes the path of the club and requires compensation with the hands. If you're hitting balls with your hands, you're in trouble. Even the best players can only do that successfully two days out of four."
Ultimately, Woods is looking to play a less-stressful style of golf than his errant driver has forced him to play the last few years. Rather than having to rely so much on recovery shots, short-game skill and clutch putting, Woods would like to get the ball in the fairway more often and fashion the kind of rounds that gave Nicklaus such longevity.
"I know Tiger wants it to be simple," said Woods' agent, Mark Steinberg. "He's had enough of complicated."
Foley considers his forté narrowing his message to players to what's essential, and he believes he has a good rapport with Woods. "I was really pleased with Tiger's openness to ideas that are extremely different to what he was doing," said Foley. "He learned best when I was explaining feel, and he was feeling different muscle groups he hadn't felt in a while. He hit it really good on the range, and it got better each day as his understanding grew. We have to go one piece at a time in sequence; with each piece comes more understanding. The final pieces are taking it to the course."
Going forward, the quality of what Woods can take to the course is how Foley will be judged. If it doesn't work, there are other prospective candidates that Woods says "I've talked to."
But at the moment, it looks like Woods is expecting Foley to be the right change.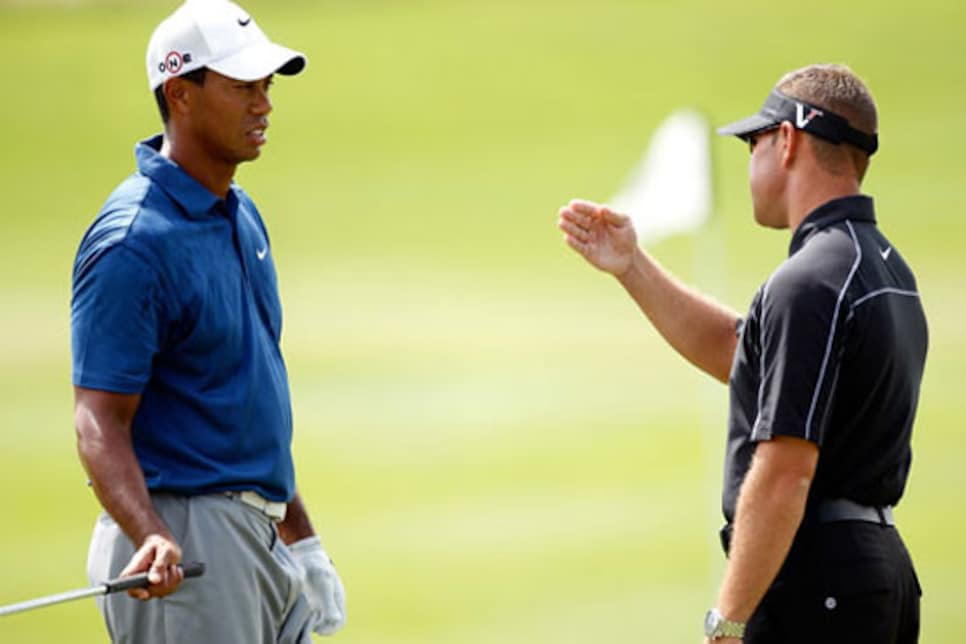 Direct Approach: An extrovert and, he says, a yes man for nobody, Foley would represent a dramatic change in style for Woods & Co.