News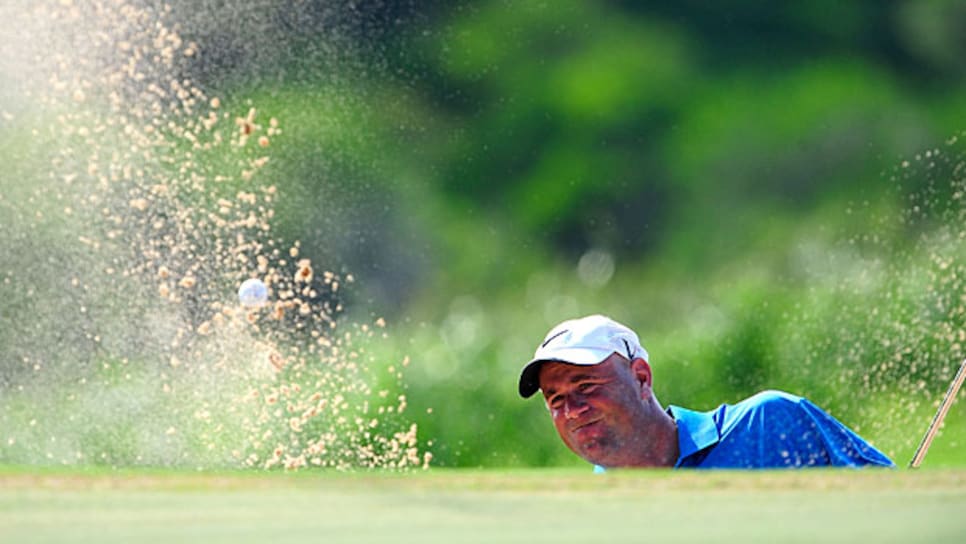 "As soon as you make your first double bogey after (winning a major), you go back to feeling pretty ordinary again," Cink said. "I have to say, I've been feeling very ordinary lately."
The grandiose and satisfying sensation a player receives from winning his first major championship never really wears off.
Of course it doesn't. Golf doesn't allow for that.
It gets slapped out of him.
Attesting to this is Stewart Cink, the Champion Golfer of the Year, the man who edited the final page of Tom Watson's fairy tale ending and wrote himself into the "happily ever after" sentence with his playoff victory last July at Turnberry, in Scotland.
"Winning the British Open and getting my first major was great, but ... as soon as you make your first double bogey after that, you go back to feeling pretty ordinary again," Cink says with a huge grin. "I have to say, I've been feeling very ordinary lately."
As he spoke, Cink was casually bouncing a golf ball off the face of his putter while standing near the sun-drenched practice green at Waialae CC in Honolulu at last month's Sony Open in Hawaii. He had just exhausted the better part of an hour working on his mid-length putting after … well, an ordinary third-round 70, even par. Cink would go on to finish T52 in the year's first full-field PGA Tour event following a T9 effort at the winner's-only SBS Championship the week prior in Kapalua, Maui.
Not exactly a rousing start to the season, but Cink absorbed the results with more than a dollop of equanimity. "I'd like to be playing better, but I'm not making too much of it," he said. "I'm excited about playing. I'm excited about the year."
Few players wallow in introspection more assiduously than the lanky Georgian, and fewer still are willing to share the resulting ruminations. And this was before the creation of Twitter, the social networking site that he employs as effectively as any active athlete. (Sample from Sunday: "Packing for my trip to Northern Trust Open. Should I give my 'new' lob wedge a try?")
He added a "Twitpic" of a Ping Eye 2 wedge. Sly.
There is no such thing as being too cerebral when it comes to golf. Paranoid? Yes. Anal? Uh-huh. Obsessive? Well, gee, they're all standing elbow to elbow in that rubber room.
But brain matter goes a long way. And Cink is a bright man with a capacity for critical thinking under pressure. That he won the Open championship while in his final year as a member of the PGA Tour Policy Board is a noteworthy feat that has been overlooked entirely.
Players who serve on the board don't just carry water for their peers; they also have to listen to all the crying as the buckets fill up. Heavy lifting for sure. Thus, you have to go back to Mark O'Meara in 1998 to find the previous man who won a major while serving on the policy board.
Cink's return to action this week represents his first appearance at Riviera CC in suburban Los Angeles since 2007. He will make only one more start on the West Coast, at the Accenture Match Play Championship, where a year ago he lost to eventual winner Geoff Ogilvy in the semifinals and finished third.
His preparations for the first major of the season, the Masters, won't begin in earnest until he gets to Doral Resort in Miami for the CA Championship. Now that he's won the Claret Jug, you'd have to figure that Cink has his eyes on more baubles. You would think he's girding for a validating second major title.
Oh, sure, he wants to add to his six tour titles, and another major would be most welcome. Delusions of grandeur are suffered by those without means to achieve goals. Cink is clearly capable of succeeding. He simply eschews declarations of grandeur.
"People talk about goals all the time," said Cink, whose Open triumph gave him wins in back-to-back seasons for the first time since joining the tour in 1997. "I don't see how winning the British Open is going to help me formulae my goals. You can say you want to win three times or win a major or qualify for the Ryder Cup, but you have to figure out how you are going to accomplish that. So, I needed to ask myself how I'm going to do it."
In consultation with his sports psychologist Morris Pickens at Sea Island, Ga., Cink has identified five areas in his all-around solid game that he can shore up. "I had to consider two things," Cink said. "I had to see the weak points in my game, and then I looked at players who play consistently the best and figure out what they do best."
This critical assessment led Cink to identify five statistical categories that he will focus on this year: putting from 10-20 feet, getting up and down from inside 40 yards, greens in regulation from 100-150 yards, wedge proximity to hole, and scoring on par-5s.
Last year, Cink didn't rank among the top 100 in four of the five disciplines, including 108th in par-5 scoring, desultory results for a player who ranked 39th in driving distance. Much of his struggles can be traced to his short-iron play; Cink was not among the top 150 in those crucial 100-125 and 125-150 ranges.
Most players might be inclined to devote more waking hours to getting better acquainted with their wedges, but Cink figures that greater precision might also be acquired by healing gaps in his thinking.
"I have to consider that maybe it was in my strategy where I went wrong," he conceded. "Maybe I was too aggressive on some of those shots, not making the safe approach to 10-12 feet on the fat part of the green. We're only talking about maybe 2-3 shots, but during a tournament that can be huge."
If critical thinking is indeed important, then so is less criticism, and Cink, who can be hard on himself, now can assuage self-recriminations by remembering that he has possession of golf's oldest trophy.
"I feel different in the confidence area. I have more belief in myself and what I'm doing," Cink said. "Winning a tournament like that just puts something in the tank that you can draw out of. It helps iron out the bumps when they come."
And, of course, the bumps do appear. They always appear. Anyone who thinks otherwise is in for a rude slap in the face.