News
Presidents Cup 2017: Golf Channel panel invokes Rat Pack, Beatles, and 'conceivable scenario it's over before Sunday'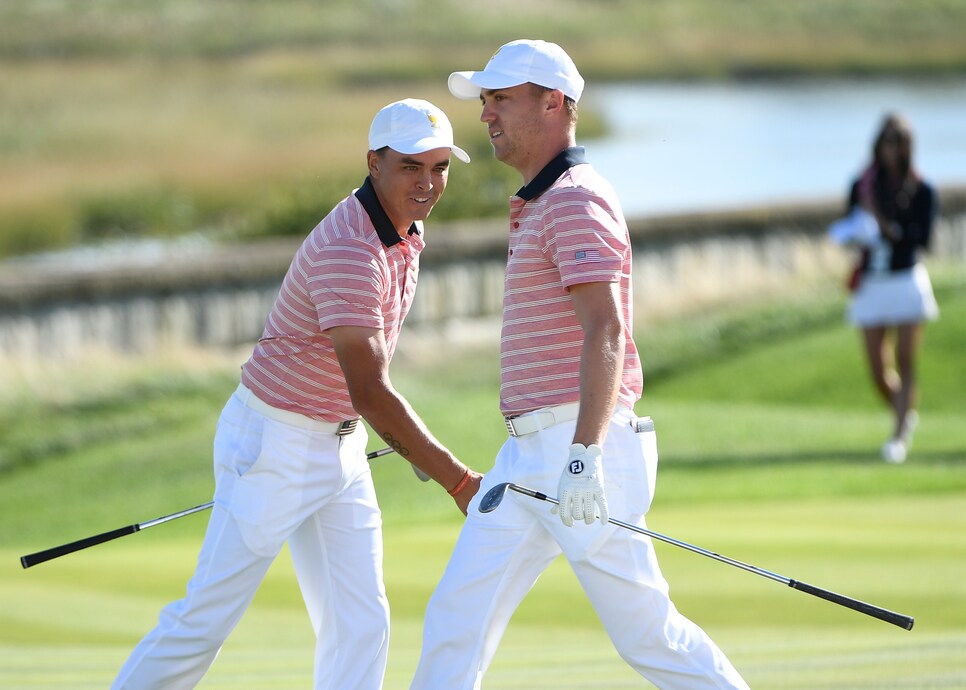 The Golf Channel panel on Friday evening virtually rendered a verdict, and the verdict was that the Presidents Cup is virtually over.
Its declarations began with Live From the Presidents Cup anchor Rich Lerner noting that "right now, the Internationals are trying to stop a 747 with a butterfly net."
Indeed, the U.S. won the Friday session, 4 1/2-1/2, and after two sessions of the Presidents Cup at Liberty National Golf Club, the U.S. leads the International team, 8-2, or more than halfway to victory with three sessions remaining.
"You're almost looking at an insurmountable problem at this point," David Duval said. "The depth of the American team really, truly showed itself today the differentiation in world ranks, and the putting ability showed itself today. There is a conceivable scenario that it's over before Sunday's singles starts. And that is just unfathomable."
Brandel Chamblee, meanwhile, usually offers a unique take as he did in this case.
"We're all staying in Hoboken, [N.J.]," he said. "That's the birth place, the stomping grounds of Frank Sinatra. Of course, he ran with Dean Martin, Sammy Davis Jr. They were the Rat Pack. You start to look at Jordan [Spieth] and Justin [Thomas] and Rickie [Fowler] and [Patrick] Reed, and they're the young Rat Pack. They have all the talent in the world. They're having more fun. They're in on the joke. And as much fun as we are having watching them, they're having more fun. They're entertaining us, we're having a blast, and we're going to be on this ride a long long time.
"And if they're the Rat Pack, the Beatles would be D.J. [Dustin Johnson] and B.K. [Brooks Koepka] and Phil [Mickelson]. They're also right there, and they're giving as good as they're getting.
"David and I did a show that aired on NBC last Saturday and we said as much, that if this were a fight they'd never let it start. On paper it's a mismatch."