The Loop
Golf Channel gets back into reality-TV—successfully—with 'Shotmakers'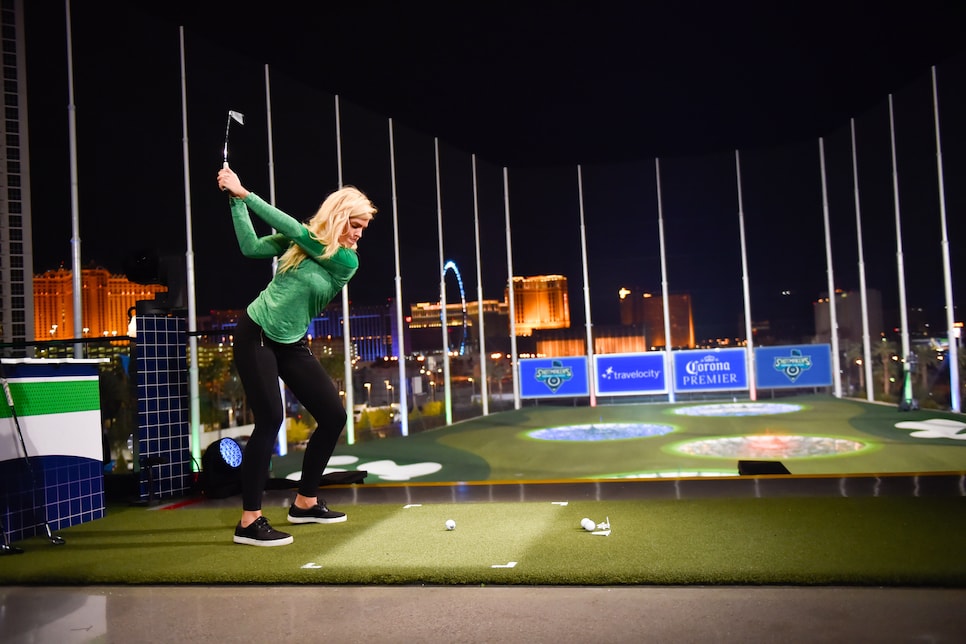 David Becker/Golf Channel
Admittedly, I have a weakness for certain kinds of reality shows. I was something of a "Big Break" superfan in high school, when the show first came out in the 2003, and when I began seeing promo spots for Golf Channel's new series "Shotmakers," I wasn't just curious. I was genuinely excited.
The show takes place in Topgolf's stunning new Las Vegas location at the MGM Grand, with the first episodes airing on Monday and Tuesday. In each episode, two-person co-ed teams attempt to accumulate as many points as possible with a series of cash prizes on the line. One team is eliminated each night, with the series whittling down from nine original teams to a three that will advance to the finale, which airs at the end of the month.
Monday night's format was effectively alternate shot: Each team had a combined five attempts to rack-up as many points as possible by hitting their ball into five different targets (plus a longer ditch at the very back of the range). Teams could choose which player would attempt which target. Just like when you play at Topgolf, points were awarded based on how far away the target is, and how close to the center players hit it. (Unlike in Topgolf, players weren't allowed to bounce their ball into the targets. They had to fly it in.)
Tuesday night brought a new format dubbed "Multiplier." Each team got four attempts—two per player—to generate as many points as possible. The catch? Scores would double, then triple, then quadruple for points won on your second, third and fourth balls, respectively. It made each shot more important than the last; a 50-pointer won in the first attempt, for example, would be worth 200 points hitting it into the same location on their fourth attempt.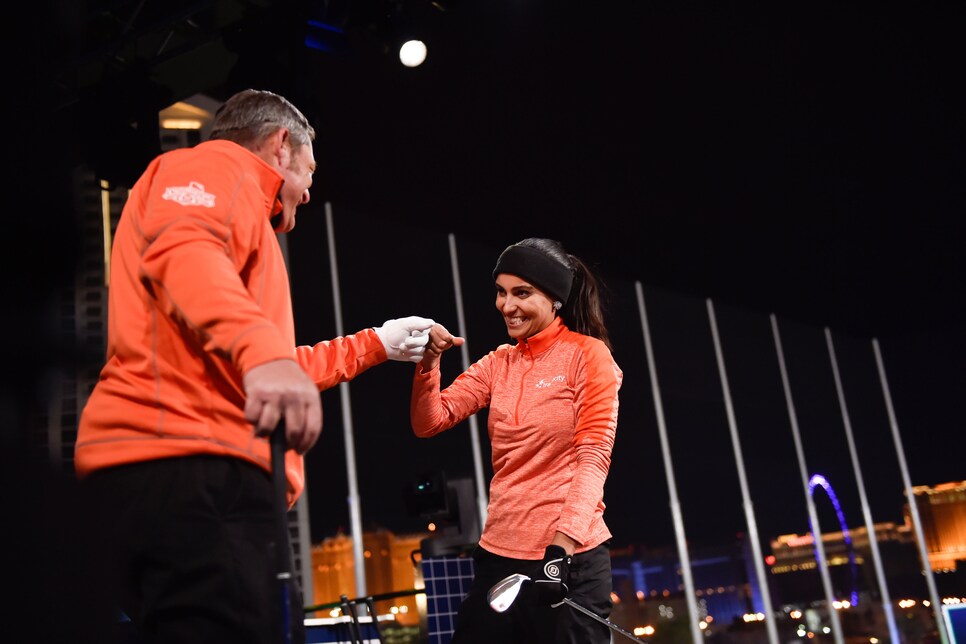 David Becker/Golf Channel
Some fans inevitably drew comparisons to "The Big Break," but in truth, the show was more like golf's answer to "American Ninja Warrior"—with a hint of Premier League darts thrown in. It's fast-paced and the live crowd injected a bubbly energy to it. The enthusiasm of the two announcers, Shane Bacon and Amanda Blumenherst were ideal compliments to the broadcast and proved adept at hyping key moments. The use of Topgolf's Top Tracer was a nice addition. And the teams themselves are a diverse range of characters ranging from mini-tour players, to former college golfers, to ex-military service members and bloggers.
This later point is pretty important, as the action itself is punctuated by personal interviews that introduce you to team members. In one interview, an ex-service-member, Andrew Bachelder, detailed the injuries he sustained in combat and subsequent addiction to painkiller medications, before discovering golf and turning his life around. It was a particularly powerful moment and did what shows like this do at their best: give you something to root for.
In all, the show succeeds in grabbing your interest and being entertaining enough to make you care who these otherwise random people are. That's not to say there aren't a few of the inevitable kinks that hopefully can be worked out.
Returning again to "American Ninja Warrior", the beauty of that show is the riveting tension that grows as the participants (the ninjas) make their way through an obstacle course and past various checkpoints. Fans watching at home don't just get more excited the closer the ninjas get to the finish line, they get more nervous of falling into the water below. The combination is irresistible. In "Shotmakers," the Multiplier format comes close to replicating this feeling, but the show never quite captures it fully.
Another thing that kept tripping me up was remember all the different point possibilities for each of the targets. Frankly, it's really almost impossible to keep them all straight. I like the strategic, risk-reward element the format allows, but when you can't remember the point totals themselves while watching at home, it's hard to feel fully invested. At a minimum, they need to show the potential point hauls more, but the show would probably be better suited to a new format simplifying it altogether. What about sudden-death, team head-to-head that incorporates closest to the pin on a specific target. Give out 30 points for the outer ring, 45 for the one inside that, 65 for the next, 120 for a bullseye. Let's go.
But in truth, these are all just little things. The backbone of the show is a good one, and I'm excited for its potential as the series airs each Monday and Tuesday through the end of April. "Shotmakers" is a fun, refreshing jolt of energy into the golf world, and I'll certainly be tuning in again.