News
Golf Channel analysts not conceding Spieth a Masters victory, but… '23 putts bad omen' for those chasing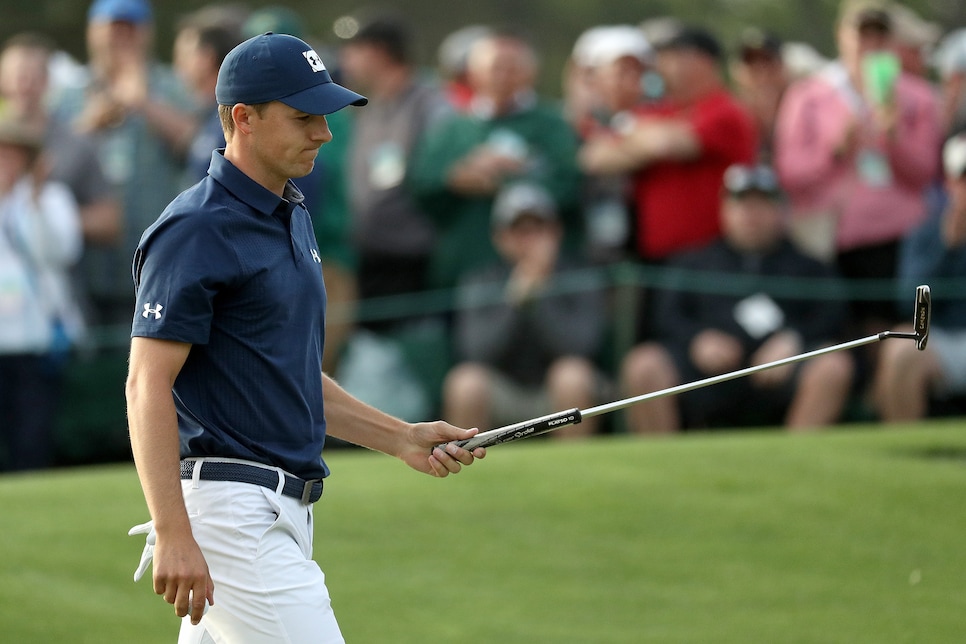 The Masters is CBS' show with a weekday assist from ESPN, but GolfChannel's Live From the Masters is the best 19th hole in television golf.
It is principally so because of its trio of opinionated analysts — Brandel Chamblee, Frank Nobilo and David Duval — who don't always agree, occasionally and entertainingly contentiously. This was not one of those occasions. This time, they were unanimous in their opinions.
They weren't conceding him a second green jacket in the wake of his tournament-leading six-under par 66, but Spieth always is an interesting study and the trio dissected him as eagerly as high school biology students do a frog.
Chamblee usually bats leadoff in this lineup and he spoke to Spieth's "incongruous adult genius." He got our attention.
"This golf course requires an incongruous coupling of fearless and experience," he said. "The problem is that experience usually comes in the form of pain. The more experience a player has he begins to play more conservative golf. Obviously that's good in spots, but not good everywhere.
"This golf course really does require a childlike fearlessness and an adult genius. When you put those two together that exactly sums up what Jordan Spieth is."
Duval alluded to a conversation he had with Spieth at the Arnold Palmer Invitation about demeanor, possibly a private conversation, though we'd love to hear more. Nonetheless…
"What I saw today is what I've talked about with him, that he seems to have been incredibly hard on himself in his golf tournaments leading up to here," Duval said. "What I saw today was maturity and patience. He recognizes that you're going to be in some tough spots. You're going to mishit shots, but you've got to miss in the right places and you've got to rely on your short game.
"He didn't seem to get worked up today. He just plotted his way around. He only hit 11 greens. So think about that. He managed to get around this golf course while driving the ball quite well. The maturity we saw from Jordan Spieth around this golf course in this tournament is second to none."
Nobilo, meanwhile, mentioned how Spieth held his round together at the 11th and 12th holes with his short game, giving his iron prowess time to hit its stride.
"People talk about pars in a round?" he said. "That was Spieth like, the Spieth we saw a couple years ago, the pars that just tick off. Then he lit it up. He hit iron shots like he did in Houston. He can hit irons and he can chip like nobody's business."
The last word went to Chamblee, who might have buried the lead in his observation of Spieth's putting. He said this at the end: "Twenty-three putts [on Thursday], that is a bad omen for everybody chasing him."
Chamblee previously had noted that when Spieth returns from a layoff, he stumbles with his putter initially, but gradually finds his form by the later rounds, as he did Sunday in the Houston Open, when he tied for third.
"Total putts in the first round in every event he's played this year, he's 204th on the PGA Tour," he said. "He's right at averaging right at 31 putts. But then by Sunday he's 17th. As the week goes on, he gets away from the technical overload, which I think we're all guilty of. I'd say he's working almost too hard on his putting. And by Sunday, he's brilliant. He picked up right where he left off last week."