News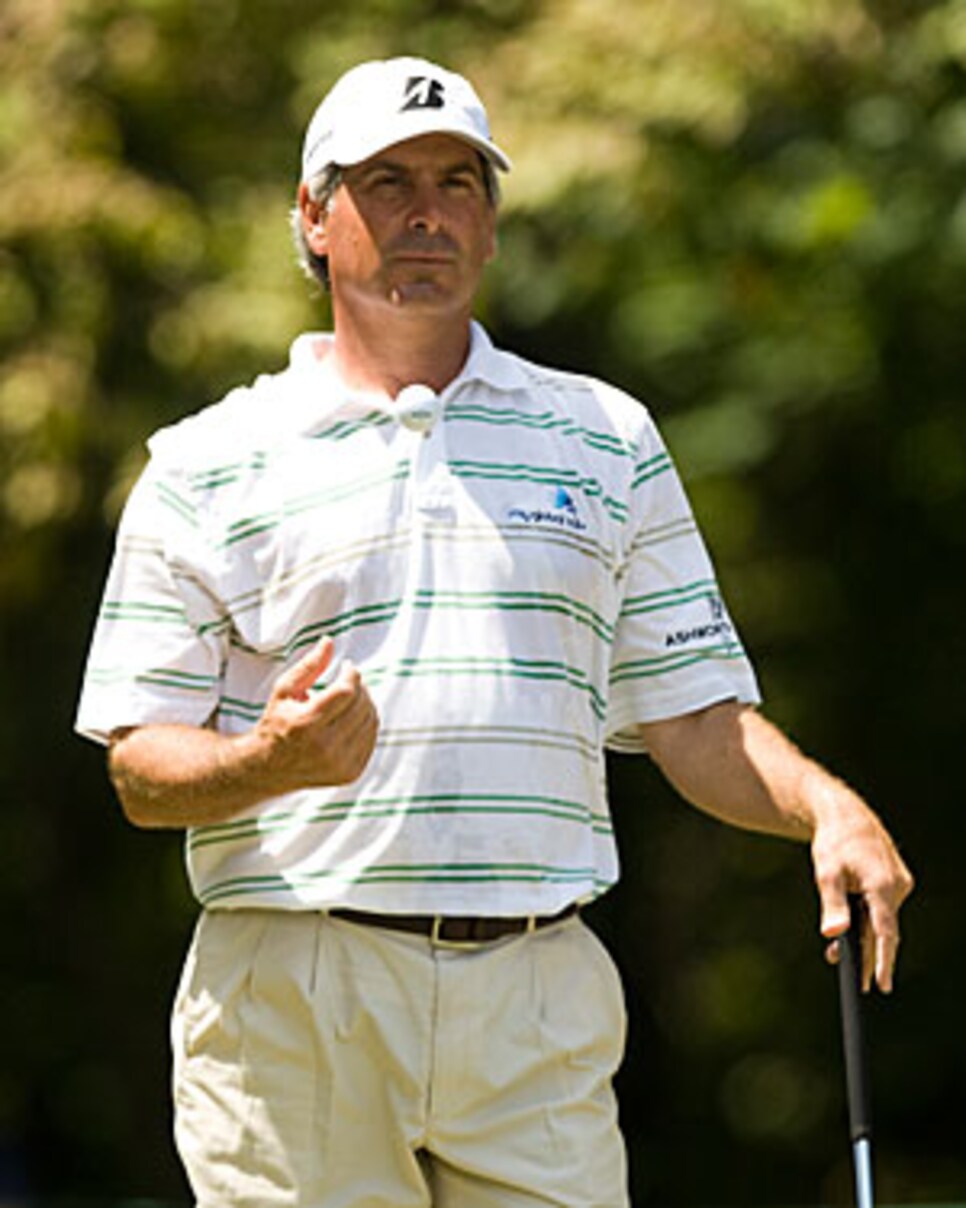 "I love the Champions Tour because of all the guys," Couples said. "They're great old friends."
All dressed in black, hat pulled down to his eyebrows, Lee Trevino was pounding balls in the corner of the range last Saturday at The Quarry in Naples, Fla., trying to work out the kinks before his second round of the ACE Group Classic. At the far end of the range, a gray-haired but still limber Freddie Couples was warming up next to caddie Joe LaCava, talking about the opening ceremonies at the Olympics as he smoothed shot after shot into a hard left-to-right crosswind. A crowd had gathered in the cold behind him, captivated by the purity of his strikes. Quite honestly, Freddie was more interested in NBA All-Star weekend. "Did you see where Anthony Kim played in the celebrity game last night?" Couples said, as casual on this circuit as he was as Presidents Cup captain, or as a box office star on the PGA Tour.
With Tiger Woods off his flat screen, and Phil Mickelson lost in a square grooves controversy, Trevino has been home in Dallas, trying to watch the West Coast Swing unfold with its lack of starpower. "I can't watch," he said. So like many followers of the game, he has gravitated to the Champions Tour, intrigued as much by what Tom Watson is doing at age 60 as by the new class that includes Couples, Ryder Cup captains Paul Azinger and Corey Pavin, the holder of the PGA Tour's 72-hole scoring record in Tommy Armour III, not to mention Mark Calcavecchia, who turns 50 in June.
At 70, about the only thing the Super Mex can do against the 2010 version of the Champions Tour is out-talk it, or in this case, talk it up. "The field that they have now and the competitors -- everybody that comes to the tournament knows them,'' he said.
The week in Naples was a flashback to the days when Trevino dominated the Champions Tour by winning 29 times against the likes of Jack Nicklaus, Gary Player, Ray Floyd and the greatest senior golfer of all-time, Hale Irwin. The vacuum chamber was the senior careers of Lanny Wadkins, Curtis Strange and Ben Crenshaw, with one total victory among them when Wadkins won his Champions Tour debut at Pelican Marsh in Naples a decade ago. This was an era defined by the likes of Dana Quigley, Bruce Fleisher and Allen Doyle -- all solid players, but hardly household names.
Couples cooperated with the story line by holding off Tommy Armour III with a birdie at 17 and a textbook par at 18. Paired with Nick Price, Armour shot 61 but Couples went for a 64 to win the shootout by a stroke. The stars were aligned behind them, with Bernhard Langer finishing T-4, Hal Sutton T-8 and Tom Kite, coming off shoulder surgery, at T-11. Like Trevino said, it was another one of those Champions Tour leader boards where everybody knew the names.
"It was so funny," Trevino continued. "When (Paul) Azinger came up here through this gate behind us (on Wednesday), and he came down to the other end of the driving range and I said, 'Do you know everybody out here?' He said, 'It took me 25 minutes to get here. I had to say hi to everybody I knew on the driving range.' This thing is fabulous out here. I think it's gonna be real competitive. I think the U.S. Open, the PGA and the British Open is going to be unbelievable with the fields they have."
With the potential for all those great names to be on leader boards, Couples is still going to be the story. He seems totally engaged in the Champions Tour, surprising tour officials by adding Naples to his schedule right after playing the Northern Trust Open at one of his favorite venues, Riviera, or doing walk-and-talk interviews and signing autographs on the back nine.
In fact, after seeing Couples work on his game at The Madison Club in the desert this winter, and also at a filming for their latest Bridgestone commercials, Trevino came away believing that Freddie could have the type of post-50 career that he and Irwin enjoyed.
"Freddie can," Trevino said. "Freddie's got a shot at it."
Trevino and Couples go back to Couples' first tournament, the 1979 U.S. Open. Couples made the cut as an amateur from the University of Houston and was paired with Trevino in the third round. Couples told me last year, just before his 50th birthday, how scared he was playing with Trevino, not because he was a legend, but because he played so fast. Five years later, Trevino was paired with Couples on Sunday when Freddie won his first of two Players Championships.
"I saw Freddie in the off-season and asked him, 'Are you going to play [the Regions Charity Classic in] Birmingham?' '' Trevino said. "He said, 'Yup.' I said, 'Oh man that is a monster golf course, much bigger than anyone we play, you're going to be right at home there.' So I called [event manager] Ronnie Bruno up and I said, 'Ronnie, I've got Couples for you.' And he said, 'Don't lie to me. Don't lie to me.' ''
Couples can't play every week, especially by splitting his schedule on both tours. He will be missing at The Allianz Championship in Boca Raton, Fla., but Pavin has flown in from the AT&T National Pro-Am and Azinger hopes to improve on his T-21 finish in Naples. Tom Lehman is in the field along with Armour, and as Trevino warned in Naples, "Don't underestimate Tommy Armour III."
Next week, Couples will be at the Waste Management Phoenix Open, then back on the Champions Tour when Watson returns at the Toshiba Classic March 5-7 in Newport Beach, Calif. They hope to have a rematch of Watson's thrilling victory over Couples at the Mitsubishi Electric Championship in January. "It was a lot of fun to win something," Couples said via text this week. "I love the Champions Tour because of all the guys. No other reason than that. They're great old friends."