News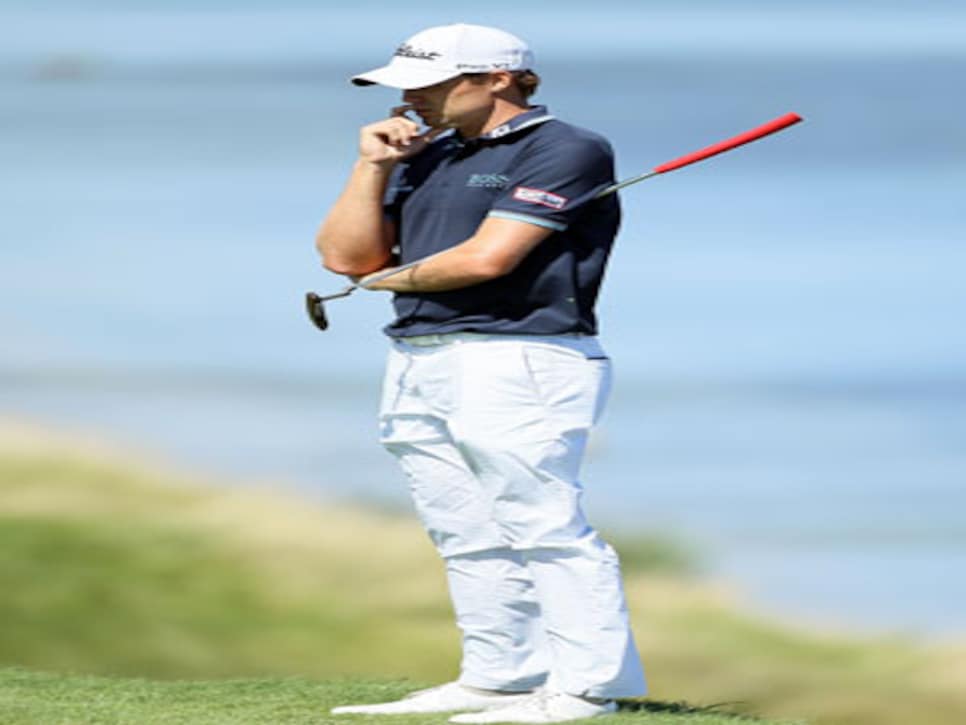 Watney started slow and stumbled to an 81.
HAVEN, Wis. -- The final major of the season is in the books, and we're still trying to make sense of it all. Who were the winners and losers on Sunday at Whistling Straits? Let's take a closer look with our final-round edition of birdies and bogeys.
__BIRDIE:__Martin Kaymer -- It might have taken a fluke ruling and a ball into the creek to help clear his path, but the young German was still poised enough to step through the opening, surging up the leader board early on Sunday, then holding on as a wild sequence of events unfolded around him.
BOGEY: Martin Kaymer -- Fair or not, Kaymer's win won't be able to avoid the Lake Michigan-sized asterisk some will attach to it. Move over, Bob Goalby...
BIRDIE: Dustin Johnson -- However bitter the pill, Johnson still took his two-shot penalty with grace, never blaming anyone but himself for the mistake. For a guy who has seen two majors slip from his grasp in the span of two months, Johnson has still managed to win over plenty of fans in the process.
BOGEY: Dustin Johnson -- How hard is to read a rules sheet? The item on bunkers was not only the first one listed, it was even underlined. If Johnson takes 15 seconds to review a handful of local rules on Wednesday or Thursday, we're not talking about him on Sunday as if he just got run over by a bus.
BIRDIE: Golf -- The events behind the Johnson ruling may lead to some inevitable ridicule toward the game's obscure codes, but face it, it's going to get people talking about golf. Better yet, the next time someone hits into a bunker, you can bet he's going to know what to do.
BOGEY: Nick Watney -- The day began with a chunked wedge and a double bogey on the first hole, and it only got worse from there, with the fatal blow coming when he pushed his tee shot on the par-3 seventh into Lake Michigan. Given how he imploded with the lead en route to an 81, Watney might have wanted to jump in with it.
BIRDIE: Bubba Watson -- He may have seen his own major championship dreams disappear into the creek on 18, but Watson insisted he would have attempted the same shot again given the chance. In a sport overrun by swing gurus and head coaches espousing on the virtues of playing it smart, Watson has underscored the merits of listening only to one's gut.
BOGEY: Rory McIlroy -- And to think, much of the late-day drama would have been avoided if the 21-year-old McIlroy had anything going on the greens. After missing his final birdie attempt on 18, McIlroy finished one shot out of the Kaymer-Watson playoff, forcing him to settle for his third top-3 finish in a major in the span of a year. It's now more apparent than ever that McIlroy is knocking on the door of superstardom. A few inches here or there, and Sunday would have been the day he busted through.
BIRDIE: Whistling Straits -- So maybe there are too many bunkers. The Pete Dye design is still a visual and strategic gem that produced the most exciting major Sunday of the year. We'll be back here two more times before the decade is out. Remarkably, that doesn't seem like enough.
BIRDIE: FedEx Cup Playoffs -- Oh yeah, that. Once dismissed as an artificial system that most people didn't understand, the four upcoming playoff events will be vital to sorting through the mess that has been the 2010 season. Tiger will be there to start. Phil should be there for the duration. Perhaps you still don't understand how the whole thing works. But at least now it actually bears watching.