News
Haas posed with his father after winning the Tour Championship and FedEx Cup.
Jan Haas was tearing up. So was Holly Finchem, the commissioner's wife. "It's much, much more nerve-racking with your child," said the mother of Bill Haas, the wife of Jay, who was standing outside the East Lake GC clubhouse Sunday night. "As a mom, you want to make everything right for your child. You hate for them to be hurt. You don't want them to be hurt or upset. It's harder for me. There's something about your husband, you say, 'They can do it, they can handle it.' There's something about your little one, you want their life to be what they want it to be. You want all their dreams to come true from the time you're rocking them in the rocking chair."
Twenty-nine years after Jan rocked Bill, her son hit golf's jackpot: a $10 million FedEx Cup bonus, another $1.44 million for winning the Tour Championship and almost certainly a spot on the Presidents Cup team, where Dad will serve as assistant captain. All of this in a year of hurt for her son that included two playoff losses, a 78 in the final round of the BMW Championship that saw him drop from T-3 after 54 holes to T-16 and, just a day earlier in Atlanta, a bogey-double bogey finish that raised more doubt as to whether Bill was tough enough to close out rounds and tournaments.
"He was a little bit of a momma's boy in that I had to pull him off me to get him into first grade," Jan said. "As a little one, he didn't like me to leave." Now 6-foot-2 and with a shaved head to mask his premature baldness, Jan's boy grew up in the stressful final minutes at East Lake. He got up and down from a water hazard to extend the playoff with Hunter Mahan -- an image that will go down in FedEx Cup lore. One hole later, he two-putted for a winning par from the fringe on 18, a hole where he -- sometimes by a little, sometimes by a lot (see his tee ball on the first playoff hole that had fans in the sky boxes ducking for cover) -- missed the putting surface the last four times he played it.
"I thought he did a wonderful job in the playoff of keeping his cool," said Jay Haas Jr., who made the move to his brother's bag at the Greenbrier Classic, where Bill lost a playoff to Scott Stallings, a strong, young, exuberant player like Haas.
Staying cool was just as imperative after Haas shot 42 on the last nine holes at Cog Hill in the BMW. Jay Sr., tried to dance around the subject with his son, knowing "he had some demons bouncing around in his head." Watching from the course on the weekend at East Lake, he admitted, "I hope he's a little less nervous than I am." In an interview with NBC, Jay noted that he "picked his words carefully" in playing both father and amateur golf psychologist.
Insiders have been waiting for a breakout moment like this since Bill left Wake Forest as the Ben Hogan Award winner and signed a mega-contract with Titleist in 2004, the year his father received the Payne Stewart Award at East Lake. In 2010 Bill won early (Bob Hope Classic) and late (Viking Classic) for his first two tour victories, but has always battled self-belief issues.
That's what swing coach Bill Harmon has been addressing, more than technique. "Bill has never been overconfident," Harmon said, adding that on a talent meter, Haas is "one-hundredth of an inch behind Fred Couples when it comes to being naturally gifted."
As for the shot that will be remembered as the one that won the tournament, his right foot actually in East Lake, his ball half-submerged, Mahan on the green looking at birdie, that was Haas' natural talent flowing through. It's not like he practiced the shot. "Why would you do that?" asked Jay with a smile. "Is there a practice lake out there?"
So how do you measure toughness and self-belief in golf? By bouncing back from bad rounds, bad holes and late-round collapses, all the things Haas did during the playoffs. "The 78 last week, he didn't say a word about it," said Jay Jr.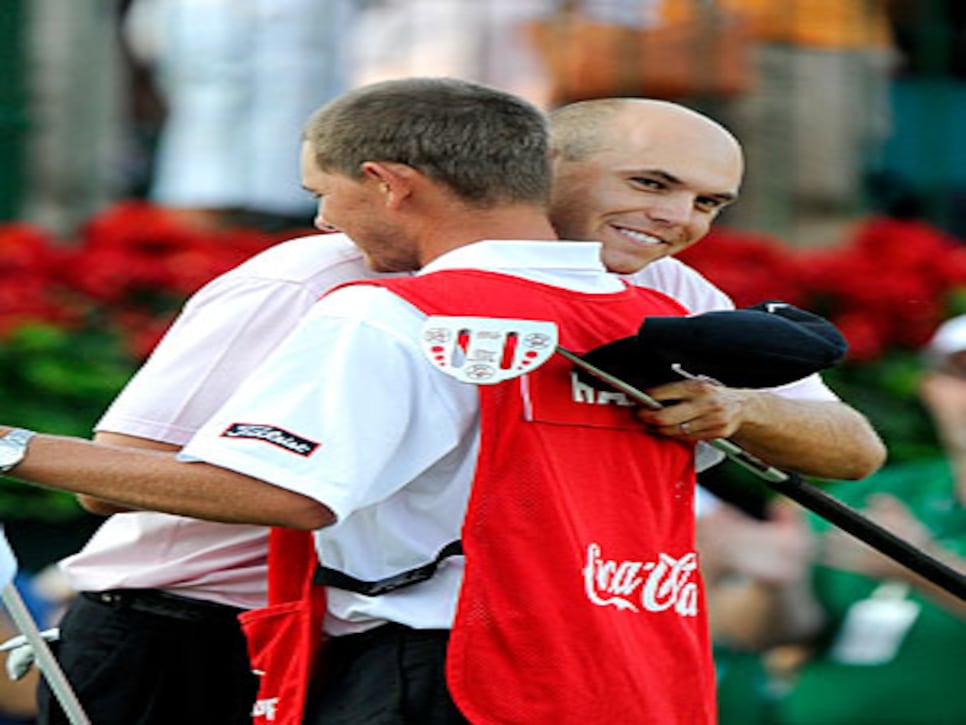 The Haas family is one of the most respected in golf, if for no other reason than its members are so down-to-earth. After commuting 2½ hours every day to Atlanta, they drove back to Greenville, S.C., Sunday night to celebrate the 24th birthday of Bill's sister, Fran, the fourth of Jay and Jan's five children. Tuesday before the tournament, they were at the Ritz Carlton in downtown Atlanta for the Payne Stewart Award ceremony. Bill was in the audience, voluntarily.
"There are three things players have an option of doing this week," said Jay. "They can do a breakfast [with sponsors], do a clinic or go to the Payne Stewart Award. Bill did the clinic because the [Stewart reception] filled up, but I told Bill, 'You need to come to the reception anyway.' Billy Harmon has a saying that he picked up from his father, Claude. 'You're never wrong to be right.' I like that. It's like asking, 'Should you wear a sportcoat or not wear a sportcoat?' You wear a sportcoat because you can never be accused of being overdressed."
Sunday night, holding two trophies on the 18th green at East Lake, Bill Haas wore the look of a winner. The tears welling up in his mother's eyes were from joy, not hurt.