News
Big Break Ireland: Julien's Journal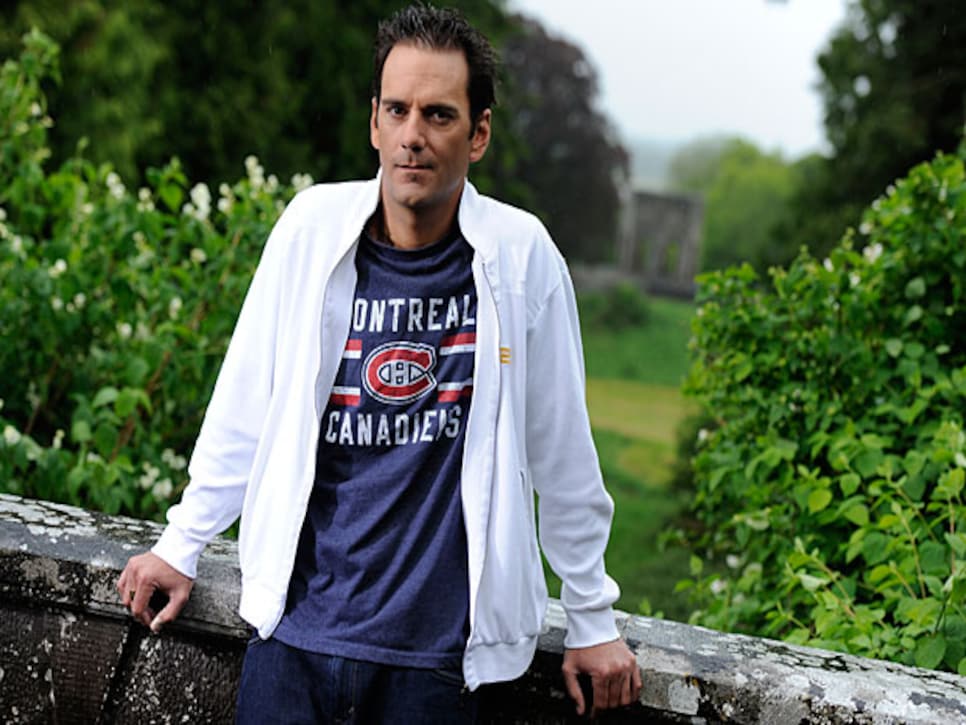 Julien Trudeau, 30, spent the 2010 season on the Nationwide Tour after missing out on qualifying for the PGA Tour by one shot at Q School in 2009.
*Each week, Julien Trudeau, a contestant on Golf Channel's Big Break Ireland, weighs in with a behind-the-scenes look at that week's episode. For more on the show, which airs Tuesdays at 9 p.m. ET visit www.GolfChannel.com/BigBreak
Episode 10: "The 19th Hole" (Aired November 22, 2011)
It goes something like this. You fly to Dublin. You meet 11 strangers. You always do what the network tells you. You do interview after interview. You get no sleep. You sit around in cold weather waiting to hit golf shots. You love and cherish every minute of it. You make it to the final match. You get no sleep. You play a winner-take-all match for $80,000 in cash and prizes.
When I arrived in Ireland, it had been 7 months since I had played my last "real" golf tournament, the Nationwide event in Chattanooga, TN. Two days before flying to Dublin however, I played the 18-hole U.S. Open local qualifying tournament in Henderson, NV. My friend and teacher Bill Forrest came with me to caddie for me and to try to get me ready for Big Break. He was one of the very few people whom I told of my participation on the show before heading to Ireland. I struggled so badly that day in Nevada, shooting 78. My ball-striking was terrible and my attitude was even worse. Bill and I had plenty to talk about on the 5-hour drive home to Phoenix that afternoon. There wasn't much I could do to fix my swing in two days. The only thing I could change was my attitude. I think I did a decent job of that for the most part.
I have no regrets from the final match. You can insert any cliche you want here: I gave it 110%, I left it all out there, I tried my best. Sure, I'd like to have that second shot from the 19th hole over again. But the hole I really want back is number 10. What a debacle that was! After a perfect drive, I hit another terrible three-wood just like the one I had hit way right in Episode 8 against Mark on the Smurfit course. I followed that up by "yipping" my 80-yard shot in the front bunker. I had no chance to get that bunker shot up and down -- it was straight downwind and downhill to the hole from there. Mark's win on that hole gave him a boost and took my momentum away.
Overall the thing is, I just wasn't swinging well -- I hit 5 greens in regulation in 19 holes. Thank goodness for my short game. I got up and down 6 out of 7 times on the front nine to take a 2 up lead at the turn. Mark turned up the heat with incredible birdies on those back-nine par threes. I hung around and showed a lot of grit. I will forever remember that putt I made for par on 17 to keep the match going.
The final match took almost 7 hours. A twosome playing a $2 Nassau would normally play the Ryder Cup course in 3 hours. This was no regular Nassau! For instance, it typically took around 5-10 minutes to start playing the next hole. Cameras had to move, people had to move, the "eliminateds" had to get to Safe City behind the next green, and so forth. There was no rhythm to the match whatsoever. We had to slow our pace when we walked so the cameramen could follow us with that heavy equipment. I have so much respect for everyone on the crew, the conditions they had to deal with and the professionalism and hard work they displayed.
I have watched and enjoyed the final episode twice now. It has been a pleasure to watch every show and see how Golf Channel edits everything. There is so much content, no wonder it takes 4 months to get the first episode out. Golf Channel is first-class all the way. They treated us like rockstars. I think it's safe to say that every Big Break Ireland competitor would like to be on Big Break ten more times! It's also safe to say that the hardest thing about being on Big Break is keeping everything a secret after filming is over. It's been hard, especially when one or several of my friends said "I know you won, Jules."
If you've watched any of the extra footage on GolfChannel.com (and you should!), you know that I kept a journal while I was in Ireland. So, I think it's only fitting that I end this commentary with an excerpt from my journal.
"Saturday, May 28th, the day after our 19-hole match. I always knew Mark would be good on the 19th hole, if you know what I mean?
Y'all saw that debacle out there yesterday, I can't hit it any worse. I haven't played a real golf tournament since the Nationwide Tour event in Chattanooga in October, what did I expect? Thank god I can chip and putt, otherwise it might have been a 12-hole match. I was still here to win, and just barely fell short. Mark made some huge putts on those back-nine par 3's. I gift-wrapped the 10th hole by butchering it badly and I gave Mark a half-point by hitting a basic golf shot in the water on the 11th. Other than that, I fought really hard and am proud of my performance under tremendous pressure. I know that if I put in some time, I can get back to a big Tour. My passion for golf has definitely been renewed, especially after seeing how much fire and heart all the girls bring to the golf course. I was very impressed by everyone, the level of play, and just the overall experience was amazing and life-changing.
OK, I'm so done talking about golf, I'm sorry... I'm on a train heading for Kilkenny, County Kerry, in the Southwest of Ireland. It's nice to be single and unemployed. I'm sitting across from Murph, Big Break Ireland winner, what a great dude! I changed my flight to next week after Murph invited me to come to his parents' place. How many times will I get an opportunity to be in Ireland and explore and play links golf?! Thank you Golf Channel! I can't wait to see this golf course he speaks of in his hometown, Waterville Golf Links. Should be pure."
I'd like to thank the editors at Golf World/Golf Digest for giving me the opportunity to give you readers a little insight on Golf Channel's Big Break. It's been an amazing ride, even though I was aware of the results the whole time! I'll be back, folks, I'm not done yet! I'd like to wish Mallory, Whitney, and Nicole good luck next week at the final stage of qualifying for the LPGA Tour. Go girls!
Episode 9: "Hoot and Scoot" (Aired November 15, 2011)
It seemed like just another Sunday afternoon in Colorado Springs, Colorado on June 5th, 2011. Not for Mallory Blackwelder. She was on her 36th hole of sectional qualifying for the U.S. Open at the Broadmoor, which would also be hosting the Open a month later. She was facing a long bunker shot and somewhere in the back of her mind she knew that she needed to get it up and down to earn her qualifying spot. There was something else in the back of her mind, a memory from 10 days before. It was a memory of that great bunker shot we witnessed her hit in Episode 9 of Big Break Ireland.
Do you think I'd be telling you this story if she didn't get that bunker shot up and down and qualified for the Open?! Of course not! Sure enough, she hit a great bunker shot to tap-in range and qualified for the U.S. Open by one stroke. She called me after signing her scorecard that day and thanked me for having picked that particular spot to play from in the immunity challenge at the K Club. She claimed that having hit such a great bunker shot on Big Break gave her the confidence to get it up and down again and give herself a chance to qualify for the Open. "You're the one who hit the shot, Mal," I told her. Nonetheless, I accepted the credit she gave me and was thrilled that she would be competing in the most prestigious event in women's golf.
Now, back to competition day. Breakfast at Liffey's was very quiet that morning. There just wasn't much to talk about. Even Mark, usually the life of the party, was more reserved. As is always the case on Big Break, we competitors had no idea what challenges we would be facing on this day, the penultimate day of the show. Being this far into it, we were all ready for whatever the producers brought upon us.
The scene was set on the Smurfit Course. The producers had decided on a round-robin type short-game challenge. This challenge reminded me of a game called "Hoot and Scoot" that my friend Michael Derminio and I play when we practice our short games. In "Hoot and Scoot", the winner of the previous location gets to pick where he wants the next shot to be played from. However, the winner must throw the golf balls and the competitors must play them as they lie.
After taking the point from Mallory from her location, it was my turn to select a spot to get up and down. I remember the producers asked me if I was going to pick a location based on Mallory's weaknesses. As far as I was concerned, Mallory had no weaknesses and the only challenge I could surely win against her was a long-drive contest. So, I decided to play a little "Hoot and Scoot" by picking a tough but fun bunker shot.
Mallory and I have been looking forward to seeing those bunker shots on TV ever since we hit them. The shots looked so cool from our perspective, especially with the late backspin. I would be remiss not to mention the fact that she still gives me a hard time for hitting it inside me!
After Mallory and I both sank our putts, I proceeded to take a point from Mark in the first location and basically seal my ticket to the Big Break Ireland finale. I was extremely thankful for the $5,000 prize that Dick's Sporting Goods had sponsored for this challenge. I was more excited for the opportunity I was going to have the next day (the finale, of course!).
The elimination challenge ensued. In the end, Mark's putting earned him his spot in the finale. His birdie putt on the second hole of the challenge and his par-saving putt to clinch the victory made the difference. Mallory played well, but it wasn't enough. She showed such grit by making that par putt on the 3rd hole of the elimination challenge. It was impressive stuff by both competitors, especially in those conditions.
In the past few days, people have asked me who I would have rather faced in the final or who I was rooting for in Episode 9's elimination challenge. I can't answer that because I have no answer. At the time, I knew that whoever won the elimination challenge would be a very tough opponent in the final. Mark and Mallory's playing records and skills speak for themselves. I sometimes joke that if Mallory had beaten me in the final, my friends would have never let me hear the end of losing to a girl. I'll tell you what though, I'll take her on my team any day.
Nine episodes down, one to go. I'll see you next week, win or lose!
Episode 8: "Taking Down A Giant" (Aired November 8, 2011)
Hi readers! I'm doing something different this week. First, I have a little story about Andy Walker that I'd like to share. Then, I'll get into some commentary. There will be no play-by-play as usual, just a few key shots that stood out in my mind. Here we go!
May 12th, 2011. It was about 5:00 a.m. and my buddy Ryan had just dropped me off at Terminal 2 at Sky Harbor Airport in Phoenix. I was on my way to Newark where I was due for a six-hour layover before a connecting flight to Dublin. I had no idea what to expect or who I was going to meet. All I knew was that I was going to end up in Ireland the next morning and I was there to win Big Break.
I checked my bags, got my boarding pass, and headed to my gate. A familiar face appeared. It was that of Andy Walker, or "A-Dubb" as we call him. Andy and I have known each other for about six or seven years having played together on a few mini-tours. We were also rivals in the National Golf League -- I was a member of the Scottsdale Screech and he was a member of the champion Phoenix Fireballs. So, I gave him the "man-hug" and asked him where he was off to. "I'm going East" he said in a mysterious way, as if not wanting to divulge his destination. "Me too! How far East?" I replied, already having an idea we were headed to the same place. "Dublin!" he said. Another "man-hug" ensued. We were both very excited for the opportunity Golf Channel gave us.
When my producer TJ called me to let me know I was going to participate in Big Break Ireland, I figured I would know at least one of the other contestants, especially since I'm somewhat of a mini-tour veteran. I would bet that Andy thought he would know someone too being quite the veteran himself. I remember thinking that this Big Break would be tough to win if the first person I met was A-Dubb -- the dude has game!
Andy and I's conversation continued on that gorgeous Arizona morning. In talking to Andy, I discovered that Big Break Ireland would be co-ed -- Andy knew that Nina was also heading to Ireland. They practice at the same course in Phoenix and must have had "the talk." The whole co-ed thing was very exciting to me (right, guys?!), and I'd be lying if I said that I didn't think that it would be easier to win if there were girls there too. Girls, this is before I realized how good you are!
I'm telling you all this just to let you know how much respect I have for Andy, even though it might not have shown, especially in this last episode. Andy has persevered for years trying to get his big break and make it to the PGA Tour, falling just short on several occasions. He is above all, a wonderful father. If you don't believe me, check out his video bio on Golf Channel's website. He was one of the best players in Ireland and he was the most accomplished player on this Big Break. Taking him down in the elimination was a great accomplishment for me.
Now, for competition day.
After waking at a normal Big Break hour (4:15 a.m. I believe it was) and taking a shower, I got dressed and headed upstairs for breakfast. There was something different about this morning however. Our Straffan sound technician, Alex, had come downstairs to put my microphone on. I knew right away something was up. I went upstairs and found nothing but a letter on our dining room table. "Pack your bags and join your new housemates," the letter said. I was thrilled to move over to the Liffey house. I had been wanting to go have a pint with Team Liffey for quite some time now, but the rules did not allow us to visit the other team's house at any time.
The producers set up the scene for me to head over to Team Liffey's house and surprise Mark, Andy, and Mallory while they were having breakfast. Team Liffey had a letter of their own. The competition was now an individual one. Of course it was, did you readers really think Team Liffey was going to play me three-on-one? No way!
We competitors set out for the driving range and warmed up for short-game shots. Once again, the wind was blowing a gale. We then drove out to the Smurfit course to find our short-game challenge. The winner of the "Around the World" challenge was to receive $5,000 in United Airlines travel vouchers as well as get to pick their opponent for the first round of the elimination challenge. It seemed to me that this challenge went by very fast. Or maybe it was just that I wanted it to be over quickly. I got off to a bad start with a terrible first putt and could never really recover from it. Part of my problem was that the producers told us that we did not need to practice putting before this challenge. I don't think anyone in the world would chip from that first location. So then, our very first putt of the day was a 120-foot putt, breaking about 15 feet with the wind at our back and blowing about 40 miles an hour. I was not thrilled when I picked the #1 ball which made me the guinea pig for that first challenge.
The only other shot from the "Around the World" challenge which stood out to me was Mark's bunker shot to seal the victory. I think there's a big difference between trying to get a bunker shot up and down and trying to get a bunker shot inside 15 feet to win a challenge. He choked, it was as simple as that. Mark IS a wonderful bunker player and if you gave him 10 more balls from that location, he would probably make two of them and never hit it outside 8 feet. Oh, Big Break pressure!
Andy won the challenge and chose Mallory as his opponent for the first part of the elimination. Mallory won with two pars after Andy missed a short par putt in the first playoff hole. Mark and I then squared off. I got another great break after an awful 3-wood second shot which went 65 yards off line. I failed to make my birdie putts and gave Mark the opportunity to make his birdie and send me to the elimination challenge against Andy.
I was SO nervous before driving out to the 17th hole of the Smurfit course to begin the elimination challenge. As I said earlier, I thought Andy was probably strongest player in Big Break Ireland and I knew I would have my hands full against the crafty veteran. Sure, I talked about Andy's lack of wind game. But Andy hits the ball very solidly and the wind doesn't affect his ball too much unless he is hitting directly into the wind, as had been the case the day before (episode 7) when he was scramble partners with Mallory.
Andy got things started by striping his shot on the par 3. It looked like a hole-in-one all the way but settled 12 feet behind the hole. I hit a great little punch 6-iron to the left fringe, leaving myself with a 25-foot look at birdie. After cozying my putt to tap-in range, Andy hit a great putt which barely missed the mark. I was stunned when he missed his come-backer. The door was open.
On the par-5 18th, the final hole of the elimination challenge, Andy once again showed some skill in the wind by hitting a great third shot to within 12 feet. I made a great up-and-down for par to set the stage for Andy's do-or-die birdie putt. When he missed on the low side, I had taken down a giant and found myself on the Big Break Ireland podium with Mark and Mallory. What a tremendous relief it was to defeat Andy. Ever since that day at the airport, I knew I would have to beat Andy at some point to win Big Break and I knew it would be no small task.
And then there were three. Stay tuned for more commentary and more great action on Big Break Ireland.
Episode 7: "The Final Four" (Aired November 2, 2011)
Picture yourself taking a boys or girls golf trip to Ireland. You fly out to Dublin or Shannon, you get in your rental car, you check in at your hotel and you just can't wait to go play some Irish golf. Well, chances are that on this trip you will have one or more days where the wind is blowing a gale. It IS Ireland after all, right? Don't you want one of those days though, a day where mother nature shows her sharpest teeth? I mean it wouldn't be true Irish golf if you didn't have a few of those windy days on this trip. Let me tell you something though, you don't want to play in what we played in for Episode 7. It reminded me of that scene in Caddyshack when Bill Murray tells the priest that "the heavy stuff isn't going to come down for a while"!
We contestants finally got to sleep in a little because there was absolutely no way we were going out there to compete at our normal 7 a.m. start time. I think we ended up going out to the driving range between 10 and 11 a.m. Nina and I learned in our letter at breakfast that we'd be co-captains for Team Straffan. As we saw in the episode, Andy deferred his captaincy to Mark for Team Liffey. I wasn't very impressed with Andy's maneuver, clever as he thought he was in trying to avoid elimination. He thought that Mark would automatically pick "The Eliminator" if Team Liffey lost -- In case you're just now joining us, that nickname is reserved for Mallory. Andy's choice to defer to Mark would end up costing him $5,000.
The competition for Episode 7 consisted of 4 holes of golf in different formats. Team Liffey had a choice to make before starting the competition since they had three players. Nina and I faced Andy and Mallory first in a scramble on the par-4 7th hole of the Palmer Ryder Cup course. The hole was short but played almost directly into the strong wind, making the drive and approach shot very difficult. Andy hit his drive in the water and mine was headed in that direction too but stopped 10 feet short in fine shape in the rough. Nina pulled her tee shot in the trees but it was of no consequence since my drive was in position to hit the green. Mallory then striped her drive down the middle, a great shot for Liffey since Andy's had already found the drink.
Liffey was left with about 120 yards. Mallory hit a nice shot to the back of the green and Andy proceeded to balloon his 2nd shot to the front-left fringe, almost in the water again. I was surprised that Andy hit that kind of shot into that wind. A little bullet-type of shot like Mallory hit was probably the more proper play to keep the wind from affecting the golf ball. It was now up to Nina and I to try to get one in there close for a look at birdie. We had just a shade under 100 yards, let's call it 97 yards. Nina hit her shot to the right fringe, leaving us some 50 feet for birdie. I hit an 8-iron, yes that is correct, an 8-iron right over the flag to about 35 feet behind the hole. After we two-putted for par, Andy went on to make a nice 5-foot tester for Liffey to halve the first hole.
The teams walked around the pond to the par-3 8th hole where we were squaring off against Mark and Mallory. Just to let you know, the tree that fell by the 7th green was in the exact location where Tom and Stephanie, the hosts, were doing their commentary as we played the previous hole. What a gale!
Mark's shot to the 8th looked great in the air but got a soft bounce and ended up short of the green. I hit a nice shot just right of the flag and bounced to the back of the green, some 30 feet away for birdie. It was very difficult to manage how much the wind would be helping this straight-downwind shot. The girls were up next. Mallory hit a great shot and left herself with a nice 20-foot look at birdie. Nina proceeded to hit her shot just short and right of the green. After Nina and Mark hit mediocre chips, I let Nina try to make it for par before hitting my birdie putt. This is part of the beauty of match play. I felt that it would be a nice boost to Nina's confidence if she could pour her 9-footer in. I could also learn the line from watching her putt and be a little more aggressive with my attempt if she did make it. She missed her putt though and I lagged my 30-footer to tap-in range. Mallory also two-putted for par (I thought she was going to make it!) and we headed to the 9th hole for an aggregate stroke match against Mark and Andy.
The wind was at our back and was not letting up. I decided to hit 3-wood to avoid flying it into the tree in the middle of the fairway. Mark, Andy and Nina also found the fairway with good drives. I was first to play from the fairway and had 153 yards to the flag, with the wind blowing hard downwind and off the left. I hit a nice 9-iron to about 30 feet behind the flag, leaving myself a nice uphill look at birdie. Andy got blown over in his swing and hit it just off the green to the left. Nina then pulled hers into the back left bunker and Mark blocked his approach to some 40 feet away from the hole on the putting surface. Nina's up and down was incredibly hard. The bunkers were a little sloppy from the rain, it was blowing 50 miles an hour in her face and off the right and it was uphill to the hole. She hit a nice bunker shot to about 12 feet. After Andy chipped up to 4 feet and Mark left his putt 3 feet short, I hit a great putt that barely missed. I tapped in for par and helped Nina read her putt for par. I wish I told her to play more wind on that putt. She hit a nice putt but the wind pushed it left. Mark and Andy converted their pars with clutch putts to clinch a point for Liffey.
Nina and I knew we had to win the alternate-shot hole to force a playoff and temporarily avoid elimination. At this point, the wind was still blowing 50 mph and at our backs. Mark hit a great drive down the right side of the fairway. I remember standing over that tee shot on the 10th hole and waiting for the wind to die down for just one second. I felt a little break in the wind, rushed the swing and blocked it into the trees on the right. All Nina could do from there is hit it back in play, which she did, leaving me about 110 yards for our 3rd shot. Meanwhile, Andy had already hit his approach near the right bunkers up by the green. It wasn't a great shot but he left Mallory with a pitch over the bunker.
The shot I hit next was a really good one but my judgment of the wind was off. I started the shot at the right edge of the green, which is exactly what I wanted to do. The shot lost all its spin in the wind however and ended up at the back of the green. Team Liffey then slapped it around the 10th green: Mallory flubbed her pitch in the bunker and Mark bladed it over the green, leaving Andy with a 30-footer from the fringe for par. Two putts for Nina and I and we would most likely go to a playoff. Nina hit a nice putt to about 6 or 7 feet past the hole. Andy followed with a good putt to tap-in range for Mallory. The stage was set, I had a must-make putt to extend the match.
I tried to stay calm over the putt but the wind made that task very challenging. It was also very difficult for me to decide on a line to hit it on. I think I tried to play it about a cup outside the right. I hit a good putt but the wind took it way left. Our fate was sealed. Nina and I would square off in the elimination challenge on the 17th and 18th holes.
Seeing Nina's first tee shot go in the river was a sigh of relief. The elimination challenge is such a nerve-packed competition, so having your opponent "spot" you two shots takes some of the pressure off. I tried to keep my ball dry and succeeded. I hit that second shot exactly where I was aiming at the right edge of the green. Heading to the 18th, I had a two-shot lead.
After two good drives, I hit my 5-iron about 270 yards and it ricocheted off a bush lining the out-of-bounds line way behind the green. What a lucky break! Hitting it out of bounds never came close to entering my mind as I approached that second shot. I was trying to put it in the bunker but wasn't sure which club to hit. Obviously, I hit too much club. As Nina's second shot found the water, it was all but over. I scrambled for par and Nina was eliminated.
Down to the final four folks! Expect more wind again next week. They also let me move over to the Liffey house during the next episode's breakfast. The team competition is over. Game on! And Nina, you rock!
Episode 6: "A Day by the Irish Sea" (Aired on October 25, 2011)
There's just something about a golf course by the sea that makes you appreciate the game we all love even more.
We received news that we were heading to compete at Portmarnock-by-the-Sea two days earlier during "Happy Hour" after filming episode 5. Stephanie and Tom, the hosts of Big Break Ireland, paid us a special visit as both teams were revisiting the day's events, notably Joe picking me for the elimination.
We were ecstatic to hear the news. Not only were we going to leave the gates of the K Club (a nice relief), but we were also going to compete at a true links course on the Irish Sea.
To let you readers in on a little more behind-the-scenes, we contestants also had a much needed day off between filming episodes 5 and 6. We took a trip to the Belvedere House, an 18th-century estate located about an hour west of the K Club, to shoot the "opening" to Big Break Ireland. The producers also let us visit a pub in a nearby Naas for happy hour later. It was very nice to leave the K Club for a day and experience more of Ireland, especially to taste a Guiness.
We headed to Portmarnock Hotel and Links and were told to pick a captain during our 45-minute drive from the K Club. Nicole got the nod for Team Straffan by drawing the number one golf ball out of a hat, and Mark and Andy agreed to let Mallory have a chance to earn $5,000 for Team Liffey. It was a nice gesture by the Liffey boys to let her be captain as they had already each won $5,000 in previous episodes. She was the only one of the six remaining contestants who hadn't pocketed $5,000 yet.
We arrived at the golf course and the wind was already showing its teeth. This was the kind of windy golf I imagined we would be playing when I found out we were going to Ireland to film Big Break. Even though I played my college golf at Wichita State University in tornado alley, I have never played in as much wind as we did that day. One might say that it wasn't golf, it was sheer survival.
After the hosts gave us the details of the immunity challenge, each team picked their orders. Nina struggled in the wind and lost a point to Andy. Then, Nicole and Mallory tied the second location with threes. Mark and I were up for Liffey and Straffan. I remember how hard it was to concentrate in that wind, but I managed to hit a great shot to 10 feet. Mark proceeded to hit his bunker shot just short of the green, and ran his putt some five feet by the hole. It was then my turn to try and make my putt and clinch a point for Team Straffan.
As you witnessed in the episode, I backed off my putt after it looked like my ball had moved. I wasn't sure if the ball had returned to its original location, so I called in the rules official and assessed myself with a one-stroke penalty. After making my putt for a three, I remember thinking, "what a waste of a great up-and-down." Mark stepped up and made a great putt to tie our match.
After the first set of matches, Liffey continued to dominate us. Nicole and Mark tied the first location, and Mallory then won a point at Nina's expense for Liffey. Next, Andy hit a sweeping slice that rode the wind and cashed in the putt for a 2 to beat me from the third location. At this point, it was all but over. All Liffey had to do was tie one of the three remaining matches.
Mallory and Nicole led off for both teams and tied with threes. Straffan was headed to elimination for the second straight episode. This time though, I didn't think there was ANY chance I would be on the hot seat. Sure enough, Nicole chose Nina since she had struggled mightily in those conditions up to that point. They squared off for a two-hole elimination.
Nina showed her stuff in a big way during that elimination match! She had struggled all day with the wind, and also two days earlier in episode 5 when she made a double bogey. She found a way to survive the elimination by making an incredible birdie on the first hole and a solid par on the second. Yes, Nicole struggled by making bogey on the first hole, but Nina earned every bit of her win in this elimination.
As I remember, it was a little awkward driving home with Nicole in the car, but she handled it well. We'll be seeing more of Nicole Smith. Look for her at Finals of LPGA qualifying at the end of November.
Next week, buckle in for more wind, folks. And was that a chicken call I made on the preview?! We'll see what that's all about!
Episode 5 "Survival" (Aired October 18, 2011)
Hello again, readers! As you can imagine, I have been very excited for this episode's commentary. I have some explaining to do, I know. I'm sure you're wondering what I think about Joe picking me for the elimination challenge. I will get to that 4-iron layup shot from the elimination too.
Both teams woke up that day knowing Andy and Joe would captain Teams Liffey and Straffan, respectively. After the producers explained the immunity challenge, we made our selections for which player would compete on each hole. For Team Straffan, I thought the only "no-brainer" was Nicole playing the par-5 18th on the Palmer Ryder Cup course: she is long off the tee and the women had an advantage off the tee on that hole.
Mark and I were first up on the par-3 14th. It was blowing very hard downwind, making it difficult to hold the green. Mark started the day by nearly one-hopping it in the hole, what a shot! It rolled by the hole some 15 feet, leaving him a good look at birdie. I remember stepping up to the tee and beginning to feel more comfortable with the cameras and the pressure of performing well for Team Straffan. I hit my 7-iron over the green however and left myself with a fairly simple chip, which I hit to about 8 feet.
After Mark missed his birdie opportunity and tapped in for his par, it was my turn to deliver the goods for my team. I hit a beautiful putt that snuck in the low side for my par. What a relief! Once again it was nice to see a putt go in, especially since I had not hit a putt in competition since Episode 2. I would like to point out the fact that the greens on the Smurfit course are bentgrass greens while the Palmer Ryder Cup course's greens are poa annua. This difference did not affect the contestants much, however, since both surfaces rolled extremely well with similar pace.
Nina and Mallory then faced each other on the par-4 17th hole. After Nina's fortunate bounce off the tree, Mallory striped it down the middle. Nina seemed indecisive as she proceeded to pull her second shot in the River Liffey. At the moment, I knew it would be extremely difficult for us to come back and tie, much less win. Mallory hit her second shot just short of the green and gave Nina an opportunity to take her drop and get up-and-down. Nina hit a poor chip to twenty feet and would go on to 2-putt for double bogey. Mallory left her first putt short some ten feet and proceeded to make it for par. This was quite a blow for Team Straffan -- a two-stroke deficit with two holes to go was almost insurmountable.
The teams went to the par-5 18th hole to watch Andy and Nicole battle it out, and battle it out they did. We witnessed some of the finest golf ever seen on Big Break as both players "stuck" their second shots and made their putts for eagle. Andy and Nicole both proved that they would be tough to beat. What a way to earn your $5,000 as captain, Andy!
After Joe failed to eagle the 17th hole to force a tie, we headed to the driving range of the Palmer Ryder Cup course to find out Joe's pick for the elimination challenge. I thought that it would be easy for Joe to pick Nina since she hadn't performed well during the immunity challenge. I also thought that it would be easy for Joe to catch Nicole or me off guard since we were expecting him to pick Nina. I heard the producers in the background saying something to the effect of "OK Joe, we're going to have you come in over here and announce your pick." It seemed strange to me that they were making such a big production out of just picking a player for elimination. At that moment, I knew Joe had a surprise for all of us. Sure enough, he decided to pick me. My heart rate went from 60 beats per minute to 200!
The elimination challenge, as Mallory said in last week's commentary, is absolutely gut-wrenching. I don't know if I have the words to describe all the emotions I felt during the whole hour it took to film the challenge. However, I do know that chilly-dipping my first shot in the elimination is not the way I wanted to start things off. After the first part of the elimination challenge, I was already down by a stroke.
After Joe and I failed to get up and down from the second location, I started to feel the pressure mounting. As we walked to the third location, I remember briefly thinking that my Big Break was over. I took a walk along the Liffey to clear my thoughts and try to rally up some confidence and make something good happen. After Joe and I both made 3 from the 100-yard location, we headed to the tee to play the hole.
Joe had the honor and hit his drive left of left. The door was open and I knew I needed to somehow make a 4 to have any chance of at least tying the match. I hit a nice drive down the middle of the fairway, leaving myself with a layup shot. After Joe took his drop from the hazard, he hit a great layup shot out of the trees. Now the pressure was back on me.
I received several text messages from friends during this week's episode, most of them regarding my 4-iron layup shot. "Nice shank" and "Nice hack shot" were the most popular texts. Well, I have news for you folks, that shot was PURE! I had 250 yards to the flag for my second shot and knew I would be laying up since the wind was blowing hard in our face. All I had to do was advance my golf ball about 150 yards down the fairway to leave myself a little wedge into the green. I also needed to keep it out of the wind to avoid hooking it into the Liffey or blocking it into the trees flanking the right side of the layup area. I proceeded to hit a beautiful "stinger" which never left the ground, leaving myself 100 yards to the flag for my third shot.
The rest is history. I made a clutch birdie and eliminated Joe. I remember talking to Mark about Joe's selection in the interview room later on that day. Mark made the comment that the point of the show is to stay on the show and I agreed with him. I could also see how Joe wanted to eliminate what he thought was the best player on our team (I'd like to thank Joe for that compliment!). Joe was probably also hoping to catch me off-guard. This is the nature of Big Break Ireland.
Next week's episode promises to be a good one as we are getting to experience a little bit more of Irish golf. Stay tuned and thanks for reading!
Episode 4: "Bad News and The Eliminator" (Aired October 11, 2011)
For this episode's commentary, I figured that having fellow contestant and Team Liffey member Mallory Blackwelder's perspective on the elimination challenge might be fun for you readers, especially since she has now survived three of them in a row. As usual, I will provide my commentary, but will let Mallory take over the elimination part...
If you've watched Big Break before you know that the hosts, in this case Tom Abbott and Stephanie Sparks, rarely come into the breakfast room to talk to the contestants. But when they do, it usually means they have some kind of news, be it good or bad. In this case, the news was awful -- our Straffan teammate Bennett was about to undergo an appendectomy at the hospital and his Big Break was over. Talk about bad timing. To have it happen when you have a chance of a lifetime is such an awful shame. Sure, he made some bad decisions as captain in the first episode. It is unfortunate, however, that he didn't get a chance to redeem himself and his image. All of us (both teams) felt bad for Bennett and wished him a speedy recovery.
But back to the competition, when the producers of Big Break tell you to warm-up for flop shots, you know what you're getting: the Flop Wall. The Flop Wall is another staple on Big Break. Let me just tell you that if you were out playing a friendly nassau with your friends and you came upon the Wall, it might not be that intimidating. Put a dozen cameras, your team's fate, a tight fairway lie, and a rooster going off in the background and it's a whole different animal.
Kelly and Nicole were captains for Liffey and Straffan, respectively. Nina and Nicole went first for Straffan and failed to get up and down. Mark and Kelly then missed their opportunity to earn a point for Liffey. Andy and Mallory followed their teammates with a nice up and down. I was expecting Andy to hole-out the shot, not only because he is a good player, but also because he was probably expecting me to hole it too. Joe and I walked around the pond to the Flop Wall location just short and right of the 13th green of the Palmer Smurfit course. The nerves were kicking in.
Visualization before the Flop-Wall shot is key because you can't see the flag. I remember picking out a letter on the "Big Break" logo on the Wall for a target to shoot over and trying to feel the shot with several practice swings. I was about to hit the shot when a rooster from a nearby house started crowing. I backed off the shot and turned to Joe and we started laughing. This interference might have been a blessing since it helped loosen me up. I think the rooster was still crowing when I nipped the flop shot beautifully to about 4 feet. It was a mere "tap-in" for Joe as the hole was cut to 6 inches wide instead of its normal 4 1/4-inch size. Both teams escaped the Flop Wall with two halves for a full point each.
The next location was a fairly simple pitch shot over a bunker with some green to work with to the pin. Andy began the challenge with a poor pitch that rolled 10 feet past the hole. Mallory hit a good putt, but missed her mark. Nicole and Joe then missed an opportunity for our team to take the lead. After both tandems got up and down in the second part of the challenge, it was my turn to perform for Team Straffan.
There was only one thing on my mind, especially with a six-inch hole. Have you ever heard of Dr. Chipinski? Well, I paged him but he didn't show up. I hit a nice pitch shot which barely missed the hole. Nina cleaned up our work to complete the up and down. Mark and Kelly followed with an up and down of their own.
The particular chip shot chosen for the third part of the immunity challenge was a little tricky. The shot bounced to the right but broke left at the end. As you witnessed on the show, there were a lot of shots missed to the right. Nicole was the only one to capitalize on the challenge. What a great feeling for her to chip-in and earn her $5,000 as captain in such a fashion!
Liffey had now lost three episodes in a row. Who was Kelly going to pick? I'll let Mallory take it over from here.
"Hey readers, thanks for letting me pop in! I'm not sure if you could tell on the episode, but I was really agitated because although I didn't perform to my standards in the first three shows, I felt like I had proven myself in the elimination matches in episodes 2 and 3. So when we lost again, I had a feeling that Kelly would choose me for the elimination but that was a mistake for her. When Kelly picked me, I could feel the blood start pumping through my body because I was so angry.
Being in the elimination challenge is gut wrenching. You are no longer worried about anyone but yourself. You have to do everything in your power to out-perform your opponent and survive to the next episode. I felt like I thrived in that situation. Being a part of the team aspect was difficult for me. Kelly was shown on the episode saying I was scared of success but I think the reality is that I'm scared of failure. Throughout the first few episodes, I didn't play up to my standards because I was afraid of letting down the team. Once I got into the elimination challenges, I didn't have to worry about failing the team anymore because if I failed, I only failed myself.
I managed to make a clutch birdie on 16 to eliminate Kelly. She had essentially become my third "victim" in a row. My performance in the elimination challenges has earned me the nickname "The Eliminator" by the other contestants. The contestants even joked that my favorite nation was "elimi-nation"! While this title gave me confidence, it was still really hard to send my friends and teammates home. In episode 2, I felt guilty that Annie was eliminated because I had failed to get up and down against Nina. In episode 3, I became extremely emotional after eliminating Matt and cried because I felt that he didn't deserve to go home. In this week's episode, I felt less guilty for sending Kelly home because I was so frustrated with my team and the fact that I once again had been called out for elimination.
I'd like to thank you readers again and also thank Julien for letting me explain my feelings. Stay tuned to see if next week's episode will make four elimination challenges in a row for me!"
Thanks to Mallory for her insight. See you next week!
Episode 3: "Straffan won?" (Aired October 4, 2011)
Hello again readers! Why do I feel like this week's commentary has a totally different feel than the previous two? Maybe it's because I still cannot believe that our team won the immunity challenge in this episode. Maybe it's because you want to hear what I have to say about Bennett.
Episode 3 began as a normal competition day on Big Break. We woke up around 4:15 am, had our microphones on by 4:45 am, and were at the breakfast table by 5:00 am. We were hitting balls on the range by 6:00 am. The team captains were set -- we flipped a tee for Nina to be Team Straffan captain while Team Liffey picked Matt as its leader.
Both teams showed up at the par-5 seventh hole of the Palmer Smurfit Course and decided on their lineups for the playing order. It was obvious that one of the longer-hitting guys would be playing both the tee shot and the second shot into the green for both teams, especially since the wind was howling off the left and slightly into the face.
The longest hitters on Big Break Ireland were Matt and Joe (I'll give Nicole some credit too, she was the longest girl). Matt and Joe hit the tee shots for Liffey and Straffan while Andy and I hit the second shots for our teams. Team Liffey decided to have Mark hit the third shot and would have Kelly and Mallory clean up the fourth and fifth shots. Bennett's condition was the only concern for our team. Since he wasn't feeling well, we decided to have him go last for Team Straffan.
Team Liffey went first and their captain Matt drove it perfectly. Andy stepped up and hit a great shot to six feet. Mark then calmly rolled in the eagle putt for Team Liffey. I couldn't believe what I just saw. Team Liffey made an eagle, as a team, before 8:00 am, with the wind howling and with at least 12 cameras filming them. Really? Well, it was our turn to match them.
Joe hit a great drive for Team Straffan and it was then my opportunity to match what Andy had done minutes before. I was thinking the almost impossible -- a "walk-off" albatross? Hardly! I just wanted to give Nina a chance at tying their eagle. I hit my hybrid to some 30 feet and Nina missed the putt. We made a nice team birdie but fell short of Team Liffey's impressive effort.
By this point, Bennett was home because he was seriously ill. If you watched Episode 3 you saw him vomiting as our team began the first part of the immunity challenge. I didn't have a problem with him being sick and sitting out. I wanted him to feel well but I also knew that if we lost the immunity challenge, then Nina would obviously pick Bennett for the elimination challenge. Basically, what I'm trying to tell you is that I knew there was no way that Joe, Nicole, or I were going home if we lost the immunity challenge -- Nina was going to pick Bennett for the elimination challenge and one of them would be eliminated.
Both teams managed to tie the second part of the immunity challenge. Mark missed an opportunity to secure victory for Team Liffey when he missed the green from the 140-yard location. He was disgusted with Joe's celebration of his own failure. Our whole team celebrated when Mark missed the green from that location. It is the nature of the competition that makes opponents celebrate as such. In reality, I think Mark was more disgusted at himself for letting his team down and Joe just seemed like an easy target to take his anger out on.
To make matters worse, Mark then failed to improve his team's position in the third part of the immunity challenge, leaving Team Liffey's mark at four. When Mark left his chip shot short of the marker in that third challenge, I knew there was no way we were going to lose that challenge.
Sure enough, Team Straffan got the job done. After Nicole, Joe and Nina advanced, I proceeded to leave Nicole with at least 30 yards of green to work with. Nicole sealed the deal for Team Straffan and opened the door for Nina to win the $5,000 by beating Matt in the playoff. Team Liffey had lost the immunity after being one shot away from being safe and onto the next episode.
Let me tell you that Mallory was NOT happy when she realized her team was headed to elimination. She voiced her opinion immediately after Matt lost the playoff to Nina. She was furious that Bennett, who was probably our team's weakest link, had sat out and not participated in the immunity challenge. She was also concerned with the fact that she felt like Matt would most likely pick her to go against him in the elimination challenge. I understood her arguments and completely agreed with her, but there was absolutely nothing anyone could do about it. Mallory would have to show her grit once again in the elimination challenge, even though Matt could have easily picked Mark since he had let the team down twice. She ended up proving that she wasn't afraid of "the guys," knocking out Matt in the challenge.
That night in my confessional interview, I remember talking about Matt. I remember saying he was a long hitter and that guys just like him had won a bunch of PGA Tour events early in the 2011 calendar -- Jhonny Vegas and Gary Woodland, most notably. Matt drives the ball 50 yards farther than I do (I'd say he hits it as far as Woodland) AND he hits it straight. We will see Matt Melrose on television again!
Once again, next week's episode promises to be a good one! Until then, I must thank you for reading my commentary and I must also wish all of you a great National Hockey League season to your favorite team. Go Habs Go!
Episode 2: "The Pressures of being named captain" (Aired September 27, 2011)
Being named captain on Big Break Ireland is exciting because of the potential to win the $5,000 prize, but also very stressful as you cheer on your team -- if your team loses you know you're going to the elimination. As I learned, being captain also means more than just picking an order and remembering it.
When our teams arrived at the 13th hole of the Smurfit Course, Mallory and I (the captains in case you missed Episode 2) had to make sure we had all the appropriate yardages for the entire hole and "cover" numbers over the water. We were also in charge of surveying the 5 locations for the immunity challenge and had to start thinking about which teammate should play from which location. The two locations that stood out to me were the long fairway shot and the fairway bunker shot -- I knew one of the three guys would need to hit those shots since they require more spin. I also felt like the downhill wedge shot out of the rough would benefit from a high-spinning shot. As we saw in the episode, Mallory and Team Liffey had the same thought in mind.
When Mallory and I came back to Safe City, we explained the locations, gave the yardages to our teammates, and started making our picks for each location. Joe immediately said he wanted the fairway bunker shot for our team, which was fine with me. The rest fell into place very easily. The stage was set.
Nicole and Kelly made pars to tie the first location. Matt then won a point for Liffey with a great putt after a solid iron to the green. There was a little hop in Matt's step when he made that putt. I knew at that moment he was going to be a tough competitor on this Big Break. Joe came up big for Straffan by making his par putt, especially after Andy knocked his second shot to almost gimme range. I don't need to tell you readers how lucky Andy was that that bunker shot didn't find the water. But the fact that Andy got up-and-down for par after that poor shot shows his experience and competitiveness.
Then it was my turn to face Mark. It had been two hours since we had hit a range ball. It was cold and windy. Mark and I walked to the location, which was a short distance from Safe City. The producers let us hit three range balls in the opposite direction to warm up and then it was "go-time." The shot was out of the rough but we were able to pick our lie and place our ball. I didn't think the shot was that difficult. After all it was just a full lob wedge for me off that downhill lie. The pressure of having to perform well for the team made the shot interesting however, especially with our team being down by one point with only two locations left.
Mark hit a nice shot right at the flag but took a little too much off and came up 18 feet short. I proceeded to hit my lob wedge to about 10 feet. After Mark's attempt came up short, I rolled in my left-to-right putt to get Team Straffan back to all square. I remember how nice it was to see that putt go in, not only was it a point for Straffan but it was also a huge confidence builder for me. I had missed three putts the day before (Episode 1) and was hoping to get my hands to stop shaking. I was still nervous over this putt, but somehow managed to stay calm and roll a nice putt.
Mark and I walked back to Safe City and I wished Nina good luck. Nina is quite a competitor. She stepped up and hit a great pitch to 4 feet. Mallory followed that up with a poor effort and came up 30 feet short. I can't imagine how nervous Mallory must have felt over that chip shot. Not only was the fate of her team in her hands, but her own fate as captain as well. Mallory followed the pitch shot with a great putt that almost went in. Yes, it did make our whole team a little nervous! But it was now Nina's turn to bring it home for Straffan. I remember how quick Nina's pre-shot routine was over that putt. She made it seem like it was no big deal and she poured it right in the hole. What a relief! Our team had escaped elimination AND I won $5,000? Beautiful! I remember telling Nina that I felt like I owed her after she made that putt. She had given me 3 opportunities to win the immunity challenge the previous day (Episode 1) and I didn't convert any of the birdie opportunities for our team. I felt like I had let her down. That was all history for the moment, however.
Mallory now faced a difficult decision. She needed to pick two of her teammates to take with her into the elimination. I think it was evident from the start that she was going to select Annie and Kelly to battle it out with her in the elimination. I know I would have picked the two girls too. Anyhow, I think Mallory's experience playing the Ladies European Tour definitely helped her escape the first part of the elimination challenge in those very windy conditions.
In the second part of the elimination, Annie hit one bad shot and left the door open for Kelly to clinch it with a great "2" from the third location. I will admit, it was once again hard to see a fellow competitor get eliminated, even one from the opposing team's lineup. Seeing someone get eliminated makes you realize you could be the one going home at any given time.
Thank you for reading and stay tuned for next week's episode and commentary. Without saying too much, I think things are about to heat up! I'd like to wish Big Break Ireland girls Kelly, Annie, Whitney, Nicole, and Nina good luck at the Second Stage of LPGA Tour Qualifying this week (Mallory is exempt to final stage). And Annie, Go Irish!
Episode 1: "Unlike any competition" (Aired September 20, 2011)
Before talking about the first episode, I must tell you that it was officially the longest day of competition in Big Break history. I woke up at 4 a.m. that day and went to bed after my interview at 2:30 the next morning. So when you see me wearing my grey tee shirt in my interview, it was probably between 1:30 a.m. and 2:00 a.m. the next day! Needless to say, Golf Channel had to edit out some of the extra playoff holes that we played in the second part of the immunity challenge.
How excited were we when we drove our carts down the 16th fairway of the Palmer Ryder Cup Course and saw all that glass just waiting to be broken? The glass break is probably THE most exciting challenge and a staple of the show. To get Big Break Ireland started with this challenge was a big thrill for all of us. And what a great location it was with the K Club hotel in the background!
While I remember being excited, I also remember how terrible and sick-to-my-stomach I felt. I think that's part of why I wanted to go last for our team. I wanted to give myself extra time to drink some water, breathe, and try to shake off the nerves. I couldn't believe just how many cameras and how many crew people there were in the middle of that 16th fairway. Chris Millard wrote a great article in the September 12th issue of Golf World
describing just how big the production of Big Break is.
After some deliberation with our captain Bennett, Team Straffan decided on our order for the glass-break challenge. As you witnessed, Bennett decided on an impromptu switch-up of our lineup. He decided to go last, leaving me in the 5th position. Our whole team looked at each other and couldn't believe what he had just done.
At any rate, Whitney was our leadoff and came up clutch with her first swing. Team Liffey then got a point back with a win by Mark. We got two points back with wins by Nina and Nicole, and then it was my turn to break the glass against Annie. I was extremely nervous and decided that I would swing hard and hope for the best. Sure enough, my 5-iron went Boom! It took all of maybe three or four seconds, in fact I don't think Annie even had time to take her club back. That felt great, especially the fact that it gave Bennett a comfortable 15-second head start. It was too bad he couldn't come through and earn that first immunity challenge point for us.
We then hopped in our carts and drove to the 11th hole to find that we would be playing an alternate-shot format with another teammate. At the end of the day, there were eight, yes eight, matches played on that hole, but we only saw a combination of four in the episode. It seemed like we were sitting at "Safe City" (the area with the benches where contestants wait their turn to compete) all day and waited our turn in that cold and windy weather. The only time I warmed up was when Nina and I went out to play the hole. Otherwise, the hot chocolate was flowing at Safe City.
Nina and I were partners for our three matches. She hit the green every time and I missed all three putts. I have never shaken so much over a putt in my life. A close-up view of my putterhead on that 4-footer would undoubtedly reveal how shaky my stroke was. It was pressure like I've never felt before. I've made some big putts in my career, including some down the stretch at the final stage of PGA Tour Qualifying. Big Break pressure takes the cake, by far!
There were some highlights that had to be edited out. Mallory made a huge 10-foot par putt before I missed that 4-footer for birdie (yes, Nina and I actually played against against Matt and Mallory for that match, which was the second match of the playoff). I'd have to say her putt was probably the shot of the day, even though Mark's chip shot to seal victory for Team Liffey was very classy. But had she not made that putt, they would have conceded the hole and Mark would have been headed to elimination.
We lost and we headed to the range to warm-up for the elimination challenge. I didn't think Bennett was going to pick me. I think all of us knew he was going to pick Whitney. They had played a little match the day before during our practice round and there was a little bit of tension between those two. It was tough to watch the elimination challenge but also satisfying to know that I wasn't going home. It was sad watching one of our teammates go. Reality was definitely settling in -- any of us could be going home on any given day.
I'm excited to see how the edits come out for Episode 2. More good TV for sure! Enjoy the show! And Whitney, you ARE awesome!