News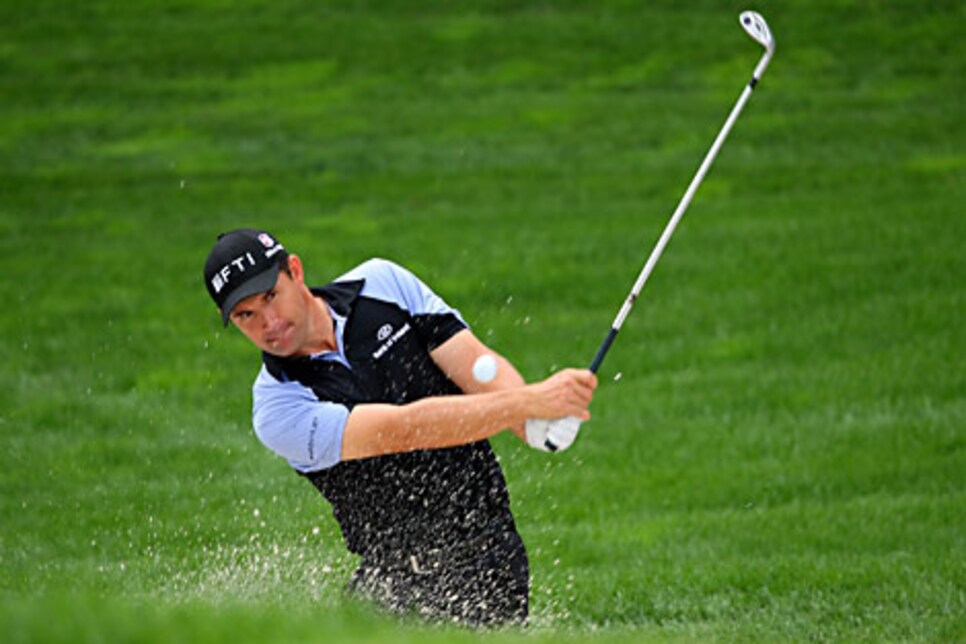 Harrington is motivated by the feedback he gets from the fans in New York.
FARMINGDALE, N.Y. -- Much has made of the enthusiastic, and yes, sometimes boisterous crowds that attended the 2002 U.S. Open at Bethpage State Park. In the aftermath of 9/11, many needed an outlet and something to cheer for. Some were simply die-hard golf fans, and many were regulars at Bethpage who knew every blade of grass on the challenging Black Course and weren't shy about offering opinions and advice.
Well, the U.S. Open is back, and so are the fans.

Here's what players said about them Tuesday and what they expect during the week:
"I've never played in front of an atmosphere that loud for all 18 holes. After what transpired here in September, I just think that everyone was looking to celebrate something else. That's one of the reasons why people get into the playoffs in baseball and basketball, anything to kind of escape it."
"And as far as just the overall atmosphere, I've never seen anything like it. I don't think we ever will, given circumstances surrounding the event." -- Tiger Woods
"I thought they were fantastic. I really had a great time in 2002. Obviously I played well, and that might help me have a great time. I generally have played well in boisterous crowds. I like the idea. The more noise around the golf course, the better for me.
"It adds a buzz to the event when there's an ambient noise reverberating around the golf course, cheers and everything like that. It just makes it more exciting. And it's nice to play in that atmosphere." -- Padraig Harrington
"You definitely know how they're feeling and they let you know if they like you and they let you know if they don't like you. And that's probably a good thing. You know where you stand with them.
"If you give them something back, they really appreciate it. The practice rounds are very long and they take a long time, but it's quite -- it's entertaining between green and tee and standing on the tees and stuff. It's good fun." -- *Geoff Ogilvy *
"I'm excited. I know the gallery will be more rowdy than most events. And I've heard nothing but good things about if you play well, they'll be on your side and they can sure boo you out there. Hopefully I'll be on the right side of that." -- Anthony Kim
"I'm really looking forward to it. New Yorkers are very passionate. And the only thing I can say is I've been very fortunate to do very well here in this area. I love New York. I love the people around here. And I'm just looking forward to see where I can go this week." -- Sergio Garcia
"They say whatever they feel. And they don't care who's listening. That's I like about it." -- Rocco Mediate
"It was just a comfort thing more than anything. So the unfortunate thing was that I didn't have any time to -- as soon as I had like two or three weeks off, just before the British Open, that's when I was able to fix it because it took time to work on it." -- Sergio Garcia, who was verbally abused by the fans in 2002 for constantly re-gripping his club before hitting
"I'm not big on celebrity. I don't like that word. I'm an athlete. I'm a golfer. I'm happy with that word. And I'm happy to set an example with work ethic and hopefully how I behave on the golf course and off the golf course." --* Paul Casey, on what it means to be the third-ranked player in the world*
"I think the scores are going to be OK. I don't think they are going to be that high to tell you the truth. I think it's going to be better than even par, what did Tiger win, one-under or even, he was three-under? I may be wrong on that assumption, but to me, I just remember the rough just off the fairway in '02 was very severe, it was definitely chip out; whereas this year I think you can actually play out of it a little bit, and I think you'll see the guys get it on the green." -- Kenny Perry on the winning score
"I think it's a fun thing, really. I haven't played too many courses with warning signs. It's more for the ski slopes, isn't it?" -- Henrik Stenson, on the famous warning signed post on the first tee at Bethpage Black
"It's a pretty impressive score considering his start. I mean, he tripled one and doubled the next three holes and still turned around and shot a good number. Especially the back nine, he really played well. So it goes to show you that just like all athletes or entertainers, they're used to performing in front of crowds. So once you put a little bit of pressure on them it's amazing how well they perform." -- Tiger Woods, on pal Michael Jordan shooting 86 in the Golf Digest U.S. Open Challenge at Bethpage Black last week
"I got to see some of the course that I probably don't want to see in the tournament." -- Anthony Kim, who caddied for Justin Timberlake in the Golf Digest U.S. Open Challenge.
"He's by far and away the favorite, but I don't think anyone walks around thinking we're playing for second. I think everyone appreciates how good he is, he knows he's going to be in contention, and hopes to get there with him." -- Geoff Ogilvy, on whether Tiger Woods is the clear-cut favorite to win.
"The course is playing very long, very hard. The balls are sticking with mud. And I think that's really going to affect the outcome." -- Angel Cabrera on the difficulty of the course
"It's just a big place. There's people everywhere. There's grandstands, there's concessions. It's huge. I've played some good golf courses, but never anything to this magnitude. There's just stuff everywhere." --* Tyson Alexander, 20-year-old amateur qualifier from the University of Florida*
"I like the fact that there's that many people there. I don't know how to explain it. But it magnifies everything in my eyes, and I like it more. I'd love to play with him every weekend because obviously you're playing great if you're with him." -- Rocco Mediate, on being paired with Tiger Woods
Mark Soltau is a contributing editor to Golf Digest and the editor of TigerWoods.com.