The Loop
Get your swing in better sequence like Pat Perez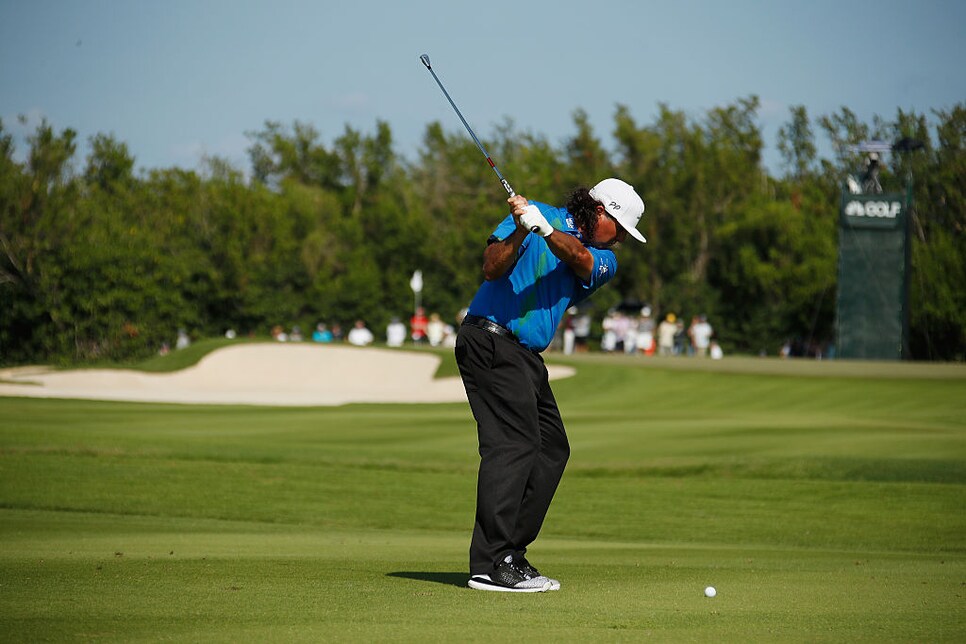 Pat Perez had been quiet lately, and not just because he went through surgery for a torn shoulder labrum in March.
The 40-year-old veteran hadn't won since the 2009 Bob Hope, and middling results since then had left the entertaining and outspoken Pat Perez on the competitive fringes.
But Perez came back from the enforced post-surgery break refreshed, and rehabbed both his body and his swing. With help from Golf Digest Best Young Teacher Drew Steckel, Perez made some subtle adjustments to improve the sequencing of his downswing. The results in Mexico were impressive. In his three starts back post surgery, Perez is averaging 297 yards off the tee, hitting 64 percent of his fairways and 78 percent of his greens--an improvement of more than 10 yards and four and 14 percentage points, respectively, over his 2014 numbers. At Mayakoba, Perez shot 62 on Saturday and followed it with five birdies in his first eight holes Sunday to jump into the lead. Perez ended up winning by two over Gary Woodland.
Perez tended to bend his right elbow too much at the top of the backswing, and when he pulled down to start the downswing, it pitched the club out into a steeper position, says Steckel. "He's been working on that, and keeping his wrist angles constant (into the downswing)," says Steckel, who is based in Los Angeles. "It helps him shallow it and produce a wider arc."
Steckel and Perez are interested in very minute changes in Perez' swing, but you use the big picture concept--staying in better sequence--to avoid the exaggerated over-the-top move that plagues lots of players. "A lot of players don't know how to pivot with good elbow positions," says Steckel. "And when the shaft starts to get vertical (at the start of the downswing), they drop their hands and don't rotate their shoulders."
That's too late--and the downswing turns into a weak, out-of-sequence mess.
"You can get your elbows closer together at the top, but don't let that right elbow flex past 90 degrees," says Steckel, who has worked with Perez since late 2014. "Pat makes a little shift (in the first part of the downswing) which helps flatten the club, and he tries to get the right arm extended with his hip and shoulder turn."