With most difficult courses, there tends to be an emphasis on a golfer's short game. The course key stats model at RickRunGood.com endorses that sentiment showing that strokes gained/around-the-green and strokes gained/putting are more important at Riviera than most courses on tour. There will be plenty of holes where par is a good score, and most will lean on their short game to accomplish that.
With invitational status, this field shrinks to 120 golfers and the world's best players will be in attendance. Dustin Johnson, the heavy favorite, makes his return after opting-out of the AT&T Pebble Beach Pro-Am last week. He will be joined by Bryson DeChambeau, Rory McIlroy, Brooks Koepka, Justin Thomas and many more. Here are my favorite plays (and a couple golfers most likely to disappoint) in each price range for the 2021 Genesis Invitational.
Price range: $9,000 and above
High Upside: Bryson DeChambeau ($10,100 DraftKings | $11,400 FanDuel)
DeChambeau played in the Middle East a few weeks ago, finishing T-18 at the Saudi International. Now he heads to Riviera where he has improved his finishing position every time he has teed it up here. Starting with a WD in 2017, he finished T-41 in 2018, improved to T-15 in 2019 and earned a T-5 last season. His distance off the tee will mean plenty of short clubs into these greens and, as he proved at Winged Foot last year, doesn't mind a difficult course.
Safest Option: Xander Schauffele ($9,900 DraftKings | $11,500 FanDuel)
It's true that Schauffele doesn't win as much as he should but in terms of safety, there's no one better. He is in the midst of a 15 tournament stretch where he hasn't finished outside the top 25. His last eight events have resulted in (six) top-five finishes. As we've seen countless times, winning on the PGA Tour is difficult, but Schauffele puts himself in contention nearly every week.
Most Likely To Disappoint: Jordan Spieth ($9,200 DraftKings | $10,500 FanDuel)
As much as I am enjoying this Spieth Resurgence, his current salary may have gone too far. His salary is likely being driven by his betting odds, which reflect the public sentiment and not necessarily his true odds of winning a golf tournament. Spieth's best finish (T-4) at Riviera came in his magical 2015 season and he's finished outside the top 50 in each of his last two trips. There will be more opportunities to roster Spieth in the future, but I'm not thrilled about doing it this week.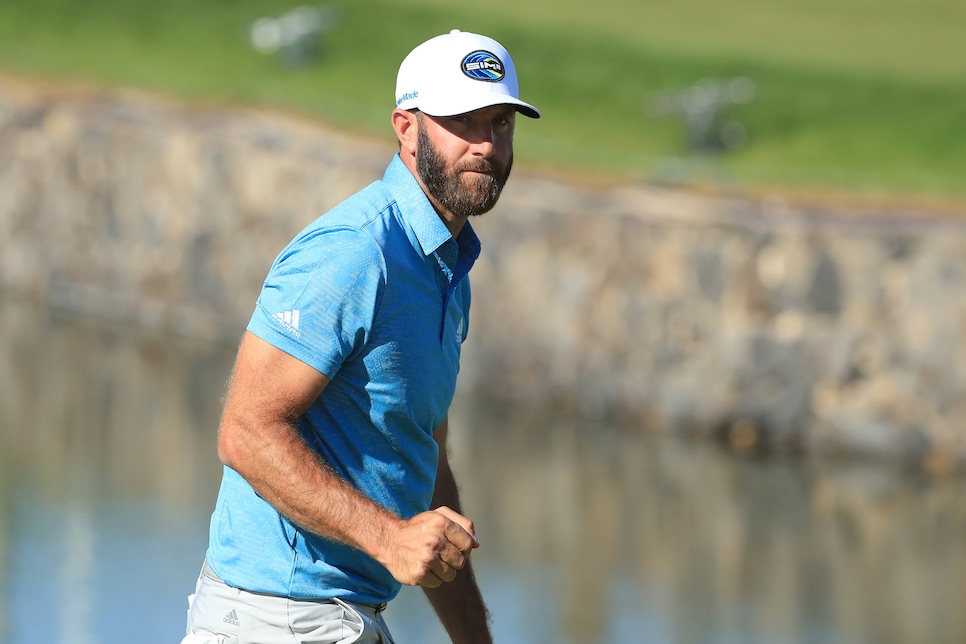 Pick To Win: Dustin Johnson ($11,300 DraftKings | $12,100 FanDuel)
I've vowed to roster Dustin Johnson more frequently in my DFS lineups this year and I'm happy to start right now. Johnson took an extra week of rest instead of playing the AT&T Pebble Beach and won in Saudia Arabia in his last start. Johnson has been excellent at Riviera in his career, earning a victory in 2017 and notching six top-10 finishes in his last seven trips.
High Upside: Max Homa ($8,200 DraftKings | $9,900 FanDuel)
The stretch of golf that Homa is in right now, is reminiscent of the same time period last year. Last year, he entered the Genesis with three consecutive top-15 finishes and would go on to finish T-5 at Riviera. This year, he has four top 25s in his last four starts including a T-7 finish last week. The flashes we saw on Sunday last week prove the upside for Homa is real and we will see if he can keep it going this week at Riviera.
Safest Option: Adam Scott ($9,000 DraftKings | $10,600 FanDuel)
After Scott's win last year, he's only played 11 times. The sample size is small and his results were mediocre but he's fresh off a T-10 at the Farmers Insurance Open. That's his best finish during that stretch and he now heads back to Riviera where he has hoisted the trophy on two different occasions. Per the RickRunGood.com golf database, Scott's average finish at this event is 23.9 over his 12 starts. That's the best average finish of any golfer with five-plus starts at this event.
Most Likely To Disappoint: Matthew Wolff ($8,100 DraftKings |$9,800 FanDuel)
I'm incredibly bullish long-term on Wolff but am worried about what I'm seeing right now. Over his last five measured starts, he's lost a total of 8.67 strokes off-the-tee. To put that into perspective, in the five measured starts before that, he gained a total of 17.56 strokes. It's a big concern when a golfer's best weapon starts to leave him. Additionally, Wolff's short game is the weakest part of his game and he will be forced to lean on it at Riviera this week.
Pick To Win: Viktor Hovland ($8,700 DraftKings | $10,700 FanDuel)
At this time last year, Hovland was ranked 100th in the world rankings and didn't play the Genesis. Fast-forward 12 months and Hovland has two wins on his resume and is ranked inside the top 15 in the world. He's an incredible ball-striker with winning upside. He's had three close calls in his last four starts, finishing T-3 in Dubai, T-2 at the Farmers and T-6 in Saudi Arabia. It's just a matter of time before he breaks through again.
High Upside: Henrik Norlander ($7,400 DraftKings | $8,900 FanDuel)
Even with a disappointing weekend, Norlander found a way to finish T-26. That's his worst finish in any of his last four starts. He's currently at the best Official World Golf Ranking of his career, so it's safe to say that this is the best golf we've ever seen from him. The big takeaway is his ball-striking. Per the RickRunGood.com golf database, there is only one other golfer who has averaged more strokes on approach than Norlander this calendar year. That's Kyle Stanley who is averaging 1.02 strokes gained per round to Norlander's 0.91 strokes gained per round. Those are the two best averages for golfers with at least 16 measured rounds.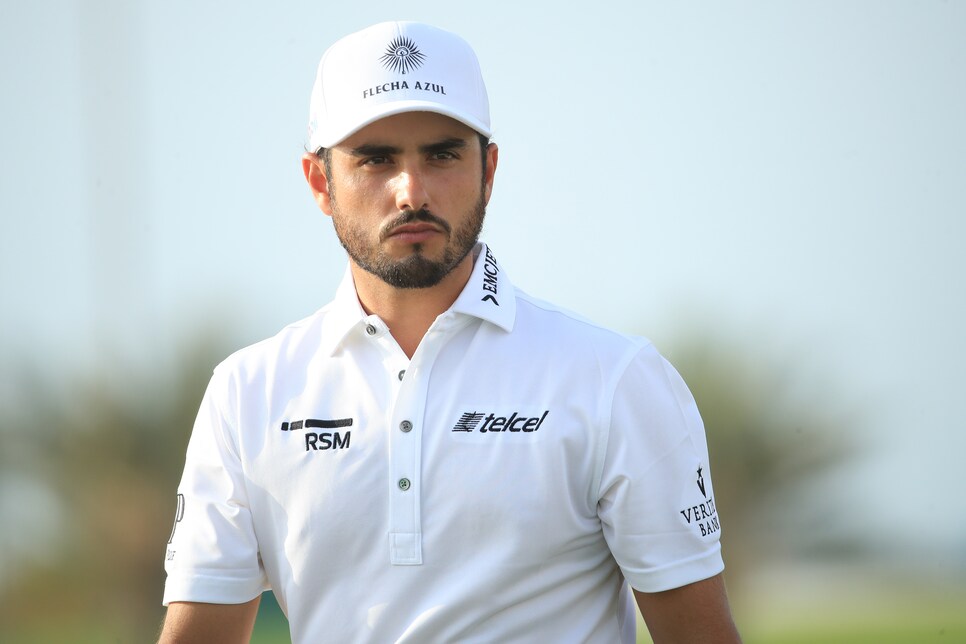 Safest Option: Abraham Ancer ($7,900 DraftKings | $9,500 FanDuel)
We haven't seen Ancer since the American Express, where he finished T-5. Ancer has proven to be one of the best grinders on tour, no matter the conditions nor the field. As we head to Riviera, there are going to be plenty of holes where par is a good score. There's going to be adversity. Golfers will find success through persistence and patience and Ancer has proven capable of both.
Most Likely To Disappoint: Kevin Streelman ($7,400 DraftKings |$8,600 FanDuel)
Streelman lined our pockets last week with another top-15 finish, but his results at Pebble Beach could not be more different from his results at Riviera. He's missed the cut in three of his last four trips and has never earned a top 25 in 11 career starts. Per the RickRunGood.com golf database,this is the event that he's played the most in his career without a single top-25 finish.
Pick To Win: Talor Gooch ($7,200 DraftKings | $8,700 FanDuel)
It's rare to find a player in this pricing range who gains strokes in all four major Strokes Gained categories, but Gooch has accomplished that feat. Gooch didn't blink at the CJ Cup, which had a similar field to the one at Riviera this week, and he finished fifth. In his two starts at The Genesis Invitational, he's produced a T-20 and T-10. Plenty of signs pointing to Goochas one of the better values of the week.
High Upside: Mackenzie Hughes ($6,600 DraftKings | $8,100 FanDuel)
Hughes doesn't offer much in terms of safety but has more upside than many of his peers. He has eight top-15 finishes in his past 20 starts and many have come in big-time events (BMW Championship, The Northern Trust, the Memorial). He doesn't blink when conditions get difficult and has one of the better short games on tour. That's the key to success at Riviera.
Safest Option: Doug Ghim ($6,900 DraftKings | $8,200 FanDuel)
Ghim is in the midst of an excellent run of golf right now—making the cut in seven of his last eight events. His most recent three have produced a T-5 at The American Express, T-37 at the Farmers Insurance Open and a T-21 last week at Pebble Beach. He has gained in every strokes-gained category this season but ranks 31st on tour in approach.
Most Likely To Disappoint: Patrick Rodgers ($6,700 DraftKings | $7,800 FanDuel)
When you're down in this range, it's easy to look for anything to grasp onto to round out your lineups. Many might feel that Rodgers offers some solace with his recent form at Riviera. In the last four years, he hasn't finished outside the top 30. The problem is Rodgers' recent form, missing four consecutive cuts and six of his last seven.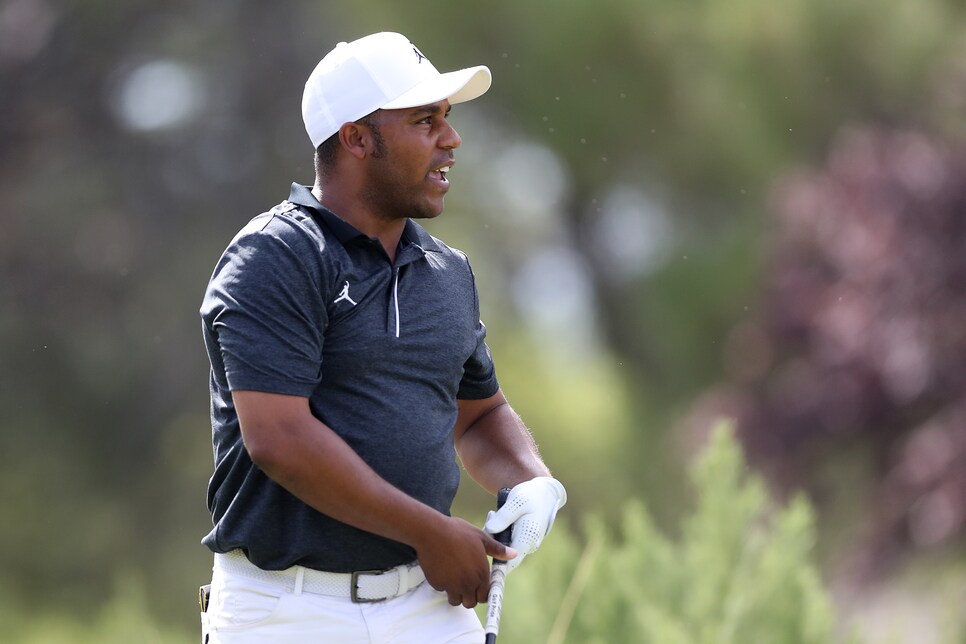 Pick To Win: Harold Varner III ($6,700 DraftKings | $8,200 FanDuel)
Varner touched the lead on Sunday last year before cold-topping his tee shot on the iconic 10th hole. That was the beginning of his implosion and he would go on to finish 13th. The good news for Varner is that he continues to strike the ball well, gaining strokes both off-the-tee and on approach despite missing the cut last week at Pebble Beach. If he can find an average short game for the week, he may be able to contend again.