Dear Golf Digest, Pick Me!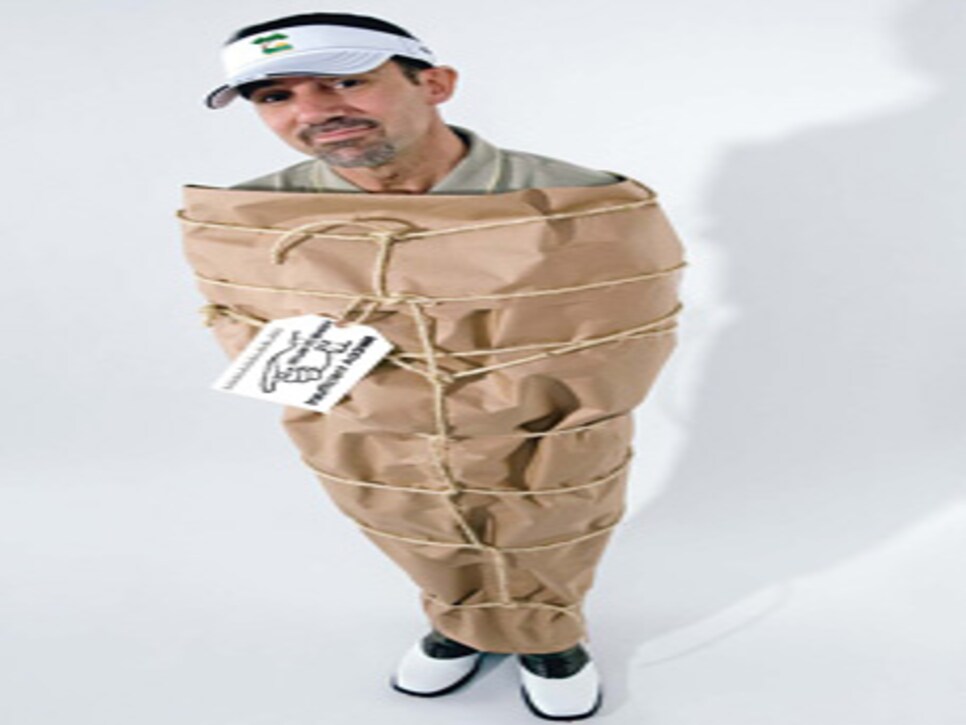 An opera singer, air-traffic controller, heart surgeon, Hollywood stuntman, pastor, construction worker, chiropractor, ICU nurse, dentist, district attorney, statistics professor, former governor of Utah, architect, middle-school principal, Arena Football League player, pro hockey player, former Charles Barkley teammate, carpet cleaner, tai chi instructor, Department of Justice agent, Army captain, Air Force pilot, Navy pilot, Marine, mechanical engineer, TV producer, state trooper, CEO, postman, fireman, policeman, stay-at-home dad, professional caddie, golf-course superintendent, golf-association director, golf-course designer, high school golf coach, long-drive competitor, 250-rounds-a-year golf nut, Crystal from Las Vegas and some 56,000 others are merely a sampling of the remarkable response we received to our search for an average American golfer with the guts to play the U.S. Open course at Torrey Pines from all the way back, with NBC cameras recording every shot, a USGA rules official watching you and announcers critiquing every swing for a national audience.
To recap, Golf Digest, the USGA and NBC Sports are collaborating on this first-ever U.S. Open contest, in which one golfer will win the chance to play an 18-hole, count-every-stroke round in a foursome with three celebrity golfers at Torrey Pines South Course near San Diego. The round will be played the weekend before the 2008 U.S. Open in June and will be shown in a one-hour special on NBC immediately prior to the network's broadcast of the Open's final round.
By now it's too late to enter (the deadline was Jan. 29), but if you submitted an essay nominating yourself or someone else, you might be hearing from us soon. We'll announce and profile the finalists in our May issue, and beginning March 27 on golfdigest.com the public will choose the winner during 35 days of online voting. Our lucky golfer will find out if he or she can disprove Tiger Woods' proclamation during last year's Open at Oakmont that there's no way a 10-handicapper could break 100.
Jeff from Orlando wrote to tell us he met Woods recently while celebrating a birthday at a Florida restaurant. "I had to ask him about his breaking 100 statement, and Tiger said he'd guarantee it," says Jeff. "I took that as a personal challenge. Let me make him eat his words ... or maybe I'll eat mine."
Jeff's "I'll show Tiger" theme was the sell for many of our candidates, and the truth is, nothing we've done in almost 60 years at Golf Digest has generated a response like this. We had no idea so many of you could write! We embarked on a very different mission in 1985, when the target of our nationwide search was to identify America's Worst Avid Golfer. We received 627 nominations for that contest and ultimately crowned Pennsylvanian Angelo Spagnolo worst of the worst after he shot an 18-hole score of 257 at TPC Sawgrass, including a 66 on the infamous island-green 17th.
'If you want spectacular ratings, look no farther. I have the wit of Gary McCord, the good looks of Camilo Villegas and the on-course presence of Woody Austin all wrapped up in a 52-year-old, slightly overweight body.'
This time we're looking for a much better player, although our rules didn't require a specific USGA Handicap Index. If you're 18 or older and a legal resident of the 50 United States (including D.C.), you're eligible. Still, few of us expected the more than 24,000 essays. And, yes to Matt in Irmo, S.C., who wrote: "Does it matter why I nominate myself? It's not like all these applications get read" -- we actually read every one of them.
Many wordsmiths targeted Woods' pal Charles Barkley ("If he's one of the celebrities, I won't finish last!") and Bill Murray ("Can he drive my cart?"), but most were sufficiently inspired by the challenge of breaking 100 on a U.S. Open course. Given the choice, the majority of our entrants would want to play with Barkley, Murray, Michael Jordan, Tom Brady or Peyton Manning.
We heard from a lot of humorists like Larry, a plumber in a small town in Ohio, who wrote: "I can hit a 300-yard drive. Can Tiger install a toilet? I have three daughters, and I'd be willing to give up my youngest, who's 2, for this opportunity. I'd probably throw in my wife to help maintain her."
John from Lewisville, Tex., wrote: "Are you crazy? I can't break 100 at Chester Ditto Golf Course in Arlington. Please do not choose me to be humiliated on national television. I will, however, accept any free stuff you're giving away."
Honesty was another popular tool for essayists. Hundreds admitted they had no shot of breaking 100, and we especially loved Jamie in Hollywood, Fla., who said she should be our choice because in June she'll be incredibly cute and eight months' pregnant. Never mind that she predicted an 18-hole score of 165. Randy in Norman, Okla., was among the thousands -- literally -- who pleaded with us. "I'm doing this for my Dad," wrote Randy. "We don't get along very well, and if I won this for him it might change our relationship." And you might say Michael in Louisville, Colo., was a little too honest: "I'm the prototypical slacker. I'll be 40 in April and live alone with my two huskies. No wife, no girlfriend, no prospects. What I lack in social life, I make up for in golf clubs -- hundreds of them (and books, videos, training aids, etc.), scattered all over my house. This contest could be the quest that leads me to a higher purpose."
For as many fun essays as we received, the majority were from serious golfers who are committed to playing well at Torrey Pines. The winner will face a ridiculous amount of pressure on the first tee (and who knows for how long?) on that fateful day. "Pressure?" asks Craig in Collierville, Tenn. "Pressure is staring at the back of an aircraft carrier on a pitch-black night after flying for two hours over Iraq knowing there's only enough fuel for one attempt to land or you're swimming in the Persian Gulf. Golf is the most wonderful game, but men who choke are still breathing afterward. Break 100? I'm thinking 82."
Kevin from Snoqualmie, Wash., remembers how Woods laughed at pressure during the '94 Pacific Northwest Amateur in Vancouver, Wash. An 11-and-10 rout in the 36-hole final punctuated Tiger's dominance that week, and Kevin remembers caddieing for Woods during one blowout match when Tiger said, "Dude, you could beat this guy." Kevin doubts he could have, but with a 10.4 Index today he's certain he could shoot 99 or better at Torrey Pines.