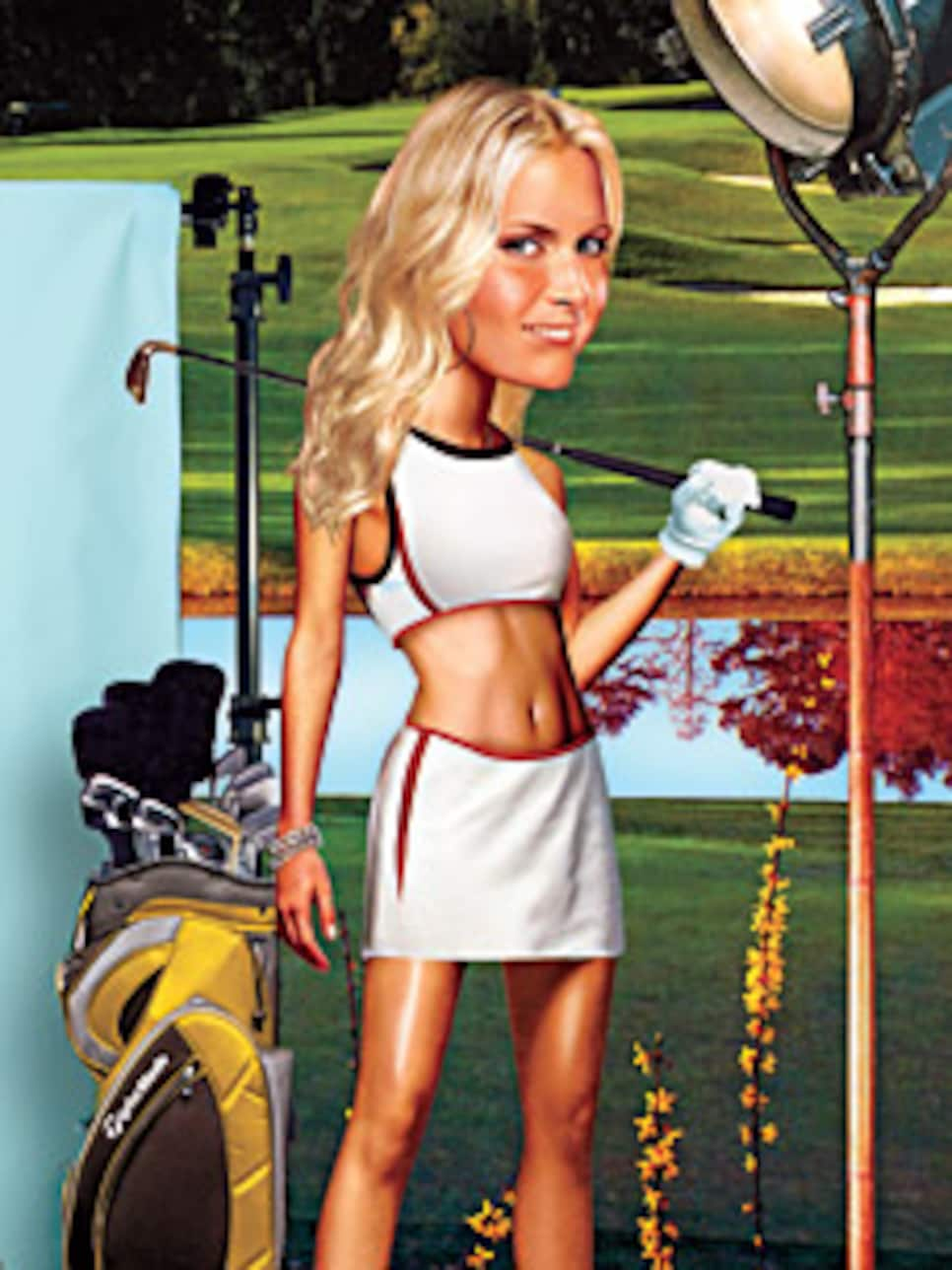 __"Desperate Tour Wives" __
Six shapely tour wives put on bikinis and playfully romp through lawn sprinklers in Florida neighborhoods while their husbands miss the cut in various tournaments.
When the wives aren't romping through the lawns, they discuss their favorite delicacies for entertaining at home. The delicacies range from Velveeta sandwiches to pigs in a blanket.
Groups of doctors from clinics and hospitals around the country sit at a table every week and discuss ways for Phil Mickelson to put a tee shot in the fairway. Arguments are sometimes heated.
"the Natalie Gulbis Hour"
This was known as "The Natalie Gulbis Show" when it ran on the Golf Channel. Now as it moves to a network, Natalie increases her number of agents from two to eight, her publicists from eight to 16, her parents from two to 10, and her miniskirts from 36 to 54.
Originally known as "The Daly Planet" when it ran on the Golf Channel, the show will follow John Daly each week to parties and tournaments around the globe as he looks for new ways to end his career but keeps managing to survive.
In each episode Tiger Woods will try to find the person who stole 16 hours out of his 24-hour day when he could have been shaping golf shots. Among the suspects will be his wife, Elin, his caddie, Steve, a Golf Digest instruction writer, and his friend, Mark O'Meara. Most often, the thief will turn out to be an IMG agent who has sent Woods off on a lucrative outing to Antwerp, Belgium.
__"Hawaii Five-0 Returns" __
McGarrett comes back and rounds up his faithful sidekick, Danno, to help him catch the person who has taken Michelle Wie's golf game and hidden it somewhere on the island of Oahu.
In the final episode McGarrett proves the culprit is a 16-year-old named Tadd Fujikawa, who keeps making the cut in numerous PGA Tour events although he's one foot shorter than Michelle and not even a girl.
PGA Tour Commissioner Tim Finchem roams the land desperately searching for golfers to take part in the FedEx Cup. Week after week, Finchem is unable to find any tour players who wish to compete -- they are too wealthy to bother. Finally, he settles on a small group of NASCAR mechanics.
Each week law-enforcement officers will reopen old criminal cases and try to figure out how certain golfers curiously managed to steal a major championship. The opening episode will focus on Jack Fleck. Among those featured in other weeks in old film clips and interviews will be Cyril Walker, Willie MacFarlane, Tom Creavy, Sam Parks Jr., Tony Manero, Orville Moody, Wayne Grady, Steve Jones, Paul Lawrie, Ben Curtis and Todd Hamilton.
Hordes of fans wander about in forests looking for golf balls that have been badly sliced or hooked off the tee by Seve Ballesteros, Phil Mickelson and Ian Baker-Finch.
Occasionally, golf balls will be found that cleared the trees. One of Seve's will be found on the doorstep of a private home in downtown Lytham. One of Mickelson's will be found in a plate of smoked salmon in a hospitality tent. And one of Ian Baker-Finch's will be found on the deck of a sailing vessel in the Firth of Forth.
Three sportswriters form a panel of judges, and six sports fans a week will enter a contest. Some of the contestants will paint their bodies, some will paint their faces, and some will wear blocks of cheese or pigs or other silly ornaments on their heads.
The winner each week will be the contestant who can holler "Get in the hole!" the loudest and most earnestly.