Jacqueline Gagne's ball was a Titleist Pro V1, if we believe her. Flying left off the tee, the ball disappeared into the darkness of a palm tree's fronds. It might have stayed up there. Maybe it bounced into the pond where Gagne searched at water's edge. Looking there, searching the tall grass nearby, everyone looking somewhere, she finally said, "I can't find it."
A playing partner, 86-year-old Marcy Hyman, commiserated with her. "These palm trees," she said, "just eat up balls."
Gagne had an idea. She said to a friend, "Miki, you know how weird my holes-in-one have been. Why doesn't someone look in the hole?"
Marcy Hyman called to the caregiver who accompanies her on the golf course. "Elvira, look in the hole."
"It's in the hole!" Elvira said.
If it's true (and it is) that reports of holes-in-one are so easily invented as to be irresistibly tempting—a Nashville newspaper once listed a recidivist cheat's witnesses as Stevie Wonder, Roy Orbison and Ronnie Milsap—if holes-in-one are the most abused achievements in golf, then it's time, right here, to say of that Jackie Gagne hole-in-one and all her others—yes, she claimed a bunch more—it's time to say:
We are to believe that a Pro V1 disappeared into a Southern California palm tree, fell to earth, ricocheted across a green, made its way into the hole, and nobody saw it until the woman who hit it asked someone to look in the hole.
OK, Julia Roberts married Lyle Lovett, so strange things happen. Happens once where a palm tree kicks you into the hole, OK, you're living right. Happens twice, it's a minor miracle. Can't happen again.
But in 2007, Jackie Gagne insists, it happened for her seven times. Seven times she hit par-3 tee shots that could not be found until someone went to the hole, looked in, and expressed one more version of Elvira excitement.
Unbelievably, those seven strokes of accidental good fortune were not even half of the story that made Gagne a national and international golfing celebrity. Nine more times this year, last in July, she reported holes-in-one.
Those nine gave her 16 holes-in-one in six months, which, as measure of the story's breathtaking nature, is two more holes-in-one than Bobby Jones, Ben Hogan and Byron Nelson made in their lifetimes, combined.
Quickly, let's account for those 16. To start, subtract three because there's no hard evidence she played at those places. Then drop two more because there's record of only one witness and she would not agree to an interview.
Now we're at 11. On two of those, two witnesses reported Gagne's shots rolling toward the hole, disappearing behind swales, and being found in the cup.
2,253,649,101,066,840,000,000,000,000,000,000,000 to 1 are the odds of Jacqueline Gagne making 16 holes-in-one in six months.
On the remaining nine, I talked to eight witnesses. They agreed on four things: (1) They never saw a Gagne shot hit a green, (2) never saw her ball roll on the green, (3) never saw a ball go in the hole, and (4) someone always found Gagne's ball in the hole.
My long, bizarre and ultimately sorrowful dance with Jacqueline Lucille Gagne began with an e-mail: "What I'd like to do—everyone's done interviews—is come out and play a round with you."
"Not a problem," she said.
She's practically a neophyte, new to the game five years ago, and now at age 47 has reported more holes-in-one in six months than most PGA Tour players make in a career. By one count, she did the 16 in 118 rounds this year. That comes to a hole-in-one once every 30 swings on par 3s, a rate of success that causes Dean Knuth, creator of the U.S. Golf Association's Slope Rating System and a Golf Digest contributor, to blurt this assessment: "That's impossible." David Boyum is a math guy with a Harvard Ph.D. and co-author of What the Numbers Say. He puts the odds of Gagne's feat at "1 in 2,253,649,101,066,840,000,000,000,000,000,000,000."
Gagne lapped up the attention. Her website, jacquelinegagne.com, carried 39 citations of national and international media outlets reporting on her, including Golf Digest, Golf World, USA Today, The London Times and The Wall Street Journal. She hired a Los Angeles public-relations firm. She planned a book, Turning Up Aces. She posted a Titleist feature bragging that she used the Pro V1 ball on every hole-in-one. She waxed enthusiastically about Cobra clubs (the company sent her a set and a staff bag). She did a testimonial for the Q-Link pendant (over the signature, "Jacqueline Gagne, World Record Holder, Most Hole In Ones in One Year"). She agreed to play in certain events as a national spokesperson for a breast-cancer charity.
Gagne twice appeared on CBS television's "The Early Show." Co-anchor Harry Smith began the first segment saying, "Oh, do I love this story." Later he brought her to New York, where he enlisted golf analyst Peter Kostis. When Gagne revealed that she reads the green from the tee, Kostis declared that "the first clue" to the holes-in-one. Then she made a few swings, and Kostis liked what he saw. His conclusion: "It's the real deal."
The neophyte who reads greens from 150 yards away before deciding where to place her tee shots reported two holes-in-one in January. One in February. March, two. Nine in April and May. June, it was one. July, one.
When, in 1953, a New Zealand 18-handicapper, Eliza Small, reported making nine holes-in-one in three months, including four in successive rounds and two in one day, skeptics believed she had carried extra balls in her skirt pocket—"or even in her panties," wrote local journalist Jim Valli—because she invariably was the one who found the ball in the hole.
As inevitable in these things as speculation is, I came across no one who could offer information on how Gagne carried out the hoax, if hoax it be. Her friend Judy Scrafford, never a hole-in-one witness, scoffs at the very suggestion.
"How in the heck," she says, "could somebody drop a ball in the hole and nobody in the group would see it? It would be impossible. It would be a helluva scam if you could pull that off. I suppose it could happen, once maybe. But that many times?"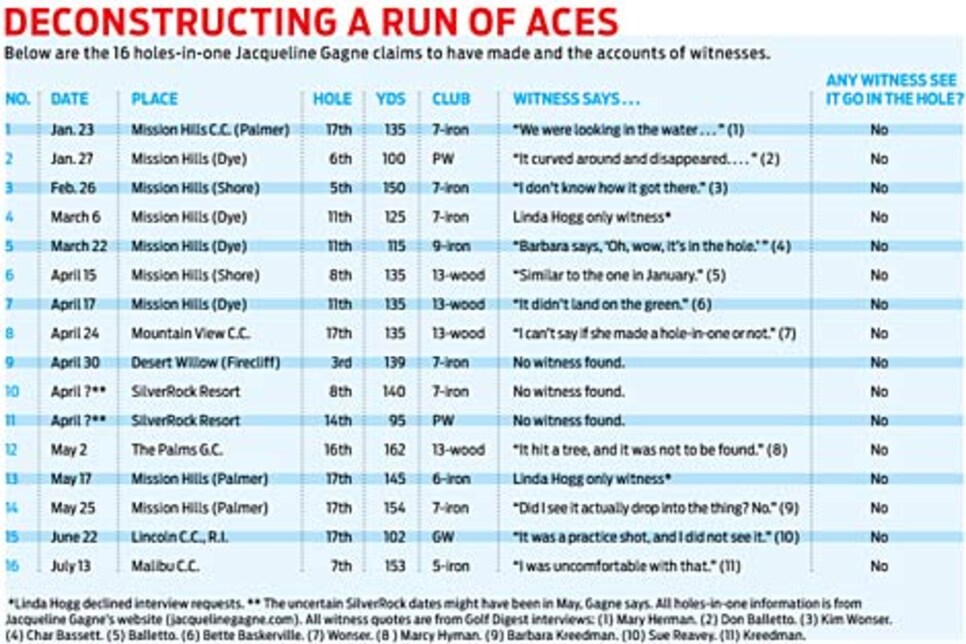 Upfront, I told Jackie Gagne that I was skeptical.
"I know it's hard to believe," Gagne wrote in an e-mail. "But when people meet me and meet the people that have witnessed the Hole in ones . . . they seem to turn in to believers. The best person was Peter Kostis he is now a believer!"
Sure enough, Kostis said to me the same stuff he'd said on the air. "But, Peter," I said, "in 11 years on tour, Tiger has three."
Apples and oranges, the analyst insisted. The PGA Tour's par 3s are hairy-chested monsters, not the cupcakes that women play.
To put Tiger and Jackie on a relatively level playing field, I asked tour statisticians for numbers on Tiger from 100 to 165 yards this year. Their ShotLink system measures every player's every shot—not in every event, but in enough to be meaningful.
This year Tiger had 318 shots in the 100- to 165-yard range. Guess how many he holed out. Exactly.
ShotLink even provided Tiger's numbers from that distance for the last five years.
Jackie Gagne is a rosy-cheeked, blue-eyed blonde, 5-feet-5 and 155 pounds. Her website's "About Jackie" section identifies her as a softball/basketball/runner/rock climber/ex-jock from Rhode Island.
"My father would call me his little 'sports star,' " she wrote. "My father would practice with me in a schoolyard for hours helping me with my pitching for softball."
The thumbnail bio adds personal touches about "cooking for my friends" and "relaxing with my cats." She paints herself as a "very private person" who finds "this entire media frenzy" disconcerting.
At the start of the hole-in-one run, few members at Mission Hills Country Club in Rancho Mirage, Calif., knew her well because she was new, over from Indian Ridge Country Club, eager to make friends, if not sure how to do it.
One old-time member saw Gagne as "fun and goofy, outgoing, really supportive of your golf." On first meeting her, the member says she couldn't shake loose. "She was just clingy, ya'know?"
Money was a given. Gagne shared a big Rancho Mirage house with her longtime friend and playing partner, psychotherapist Barbara Kreedman. She drove a little Mercedes. In celebration of her holes-in-one, she threw champagne parties at the club. She used the good times as reproofs to skeptics, saying, in essence, no one would cheat knowing it would cost thousands in Dom Pérignon. Besides, she said, there was the deal where club members kick in $5 for every hole-in-one.
"I would have to pay off a ton of people if it was a lie," she wrote to me, "and then if I was not telling the truth I would be arrested for stealing."
The Palm Springs newspaper, The Desert Sun, said in its monthly magazine that she had been vice president of operations for Microsoft in Boston. (But Microsoft says no record confirms her employment.) After moving to the desert, Gagne told friends, she had built a computer company, sold it for a lot of money, retired and took up golf. (Other sources say it was a small company, operated briefly, and then closed.)
The Desert Sun golf writer and columnist Larry Bohannan first heard of Gagne late in January 2007. This very private person—the website description—e-mailed the newspaper saying she'd made two holes-in-one in five days.
"That was nothing that throws up a red flag," Bohannan says. There are 126 courses in the Palm Springs area. Holes-in-one happen.
Another e-mail in February reported her third hole-in-one. "Then in March," Bohannan says, "she told me she'd made her fourth, and I say, 'I gotta go talk to this woman.' "
But other work got in the way. So she was up to six, and Bohannan still hadn't seen her when he asked, "Can we meet Friday?"
Before they met, she had seven.
"I go talk to her, and she doesn't seem to understand what she's done. She's confused that people are going crazy over this. I write it; it runs on the front page."
At which point, she stepped on it.
"If seven holes-in-one in 65 rounds can be thought of as 'slow,' " Bohannan says, "that week things happened quickly. She got numbers eight, nine, 10 and 11."
There's even an unofficial Gagne hole-in-one on videotape—so says Brian Kiley, a cameraman for KESQ in Palm Desert.
Near the end of May, shooting a feature, he took Gagne and her friend Linda Hogg to the eighth hole at Mission Hills' Dinah Shore course, 155 yards to an elevated green. On Gagne's third swing, Kiley is heard saying, "Oh, that's got a chance." Gagne shouts, "It's in the cup!" She took four more swings for Kiley, then the threesome rode together to the green. There, Kiley says, "Linda said, 'We better check the cup in case it really did go in.' So we walk up to the cup—and there's the ball."
That day's newscast carried the video—now shown on YouTube—but the ball is seen only briefly as it leaves the tee. The next day, Kiley says, KESQ ran a slowed-down, zoomed-in, highly pixillated version that shows Gagne's shot taking a bounce and dropping into the hole. Of the 16 holes-in-one, Bohannan said he believed the nine at Mission Hills were real. The other seven, he wouldn't vouch for them. So I began my reporting with her first hole-in-one on the road. Her eighth of the year, it came in a member-guest event at La Quinta's Mountain View Country Club.
"She shot two under par that day," club pro Dan Brand says, "and she asked for the scorecard."
A souvenir of the hole-in-one? "There was no 1 on the card."
He learned about it in a newspaper story.
"Gagne's been telling this cockamamie story about how one of our members came to her in the parking lot after the round. She says the lady insisted that Gagne had made a hole-in-one at the 17th. The lady supposedly saw a maintenance worker take Gagne's ball out of the hole before she got to the green and toss it off to the side."
Brand was steamed then. "It wasn't on her card, she didn't sign for it, and I don't believe it." He is steamed now. "I don't think she understands the history of the game, the honor, all those things."
Number nine, Gagne said, came at Desert Willow's Firecliff course. But director of sales and marketing Mike Osgood said folks there never saw her. "She called, after she'd allegedly played, and asked, 'Do you produce a plaque for people who make holes-in-one?' " Osgood said. "Well, there is no record of her playing here."
Numbers 10 and 11 came in one round, at SilverRock Resort's eighth and 14th holes. SilverRock general manager Randy Duncan thought it curious the way he found out about the rare two-in-one-round feat. "Not that day, but later a friend of hers sent a fax," he says. "She requested two plaques for holes-in-one. I said, 'Holy cow, this lady is amazing. Do you mind if we share this with the media?' "
Before sharing, he wanted confirmation. "This friend said Jacqueline didn't want to name witnesses because they'd been under so much scrutiny. I said, 'I really want to verify this; it'd be great publicity for SilverRock.' "
Duncan finally had six names. "But I never got enough information to contact them." Besides, as far as he could tell, Gagne never played at his place.
"I took a full day to check our tee sheets from January through June. Nothing. Not her name, not the names of her friends. I spent two months trying to verify the two holes-in-one."
"I've quit. I'm not saying she didn't do it. But I need proof."
That same month, Gagne claimed a hole-in-one at La Quinta's Hideaway Golf Club. But Hideaway said no.
Club member Ann Pinto, playing with Gagne in a threesome, said Gagne hit before the other pair reached the tee for the day's last par 3. Gagne told them, "It went in." Oddly, for someone who just holed a tee shot, Gagne hit a second, played it out and signed for a bogey. At the hole she bent as if to pluck her first from the hole, but Pinto says she never saw a ball in Gagne's hand.
The pro Cody Shining said Gagne reported the hole-in-one by phone later. "I wouldn't verify it," he says. Said Pinto: "When she was with me, there was no hole-in-one. To say she had a hole-in-one if she didn't is an insult to everyone who believes in the game."
That one does not appear on Gagne's hole-in-one chart.
Gagne was disqualified from the Mission Hills Johnny Revolta Match Play Tournament in February. She failed to turn in her group's master scorecard. Instead, she produced a card showing the Gagne/Kreedman team with scores lower than opponents believed they had signed for on the master. Shortly after, Gagne resigned as chair of the membership committee of the club's women's golf association.
In July, playing off a Handicap Index of more than 6—in March it was 10.1, in September 4.0—she reported shooting a course-record 66 at Eagle Falls Golf Course. She followed two weeks later with a 61.
The Eagle Falls pro, Robb Mihelic, doubts it: "We had just punched the greens, and I couldn't make a 10-foot putt that day. But she came right into the shop and said she'd shot 61." He asked her, "Did you play them down, or winter rules?"
"What's that?" she said to Mihelic.
Learning the difference, she said, "Oh, no, we never touch the ball." She had "chipped well" and "it was one of those days." But when another player and an Eagle Falls employee reported seeing her make higher scores than she reported, the pro decided he would not legitimize the round. "I didn't post the 61."
Gagne put the 61 on her website, but Mission Hills director of golf Robert Barnes says she didn't post it on the club handicap sheet.
Soon enough, my date to meet Gagne, once "Not a problem," became a problem. There had been no news reports, but on Aug. 6 I noticed additions to her website chart and updatings in features. The changes were necessary because, the day before, she had done it again, a 17th hole-in-one.
"Another one?!?!?" I said in an e-mail. "Maybe we should talk now before I come out there." Immediately, she called to say the 17th came on the 17th hole at Mission Hills' Pete Dye course.
"Tell me about it," I said.
"I just hit a perfect shot," she said.
It came in a practice round, the two of them playing, Gagne and her friend Barbara Kreedman, a witness to five of the previous 16.
I was not yet ready to call Gagne, but here she was, and because I suspected we might not become buddies, I cut to the chase.
"It's all strange," I said. "I'd just like to talk to one person who has seen a ball actually go in the hole."
She then said words surely never before said by any player: "I've only seen three myself, out of 17."
A ball off a sprinkler, out of a tree, off a coot fence—sideways, short, long, looking for the ball, looking, looking. "And it's always found in the hole?" I said.
Kim Wonser was there for the third of seven such lost-and-founds. "I didn't see it go in," she says. "I saw it go to the right, and I thought her ball was in a sand trap. We all went to look, and everybody was looking for the ball, and then, because people on the tee were ready, Jackie said, 'Go ahead and play.' I went to take the flag out, there was a ball. Jackie's. But I don't know how it got there."
Bette Baskerville, also in the group that day, put the experience to use two months later. "Jackie's ball did not land on the green that time, either, and nobody could find it," she says. "I made a joke, 'Well, we haven't looked in the hole.' So somebody did, and there it was."
There are 13 witnesses, as identified by Gagne, media accounts and my reporting. I talked to 10. Linda Hogg, there for five holes-in-one (and the videotaped shot), refused requests for an interview. Friends of another woman said she was sequestered with a seriously ill son. A third did not answer a message.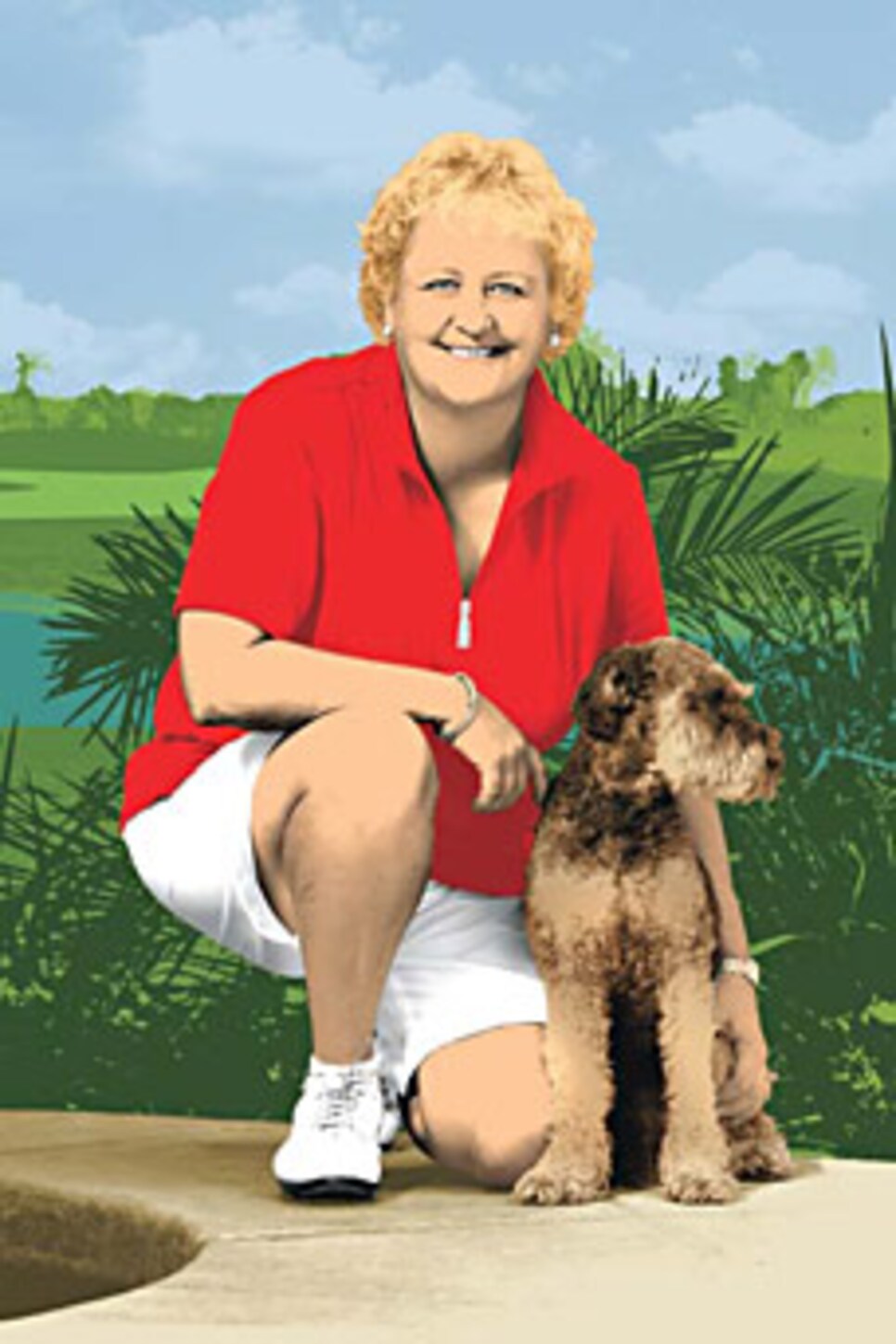 The 10 who talked were with Gagne on 11 of 13 holes-in-one (eliminating the three aces for which there is no record of her playing).
I talked to them in separate interviews, on different days, asking each only to describe the events as they saw them. All were delighted to have been part of such a serendipitous happening. Their stories had two more things in common:
No one suspected chicanery. And no one actually saw a hole-in-one.
Only one of 10 witnesses saw a Gagne hole-in-one tee shot land on a green. Twice it happened for Don Balletto, a friend from Canada. His is the most plausible supporting testimony—the only plausible testimony—but even he expresses surprise. He saw Gagne's ball slide over swales and disappear. "We'd go up there," he says, "and the damned ball would be in the hole."
Though Kreedman was there for both shots, she is fuzzy on details. The first one, she doesn't remember at all: "Gosh, I'm so sorry." On the second: "All you can see is that she's right on the money. When you get there, there's no ball, and you look in the hole. Boom, there it is. That's all I can tell you."
The last two holes-in-one that Kreedman saw, she didn't really see. "I do have Lasik surgery," she said by way of suggesting that her distance vision might not have been good enough on May 25. "You can see the ball going. Did I see it actually drop into the thing? No."
Then, as for July 13, she says, "I didn't see the ball flight at all. So I was uncomfortable with that one."
Curiouser and curiouser, all this. But, as Kostis did, Kreedman offered an explanation for the phenomenon: "Jackie just has this gift." She says Gagne's "senses are very elevated. Hearing, vision. She just has an ability to see the line."
By this time in my search for an explanation that made sense, I had expressed my skepticism to a lot of people, so many, in fact, that reports of my questions had been relayed to Gagne and, as I now learned, to Kreedman.
Kreedman said, "Jackie heard you called her a liar."
"I'm not that stupid," I said.
"You might not use the word, but you're clearly insinuating. She also heard that you said she planted people on the course to put the ball in the hole."
"No, no, but I have asked, 'How did the ball get in the hole?' "
Anyway, Gagne and I had talked only briefly, but it was clearly long enough for her to decide she didn't like the way it was going. When I asked if she could help me find the SilverRock witnesses, she said, "Nope."
"They've already been interviewed."
"I haven't seen a word from them," I said.
She said, "I'm really getting tired of this."
She thought the Kostis chatter should have convinced me. "He's the No. 1 golf man. He believed it when he saw how I read the greens and how I hit it." She said she would have her public-relations person call Golf Digest to complain that I had not done my work professionally. (Someone did call the magazine and left a voice mail without identifying herself. To me, it sounded like Gagne.)
Then I asked, "So when can we get together?"
"You and I will never sit down. Thank you for your time."
The next morning, I noticed more changes on her website. The references to a 17th hole-in-one had been deleted. Beyond its brief website appearance, number 17 was never made public.
Two days later, in another edit, the website no longer directed readers to Gagne's public-relations outfit. I e-mailed the firm's boss asking, "Do you still represent her?" A reply came not from the firm but from Gagne.
She wrote, "You are walking a fine line of harassment. My attorney has been notified. Clearly there is something wrong with you."
I heard from Jackie Gagne one more time. She called after a week of tumult that ended with her in a hospital.
Her relationship with Barbara Kreedman had come unraveled, becoming a matter of public record when each woman filed a restraining order against the other.
Witness affidavits described an angry confrontation at the Kreedman/Gagne home, followed at the address three days later with what Riverside County Deputy Sheriff Herlinda Valenzuela told me was closed out as a "disturbed subject" call; Gagne, in a voice mail to the Golf Digest office, said she had suffered an epileptic seizure.
That day late in August, Gagne was hospitalized. When I heard that she had been discharged and had been to lunch at Mission Hills, I asked her friend Judy Scrafford to relay a message that if she wanted to talk, I wanted to listen.
Gagne's call was a voice mail in which she proposed a deal of the sort that no reporter can make. She would sit for an interview if I first faxed to her lawyer the name of a source in my reporting along with what that source had said.
She also said, "You can quote me on this. It's pretty sad, when someone's down, you can get kicked around by a news reporter as well as my partner, Barbara Kreedman. That's pretty low."
So we never really talked again, but I did speak with Judy Scrafford, who described Gagne as "doing great now." I asked Scrafford if she expected her friend to play golf soon.
"Oh, my God, I hope so," she said.
Then, a laugh. "And I'm hoping she makes some more holes-in-one."