News
Masters Report: So much for Tiger's Slam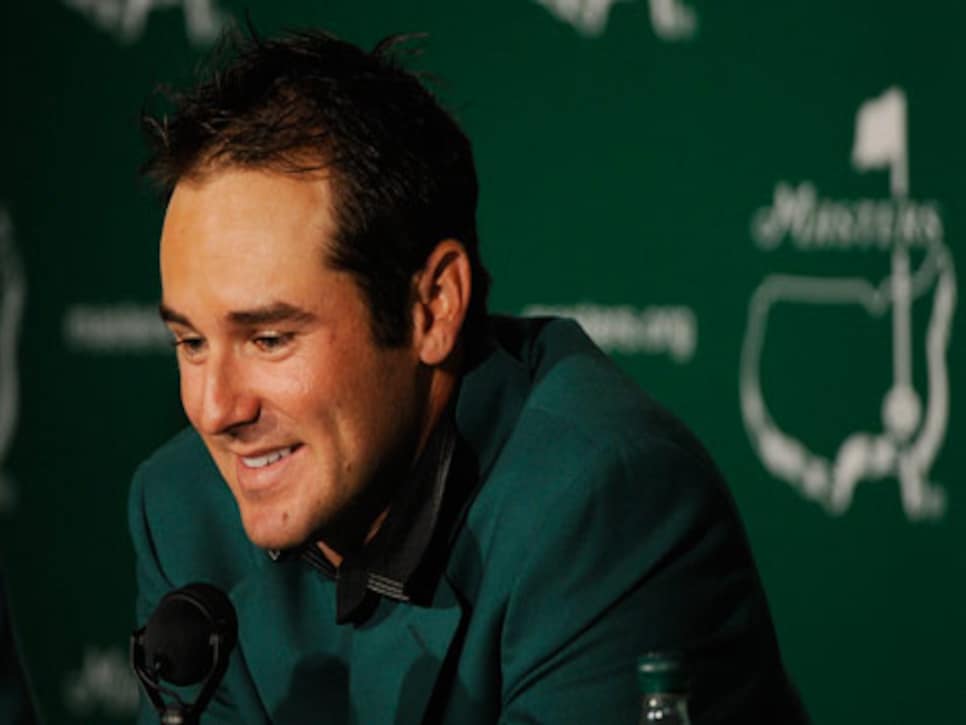 Every Sherpa in Nepal knew Tiger Woods was going to win the Grand Slam this year, starting with the Masters. Waiters in Budapest and Prague knew it. People still locked in caucuses were sure of it. Superdelegates. Fry cooks in Waffle Houses. Certainly every sportswriter and blogger in North America had been giving it to him for months. Tiger said so himself: "Easily within reason." So you could only imagine the looks when the Augusta National's green jacket wound up on a guy named Immelman.
No, he isn't a descendent of Max Immelmann, the German ace who invented the Immelmann Turn in a biplane (think of a flop shot that flies back at you). He is actually Trevor Immelman, a South African golfer with a sweet swing and some grit who got a little help from Tiger's out-of-sync game and a cluster of other uncertified contenders who took a few more lumps than the leader did on a long, tough, windy course that provided the challenges a major championship is supposed to provide.
Tiger finished runner-up in a major for the fifth time, putting him 14 behind Jack Nicklaus. More important, Tiger remained stuck on 13 victories in professional majors, five back of Jack.
The world was surely aware that for all of Tiger's wins in majors, he had never come from behind after 54 holes to win one of them. Was this Masters going to be the time? Could he catch and pass not only Immelman but Brandt Snedeker, whose Vanderbilt degree hadn't helped him find a barbershop; Steve Flesch, who achieves recognition by playing left-handed; and Paul Casey, who'd been hitting golf shots for three days but putting with an anvil? The Masters appeared to be set up for Sunday's traditional chaos.
Because of the difficulty of the course and a strong wind, there has rarely been a more amusing day of chaos. Amusing if you like horror movies.'
Because of the difficulty of the course and a strong and puzzling wind -- a glimmer of the Ken Venturi wind, if you will, 1956 vintage -- there has rarely been a more amusing day of chaos. Amusing if you like horror movies.
While Tiger was uncharacteristically gunching short putts and would finish with an even-par 72, three of the lurkers he had to catch went almost as far south as Mobile. Casey banged around with a 79, Flesch clobbered himself with a 78, and Snedeker wobbled home with a 77.
Two days after the finish, Woods had arthroscopic surgery to repair cartilage damage to his left knee, the same knee that required surgery in 2002 and 1994. Estimated recovery time for the latest: four to six weeks.
Woods and Stewart Cink were the only players in the field who didn't have a round over par for the week. But there was one lurker too many for Tiger. Immelman put a water lock on 11, 12, 13 and especially 15, where his third shot on Saturday spun back toward the pond before inexplicably stopping on the slope. Though he found the water on 16 in the final round and suffered a nervous double bogey with a five-stroke lead, it didn't really matter that his closing 75 tied for the highest last round by a Masters winner (see Arnold Palmer, 1962).
Even after a scare from a benign tumor that was removed four months ago, it was a day of tremors for Trevor. "The ultimate roller-coaster ride -- and I hate roller coasters," said Immelman, 28, who had won only once on the PGA Tour but had shown ability at Augusta, shooting a 65 when he tied for fifth in 2005. That's also the year of Woods' last victory at Augusta.
Tiger usually dismembers Augusta's par 5s, and he needed to make something happen on Sunday. In his first Masters victory, in 1997, Tiger played the four par 5s in 13 under par, with two eagles and 10 birdies. This time, he was only four under for the week. "I just did not make enough putts," said Woods, who took eight more than Immelman.
Remember the roars for birdies and eagles at Augusta? They were so noticeably missing that one former winner called the place "a morgue." This year people had to give it up for pars, like Tiger's circus act at the 18th on Friday.
From the tee he put himself in the prison of pines on the right. One option was to punch out backward into the fairway and leave himself 200 yards to the green. This is what Ben Hogan would have done. Take the bogey, be happy. Of course, Hogan would never have driven into the trees in the first place.
But Tiger had, and now he saw a narrow opening -- into the 10th fairway. The 10th fairway? That was in bounds? Yeah. And if he could get there, he'd have a pitch over a bunker to a tight pin and a chance for a 4.
He was flirting with a double or triple, but he made the punch shot work. Then he hit a blind, uphill wedge shot of maybe 80 yards that came down exactly where it needed to, from where the ball dribbled to within six feet of the flag -- after bumping into Stuart Appleby's ball. Tiger's putt wasn't going anywhere but in the cup.
Tiger's 4 deserves rank with a par 5 that Nicklaus miracled at Firestone's 625-yard 16th in the '75 PGA. Jack drove wildly into a creek that even the members didn't know existed, took a penalty drop, smashed a wind-aided 6-iron 260 yards across the course -- "The ball just kept on going," he said -- to place himself behind the tallest trees in Ohio, somehow got a 9-iron onto the green, and then sank a 30-foot putt.
Immortals have a way of doing these things at times.
Now think about what's going on in this era. When Tiger Woods doesn't win a major -- and on other occasions, when Phil Mickelson, the game's other glamour guy, doesn't -- what the game gets is your Paul Lawrie, your Ben Curtis, your Todd Hamilton, your Shaun Micheel, your Rich Beem, your Zach Johnson, your Michael Campbell, your Angel Cabrera, your Mike Weir, and say hello to Trevor Immelman.
It will be up to future years to determine whether they'll merely be one-timers. Well, history and Tiger Woods.