The Loop
The first full year of the Ambush is history. It never gets old--giving things to people. For two days a month I'm golf's Kris Kringle. I get to surprise golf enthusiasts with free golf, balls, dinners and beer. I'm passing out a frozen moment in time for you and your band of brothers (or sisters) with a picture and a page in Golf Digest. We did an Ambush rewind in the May issue.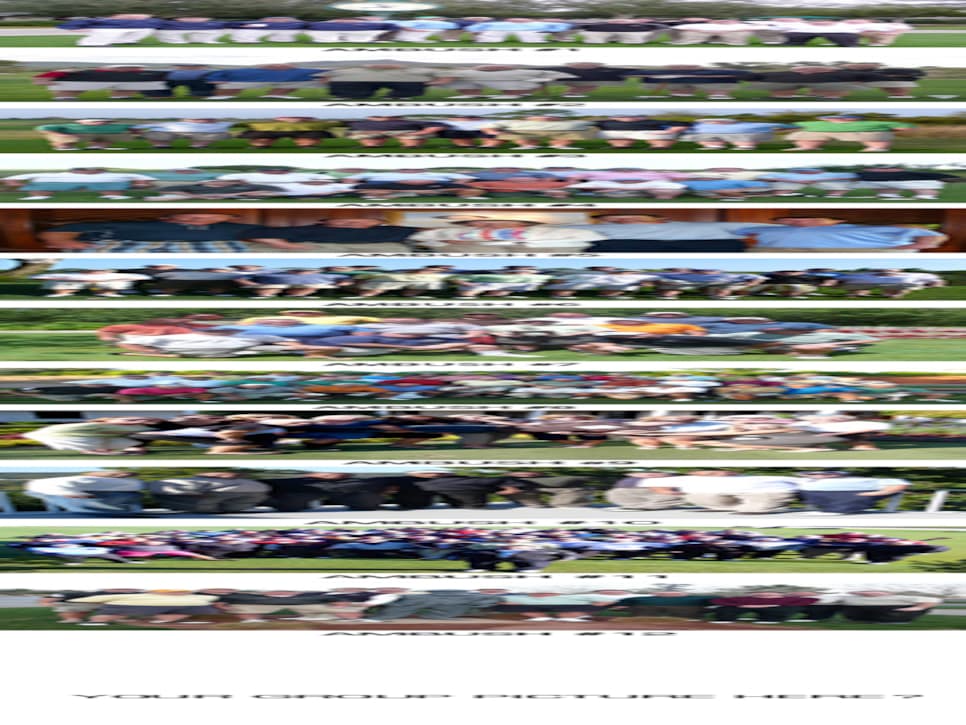 So far, I've Ambushed in: Scottsdale, Sea Island, Destin, Orlando and Panama City Beach. I've rolled up on unsuspecting groups in Pinehurst, Wild Dunes and a sentimental and spirited group in Garland, Mich. I've tracked a group down in the remote spot of St. Geroge, Utah. A neutral observer might argue that I was the one who was Ambushed by 12 charismatic women in Ball Ground, Georgia. I was blown away by Birmingham, Ala., and probably gained 12 pounds while I was in town. Most recently I wrote about an Ambush in Mesquite, Nev. After picking 12 winners (and counting) out of 3,500 itineraries (and counting), here's a breakdown of some numbers and some notable highlights:
Total Ambushed: 247 (235 men, 12 women)
Average size group:  21.4. (Smallest was 3, largest so far was 96)
__Average cost (excluding airfare): __$1,273.
Average number of nights: 4.2
Average number of rounds played: 4.9
Most expensive: $2,500 per man, "The Ponce" in Sea Island.
Best Deal: $660 a man, "O'Toole bros. invitational" in Orlando.
Best Program: "Organization men" had a 27-page booklet.
Best Meal: Dreamland BBQ in Birmingham, Ala. with Jay Walker and Jay Roberson.
Best Impromptu Encounter: Playboy bus in Destin, Fla. with the "Louisville sluggers."
Best Nickname: "George," as in Costanza, because Dan Mannes lived at home until he was 30. The name of that story was fitting. That group was clearly "No spot for thin skin."
I'm picking from these four finalists for the May issue (which closes the first week of March and comes out on newsstands the first week of April).
Kevin Curran of Warrington, PA: This is the 14th consecutive year for our buddy trip. It was started in 1996 by best friends and pharmacy school roommates, Greg Diehl and Andrew Shumsky. They had learned of the passing of two friends from college and thought, "Life is too short." This trip has guys in their 50's, 40's and 30's. We keep each other balanced in experience and stamina. This trip will start with a night at an Atlantic City casino/hotel. We'll gamble, eat and drink until the early morning hours. On Wednesday we'll drive to the Philadelphia airport to catch a flight to San Antonio. Our courses consist of: Quarry Club, Canyon Springs G.C., The Palmer and The Resort Courses at La Cantera. I know we'll be spending a lot of time on the Riverwalk. The constant factor to every buddy trip is Crown Royal. Every trip starts and ends with a shot of Crown. Also, a shot before we tee-off, a shot on every par 5 and a shot for birdies. Stand back if an eagle or hole-in-one is carded. Please keep in mind we're always respectful to the course, other golfers and the game of golf--just buddies having fun. We sure do hope to be Ambushed.
Bob Stosser of Bethel, CT: We're the Parbusters (in name only). For the seventh consecutive year, eight friends of 30+ years will head to Hilton Head in February. Demographics include 60+ years of age, handicaps from 12 to 25, all married (only one time) and grandfathers of 21. I'm the organizer and course and restaurant selector. We also have a driver, navigator and treasurer. Several of the group have no responsibilities except to show up for the tee time. Our treasurer pays all bills and sends us a spreadsheet with our debit when we return home. It is a week of great fun, spectacular (sometimes) golf and usually unforeseen adventures. We'll be renting a house in Sea Pines for the week. We would love to be ambushed.
Mike Lowe of Wheaton, IL: Our guy's trip is called the "Jamocha Cup", because at the end of the day, we're all just dorks. This will be the 3rd Jamocha Cup and it will be played at Amelia Island, FL. Our last two trips were to Myrtle Beach and were just a blast. We play a modified Ryder Cup format for a $100 per man. Our trip is unique because of the people who participate. Our buddy Sagen jumped in the pond of the 18th hole at True Blue in Myrtle after hitting a birdie putt to win his match. We've had to make downhill three-footers in the dark to win matches and lost clubs on holes known as the "Gambler." Team U.S. has been blown out of the water every year, but this is the year we turn it around. We have two elected judges to maintain peace and settle fights, which are abundant. We make team shirts every year with our logo on them and we're trying to incorporate a trophy this year. We live just west of Chicago and this trip helps us get through the horrible winter. Our wives may get sick of the constant banter, but the winter takes away our favorite game for four months a year, and this is our outlet. Bottom line--we would love to hang with you for a day and let you into our group, trust me you'll have a blast.
Greg Waldrop (N/A): Some time ago I emailed you concerning the Golf Digest Ambush. Our tournament dates have been set and as of today, we will have approximately 100 amateur golfers participating in our 40th Annual "Bratton Brothers Invitational". Our web site, www.bbitour.com, has all the details, including dates, courses, tee times, etc.
I must say, it's quite a website. They have a few quotes on there worth noting: "Golf is 20 percent mechanics and technique. The other 80 percent is philosophy, humor, tragedy, romance, melodrama, companionship, camaraderie, cussedness and conversation." ~ Grantland Rice, noted American sports writer and avid golfer.
The other one is: "What you leave behind is not what is engraved in stone monuments, but what is woven into the lives of others." ~ Pericles