The Loop
Gary Player rolls back the years on the first tee of the Humana Challenge
LA QUINTA, Calif. -- The shots cracked off the clubface like it was 1959 all over again, rocketing down the practice range at PGA West with a soft draw. The swing is still long and fluid with a powerful follow through.
It is almost as if Gary Player has made time stand still.
At 78, the nine-time major championship winner is enjoying golf as much as he ever has. And in the Humana Challenge, he has found a tournament that combines his three passions: Golf, fitness and people.
"A lot of practice for just one shot," Player said with a laugh as he warmed up for the ceremonial opening tee shot Thursday. Then he stepped away from the ball, froze his listener with a piercing look and said: "I'm still learning about this game. Isn't that wonderful?"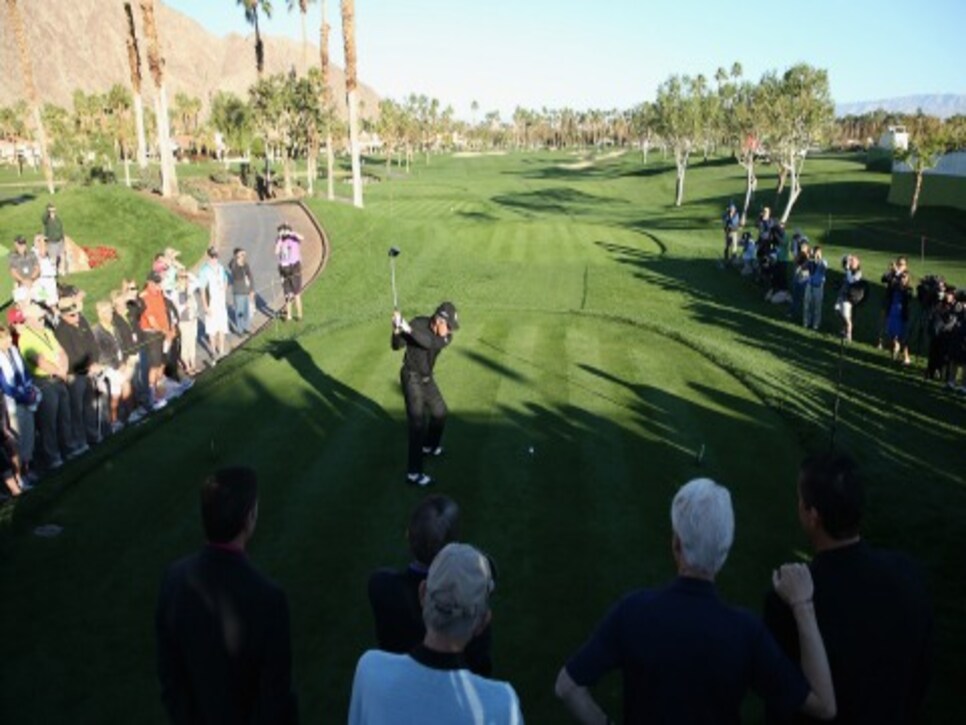 "It takes you places and lets you meet people."
The man once ridiculed by other pros when he was preaching diet and exercise 50 years ago has now found that the mainstream is catching up to the solitary river he sailed all those decades ago.
"Golf is the greatest catalyst in all sports in raising money and this tournament is an example of how it can also raise awareness and understanding," Player said about the Humana Challenge, which has transformed the old Bob Hope tournament into a platform from which to preach the message of healthy living.
"Certainly, to win a major is why we play the game, but I'd appeal to all players to make this tournament one of the most important they play each year," said Player, whose first major title was the 1959 British Open and last was the 1978 Masters, a remarkable span of greatness.
"I hope that this event will grow into one of the biggest on tour," Player said while sipping coffee sweetened by brown sugar after his ceremonial opening shot for the second straight year at the event. Among the onlookers was former President Bill Clinton, whose foundation has partnered with Humana to save a tournament in danger of extinction by re-inventing itself.
"This tournament is saving lives, this tournament is changing lives," Player said. He also says golf's best days are ahead.
"There is going to be a shift to golf among athletes," he says. "They are going to see the longevity we have as competitors, as business people and living longer lives. You never hear of a pro golf having a heart attack because we all walk so much."
When not at Black Knight International headquarters in South Carolina, Player is on his ranch in South Africa where he raised thoroughbred racehorses and crops.
In the Humana Challenge, Player has found a vehicle in which he can grow awareness of how eating less and exercising more can lead to living longer. Anyone who doubts that message need only look at Player - and those shots that still crack off his club -- as proof.