Gary Player and friends spare no one for a good cause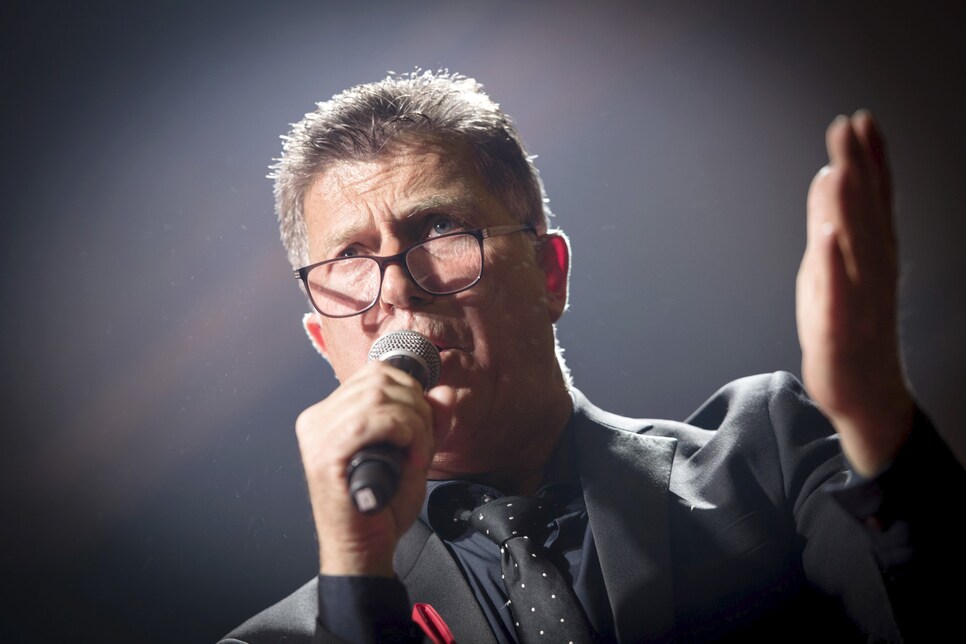 How much does a round of golf with Thomas Bjorn, or hospitality tickets to the DP World Tour Championship, fetch at charity auction? It depends, it turns out, on how creatively the auctioneer can insult a gathering of high-net-worth individuals.
The scene is a black-tie gala in an English garden during a heat wave. Servers roam with trays of champagne and fruit-infused gin on ice. Earlier in the day, at the pro-am outing at Wentworth, Ian Woosnam impressed with one-arm push-ups, and Alvaro Quiros boasted sarcastically about winning his first event in two years. The indefatigable host of the Berenberg Gary Player Invitational, the Black Knight, remarked after pro Inci Mehmet piped a drive past his, "Boy, if you were married to her, you wouldn't want to come home late."
Which is to say the atmosphere is loose, celebratory. Since its inception in 1983, Player's foundation has raised more than $64 million to support schools and provide medical care to disadvantaged children across the globe. Berenberg is a German bank, and it's thanks largely to its executives and clients that the goal of $100 million is in reach. For the 36 amateurs hanging tonight with 36 pros—seven major champions among them—such intimacy is the reward for their generosity.
But they are about to get roasted.
Jonny Gould (above), a self-described "fifth-rate British television host from another time" who found his true calling as an auctioneer, has the mic: "Remember, the only reason Gary's people have been nice to you for the past year is to get your money."
To one early bidder, Gould says: "You, sir, I see your wife looking at you with an expression that's surely been absent some time. There's a certain degree of respect, a certain degree of passion. Are you going to let her down tonight by losing?" Gould is armed with an annotated seating chart and shames financial titans for paltry bids by reciting their holdings. He asks one youthful bidder if he needs time to call mummy and daddy for permission. In the next breath, he growls like a lion and asks an older bidder if he's about to let the next generation take his manhood. And so Gould toys with the audience, pitting egos against egos, but the real reason prices escalate is because people want to hear what he'll say next.
Cooling down with a beer afterward, tuxedo shirt soaked, Gould recalls his first auction, done reluctantly as a favor for a friend at a dive pub in London. He couldn't draw a single 50 bid, let alone the tens of thousands he's fetching per item tonight. So out of something like desperate retaliation, he started making fun of the audience. To his surprise, the people loved it, and the bidding took off.
Gould doesn't spare himself: "If you ever watched cable TV soccer highlights between the hours of midnight and 5 a.m., you might recognize me." With the spirit of self-deprecation in the air, I ask two Hall of Famers what they think of our cover subject this month, Max Homa, whose painfully frank Twitter account provides the structure for his interview with staff writer Joel Beall.
Fred Couples: "Nice kid. Hits it nine miles. I played with him before he won in Charlotte, when he couldn't make a cut, and I didn't get it. My caddie told him he wasn't achieving remotely what he should be."
Tom Watson: "Reminds me a bit of Mike Reid. Very smart, very honest, spoke from the heart."
Couples: "Mike Donald was another guy who'd punish himself all day long. He'd tell you he couldn't beat anybody, then finish third. But this was 1990. I might've told a friend, 'I suck,' but never a stranger. Telling the whole world you suck—I don't get that."
How much weakness should a golfer show, and to whom?
The successful German bankers getting roasted with their checkbooks out bring to mind a quote from another German, a pastor, Martin Niemöller: "If you can laugh at yourself, you are going to be fine. If you allow others to laugh with you, you will be great."