The Loop
Garcia's success and the failure it magnifies
More ignominy for Sergio Garcia: Condoleezza Rice and Darla Moore have green jackets and he doesn't.
Nor does he have a Claret Jug or any of the other major championship regalia, but he does have a Wyndham Championship trophy that serves only as a reminder of what is conspicuously missing from his trophy collection.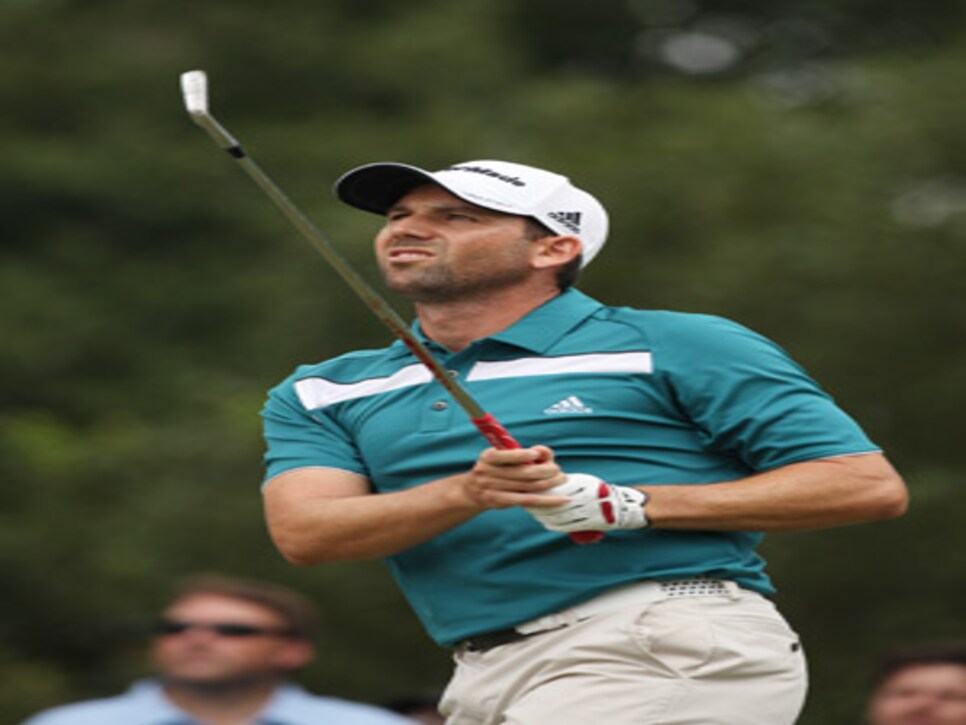 Garcia has major talent and the credentials to prove it: eight PGA Tour and 10 European Tour victories. But his success off-Broadway simply magnifies his failure on golf's grandest stages (Ryder Cup excepted).
[Related: Golf's biggest phenoms
](http://www.golfdigest.com/golf-tours-news/2011-01/photos-golf-top-phenoms)
His latest victory, by two at the Wyndham Championship and his first PGA Tour win in four years, could not have come further off-Broadway: In Greensboro, N.C., on a Monday morning with few paying attention, and those who were had their attention diverted to news that Rice and Moore had been admitted as Augusta National Golf Club's first female members.
Upstaged again. As Golf Digest's Dan Jenkins once noted in his incessant Twitter mocking of Garcia's plight: "Me, Sergio...why does destiny hate me? Why?"
Garcia was brilliant in the final round of a tournament pushed to Monday by Sunday storms. He birdied four holes in a five-hole stretch late in the final round that no doubt secured him a spot on Captain Jose Maria-Olazabal's European Ryder Cup team, but did not replace him as No. 1 on Team Enigma.
Here is how his major championship season went:
-- At Augusta National, he concluded in the wake of a third-round failure that he "isn't good enough to win a major."
-- In the U.S. Open, he took a 7-iron to a tee-side NBC microphone following a wayward effort.
-- He missed the cut in the British Open.
-- He missed the cut in the PGA Championship.
There seems to be a discomfort level at majors that is not apparent elsewhere. Indeed, previous success at Sedgefield Country Club, site of the Wyndham Championship, surely helped put him at ease on Monday. The last time he played there, in the 2009 Wyndham Championship, he finished fourth. Eleven years earlier, as an amateur, he tied for third there in the Nike Greensboro Open.
It's too soon, of course, to consign his career to the remainder table. He is only 32. Phil Mickelson was 33 when he won his first of four major championships. But Garcia also is an old 32 from the standpoint of his damaged psyche. He is widely known as "a tortured soul," one who can't understand why the golf Gods are aligned against him.
If talent were the only measure, it would qualify as nonsense the notion that he is not good enough to win majors. The obstacle, as is often the case in this perplexing game, is the space between the ears. On Monday, he expertly navigated this obstacle and staved off the challenge of young Bud Cauley in a battle of Potential Unfulfilled vs. Potential. Cauley, 22, played the back nine in two-under par, which was not sufficient to overcome bogeys on his first two holes Monday morning. He finished third, behind Garcia and Tim Clark.
Cauley's time will come. The question Garcia has had to face is is whether his time has come and gone. His victory on Monday suggests better days ahead. Again.