The Loop
Garcia, cleared of any wrongdoing, has a legitimate gripe
ABU DHABI, United Arab Emirates -- It has long been a matter of some contention and irritation for all high-profile professional golfers. But this was a particularly egregious example of a modern day plague that has become tiresome -- and on this occasion, unfair -- in the extreme.
There, on whatever the 21st century equivalent is of videotape, was Sergio Garcia on the 18th green at the Abu Dhabi Golf Club. Down on his haunches having marked his ball, the Spaniard was shown tapping down a mark on what would soon be his direct line to the hole. To some conclusion jumpers, it appeared to be a clear breach of the rule covering the non-touching of spike marks. Cue the inevitable phone calls from "Outraged of Oklahoma City," "Indignant of Indianapolis," and "Suspicious of San Francisco," to name but three.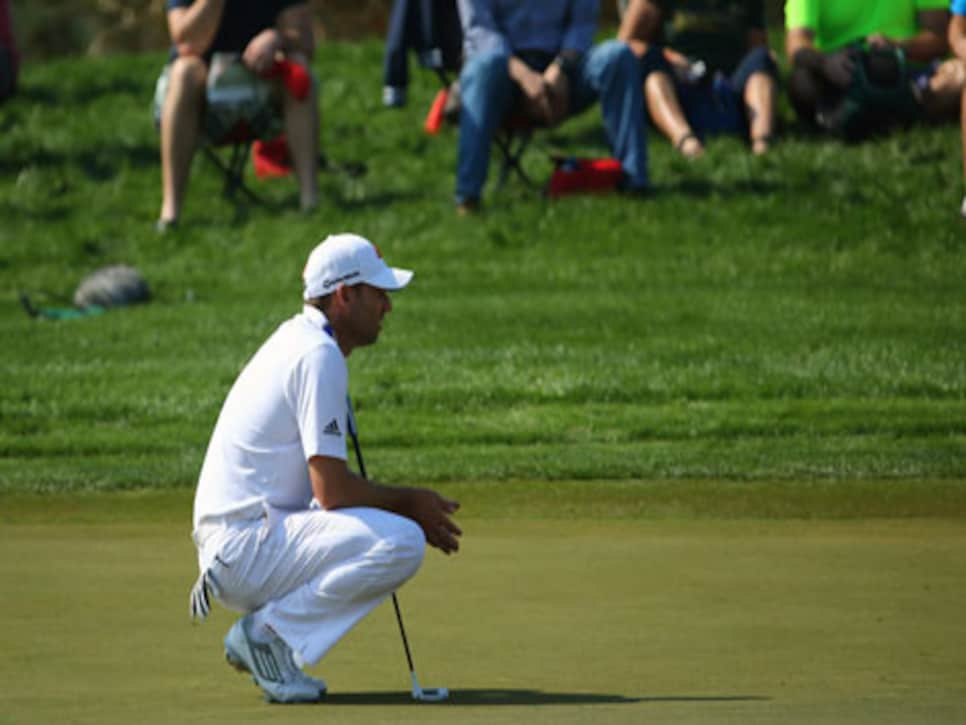 Ah, but as so often is the case, the footage did not show the full story. Having gone some way to repairing a pitch mark in front of his ball, Garcia had merely paused to allow his playing partner, former PGA champion Martin Kaymer, to putt. Then, when the German missed, Garcia completed his task. All perfectly legal. All perfectly innocent.
The next morning, having been made aware of the "incident" that provoked some over-eager websites to use the word "cheat" next to "Garcia," the European Tour's chief referee, John Paramor, was obliged to take the six-time Ryder Cup player out to the 18th to run through exactly what happened. It didn't take long to dismiss all charges.
"Cheating is something I would never do," said an indignant Garcia immediately after completing a second round of 68 that saw him make the halfway cut in the HSBC Abu Dhabi Championship with nothing to spare. "But it does feel bad to be related to that word, when there is no proof and when I've never cheated in my life. It hurt a little bit.
"It's fine to call in when you can see that someone has cheated. But to say that about someone without knowing all the facts is wrong. Being related to that word is the most disgusting thing that can happen to any golfer. So it was a little disappointing. I'm happy it was cleared up with John and I was able to play today."
Garcia, of course, has a case here. While no one in golf would ever identify the now 34-year old man-child as one of golf's lilywhite characters -- his career has been dogged by regular doses of controversy, most recently at last year's BMW PGA Championship dinner when he made his unfortunate and offensive comment regarding Tiger Woods' eating habits -- on this occasion he is surely due an immediate and full apology from all those who either called in with their spurious accusations, or jumped to a conclusion that was soon to be proved erroneous.