The Loop
Garcia apologizes to Woods. Well, sort of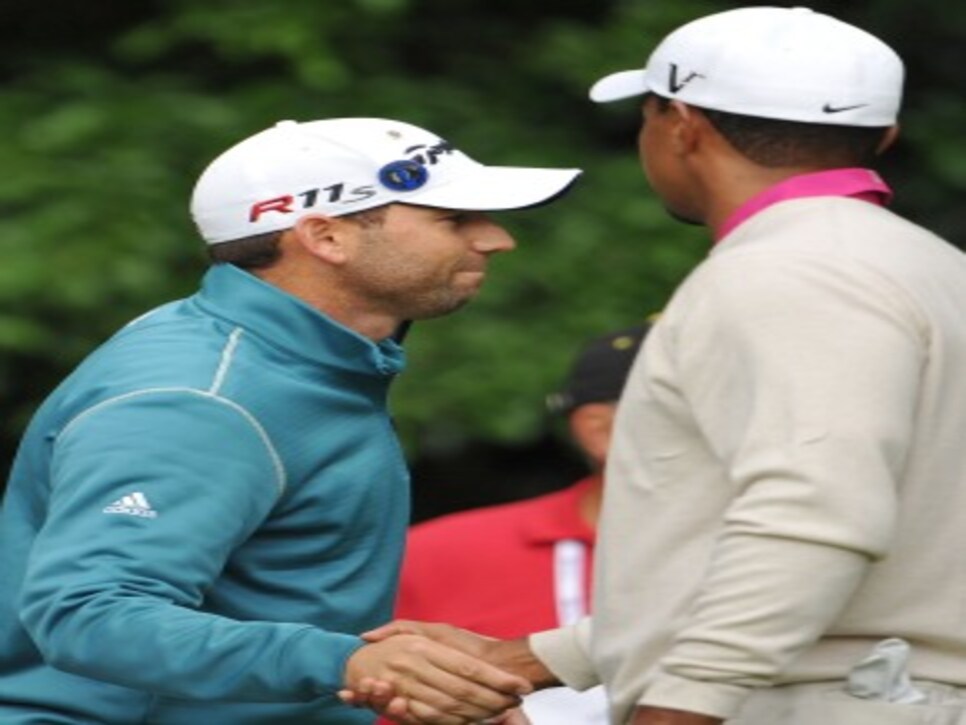 ARDMORE, Pa. -- First, the facts: Yes, Sergio Garcia shook hands with Tiger Woods on the driving range Monday at Merion. But no, he didn't get a chance to apologize. Yes, Garcia left a handwritten note in Woods' locker, but no, he's not going to tell you what it said.
With more pressing matters awaiting Thursday in the 113th U.S. Open, both Woods and Garcia sounded anxious to move beyond their squabble last month, which began with a snippy pairing in the Players, and ended with Garcia apologizing for a racist joke at an awards banquet. But first there was the awkward matter of Garcia's personal apology to Woods -- or lack thereof.
After Garcia made his remarks at Wentworth last month, in which he said he would serve Woods "fried chicken" for dinner, he apologized publicly and said he hoped to say he was sorry to Woods in person at Merion. That opportunity appeared to arise on Monday, when the two men were on the range together. Except Garcia sensed the moment wasn't right.
"I felt like it wasn't the appropriate place, out of respect to him and the other players, to do it there," Garcia said. "So I was hoping to see him afterwards."
When bad weather rolled in Monday afternoon, Garcia lost track of Woods and never got a chance to see him again. That left him to leave a note for Woods in the locker room. Whether Woods read it or not is something he wasn't willing to acknowledge -- only saying that Garcia never apologized to him in person and that he had bigger things to worry about.
"It's already done," Woods said. "We've already gone through it all. It's time for the U.S. Open."
Shifting the focus to golf may be easier for Woods than it is Garcia since the Spaniard is still dealing with the fallout from last month. That could mean abuse from the notoriously-vocal Philadelphia crowd this week. And it could mean severed ties with his sponsors -- an unfortunate consequence for a player who had been enjoying a steady resurgence on the course this year.
"Well, obviously I've been very worried about the whole situation," Garcia said. "I feel terrible about it. But all my sponsors are aware of my apology. They know how I feel about it. I've told them what I want to do is be a respectful competitor to everyone and that includes my sponsors."