News
Game, set, match for Lexi Thompson? She leads by two on a course she owns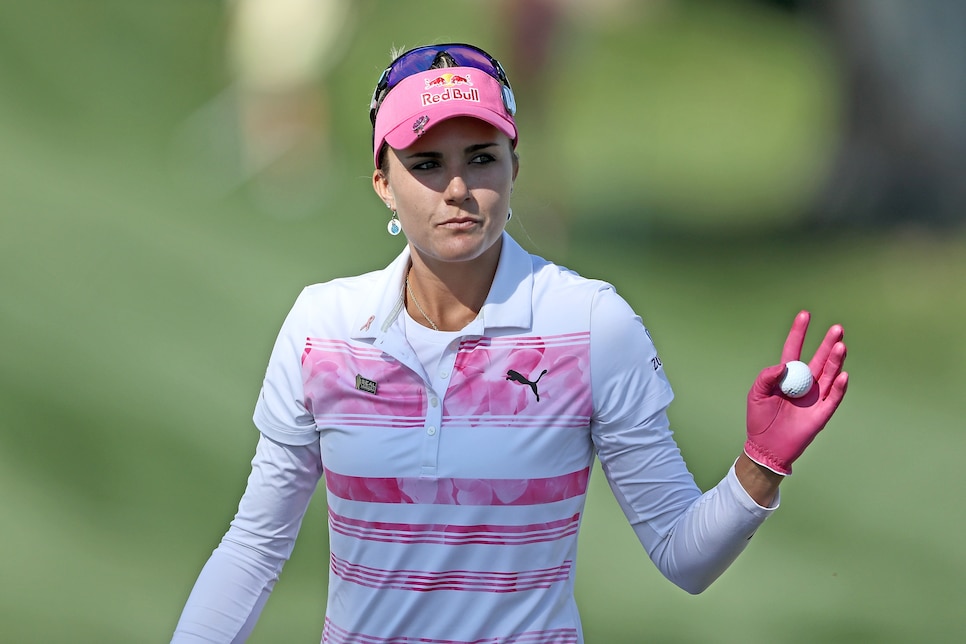 RANCHO MIRAGE, Calif. — There are no gimmes in professional golf, though the temptation is to give Lexi Thompson this one. A two-stroke lead in a major in which she hasn't finished worse than seventh in the previous three years and was its winner in 2014, well, that's good, Lexi.
Thompson posted a second-straight five-under-par 67 on the Dinah Shore Tournament Course at Mission Hills Country Club on Saturday, to complete 54 holes in 13-under-par 203. A year ago, Lydia Ko won with a score of 12 under.
There is a crowd chasing Thompson, including Suzann Pettersen, Inbee Park and So Yeon Ryo. Pettersen is two back, Park and Ryo three behind. These aren't plow horses chasing a thoroughbred; all three have won major championships. Park, too, is a past champion here, while Pettersen has finished second three times and third once.
Still, it's hard to examine Thompson's form chart in the ANA Inspiration and conclude that with a head start she's somehow vulnerable.
Thompson has played 14 straight rounds of par or better here, on what is considered a difficult course, 6,763 yards of malevolence for those whose steering is off. Moreover, she last shot over par in the ANA Inspiration in the first round in 2013, a 73 in the year she won. Her scoring average in the last four ANA Inspirations, including this one, is 69.13.
"I just love this golf course," Thompson said in the gloam of another perfect day in the desert. "I get to hit a lot of drivers. It just sets up well. There are a lot of dogleg, which help me out. I hit driver everywhere on this golf course, and that's what I love most about it. I usually just aim up the right side of the fairway and just hit a baby draw out there, or try to."
Thompson, meanwhile, has worked assiduously to address the one vulnerability in her arsenal, her putting. The dividends already are evident and include a round of 61 in the Pure Silk-Bahamas LPGA Classic.
"I made a lot of changes," she said. "I changed putters, changed my stance some. I practiced a few hours a day on it and just gained a lot more confidence. You know, I struggled a lot last year. We went through a lot of putters, and yeah, I felt really good about it coming into the season. My first round in the Bahamas went really well with the putter, so it was great to see."
She hit all 18 greens in regulation on Saturday, incidentally. If her putter continues to contribute, well, Lexi, as she is popularly known, now the first name in American women's golf, will have won tournaments in five straight years.
The odds, clearly, are in her favor.