The Loop
Further proof that Rory McIlroy can do no wrong: his awesome catch of the Wanamaker Trophy (GIF)
LOUISVILLE, Ky. -- This is what a hot streak looks like. You win two tournaments in a row, you two-putt in the dark to win a third and then you deftly snag the Wanamaker Trophy -- or at least part of it -- out of mid-air. What's next, tap dancing?
As if the bizarre sequence on the 72nd hole at Valhalla Golf Club wasn't goofy enough, there was this awkward exchange between Rory McIlroy and PGA of America president Ted Bishop, when Bishop tried to shake the new champion's hand, only to spill the top off the Wanamaker Trophy in the process.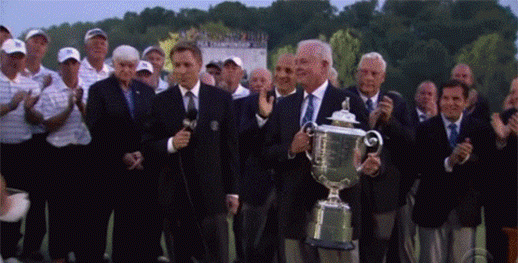 Fortunately, McIlroy was there to grab it. Either way, we'd probably give Bishop a pass. After that finish, he clearly had a lot on his mind.