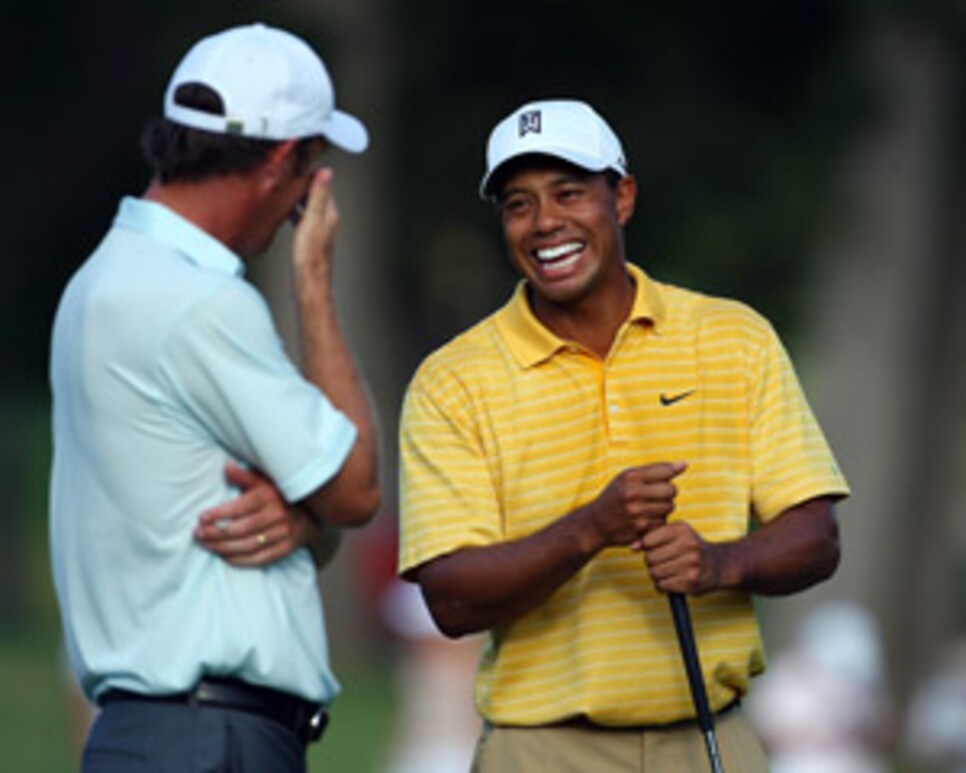 we continue our series of amusing anecdotes from the pages of the magazine. --Mike O'Malley
JERRY TARDE, ON FORMER AUGUSTA NATIONAL CHAIRMAN HORD HARDIN
Hord was known to the world for those endless minutes he spent, green-jacketed and glassy-eyed, interviewing the Masters winner on television each year.
"Seve, let me ask you," he started, in 1980. "A lot of people have asked me ... how tall are you?"
"Six foot," replied Ballesteros.
"Even six foot?" Hord followed up.
"Yes," said Seve, squinting now.
Hord leaned in. "What do you weigh?" he asked.
The scene was out of a Monty Python movie, but only years later did I realize the full extent of Hardin's panic. "I knew Seve was a handsome fellow," Hord said. "I was building up to ask him about girls. But I got halfway through asking about height and weight when I realized maybe he'd say, 'I don't like girls. I like guys.' So I sort of froze up. I always realized how terrible I was at those things."
JACK NEWTON, ON JACK NICKLAUS AND ARNOLD PALMER HAVING A DISAGREEMENT
Jack was always my idol. The crowd always pulled for Arnie against Jack, but Jack put up with it. I remember sitting in a clubhouse when Nicklaus and Palmer had a bit of a blue [argument]. I played early with Arnold. We came into the locker room, and a storm started to brew. Anyway, the storm got worse, and the players were called in. Jack was something like eight over par playing the ninth hole. Arnold said, "You know what's going to happen here, don't you? They're going to cancel the round because Jack is eight over." And just as he said it, Jack walked in behind him and heard him say it.
Jim Thorpe, when I first met him, said to me that we "Frenchmen" had to stick together out there. He and I were on the bench as Jack walked in. I don't know if you've ever noticed, but when Jack gets nervous or angry, he has a little twitch he does with his chin, and he goes bright red. Well, he did both. And as he walked past, he said, "Yeah, Arnold, just like they did for you all those times."
At that, Jim Thorpe turned to me and said, "Newtie, this is no place for we Frenchmen. There's an argument going on between God and Jesus Christ, so we better get out of here!"
HENRY LONGHURST, ON THE VALUE OF 'BENEVOLENT DICTATORS' RUNNING GOLF CLUBS
My British benevolent dictator, and he really did dictate, was the late J.F. Abercromby, universally known as Aber and certainly one of the outstanding architects in all golf. About 40 years my senior, he used to wear a green velour porkpie hat and habitually carried under his arm an ancient wooden putter. We younger members were in considerable awe of him. I was standing beside him at the bar at Addington one Sunday morning when a member came in and pre-emptively demanded of the steward, "Where's the suggestion book?" Aber turned slowly and prodded the luckless fellow with a bony finger. Then, pointing to himself, he said, "I'M the suggestion book!"
That's the way to run a golf club.
DAVE KINDRED, ON FORMER NEGRO LEAGUES BASEBALL STAR BUCK O'NEIL
He knew players named Steel Arm and Copperknee, Sea Boy and Gunboat. On a night of romantic maneuvering, Satchel Paige stood in a hotel corridor calling for Nancy, Nancy, Nancy. His fiancee, Lahoma, suddenly appeared and asked, "Nancy?" At which point, Buck O'Neil, familiar with his partner's multilayered love life, popped open his door and said, "Here I am, Satchel."
The grateful Satch said, "Oh, Nancy, there you are. I've been looking for you." And forever after called him Nancy.
Which explains why the golfer Buck O'Neil cries out, "C'mon, Nancy, hit it," when his tee shots don't fly all that far.
BUTCH HARMON, ON HIS DAD, 1948 MASTERS CHAMPION CLAUDE HARMON
One summer in the early '60s, my mom and dad traveled to the British Open. My brothers and I stayed home. I was about 18. Dad owned a Lincoln Continental, which he got through a deal with Ford. On the night of the Fourth of July, I was driving home when another car ran a red light. I hit the car broadside and demolished the Lincoln. My parents were in England, so they didn't know what happened. So now I started driving my mom's Chevy Impala.
Dad phones us from London and says, "Butch, I want you to have one of the other boys come up with you to pick us up at the airport. Your mom's bought a lot of stuff, and we need two cars."
I said, "Dad, I really can't do that. I had an accident in the Lincoln."
The first thing he said was, "Are you all right?"
Dad pauses, then asks, "Well, how's the car?" I told him, "Not too good."
Then Dad says, "Well, at least you're OK. Just bring your mom's Impala and go to the club and see if you can borrow their station wagon."
"I really can't do that either, Dad."'
"I blew the engine in the other car."
So I totaled two cars in a four-day period. I was medalist in the New York State Amateur when that happened, and I couldn't get there to finish the tournament.
PETER KESSLER, ON DOING INTERVIEWS FOR THE GOLF CHANNEL
I've never had a jerk in the chair except for me. Nobody has walked off the set. Well, as a matter of fact, someone did walk off the set, and that was to use the men's room. This is a live show. This isn't live on tape; it's get it right or not, and that's what you've got. One particular player with a reputation for being difficult and nasty in his prime in the late '60s and early '70s said to me that it was possible that he might have to use the men's room during the show, as he was having a little problem.
I said, "You cannot go to the bathroom during the show; you go now. It's 10 to 8 -- unload your bladder, and you just have to sit for an hour."
Well at 8:30, after telling me three times at the three previous commercial breaks that he had to go, he said, "I'm going." And so we had one of our audio technicians unhook the wires. My producer tried to run the longest series of commercials he could, but when we came back on the air I was alone. So I asked a question that went on and on and on.
When he's finally back in the chair, the wires are hooked back up and the technician's lying behind the chair, because there wasn't time for him to run off the set.
By the time I finally finished the question, the guest looked at me and said, "Could you repeat that?"
Dave Hill. I don't want Dave to never speak to me again -- he was a wonderful guest -- but it was Dave.
__PETER JACOBSEN, ON TACKLING A STREAKER AT THE 1985 BRITISH OPEN
The guy ran at Tom Kite and me, and we were laughing. But then he did a third lap, and the cops were struggling, and it was too much. I told Fluff [caddie Mike Cowan], "I'm going to knock this guy down." Because I know Sandy Lyle is in the group behind us, and he's winning, and he's got to be nervous as a cat in a room full of rocking chairs. And he's watching this going on, and maybe it's a good distraction for Sandy, but maybe not. Fluff tells me, "Peter, don't do it. Let the cops do it." But I can't help it, and I tackle him. And I jump up, and I'm holding my fingers just a couple of inches apart, telling everybody that, you know, he had a tap-in.
__HANK KUEHNE, ON PLAYING WITH ARNOLD PALMER
Arnold and I are playing a practice round at the Masters this year. I had been having a hard time hitting fairways, so on the ninth tee I pull out my 3-wood. Arnold looks at me and says, "What the hell are you doing, kid?" I explained that I thought a 3-wood might give me a better chance of hitting a fairway, since I hadn't been able to keep the driver on the planet. He says, "Hit driver. That's what you should be hitting." When I hesitated for a moment, still undecided, he said, "Well, what the hell do I know? This is only my 45th Masters." Needless to say, I hit driver every chance I got after that. Later he told me if I hit driver 14 times each round at Augusta National, I'd win the Masters someday.
__TOM CALLAHAN, ON PLAYING WITH JACK NICKLAUS
In particular I miss Angelo Argea, the fuzzy-wigged former aide-de-Nicklaus. It is a matter of record that I once finished dead last at a pro-am in partnership with Nicklaus, who was near the top of his game at the time and would shoot 62 later that week to win the tournament. Sensitive to this kind of humiliation, Angelo struggled after our round to think of some sort of consoling word, finally settling on, "Hell, you only hit one guy hard."
__IAN BAKER-FINCH, ON A BROADCASTING MISSTEP
One time the cameras zoomed in on these fish during the Australian Open, and I said to my buddy, "You know, those fish are pretty big. They've been nibbling on the members' balls for years." Then I realized what I'd said. My buddy fell off his chair.
__MARK O'MEARA, ON TIGER WOODS AS A FISHERMAN
I'll never forget the first time we went out fishing. I asked Tiger, "Have you ever thrown a big cast?" He says, "Oh, yeah, I can throw. Sure. No problem." I took out my rod and gave it to him. He throws it, and it's ... linguini."
__LARRY NELSON, ON STARTING OUT ON MINI-TOURS AFTER TAKING UP THE GAME LATE IN LIFE
I knew very little about the rules and proper etiquette. In one tournament, I hit my ball down in a hazard. I went in and started picking up rocks, sticks and stuff so I could hit the ball. One of the guys I was playing with stood there, stunned. I started to pick up a leaf and said, "Can I move this leaf?" He stared at me for a minute and said, "If you pick up that leaf, you'll be lying 12."
__JACKIE BURKE, ON THE DANGERS OF MISAPPLIED INSTRUCTION
When I taught at Metropolis Country Club in New York, there was a fellow who shanked chip shots, nothing else. The man smoked a pipe, and after a lot of thought I began placing his best pipe just outside his ball. He was terrified of hitting the pipe with the toe of the club, you see, and I cured him quick. I was telling this story in Houston not long ago, and a member overheard it and disappeared. He came back an hour later and placed his pipe, which was shattered to bits, in front of me. "Your tip doesn't work for long irons," he said.
__JIM MURRAY, ON GOLF IN LOS ANGELES
Seems a man named Frank Rosenberg, a Texas oil man, wanted to get into Los Angeles Country Club, the West Coast version of the stodgiest and most exclusive club in the world. It is said eligibility for membership is a Hoover button, a home in Pasadena and proof-positive you never had an actor in the family. Once, when a member proposed Jimmy Roosevelt for membership, they not only blackballed Roosevelt, they kicked out the member.
Rosenberg was rejected out of hand, and the membership committeeman politely suggested he try Hillcrest. Hillcrest is a golf course which was founded by a movie man who was snubbed at a Pasadena course because of his religion. It has fewer gentiles than a kibbutz.
Rosenberg was stunned to be rejected by L.A.C.C., and he so confided to a friend. "Oh," suggested the friend, "they probably thought you were Jewish. The club is restricted.'
So Rosenberg applied at Hillcrest. "Fine, we'll take your application and wait for the first opening," he was told.
"Fine," said Rosenberg, "but there's one other thing I want you to know: I'm not Jewish."
The committeeman looked at him and said softly, "Oh, dear. I'm sorry. We don't admit gentiles."
"Well I'm an SOB!" exploded Rosenberg.
"If you can prove that," the committeeman told him, "you can get in Riviera!"
__MIKE ROYKO, ON CHICAGO, THE MOB AND GOLF
The late Sam Giancana, top boss of the Chicago mob, once asked a Federal judge to forbid the FBI from always planting a foursome behind him.
Bill Roemer, a retired agent, was in charge of the 24-hour surveillance, which included following Giancana and monitoring him with listening devices from a nearby farmhouse. "We went everywhere but in his home," Roemer says. "At the golf course, I'd follow him to the men's room and stand next to him. He had shy kidneys, so when I was there he couldn't go. Sam was about a 14, although he cheated a lot. Kicked the balls out of the rough. Good short game, but he wasn't long. So when he'd get ready to hit his second shot, I'd drive past him and yell, 'Fore.' Then when he was putting, I'd hit to the green and yell, 'Fore.' Kind of threw off his game. So he went to court with a camera and showed movies of us, and the judge ruled that we had to keep a foursome between us and him, even though I told the judge that I never once hit Sam with a ball."
Later, though, a houseguest hit Sam in the head with a .22 slug while he was frying sausage in his kitchen. It's not known if the hit man yelled, "Fore."
__ROGER MALTBIE, ON PLAYING WITH A HANGOVER
As far as I was concerned, you had to play hurt. I remember one time, my rookie year in '75, playing the Greater Jacksonville Open. They had something they called the swingers' tent. A great big tent, and when the rounds were over, they had bands in there, parties, a pretty lively place. Went in there one night and got hammered, really hammered. I wasn't playing well in the tournament and was one of the first ones out on Sunday.
A buddy of mine, David Larson -- we'd grown up together -- was caddieing for me. I got to the practice tee and hit a couple of wedges, and the first one I hit right in the middle of the ball. I'm trying to hit it 25 yards, and I hit it about 100. The next one, I hit about six inches behind it. I said, "This ain't gonna work." So I just went over, propped myself under a tree and slept. That was my warmup. "Wake me up when it's my time to tee off."
We get to the first hole, I'm paired with Joe Porter, who was a character, and David Graham, who was very serious on the golf course, always. I get up and just squibbed the ball into the lake off the tee. I looked up and I started laughing. I couldn't believe I hit the ball. I didn't think I was going to hit it. I really didn't.
Now I'm on the green, third hole. It's March. It's a cold, windy, damp morning and I'm sweating profusely. I've got a towel around my neck -- I've got the cold sweats. I got up over a putt and raised up and said, "Excuse me," and I ran back into the woods and got sick. We're off early, there's nobody out there at this time anyway. I come back, Porter is laughing his head off. I get up and hole the putt, about a 12-footer. I chip and one-putt my way around the golf course.
At the end of the day, I shoot 72, even par. David Graham shoots 74. And David had one of those days where he hit the ball very well but could not get it to go in from any distance. As he signed his card, he said, "That's it. I'm quitting this bloody game when a man can come out completely drunk and beat me." Oh, was he hot! Oh, was he mad! Porter screaming in laughter. That was the only one like that.
__FORMER PGA TOUR COMMISSIONER DEANE BEMAN, ON QUALIFYING FOR THE 1955 U.S. OPEN AT OLYMPIC WHILE STILL IN HIGH SCHOOL
I convinced my teachers that I didn't have to take final exams, and I went out a week early to play. Junior in high school. I get out on the practice tee, I'm by myself. Hogan hasn't arrived yet. I'm out hitting balls, and back then you brought your own practice balls. My practice balls were a real grab bag. Pretty soon, I hear a rustling behind me, and up comes an entourage with Hogan and his caddie. The caddie has a brand-new box -- I mean a big box -- of Titleists. The caddie cuts the box open and dumps the sleeves of brand-new balls. Pretty soon, another guy walks in front of me, and it's Bo Wininger. And he's got this shag bag of all brand-new balls. Wininger hits about 10 balls, and now I'm down to a 4-wood. I hit this one ball that's got a cut in it. It takes off, and you could hear this PFFFFT! Wininger looks over his shoulder, looks at me, looks down at the golf balls I've got, and he says, "Son, aren't you afraid one of those things is going to explode?"
__CASEY MARTIN, ON FORMER STANFORD TEAMMATE TIGER WOODS' WEAKNESS AS A BASKETBALL PLAYER AND DANCER
He's got nothing. He's got no game. And I love him. He's the greatest at his sport -- maybe ever. I mean, there might not be another athlete who is as dominant at their sport as Tiger is. However, you've got Jordan crossing over, playing other sports. Tiger will never cross over to be a basketball player, or anything else.
I remember Notah [Begay] and I were in Sigma Chi fraternity as seniors, and Tiger had pledged Sigma Chi as a freshman. At some of the parties, I'd come and kind of sit up on the stairs overlooking this big mosh pit where everyone would dance. I'll never forget one time a bunch of us were having a grand time watching Tiger dance. You know a guy that's so dominant, you've got to bring him down a little. You've got to look for his weakness and really expose it. I think we found it: dancing. It's a bad deal.
__DAVE MARR, ON PRO-AM INCIDENTS
The best one I remember hearing involved Tommy Armour, who was acute, to say the least, in his observations of people. He was playing in a pro-am with a guy who showed up the first day in an all-blue outfit, including his bag and headcovers -- even his shoes. And he shot a 95. The next day he came out in an all-red outfit -- bag, shirt, shoes, everything -- and this time he shot a 96. And he said, "Mr. Armour, I've played two days with you, and I would really appreciate any comments you have about my golf game." Armour looked at him a minute and then said, "I think you're a shot better in blue."
__PAT SUMMERALL, RECALLING THE FINAL ROUND OF THE 1975 MASTERS WON BY JACK NICKLAUS OVER TOM WEISKOPF AND JOHNNY MILLER
I remember Weiskopf's clothing on Sunday: lavender pants and sweater. Why do I remember? We were sitting in the Butler Cabin with Clifford Roberts, waiting for the tournament to end. Miller missed his putt to tie, then it was Weiskopf's turn. His ball grazed the hole but didn't go in. Everybody gasped, and everybody felt a kind of release. But when I looked over at Roberts, his face and his expression hadn't changed. He said, "No wonder Weiskopf missed -- look how he's dressed."
__BOB ROSBURG, ON SAM SNEAD
The senior tour has small events for the guys who are too old to compete. It's a beautiful thing. The first three I played in, the average age of my partners was 88. I had Paul Runyan, Freddie Haas and Sam Snead. Snead, as usual, was a beauty. After nine holes, he said, "I'm real embarrassed by how I'm playing—I'm going in." I said, "Sam, it's your choice, but they're paying us $12,000 even if we finish last. So what do you say? Let's finish." Sam gives in, and I proceed to birdie 10, 11, 13, 15 and 16. We're tied for the lead, and suddenly Sam is all pumped up. I three-putted the last hole, and we lost by one. The next day in the paper, I read a quote by Sam: "If Rossie wouldn't have three-putted the last hole, we could have won the tournament."
__BOB ROSBURG, ON TONY LEMA
I knew Tony Lema very well. Prior to the first big tournament he ever won, the 1962 Orange County Open, he told the press guys that if he won he was going to buy champagne for them. Well, he and I wound up in a playoff, and on the first hole he hit the worst hook you've ever seen. It had to be out-of-bounds, so he hit a provisional ball. When we get down there, damn if his first ball isn't in bounds by two feet. He went on to win the playoff, and his career really took off. I was happy for Tony. We were good friends, and I was sad when he was killed in a plane crash in 1966.
Many years later, a man approached me on the golf course and says, "Mr. Rosburg, do you remember the Orange County Open in 1962?"
I said, "Sure. Like it was yesterday."
"Remember the first playoff hole?"
"Well, that ball was out-of-bounds. My friends and I were standing there, and we were Marines, and Tony had been a Marine, and we wanted to help him. So I kicked it back in bounds."
Now that's a hell of a thing to hear. I couldn't help myself. I said, "I should be mad at you, but I understand. But I want you to know one thing. Tony told me that if he didn't win that tournament he was going to quit and become a club pro. So if you hadn't kicked that ball back on to the golf course, Tony Lema would be alive today."
for more anecdotes from the pages of Golf Digest, or visit this slideshow