Courses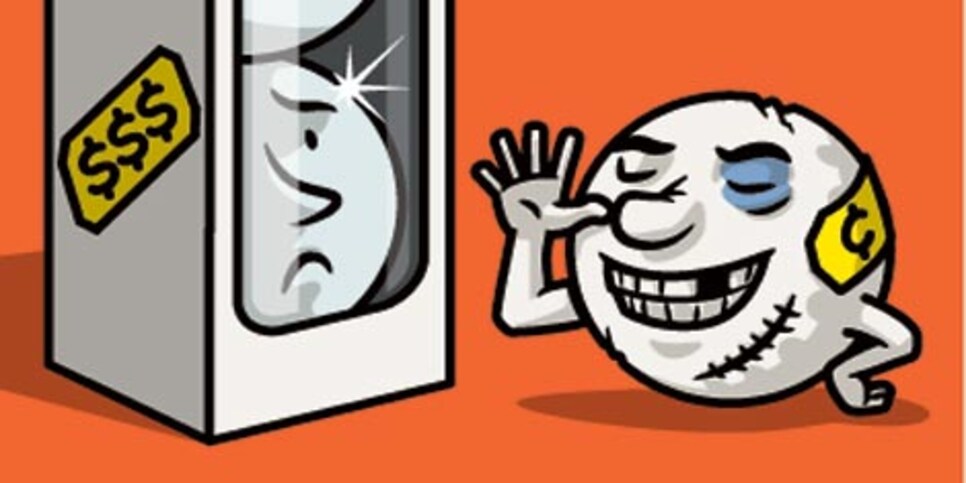 I made a terrible mistake on my last golf trip. The first morning, I unzipped my bag and realized I'd brought only three balls. (Expletive deleted!) The Frugal Golfer hates to pay resort prices for balls.
I came home determined not to make that mistake again. But instead of doing what I usually do--going to a discount retailer and stocking up--this time I went really cheap. I filled my bag with previously owned golf balls. Where does one buy used golf balls these days? On the Internet, of course. A Google search brought up a long list of choices. I picked a couple of sites with names I liked, cheapgolfballs.com and lostgolfballs.com, and ordered a couple of dozen balls from each.
Both sites have a complete selection of brands, from Titleist to TaylorMade to Callaway to Slazenger to everything in be-tween. (Floater, anyone?) On both, you can pick from among different "grades" of quality. Cheapgolfballs.com has a 1-to-3 point scale with 1 being essentially perfect and 3 "good for shag balls." Lostgolfballs.com's ratings run from AAAAA (like new) to AA (some scuffs).
The best balls generally go for 25 to 50 percent less than you'd pay for a dozen new balls. In January, for instance, lostgolfballs.com had a dozen grade-AAAAA Titleist Pro V1xs (2007) for $29. This compares with $40 for a dozen new ones at one of the big online golf discounters.
You start to save bigger money when you step back from those highest-grade balls. The same Pro V1xs were just $20 a dozen at the AAAA level and a mere $11 a dozen at AAA. Shipping is free on orders of more than $85 at cheapgolfballs.com and $75 at lostgolfballs.com.
Apparently I'm not the only one looking for a price break these days. Jerry Beers, a utility-company retiree who has owned cheapgolfballs.com for five years, says business is very good. "A lot of weeks in golf season, it's hard to keep up with demand."
Beers and his wife, Pamela, operate the website and a store in Forney, Tex. They get most of their balls from people out walk-ing local courses, many of them landscapers and other employees, he says. When business really heats up, he has hired divers to scrounge the bottom of water hazards, but he would rather not. "You never know what you're going to get," he says.
For my orders, I picked middle-grade balls from $7 to $10 a dozen. They arrived within days, and they're . . . not bad! I know manufacturers have evidence that used golf balls--and wet used golf balls in particular--do not perform as well. But I don't think I'm good enough to tell the difference. The cheaper ones have only the slightest scuffs and discolorations; I swear the $9 and $10 dozens could pass for new.
Yeah, my friends look at me a little funny when I tee up a Titleist with a "Singer Steel" or "Texans Credit Union" logo. But you know what? I'm not proud, I'm Frugal.