Amateurs
Masters chairman Fred Ridley finds himself inside the ropes this week, playing U.S. Senior Amateur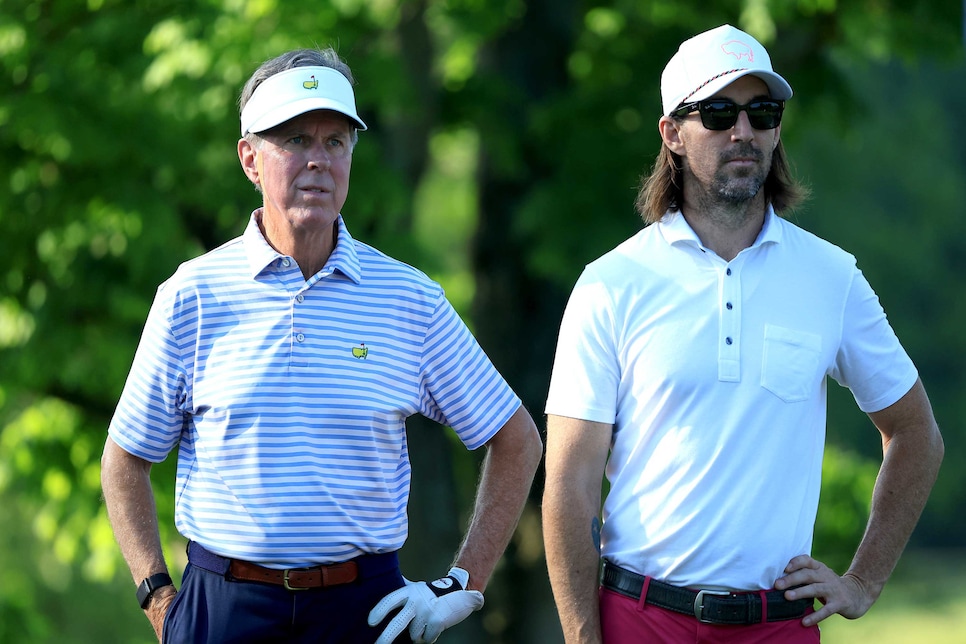 Fred Ridley and musician Jake Owen look on during a practice round prior to the 2022 Memorial Tournament.
Sam Greenwood
Fred Ridley doesn't have time right now to concern himself with the ongoing PGA Tour-LIV Golf saga that is causing upheaval in professional golf. The man has a championship to play.
The chairman of Augusta National Golf Club and the Masters Tournament is among the 156 golfers competing in the 67th U.S. Senior Amateur that begins Saturday at The Kittansett Club in Marion, Mass. Winner of the 1975 U.S. Amateur, Ridley is competing for the third time in the championship and second time in as many years.
A resident of Tampa, Fla., Ridley is paired in the two rounds of stroke-play qualifying with 2015 Senior Amateur champion Chip Lutz of Reading, Pa., and Jack Larkin, Sr. of Atlanta, who won the Georgia Senior Amateur last fall at Augusta Country Club. The group starts on the 10th tee at 7:40 a.m. ET Saturday and on the first tee at 12:40 p.m. Sunday.
The top 64 players advance to match play.
Last year at the Country Club of Detroit, Ridley shot 85-79 and did not advance. He also failed to get into the top 64 in 2011 at Kinloch Golf Club in Manakin-Sabot, Va., after rounds of 72-83.
At age 70, Ridley is among the oldest players in the field. The oldest is qualifier Matthew Haefele, 72, of Bergen, N.Y.
Ridley, the last U.S. Amateur champion to remain an amateur, played on the winning 1977 U.S. Walker Cup team and captained USA teams in 1987 and '89. Before taking the reins as chairman of Augusta National in 2017 he served as president of the USGA in 2004-05. His support for amateur golf manifested in the creation of the Augusta National Women's Amateur that debuted in 2019.
The U.S. Senior Amateur is scheduled to conclude on Thursday, Sept. 1. If he is so inclined to hang around—the duration of which depends on when his championship run ends—Ridley can drive an hour north to Bolton, Mass., where the fourth LIV Golf Series event begins on Sept. 2 at The International Golf Club. Just an idea.