News
Fred Funk slams writer for "hatchet job" column on brushes with Donald Trump and Annika Sorenstam (Updated)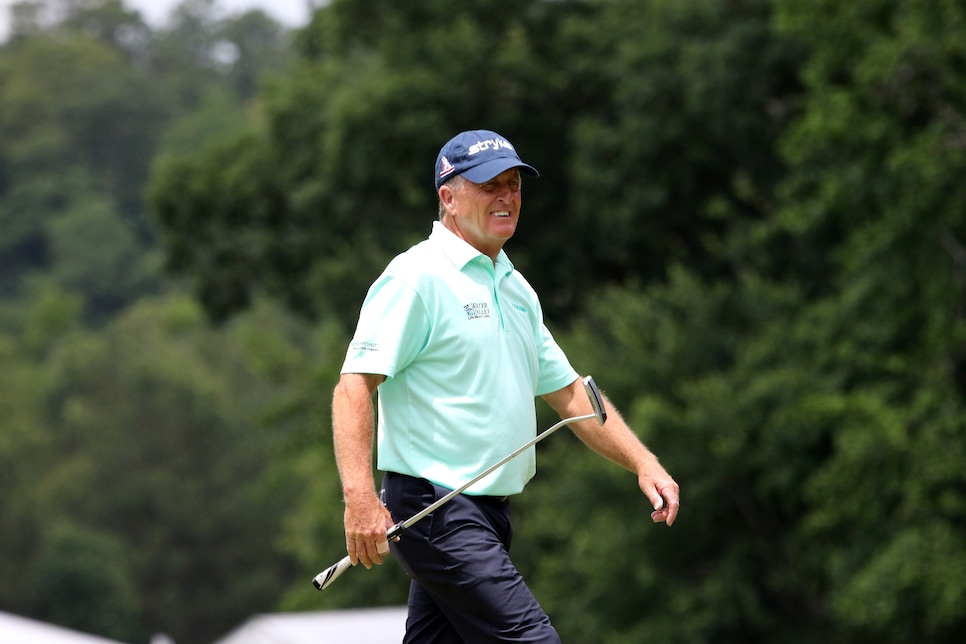 Upset by what he described as a "hatchet job" in Thursday's edition of USA Today, Fred Funk responded on Friday by penning his own piece.
Funk took issue with Christine Brennan's column titled "Senior PGA players are Trump's kind of crowd." But while most of that story was about the ties golfers at this week's Senior PGA at Trump National Golf Course near Washington, D.C., have to the President of the United States, Funk was most angry about Brennan characterizing one of his pre-tournament press conference comments as a "sexist remark."
My experience with the media in my 30-year career generally has been fantastic, so when I saw the hatchet job by USA Today's Christine Brennan on Thursday, I was more than dismayed. I was perplexed and angry.
I was portrayed by Brennan as sexist and clearly not in tune with her agenda.
Funk went on to explain his side of the story involving Annika Sorenstam at the 2005 Skins Game that led to the comment in question:
Early on in discussing the PGA Tour and Champions Tour successes, I made the following statement, all in fun: "It seems like every birthday I get a new head cover. [Meaning I am a short hitter.] [I] feel like I should be on the ladies' tour right now. But I didn't mean that in a derogatory sense; not at all. Just because Annika [Sorenstam] outdrove me, I'm a little bitter, but, no, it's, it's a good golf course."
My intention was to play up the 2005 Skins Game event with Annika Sorenstam. Anybody who knows me and has heard of that story will know that I have the utmost respect for Annika and the LPGA.
I would like to point out that if you were to ask anyone in the interview room what I meant, no one would ever depict me the way I was portrayed in Brennan's report.
It was as if it occurred at two different places. It simply did not happen.
At the 2005 Skins Game, Funk, an eight-time winner on the PGA Tour, was famously outdriven by Sorenstam on the third hole. He then put on a skirt for the rest of the hole. Here's a look back:
Regardless of what you thought of the stunt, it's pretty clear that Funk and Sorenstam were in on the gag together. What wasn't as clear, perhaps, on Wednesday was that Funk was referring to that moment in his "ladies' tour" comment.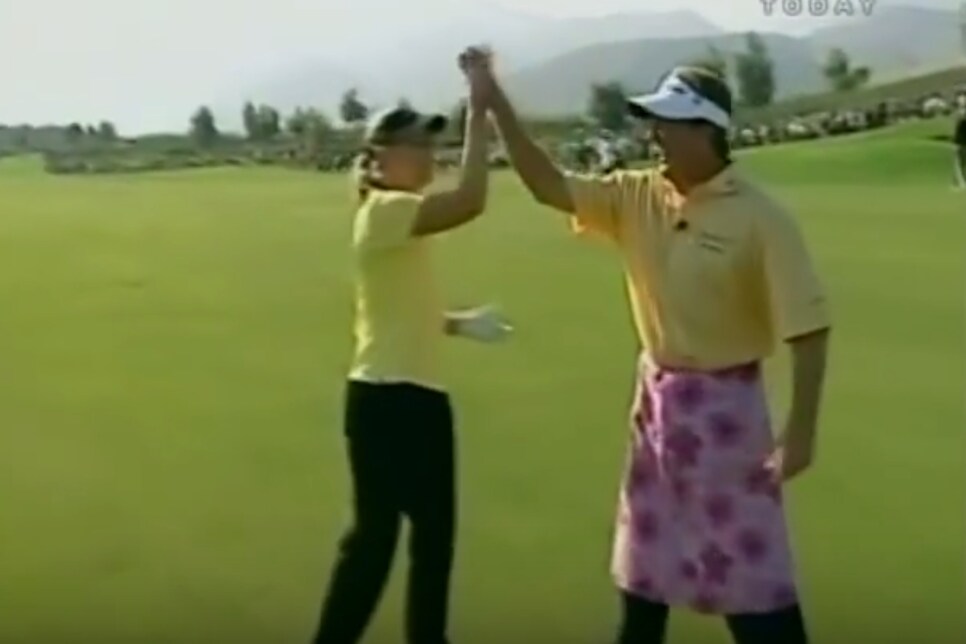 I don't mind that I support Trump and she doesn't; that doesn't bother me at all. However, I am extremely bothered by the fact that Brennan has pushed others toward questioning my relationship with Annika and the LPGA. That really hurt. She created an image as if I'm a man who disrespects Annika and the LPGA.
I don't know how she could even validate that. I'm livid about that.
"Fred Funk walked into the press conference room Wednesday wearing a shirt with the word Trump over his heart, so it was pretty much Journalism 101 to ask him about President Trump," Brennan said Friday. "His answers, which I quoted verbatim in my column, speak for themselves.
"His comment about the 'ladies tour,' which was unprompted, was surprising. By any definition, that is a sexist comment, and I said exactly that in my column. I'd be happy to discuss this more with Fred if he wants. It's an important conversation anywhere, but especially for the game of golf, which is trying to attract more women and girls.
"Bottom line, Fred has every right to say whatever he wants, but perhaps he should re-read my column, because he's complaining about things I didn't write."