The Loop
Fred Couples' latest move puts him in neighborhood of a U.S. Open bid
Fred Couples, for one who is thought to be sedentary, seems to move a lot. Two months ago, he sold his house in Los Angeles' Brentwood community and last month bought a house within the Big Canyon Country Club development in Newport Beach, Calif., the Los Angeles Times reported.
The Brentwood home was the second he owned near the Riviera Country Club, and now he will live in Newport Beach for a second time.
He also has a home in La Quinta, Calif., which is not his first home in that area. In 2009, he sold his house in Montecito, Calif., that he had bought in 1999. In 2010 he bought a house in Charlotte, N.C., that he sold in 2012.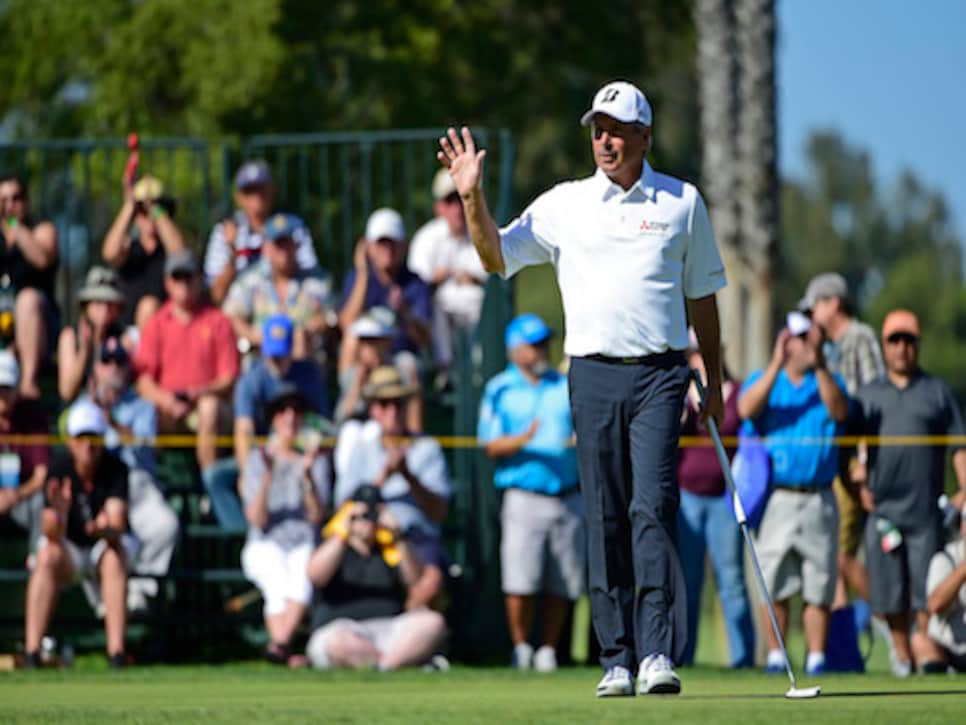 Couples, teeing off in 2010 U.S. Senior Open at Sahalee (Getty Images)
The Newport Beach purchase was not done for strategic purposes, surely ("I love it there," he once told the Daily Pilot), but it might work out that way. Couples is now a member at Big Canyon Country Club, which is less than two miles from Newport Beach County Club, where he has won twice on the Champions Tour.
A 36-hole U.S. Open Sectional Qualifier will be held at Big Canyon and Newport Beach on June 8 and Couples, 55, has entered it in an effort to join the field for the first U.S. Open ever played near his hometown of Seattle, at Chambers Bay in University Place. Couples, a local favorite, played the U.S. Senior Open in Sahalee outside Seattle, in 2010 and finished second.
"I don't live there, but it's my favorite city," Couples told the Seattle Times last month. "I am really hoping to qualify. I will be more nervous as I am trying to qualify for that than I would if it was in Chicago or Minnesota or another place.
"I am a member at Big Canyon, and I have won twice on the Champions Tour at Newport Beach Country Club, so I can play the courses."
The reason he left Newport Beach the first time, incidentally, was that enjoyed the area so much that he "never played any golf," he once told the Daily Pilot.
Now it's back to Newport and he is looking forward to playing more golf and playing it well enough to qualify for what, in his mobile world, is the closest he'll get to a home game, the U.S. Open in the Seattle area.