The Loop
Fox, with outspoken additions Azinger, Strange improves in second year with first-rate production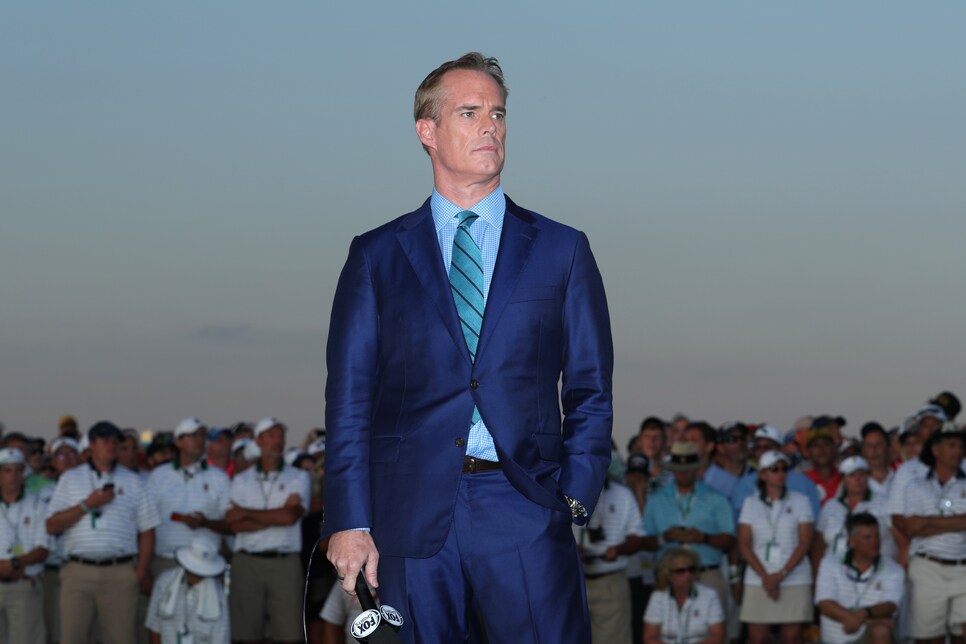 When Fox acquired the U.S. Open rights, it promised an innovative production and fresh approach to the telecast. After some major stumbles in its debut at Chambers Bay in 2015, the network delivered on its promise at Oakmont with a first-rate production sprinkled with sharp commentary.
Particularly welcome was Fox's Flight track, a split screen showing the player swinging on the left with the hole and a shot tracer on the right. Fox also delivered interesting, timely graphics; one example came Sunday when it showed Angel Cabrera was ranked 41st in the world when he won at Oakmont and leader Shane Lowry held the same ranking entering the 2016 Open. Features were short but memorable, especially newcomer Ken Brown's. Good sound picked up player-caddie conversation and mics in the cup picked up the sound of balls being holed. Not everything was a worthwhile innovation however: the balls flowing across the green to show break and movement as players putted didn't really work.
Fox's voices sounded fresh because we don't hear them every week like we do with NBC and CBS. That said, the team performed well, especially during the rules controversy with eventual champion Dustin Johnson. The biggest improvement came with main analyst Paul Azinger in the tower alongside Joe Buck and Brad Faxon. Zinger shined with his wit and candor. Early in the week he described Englishman Andrew Johnston as "a hairy bugger." Of Johnson's approach to the third hole on Sunday, he said: "That's another really horrific wedge.'' He even channeled NBC's Miller with "the shot of his life!'' on Johnson's approach to 18, echoing the words Johnny used with Corey Pavin at Shinnecock on NBC's first Open.
Secondary analyst Faxon also had his moments, as did on-course reporter Curtis Strange, making his debut on the ground at the Open. Holly Sonders (dressing less provocatively than in the past) was an upgrade over Curt Menefee in the Fox studio. Fox's commentary team lost energy, however, when secondary host Shane O'Donoghue and Mark Brooks took over for long stretches.
Joe Buck has a too-commanding voice but is certainly passable as Fox's anchor. His teases were straightforward but effective. Buck drove me a bit crazy by wasting words in constantly referring to the venue as "Oakmont Country Club'' and the event as the "United States Open'' instead of just saying "Oakmont" and "U.S. Open." He occasionally misstepped into golf expert mode as when he said Friday, "This thing is about to get a lot tighter, a lot tougher.'' And at the end said of Johnson: ''I think the sky's the limit. I would say the first of more to come.'' But he did ask Johnson a decent question at the awards presentation: "What does it mean to you to finally be called a major champion in the world of golf?"
It was a marathon production under coordinating producer Mark Loomis, with nearly 50 hours of coverage--13 Friday and 13 ½ on Saturday. That's triple the number of hours the Masters provides in its still-limited hours of coverage on CBS.
Some viewers were angered, however, when Fox switched the final hour on Saturday to premium sports channel FS1 so that it could air a baseball game.
Fox rose to the occasion when a potential penalty loomed over Johnson over causing his ball to move on the fifth green. Rules expert David Fay first explained how a rules change meant "the player is no longer automatically considered to cause it to move.'' The USGA's Jeff Hall turned up in the booth to explain why the USGA informed Johnson of the problem on the 12th hole: "We don't want to agonize over it, he needs to keep playing golf.''
A fired-up Faxon asked: "In what other sport do we wait until the end of the competition to make a ruling? This is ridiculous in my opinion." Buck showed his football roots when he compared it to "an NFL team in the fourth quarter that doesn't know if they're leading, trailing or tied.'' Azinger added that "as a player you can only control the controllables.''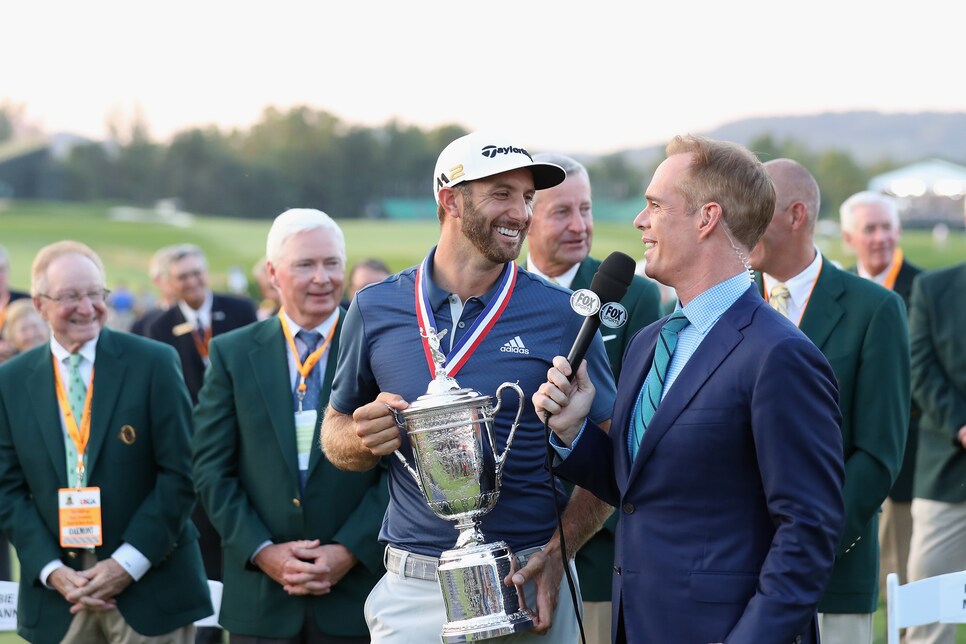 Lead analyst Azinger came up with a number of good lines during the week. Among his greatest hits:
Steve Flesch on Thursday said, "We've got a little bit of a first round dumpster fire going'' about Rickie Fowler's uninspired round.
Channeling Verne Lundquist: Faxon used an excitable "Yes, sir!'' when Jim Furyk holed a birdie putt on 17 on Sunday.
Bad move: Fox shouldn't have allowed Azinger and Sonders to appear in public service spots for the USGA. It made them appear as shills for the organization they're supposed to be covering objectively.
Huh? Moment No. 1: A graphic appeared out of nowhere Thursday for "Tom O'Toole Jr., USGA president." That would have been fine, last year, when O'Toole was USGA president. Diana Murphy holds that position now.
Huh moment No. 2: Buck introduced on-course analyst and Curtis Strange on Thursday with: "Hey Mr. 1972 Miami Dolphins,'' an apparent reference to Strange doing something no one has done since in winning back-to-back U.S. Opens in 1988-'89.
A frank Curtis: Strange excelled in his on-course role with his experience and outspokenness, asking of third-round leader Shane Lowry on Sunday: "How can one guy go from playing so well to playing so poorly overnight?'' Reacting to a Jack Nicklaus comment about ever-increasing greens speed, he said: "I like what Jack Nicklaus said. Comes a point of no return, eventually.''
The anti-Augusta: Fox featured a Pacific Light Fox Sports update on other sports. It also had a top tweets segment on Friday, another thing the Masters would probably never include on its broadcast. And Buck cited the purse growth in the Open toward the end of the telecast. The Masters never mentions money.
Nice touch: Nicklaus narrated a well-written tribute to Arnold Palmer, "a golfer who took to the sky, club in hand.'' Nicklaus popped up in the Fox booth on Sunday and complimented the network on its coverage.
Oakmont director of golf Bob Ford also offered the week's best insight on Palmer's improving health during his Thursday appearance, saying Palmer told him they'd play golf together in August.
Brownie Points: Ken Brown's quick, fun features were a highlight of the week. His spot with Bryson DeChambeau on the Stimpmeter was a bit baffling, but he cracked up the crew when he called the first hole "tricky dicky.'' Analyst Brad Faxon later said of the brainy DeChambeau: "We all need to take more trigonometry classes.''
Underused: Brown and Juli Inkster provided solid on-course commentary in the mornings on FS1 but weren't heard in the afternoons until Sunday, with Curtis Strange and Scott McCarron following the lead groups.
Spieth audio: Jordan Spieth provided his own soundtrack, as he did last year at Chambers Bay. When he reacted to a shot at 17 on Thursday with a "You've got to be kidding me!" Joe Buck said he "sounds like John McEnroe.''
Interesting bumpers: Fox did some interesting pieces with Mark Cuban voicing over one on Steel town, Steelers coach Mike Tomlin on the Oakmont bakery and Terry Bradshaw on Pittsburgh's proud sports history.
Nitpick: Fox's leaderboards on Thursday misspelled Open champion Zach Johnson's first name as Zack.
Odd touch: Fox showed some odd shots of players in the locker room before their rounds, smiling and trying to look relaxed. Phil Mickelson looked especially uncomfortable, as did Dustin Johnson.
Gone but not forgotten: MIA Tiger Woods was not in the field but he was featured in several Fox graphics, one listing players with multiple majors in the field (Mickelson led with five) and another one about players who came back to win after finishing second the year before.
Rock on: Fox doesn't feature traditional Open theme music like ABC and NBC did in the past. Instead it mixes in rock by the likes of Nirvana. After one Sunday segment by USGA rules head Thomas Pagel, Buck said, "Definitely the most aggressive music ever played on a Rules of Golf piece.''
Preview of things to come: Former USGA executive director David Fay came in handy for an early rules question Sunday involving Frenchman Romain Wattel and a ball that moved on a putting green. Fay explained how a rules change had been made and contacted Pagel on the situation before it was deemed that there was no penalty.
JD and DJ: Golf Digest senior writer Jaime Diaz managed to get a little something out of Chambers Bay heartbreak loser Dustin Johnson during a sit-down interview. Johnson revealed that "If I played and practiced every day, I'd lose my mind.'' Diaz then said of DJ: "He seems ready for the moment. Is his putter ready for the moment?"
Host with the most: Retiring Oakmont pro Bob Ford offered insight into Oakmont's massive tree removal and the controversy it caused among the club's members. Architect Gil Hanse added that it was a good thing for courses to do from an agronomic standpoint.
Finesse flip flop: On Saturday Azinger said of Johnson: "He's got the perfect combination of power and finesse.'' Early Sunday as Johnson hit a couple of poor wedges, Zinger sounded a different note: "He's struggling in the finesse zone."
Swing analysis: Fox doesn't offer the traditional swing analysis, but when Azinger broke down the action of the threesome of Louis Oosthuizen, Adam Scott and Jason Day he said: "Three of the most beautiful swing in golf right there. Bam! Bam! Bam!''
Signing off: Azinger said: "The most powerful player won this tournament.'' Buck closed with a simple: "So long, congratulations. DJ has won a major.''