The Loop
Fowler handles everything right on Saturday, including Sawgrass
PONTE VEDRA BEACH, Fla.  -- And dude, he plays fast, too. Rickie Fowler, who shed his Anna Kournikova label last week with a victory at the Wells Fargo Championship, put up the kind of performance Saturday at the Players that, if backed up in Sunday's final round, could put him in the conversation about the next big thing -- joining Rory McIlroy, Bubba Watson and a player to be named later.
Until that win at Quail Hollow, the 23-year-old Fowler was viewed as the entire marketing package, minus the victories. His shaggy hair and bright-colored clothing give him a distinct persona and the number of young fans who now show up at tournaments dressed like him bode well for the future on the game. And it is a scene he relishes.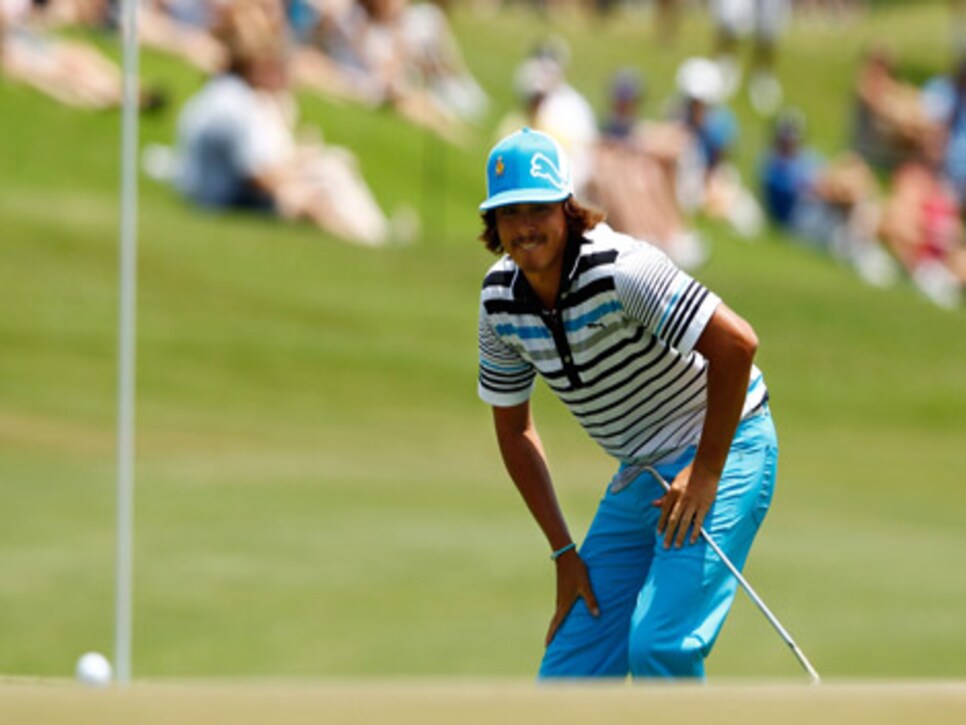 *Fowler's win last week might have opened the floodgates for more.
"I love seeing it, especially the little kids running around with my hat on that is kind of flopping around, slightly large for them," Fowler said after Saturday's 66 at TPC Sawgrass threw him into the mix at the Players at nine under par through 54 holes.
"I get a laugh out of it and feel honored when there's 40- or 50-year-old guys that are cruising around in all orange," Fowler said. "It's fun.  It kind of shows you that they're having fun.  They don't care what other people think. They're just out supporting and rocking the orange."
Granted, some of his hats bear a startling resemblance to descriptions of the UFO spotted near Roswell, N.M., in 1947 -- dead-flat brim, round bump in the middle shrouded in unearthly colors -- but that's part of the shtick. And it works. Well, it works as long as you can put up the kind of performances that keep you from being a target of ridicule, which was a point Fowler was nearing before his win last week.
And it really works when you take the time to sign autographs, the way Fowler does, and handle those other parts of the job that are time consuming -- making yourself available to the media and to sponsors. Rickie does it all, and now he is starting to add substance to the sizzle.
As he walked into the interview room Saturday, Fowler smiled and said, "I'm back." And when asked what is different now than a week ago, he said: "I'm a PGA Tour winner now.  It feels good to be able to say that."
After the laughter subsided, Fowler was asked if it is as simple as that. "No, it's not that I'm swinging it any better or anything like that," he said. " I'm definitely confident that I've played really well the last two weeks prior to this.  Finally get a few putts to drop. It's more just things are clicking. "
Then he referenced the change in his putting grip he made at the Zurich Classic the week before winning the Wells Fargo.  "Everything is kind of coming together; driving the ball well," Fowler said. "I think in a way, left-hand low freed me up a little bit from the fairway, and I feel like I'm managing my way around the course very well."
Fowler played 17 pretty perfect holes in the third round, but there was one indication late that not all of the hiccups were cured last week at Quail Hollow -- a three-putt bogey on No. 18 from 20 feet, the par putt missing from four feet. Sunday will be another examination of how much he has learned.
Rickie was rock-solid until that last hole. He went out in 32, started the back nine with two birdies, gutted out four pars, then birdied No. 16 and made par on the dangerous island-green 17th. Fowler hit 16 greens in regulation and putted for birdie 17 times, including the three-putt from the fringe on the final hole.
Just as impressively, Fowler played his great round with all due speed. You get the feeling Rickie could give Kevin Na and Ben Crane a three-hole headstart and catch them by the turn.
Perhaps the most impressive thing about Fowler's performance is that his letdown after winning last week lasted all of one round. He started with a lackluster 72 on Thursday, when neither he, Tiger Woods nor Hunter Mahan played especially well. Fowler followed that with a 69 in the second round and then came Saturday's sizzling 66.
"I've actually felt really good this week, I mean, the best that I've felt coming into the Players," he said when asked if he were exhausted from his victory last week. "I took Monday off kind of to recharge and slept in a bit. I only played five holes Tuesday, played the back nine on Wednesday, and got some time in the gym and made sure that physically and mentally I was ready to go for the week."
Woods, who played with Fowler in the first two rounds, is a believer. "Obviously he's got an inordinate amount of talent," Tiger said Saturday after a 72 left him seven strokes behind Rickie.
"It's just a matter of time before he broke through," Woods said. "He's the type of guy, once he understands what it takes to win out here, he can win a lot. Kind of like DD (David Duval); he was there, there, there, and then once he started learning how to win, he went off and won a bunch of tournaments."
If Fowler manages to win on Sunday, he will, at 23 years, four months and 30 days, be the youngest to take the Players, breaking the record of 23 years, eight months and 12 days by Adam Scott in 2004. He would also become the first player since Duval in 1997 to win his first two PGA Tour events in back-to-back weeks.
And speaking about winning in back-to-back weeks, if Fowler pulls off the feat he will be the first to do so on tour since Woods won the Buick Open and the WGC-Bridgestone Invitational on consecutive weeks in 2009. That's the guy everyone is talking about when they ask who will be the next dominant player? And that's a conversation Fowler has thrown his name into rather quickly.