The Loop
Four holes with John Daly at St. Andrews
ST. ANDREWS, Scotland -- When Ivor Robson -- he of the high, lilting, mellifluous voice -- announced "Sir Nick Faldo" on the first tee of the Champion Golfers' Challenge, I glanced over at John Daly and wondered what the opposite of a knight would be called.
Smoking a cigarette, his aggressively tan face looked either jaded or apathetic beneath hair the color of twice-bleached straw. He wore a black pullover, but the eyes of the spectators were drawn to the pants, where the New York Yankee logo repeated in an argyle pattern.
Daly is a Cardinals fan, he told me later, but his apparel company "Loudmouth" just signed a deal with MLB, and for whatever reason, they thought the Yankees would be most appropriate for St. Andrews.
The obvious joke when you hear the company name is that it's the perfect synthesis of corporation and client, but actually, Daly isn't very loud at all, beyond his image.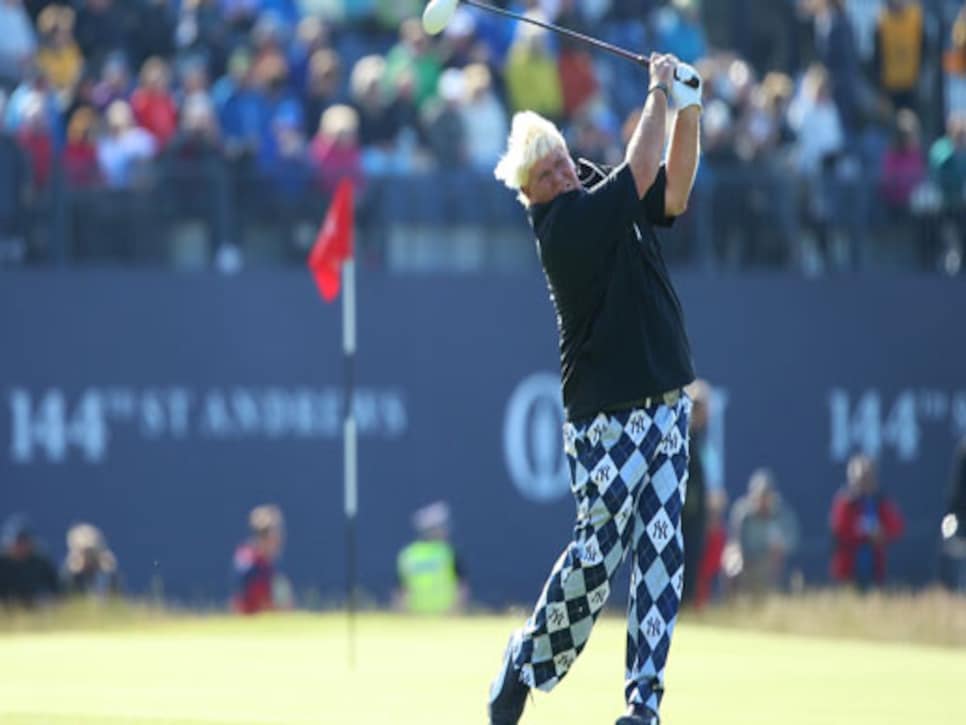 While Faldo hammed it up for the crowd, Daly only gave a half-wave, his hand barely rising above his belt. He's not combative or audacious or angry, just uncomplicated. In a sport that values nostalgia and ceremony, he's uniquely unsuited to the self-important moments and so just coasts along, mouth hanging open in a childlike expression, cast as a redneck bad boy because no other label really makes sense.
The Champion Golfers' Challenge is a four-hole mini-event contested on Wednesday, with former British Open winners grouped in best-ball foursomes, with the victorious group winning 100,000 pounds toward charity. Since I didn't care about the result -- Arnold Palmer's team would be declared the winners after a four-way tie at three under -- I decided to stage a different match in my head between the polar opposites, Faldo and Daly.
Faldo wore his "Geometric George" sweater -- a figure made of triangles and rectangles with a prehistoric graphic design style -- that had apparently been kept in airtight plastic since he last wore it for his win at St. Andrews in 1990. Before the two teed off, they were interviewed for television. Faldo, of course, was animated and charismatic, while Daly said the bare minimum -- "it was a great place to play golf" -- and then waited about two milliseconds after it was over to puff his cigarette.
Daly, on his fourth cigarette, left his iron short, but hit a nice lag to set up a short par putt. Faldo barely kept his ball off the road on the approach and lipped out a 10-foot par try. This was Daly's big chance, I knew, and was frustrated when he didn't bother to pick up his mark as he used his putter to usher the ball to the proper spot, and then gave it a casual stroke. It caught the edge, veered away for a precarious moment, and dropped. He had the lead with one to play!
Daly crushed another drive on 18, and put Faldo under near-insurmountable pressure. In an effort to avoid the Valley of Sin -- where Costantino Rocca broke Daly's heart in 1995 with this miracle putt, only to give that heart back after Daly trumped him in a playoff -- Faldo flew the green, and his ball got stuck on the grassy embankment. He pitched close, but that meant Daly had the match in his hands. "Hop on, up you go!" said a Scottish woman behind me, as his pitch rolled to 10 feet. He missed the birdie putt, and then Tom Lehman made his own birdie, which meant that he and Faldo both picked up their marks. Good-good, and Daly scored a huge one-shot victory for America.
"Good job, caddies," he said, shaking hands on the green. He stuck around to watch Arnold Palmer come up the 18th hole in the final group, smoking a cigarette as the legend waved to the crowd. Later, he approached him, had him sign something, and then said a few words. The two men hugged.
The R&A officials herded him to a tent, where he signed a few flags, marveled at the nice weather, and then looked up at the two reporters waiting for him, said "see you later," and walked away.