The Loop
Forward Press: Austin's first PGA Tour stop fittingly starts at Harvey Penick's place
Other than the former Legends of Golf and another Champions event that lasted six years, Austin, Texas has never had the young guns visit. In a town synonymous worldwide with youthful thinking, this is just so wrong. (Google South By Southwest, old people.)
Everything will change in dramatic fashion this week with Dell rescuing the WGC Match Play Championship and putting a strong Austin bent on the proceedings, like free Uber rides and plenty of parties. Whether all of Austin's fun and tech industry energy masks the uneasy feeling players have about match play two weeks before the Masters remains to be seen. But so far, so good.
"If the difficulty to get a ticket is an indication it is going to be fantastic," says Austin resident and now-retired PGA Tour pro Joe Ogilvie. "Austin Country Club has embraced the event and they have driven the success."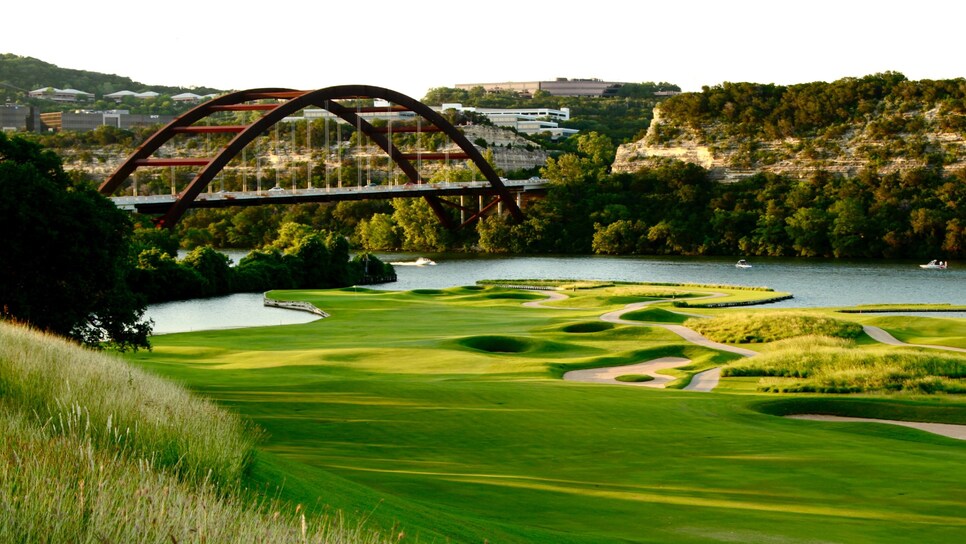 The event fittingly lands at ACC, which dates to 1899 and is now at its third site. The wild Pete Dye design that figures to provide a turbulent setting for match play golf. A 1984 design that features two distinct nines that have been flipped for this week's event, ACC's closing lakeside stretch will play a more prominent (and fan friendlier) role than just about any course to have hosted the WGC Match Play.
Austin CC was the home club of legendary instructor Harvey Penick, whose Little Red Book became the biggest selling golf instruction book of all time and spawned two sequels with author Bud Shrake. Penick worked most of his instruction magic with Ben Crenshaw, Tom Kite and Betsy Rawls at a site since developed, but did oversee the club's transition to the site of this week's event.
"Folks are beyond excited," says Kevin Robbins, the former Austin American Statesman golf writer who is the author of the new biography on Penick. "They want to see Jason Day and Adam Scott and Rory McIlroy and Jordan Spieth and Phil Mickelson."
The top 64 are coming, minus Jim Furyk (wrist) and Henrik Stenson (well-publicized scheduling decision). The format repeats last year's successful debut of round robin play, where 16 pools of four will play each other Wednesday to Friday, advancing 16 winners to the weekend's single elimination 18-hole matches. This year ties in those pods will be decided by sudden death playoffs Friday afternoon starting at the first tee.
Even with the potential for match play intrigue, Robbins thinks locals will just be excited to be inside the gates of a private club only partly visible from Pennybacker Bridge on Loop 360.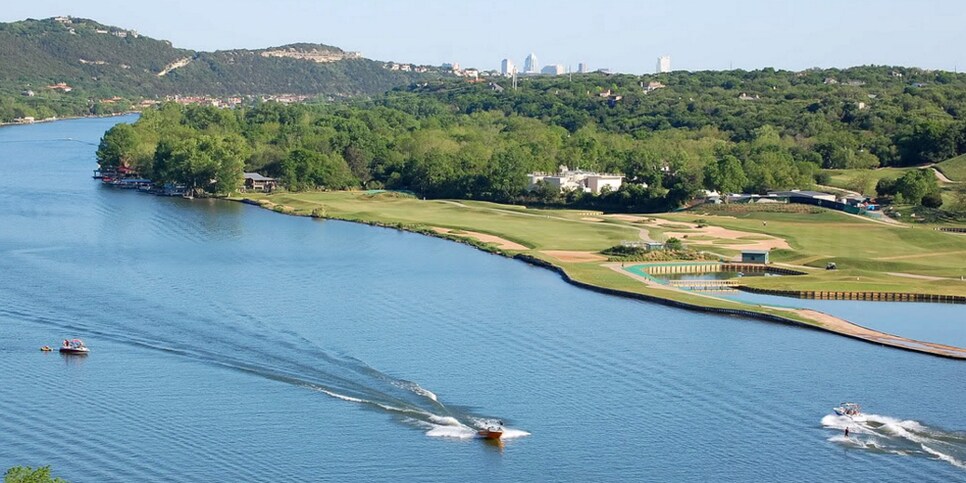 "You can't see much of ACC from roads or streets. I know some very good players in Austin who've never been inside the gates. So I think part of the enthusiasm has to do with television coverage of the front side of the course--the back-nine holes every other week of the year."
Before we get to the TV times and other fun stuff planned, a few questions with Robbins about Austin and his new book, Harvey Penick: The Life and Wisdom of the Man Who Wrote The Book On Golf. Robbins will be signing the book all day Wednesday at ACC's pro shop.
FORWARD PRESS: What inspired you to do a biography of Harvey Penick?
KEVIN ROBBINS: My grandmother gave me the Little Red Book for Christmas in 1992. Every chapter felt like an epiphany. I'd never read anything like it. It completely changed the way I looked at golf. I circled words, underlined passages, dogeared pages, filled the margins with stars and check marks and exclamation points. I bought the three other books and loved them just as much.
All these years later, after I'd written many times about Harvey and his family and his pupils as a golf writer for the Austin American-Statesman, I was lying in bed, trying to think of a book idea, because I was a college teacher now, and college teachers are expected to write books. I originally wanted tell the man-in-full story of the 1995 Masters. But Ben Crenshaw was tepid about the idea, and I really needed his participation for it to work. Literally the very next night, lying in bed again, I realized I was missing the point entirely. I didn't want to write about the 1995 Masters. I wanted to write about the reason we remember the 1995 Masters. That reason was Harvey.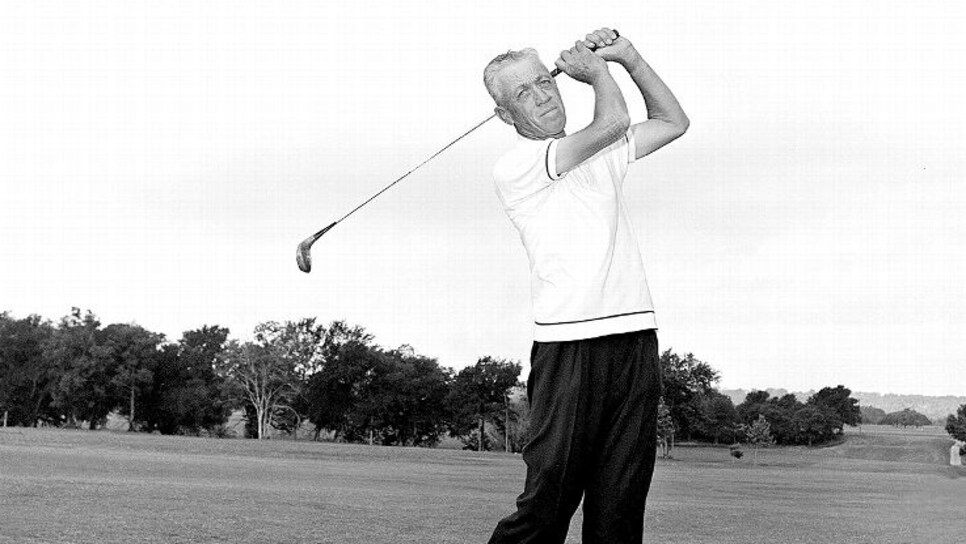 FP: How do you think Austin CC will work as a tournament venue?
KR: Great question. I've played ACC a number of times, but not until the 2012 Texas Mid-Amateur qualifier did I truly learn how to score on it. It isn't a bomber's golf course. You have to hit spots with tee shots — sometimes in order to avoid losing a ball in Lake Austin or in a canyon on what will play in the Dell as the front nine. It's Texas, so you play in wind. It's a spectacular second-shot course.
I think it favors players who excel with wedges. It's a short course, so even with fairway metals and long irons from the tee, these players will have many approaches of 120 yards or less. Three of the par-five holes, and maybe four (I don't know which tee they'll play on No. 16), are reachable, so little scrambling chips and pitches will be crucial.
It will be cozy. The club isn't easy to get to, or to walk. It's bound in many places by the lake, the canyons or, to a lesser extent, neighborhoods/houses/mansions. It's not roomy like, say, an Oakmont or Augusta National. Think Colonial, only up-and-down like Augusta — with less space for spectators.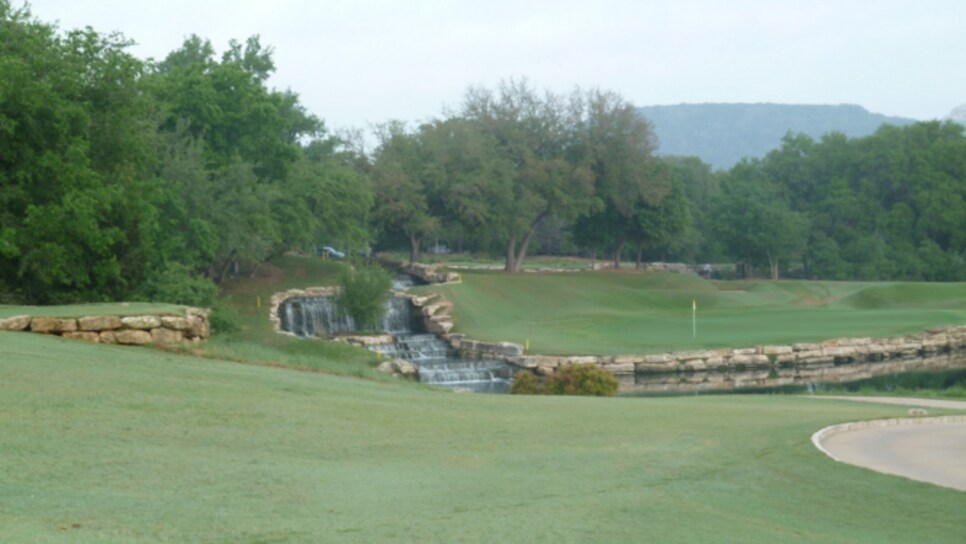 FP: Favorite TexMex spot in Austin?
KR: Trap question. Mine is Matt's El Rancho, with about 33 other places in a close tie for second.
FP: Favorite golf course in Austin?
KR: Another trap question. I have a rotation of four, and I often answer differently, depending on the occasion.
If this were any other week of the year, I might say The Hills Country Club (designed by Jack Nicklaus, a shot-carver's dogleggy dream, home of the long-lost Champions Tour event in Austin known as the FedEx Kinko's Classic), the Onion Creek Club (designed by Jimmy Demaret, birthplace of the Champions Tour in 1978, the prettiest little cypress-lined course east of Houston) or Austin Golf Club (designed by Ben Crenshaw and Bill Coore, a quiet delight of walkable purity — it feels like a sanctuary to me -- tucked into the ranch land west of Austin).
But it's not any other week of the year, so my answer is this: ACC.
Here are two social media posts of the big build-out on ACC's back nine:
Match Play Brackets That Can't Be Leaked!
Golf Channel is taking the PGA Tour's bracket show to Austin's Paramount Theater and they're predicting some big appearances, including Ben Crenshaw, Tom Kite, Rickie Fowler, Rory McIlroy and UT's former quarterback, Colt McCoy. Oh, and current UT football coach Charlie Strong (will there be boo-birds?).
The 7-9 PM show will be live so there won't be any need to check Twitter for leaked brackets.
Here's how it works. The top seed for each of the 16 four-player groups will be filled by the top 16 players in the field by order of their position in the Official World Golf Ranking. The remaining three in each group will be determined by a blind draw from three pools based on each player's OWGR standing.
For instance, No. 1-ranked Jordan Spieth is the No. 1 seed in the tournament, making him the No. 1 seed in group 1.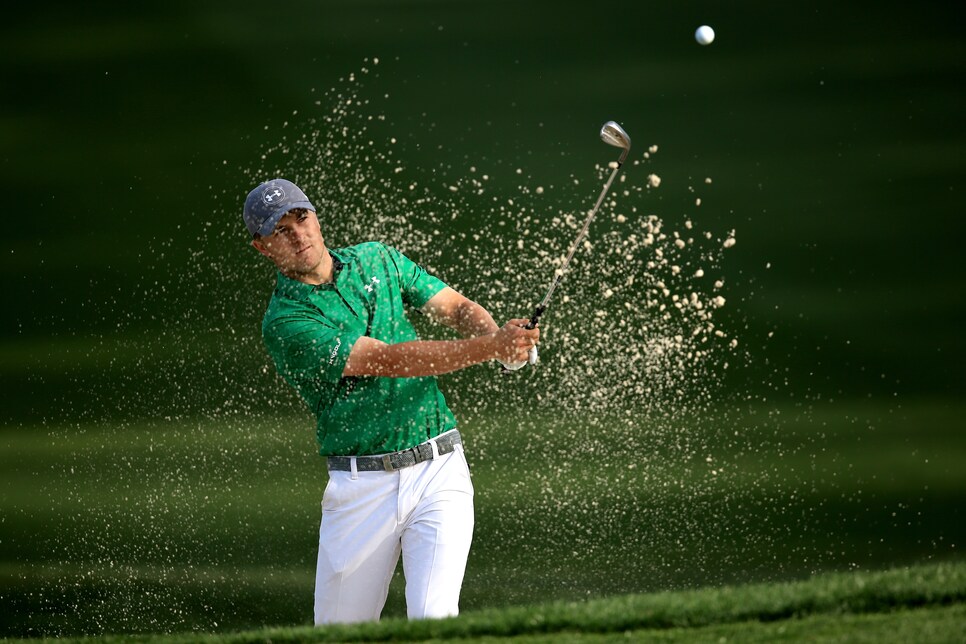 The final three spots in his group will be randomly drawn from the pools below.
• Pool B – Players seeded 17-32
• Pool C – Players seeded 33-48
• Pool D – Players seeded 49-64
Golf Channel says completed groups will be posted live to PGATOUR.COM and "fans will be able to follow analysis and commentary throughout the draw."
The match play begins Wednesday, with 35 hours of Golf Channel and NBC coverage.
WGC-Dell Match Play Airtimes (all times Eastern):
Monday, March 21WGC-Dell Match Play Bracket Special 7-9 p.m. Golf Channel
Wednesday, March 23 Day 1 - Round Robin 2-8 p.m. Golf Channel
Thursday, March 24 Day 2 - Round Robin 2-8 p.m. Golf Channel
Friday, March 25 Day 3 - Round Robin 2-8 p.m. Golf Channel
Saturday, March 26 Round of 16 10 a.m.-2 p.m. Golf Channel Quarterfinals 2-6 p.m. NBC
Sunday, March 27 Semifinals 10 a.m.-2 p.m. Golf Channel Championship and Consolation Matches 3-7 p.m. NBC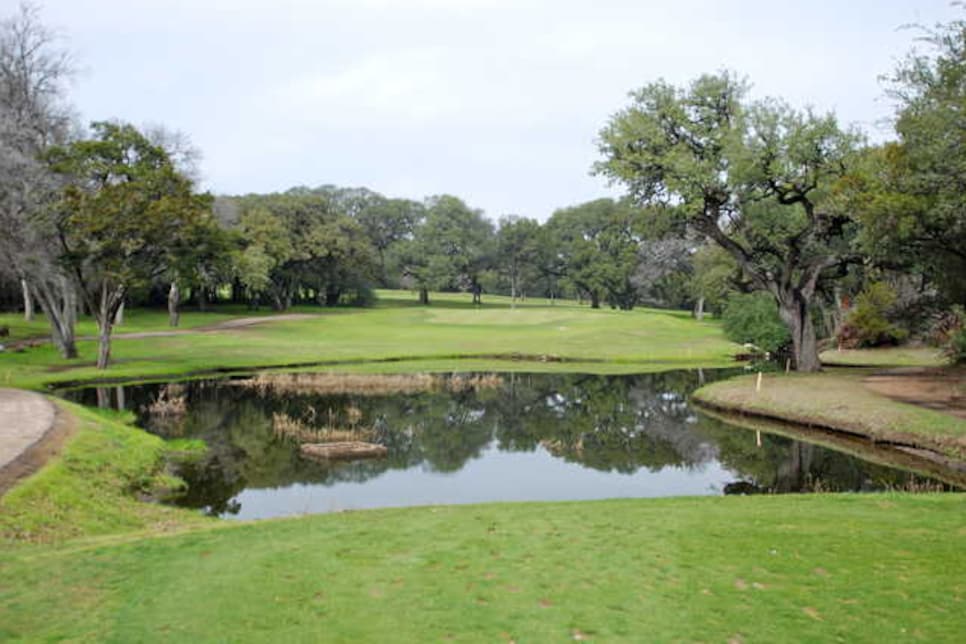 Austin Means Save Lions Talk
Lions Muni, the public course where Ben Crenshaw and Tom Kite honed their games and which was a historic place in desegregating the game, is in danger. Count on hearing more about it this week. Leased to the City of Austin by the University of Texas, the richest school in America based on endowment size -- yes I just typed that sentence -- wants to develop the course.
Locals are not pleased and have until 2019 to make their case. The good folks at Criquet are hosting a huge party Friday of WGC-Dell Match Play week to raise funds.
Guitarist extraordinaire and Austin-favorite Gary Clark Jr. has signed something to help raise funds.
Feherty has another huge "get" in President George W. Bush, Monday at 9 pm ET on Golf Channel.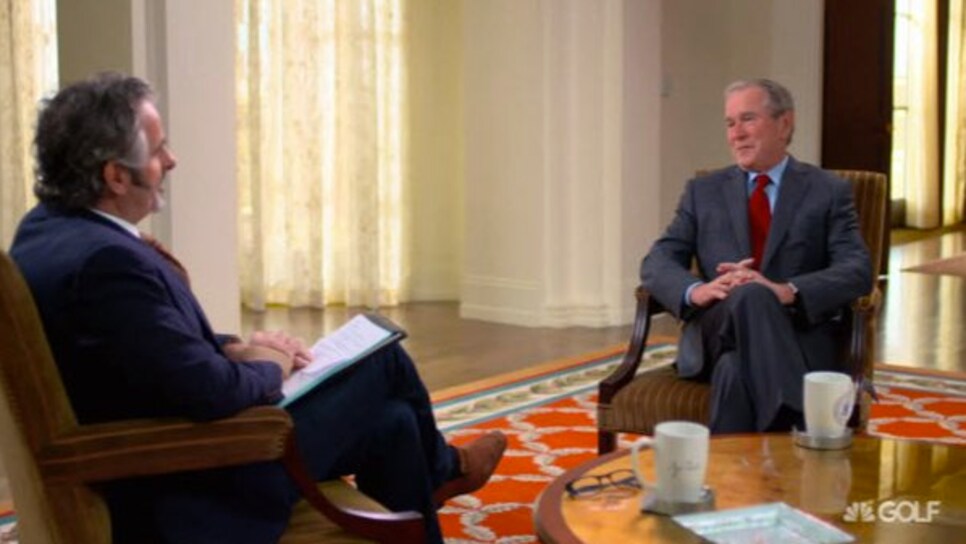 Feherty is off to a huge start, with the two-part Jordan Spieth premiere seeing an increase in week two, with a 351,000 viewer average, up from a 325,000 average for part 1. With repeats, they're the most watched episodes of the show, and second only premiere-wise to the 2011 chat with Lee Trevino.
Callaway Live features a doubleheader this week with the LPGA in Carlsbad for the Kia Classic. Lydia Ko stops by Tuesday and Morgan Pressel on Wednesday. Both shows stream at 9 pm ET at Callaway Live's page.
LPGA's Final First Major Tune-Up
The Kia Classic returns to Aviara Resort in Carlsbad to give players one last tune-up prior to the ANA Inspiration (aka the Dinah Shore).
Golf Channel airs tape-delayed coverage Thursday and Friday at 8 pm ET, then goes live Saturday and Sunday from 6-9 pm ET.