The Loop
Forever linked to Nicklaus, Woods picks up win No. 73 in a fitting spot
DUBLIN, Ohio -- There was a bit of insolence in the excellence Tiger Woods displayed on Sunday at Muirfield Village GC, but whether that signals a return to dominance remains uncertain.
Thanks to some late-day magic and his ability to grasp a moment, Woods birdied three of the last four holes and stormed past Rory Sabbatini to win Jack Nicklaus' Memorial Tournament for his 73rd PGA Tour title, a number significant only because it equals the victory total the Golden Bear compiled in his legendary career.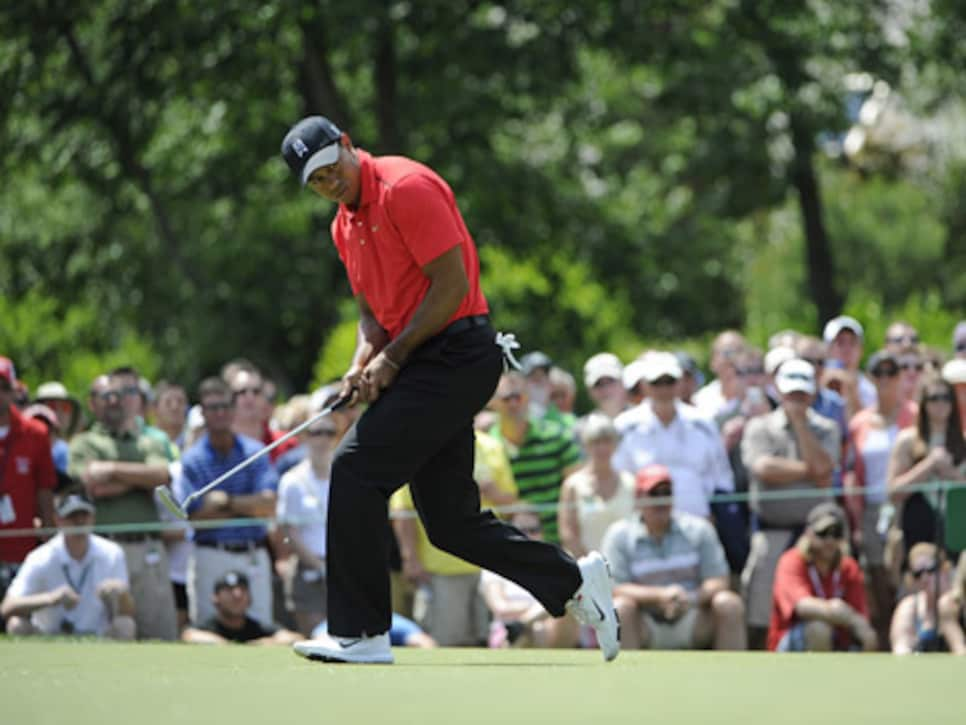 "He had to rub it in my face right here, didn't he?" Nicklaus quipped, laughing. "No, if he's going to do it, which he was obviously going to, I'd like to see it happen here. And the way he did it, you know, he just played great."
The way he did it was familiar to those who have watched Woods regularly pull off uncanny shots from uncharted territory. This time it was a 50-foot flop shot from behind the 16th green that propelled Woods to his fifth victory at Muirfield Village and second win of the year.
Trailing by two strokes at the time, Woods assessed a scruffy lie in thick rough after knocking a 7-iron over the green at the recently redesigned par 3. Without regard for the water hazard beyond the hole, Woods took a huge swipe at the ball, watched it land softly and then track towards the cup. When it went in, Woods unleashed a muscular fist-pump as the gallery whooped and roared.
"The most unbelievable, gutsy shot I've ever seen," Nicklaus said from the TV booth. "Look at the position he was in. If he's short, the tournament is over. If he's long, the tournament is over. He puts it in the hole. What a shot. I don't think under the circumstances I've ever seen a better shot."
"It's one of the hardest ones I've pulled off," Woods conceded. "The shot was really difficult, but it wouldn't have been so bad if I had a good lie. The lie was just a little bit marginal where it brought water into play. I went for it. I pulled it off, and for it to land as soft as it did was kind of a surprise because it was baked out and it was also downhill running away from me. It just fell in. I didn't think it was going to get there at one point.  Kind of like 16 at Augusta, I thought I was going to leave it short somehow, and then it fell in."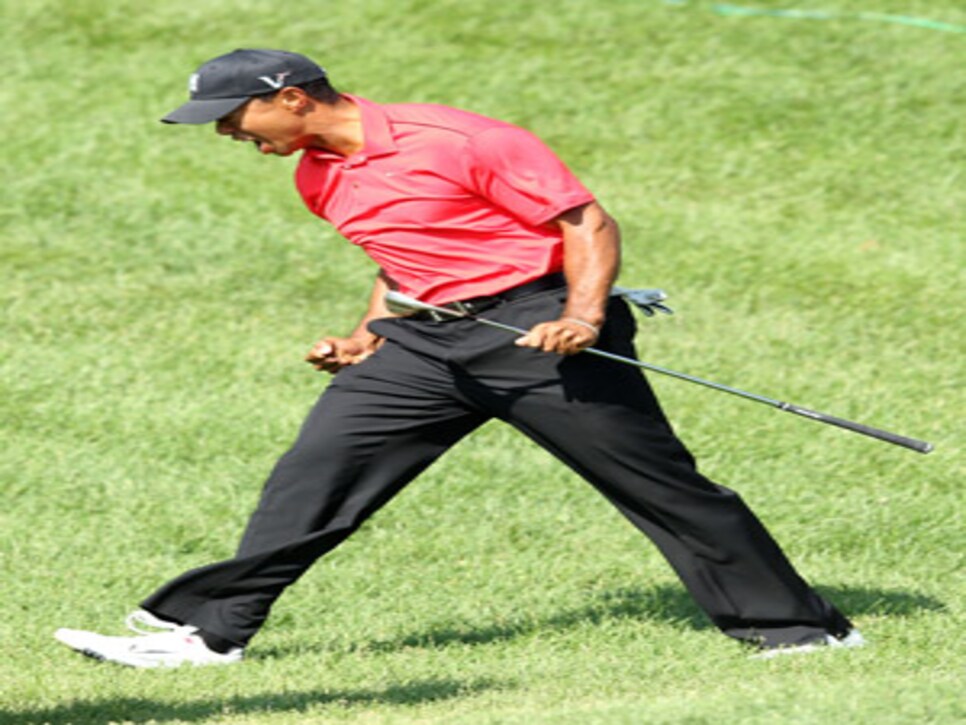 Playing partner Rickie Fowler, who struggled to an 84 Sunday, also was reminded of the shot Woods holed at 16 at Augusta National GC on the way to winning the 2005 Masters.
"He had obviously a shot that, I guess not lucky, but you hit a good shot to get it inside 10 feet, and it came out perfect, landed kind of right on the crown of that ridge there, and the rest is history," Fowler said. "He loves being in the moment, and that's where he kind of gets down, focuses and hits those shots. He hit a perfect shot, and it was the perfect time to do it."
Yes, well, time seems to still be on Woods's side, even with his winless drought between the 2009 BMW Championship and the Arnold Palmer Invitational, which he won earlier this year for the seventh time. Woods is only the third man to reach 73 PGA Tour titles, and he is the fastest to get there at age 36 years, 5 months, 4 days.
Nicklaus, of course, captured his final victory in that electric 1986 Masters, at age 46. Sam Snead, who holds the record of 82 wins, was nine days past his 43rd birthday when he won the 1955 Palm Beach Round Robin for win No. 73.
"It's awfully special to just have won this event, and to do it here with Jack obviously there at 18, it's awfully special for us as players to have him there and to greet us after we finish," Woods said. "And to do it at such a young age, it feels really special."
What's also special to Tiger are certain tournaments. Fifty-two of his wins have come in just 12 events. Forget horses for courses; this man is a thoroughbred on particular patches of turf.
Familiar territory is one thread tying this victory to his one in March at Palmer's Bay Hill Club. The five-stroke win two weeks before the Masters augured well for the four-time green jacket recipient, but he inexplicably lost his game in the intervening time and crashed to T-40.
Those harrowing struggles at hallowed Augusta were a part of a dispiriting stretch of golf when he missed the cut at the Wells Fargo Championship and then posted another T-40 at the Players, marking his worst three-tournament stretch since turning professional in 1996.
This win comes two weeks before the next major championship, the U.S. Open at Olympic Club in San Francisco. Again he will be favored to collect the winner's hardware and add to his 14 major titles, second only to Nicklaus' record 18.
He's in the same place, but he's not. His revamped swing is that much more refined than it was three months earlier.
"Yeah, at Bay Hill I played well on that Sunday, but I just didn't quite have the control I did today," said Woods, who ascended to No. 4 in the world rankings. "That was different. I'm able to hit the ball higher than I did at Bay Hill. I was comfortable hitting it down, uncomfortable hitting it up. At Augusta ... I got exposed, wasn't able to get the ball up in the air comfortably, and it showed. Went to work on it for the next few weeks, and I finally got it. It came around here when I needed it."
Woods tied the low final-round score with a 5-under-par 67, good for a 9-under aggregate score of 279 that was two strokes better than Sabbatini and Andres Romero, who also shot 67.
The final hole was vintage Woods as he stuffed a 9-iron approach to 10 feet and then guided home the tournament-clinching birdie. As the ball tracked toward the cup, Woods raised his putter above his head. The knowing gesture was reminiscent of the way Nicklaus raised his putter on the 17th green at Augusta in 1986, when what turned out to be the winning birdie dropped into the hole.
It's eerie how the two men are linked by a distilled destiny. Woods is half the age of Nicklaus, 72, and yet they appear to be equal halves of the same golfer -- a player who can rise to the occasion, perform impeccably under pressure, win with any combination of skills but mostly with his mind.
Woods might have caught Nicklaus in once sense, but he trails in the one race he will run until he no longer can muster a backswing. Four major titles separate them -- a career in itself as even Woods attests.
It's an Olympian task Tiger is undertaking, one he renews at Olympic, the U.S. Open site where the favorite always seems to fall short. Woods is the kind of player, however, who revels in altering history.