The Loop
Forecast forces Evian Championship to be reduced to 54 holes
EVIAN-LES-BAINS, France -- Well, we got that done. Now what? The first round of the first Evian Championship finished a day late with Mika Miyazato alone in the lead at six-under-par 65 after Suzann Pettersen missed a two-foot par putt on the final hole.
Five-time major winner Se Ri Pak and zero-time major winner Sandra Gal were tied with Pettersen in second place at 66.
But the really compelling questions on Friday concerned not so much who wins but when the tournament will end, how many holes will it be and how many players will be in the field whenever the final round is played.
After much discussion, and in light of an extremely gloomy weather forecast, it was decided to cut the tournament to 54 holes, a disappointment, to be sure, for a first-year major, but with rain predicted until next Friday, the only logical solution.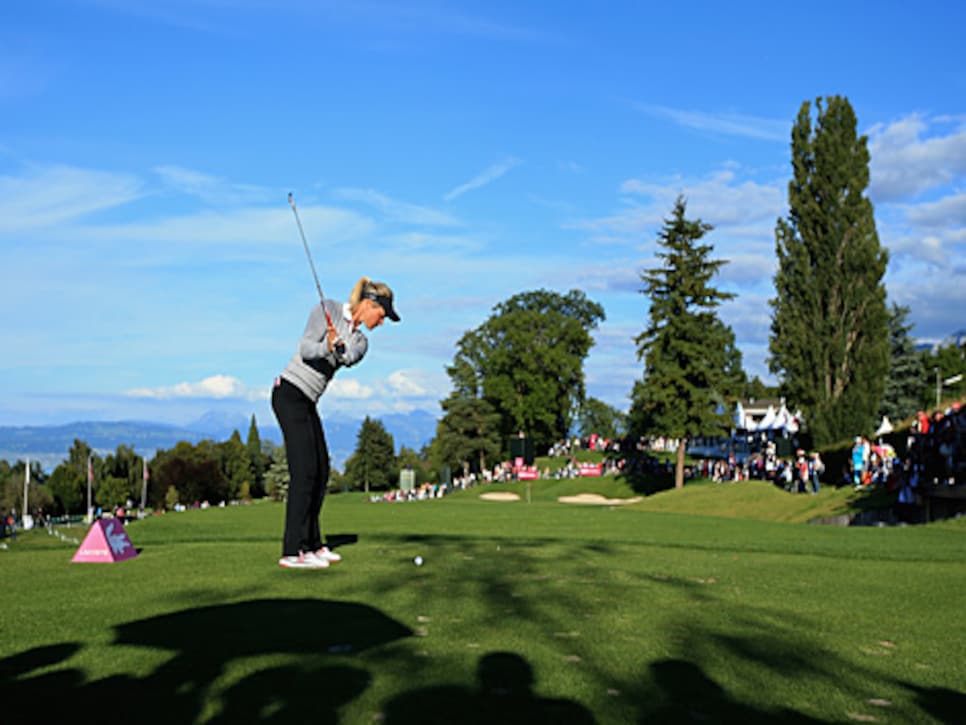 Unfortunately, Friday's sunny weather is a rarity this week.
After Thursday's play was washed out when the new turf and severely contoured greens of the redesigned Evian Resort Golf Club proved unable to hold much water, the first round was played a day late on a spectacular Friday in the French Alps.
Among those taking advantage of preferred lies and several tees moved up, was 16-year-old Lydia Ko, trying to win a pro major to go with her 2012 U.S. Women's Amateur, posting a 68. Inbee Park, chasing an unprecedented fourth pro major in a season, opened with a 74.
Christina Kim, who hasn't won an LPGA event in eight years, was alone in fifth place at 67.
Also in the mix at 68 is Karrie Webb, who is the only player to win five different career majors -- the Kraft Nabisco Championship (twice), LPGA Championship, U.S. Women's Open (twice) and Ricoh Women's British Open as well as the defunct DuMaurier Classic.
A win here would give Webb a six-pack of majors -- and eight in her career, which would tie her with Betsy Rawls for sixth on the all-time list. Webb won here in 2006.
To say the Evian course, which one tournament official said received "two months of rain in two days" over the weekend, is wet would be an understatement.
That, combined with immature root systems, means it won't take much rain to stop play again. The greens puddled up with astonishing quickness on Thursday, rapidly becoming unplayable.
As officials huddled to plan for the weekend there were several options on the table and an ominous forecast calling for an 80-percent chance of rain Saturday, 90 percent on Sunday and 80 percent Monday.
One option considered by officials but opposed by the LPGA was to change the cut from low 70 and ties to low 50. That was done in last year's Ricoh Women's British Open because of weather and the tour got a lot of complaints from players.
The outcry would likely have been even louder this time. The $3.25 million purse here is the largest on tour -- equaling the U.S. Women's Open -- and this is the last tour stop before the five-event Asia swing.
Those Asia tournaments are limited-field and those outside the top-60 on the LPGA money list have a remote chance of getting into any of those events.
So to make the cut at Evian and move up on the weekend is hugely important for some players, like Natalie Gulbis, who is No. 60 on the money list, or Kristy McPherson, who is No. 73.
There is a precedent for a 54-hole major. The LPGA Championship in 1996, won by Laura Davies at DuPont CC in Wilmington, Del., was reduced to three rounds by weather.
An idea batted around on Thursday -- that of a 72-hole Monday finish -- grew more remote on Friday. One factor was the dire weather forecast and the other was blowback from just about everyone about the cost of changing international plane tickets.
An option considered was a charter flight back to the United States for players and caddies. But that ain't cheap, either.
At this point, it seems as if everyone involved would sign up for a 54-hole tournament that ends on Sunday. It will certainly be a criticized solution -- especially since this is the Evian's first year as a major -- but it would be the least disruptive to all involved.
The nightmare -- but still not ruled out because of the weather -- is a 54-hole event that still has to extend into Monday.
Franck Riboud, the chairman and CEO of Danone, which owns the Evian water company -- and the resort -- started this tournament in 1994. It took him six years to get on the LPGA schedule and a dozen more to be a major.
Now he is finding out that with a new date -- mid September instead of late July -- and new status he has major headaches.
Even before this week, there was criticism by traditionalists about adding a fifth major, saying it muddied the record book.
Now, through no fault of anyone, only the bad luck of bad weather, there will be criticism that the rules were changed after the tournament began. Sadly, it appears to be the only option -- and it's not even clear how that will pan out.