Brian Z. Porter will never forget that day during Operation Iraqi Freedom. He was on patrol in Fallujah when an Improvised Explosive Device blew up in his face. The tall, rugged, Special Operations Army Master Sergeant (retired) rarely talks about it, but his completely reconstructed jaw and face tell the story.
Porter was just one of a very special and courageous group of 25 injured veterans who spent a week in Dublin and Northwest Ireland in late September taking in the majesty of the links courses and absorbing the welcoming Irish culture as part of a recovery process from their injuries. The first week, a group of 13 injured Special Forces veterans toured six magnificent courses in and around Dublin. Ten days later, a second group of 12 injured veterans toured the Northwest. Each group was accompanied by a set of "Ambassadors" who sponsored them on the trips. The veterans and Ambassadors played golf together every day and spent time getting to know each other on and off the course, building lasting friendships in the process.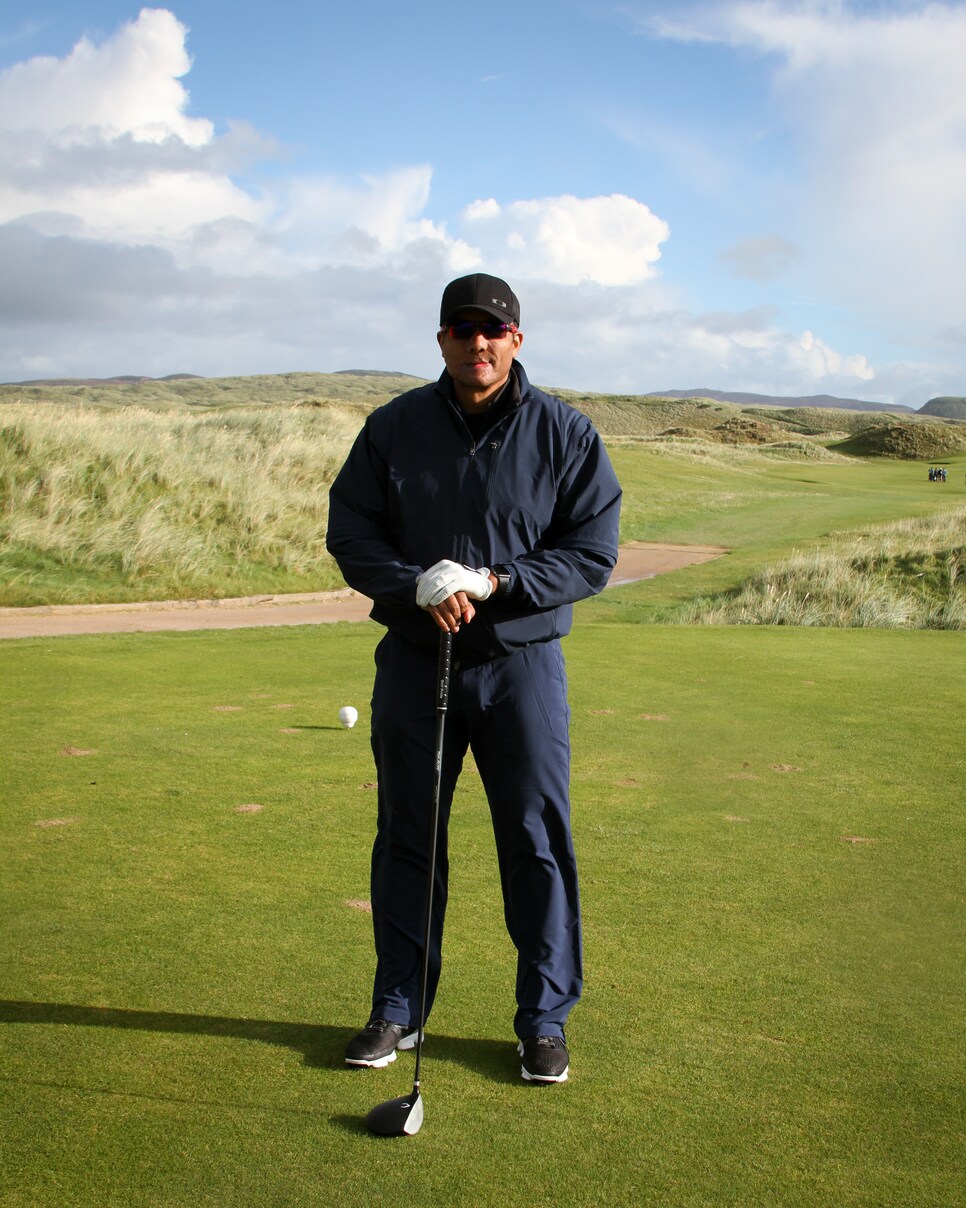 The two tours were conducted by Fairways for Freedom, a 501 (c) (3) public charity that designs and implements trips and retreats and whose mission includes "helping veterans recover from their injuries through holistic programs and through the game of golf."
Master Sergeant Porter claims he had barely played golf before the trip, but after only a couple of days on the practice range at the Rosapenna Hotel & Golf Resort, and with a little bit of instruction from PGA Teaching Professional Ric Pettit, he was striping 7-irons 160 yards dead straight. The guy is no doubt a natural athlete, and his determination to improve at a game he had only seen on TV or read about in books was matched only by many of the other veterans on these trips. Today Porter, who spent 26 years in the military and was awarded a Purple Heart for his valor, is a Planning and Exercise Specialist with RDR, Inc., in North Carolina, not far from Southern Pines. He hopes to hone his game—now that he's hooked—with a teacher in the area.
That's exactly what the staff of Fairways for Freedom loves to see: injured veterans discovering a means of relaxation—and a sense of purpose—through the game of golf. Fairways for Freedom was founded two years ago by the writer of this article and his wife, Patricia Donnelly, PhD, a sport psychotherapist. Says Dr. Donnelly, who conducts sport mental sessions as well as Veterans Yoga Project therapies and other mindfulness training with the veterans during the week: "The veterans are truly inspirational. They never complain about their injuries. They do not regard themselves as heroes (although they certainly are), but rather feel they were just doing their jobs. And the fact that many of them are the equivalent of professional athletes certainly helps their golf games!"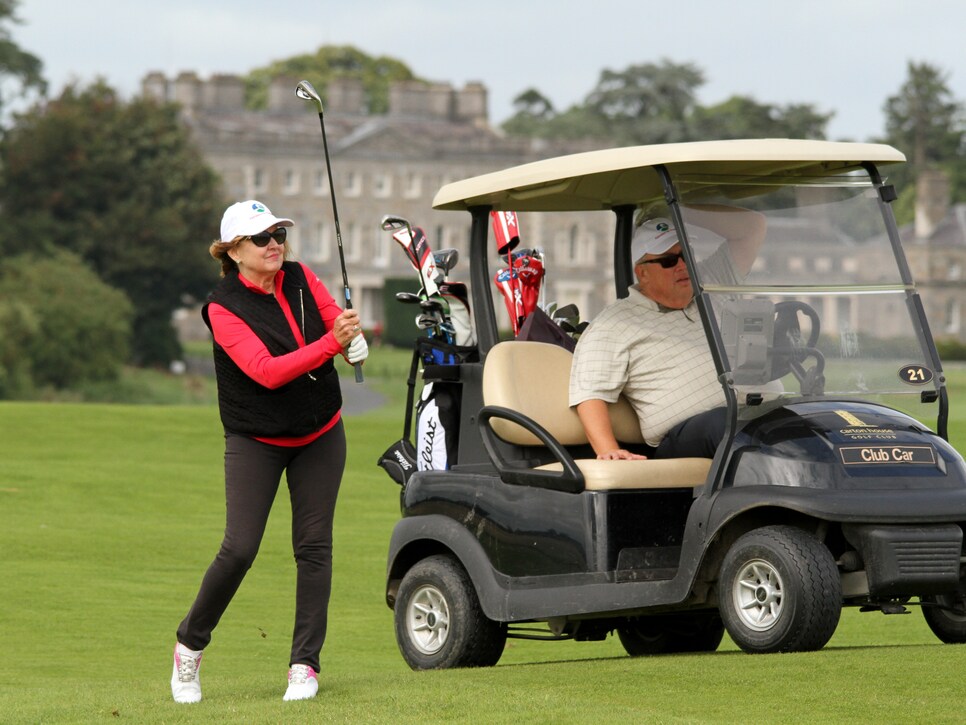 Corporate sponsors of this year's trips included Titleist (which gave a dozen logoed ProV1s to each participant), Smathers & Branson (which donated customized belts stitched with alternating American and Irish flags), Octagon (which donated logoed shirts and hats), and ProTag America, a division of Eco Golf (which donated personalized bag tags and challenge coins). The trips were facilitated through the North & West Coast Links Golf travel company, based in Galway. Aer Lingus and United Airlines provided travel for the veterans at a reduced rate. Most of the courses provided complimentary tee times for the veterans. One Ambassador, George Skakel, donated logoed balls and workout shirts from his FinFit company to each of the veterans on the Dublin trip.
Dr. Donnelly is also responsible for the selection and vetting of the veterans, who were identified through various groups, including the Boston chapter of the Salute Military Golf Association (SMGA), Clearpath for Veterans in Chittenango, NY, and SOCOM in Southwest Florida. Said David Singer, one of the Ambassadors on the Northwest trip: "From the time we all got together at Newark Airport, hung out on those great courses in remote parts of Ireland, and returned back to the States, I think a special bond was created." David Singer is also a Fairways for Freedom Board member and himself a 22-year veteran of the U.S. Coast Guard. "Spending seven days with these remarkable gentlemen, both on and off the golf course, was something I'll remember for the rest of my life," he said.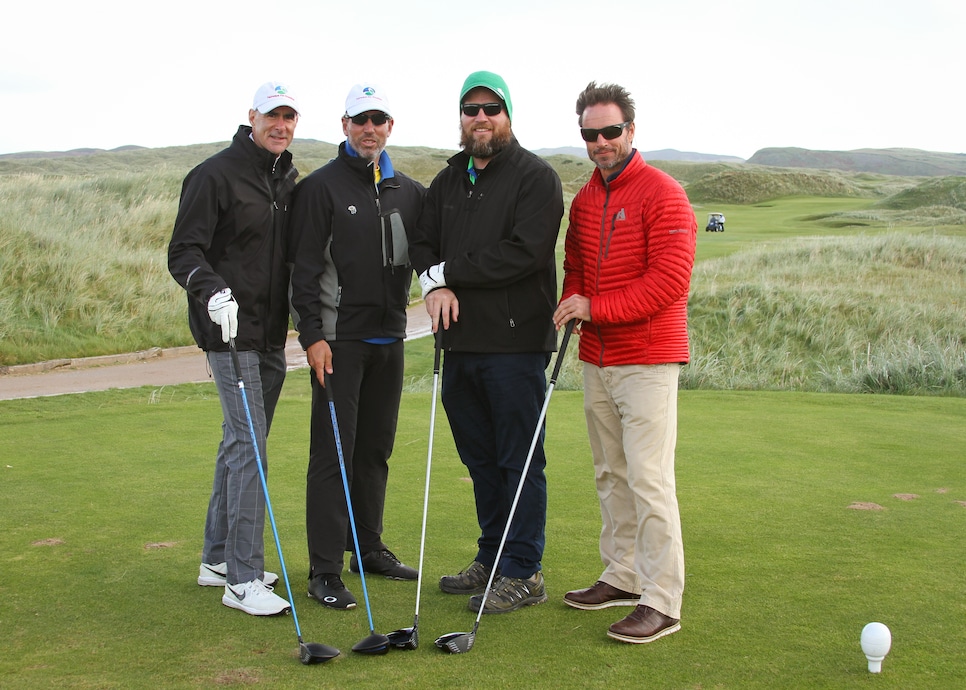 The veterans on the Northwest trip, in addition to Brian Porter, included:
• Francisco Aguilar, U.S. Air Force • Trevor Allenby, U.S. Marines • Brendan Byrne, U.S. Army • Sirvantis Dennis, U.S. Army • David Durning, U.S. Air Force • John Estabrook, U.S. Air Force • Robert Farmer, U.S. Army Special Operations Command • David Hughes, U.S. Army Special Operations Command • George Magrey, U.S. Army • James Mahurin, U.S. Army Special Operations Command • Ryan Pugsley, U.S. Marines
Over the course of seven days, the veterans and Ambassadors played some of the most spectacular golf courses in the world, like Rosapenna's Old Tom Morris Links hugging ocean cliffs amid sand dunes the height of high-rise buildings, and like Ballyliffin's Old Links and Glashedy Links resembling lunar landscapes with deep pot bunkers and vast fields of moguls. Because the weather was always changing from sunshine to showers and back to sunshine, there were rainbows at every turn. Other courses included Rosses Point (County Sligo) and Donegal (Murvagh).
And while the scenery was breathtaking, the experience for many of the veterans, as well as for the Ambassadors, was life-changing. "I told [my doctors] that I didn't have any stress at all while in Ireland," said Marine Sergeant (ret.) Trevor Allenby, who was on the Northwest trip and is undergoing treatments for brain cancer. "Stress is one of the main reasons I get seizures. While I was there I didn't have one. I think it's because it was a stress-free trip."
Ric Pettit, who teaches golf near the Clearpath for Veterans offices in upstate New York, also served as one of the Ambassadors on the Northwest trip: "I'm certain I experienced every emotion I have ever felt on this trip with these veterans and Ambassadors. What a special group of people! Everyone connected with one another in a very special way. "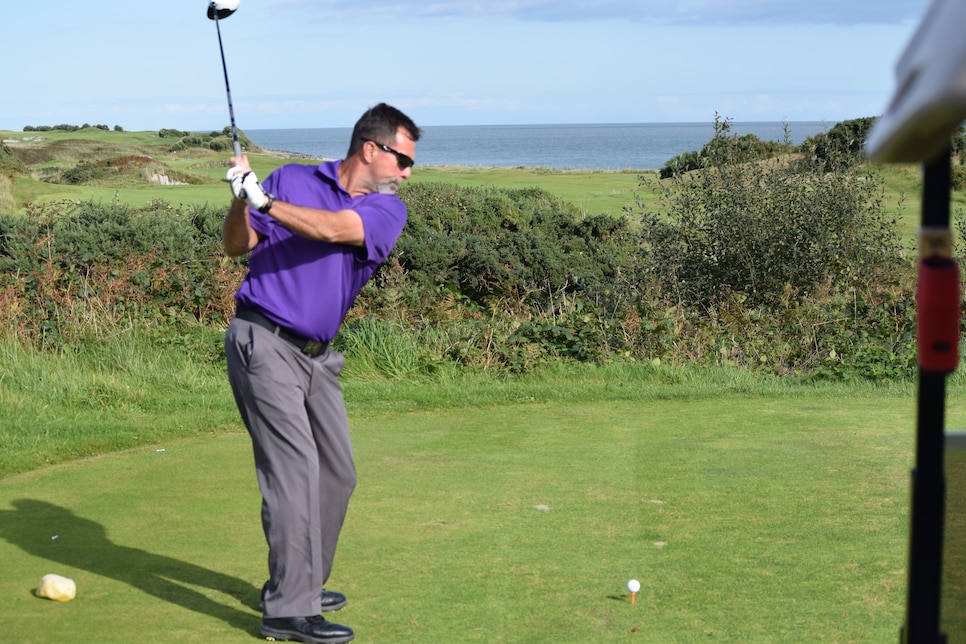 In addition to golf, all the veterans took part in mandatory daily Yoga sessions and mindfulness sessions with one or sometimes two mental-health experts. And of course, the full Irish breakfasts and dinners provided a relaxed setting to talk informally with the Ambassadors. The goal was for the veterans to learn from the business experience and advice of the Ambassadors, but it's a safe bet that the Ambassadors absorbed just as much if not more from the veterans. The Ambassadors learned what true sacrifice is all about.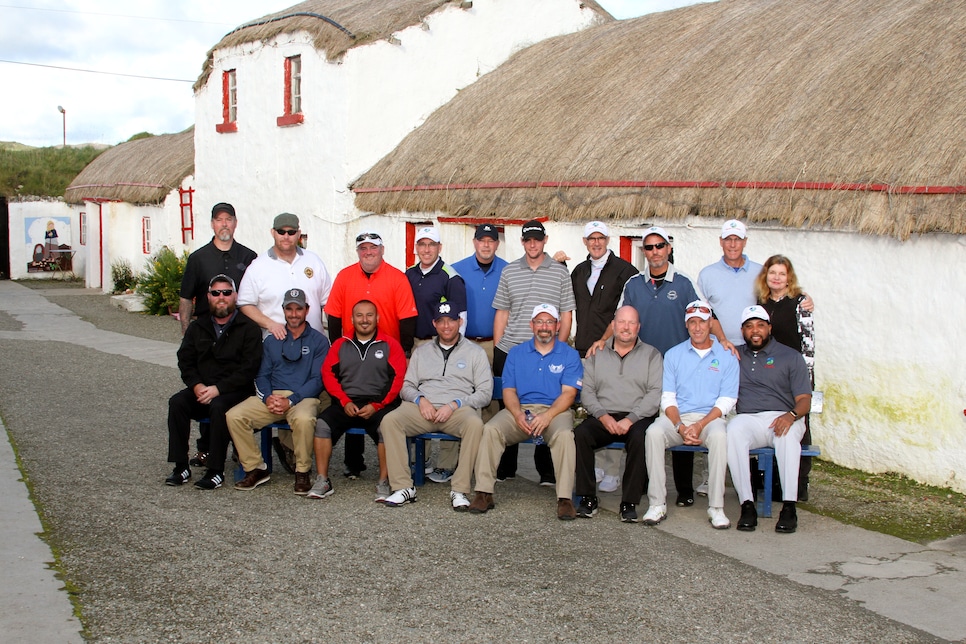 There were also some cultural events scattered between the rounds of golf, including visits to nearby castles and Irish music and Irish dancing in the evenings. The Northwest group first stayed at the luxurious Harvey's Point Hotel near Donegal, then moved to the Rosapenna Golf Resort, and finished at the Ballyliffin Lodge and Spa, each a memorable experience, offering some quiet time to reflect.
The participants on the Dublin trip the previous week were treated to similar style accommodations and golf courses. The full group stayed the first five nights at Carton House, just west of Dublin, and the final two nights at Mt. Juliet Hotel farther south. They played such strong venues as Carton House's Montgomerie course (a windswept, links-style layout designed by Colin Montgomerie), The Island Club, Portmarnock, The K Club (Ryder Cup Course), The European Club, and finished at Mt. Juliet's Jack Nicklaus-designed parkland course.
A highlight of the Dublin trip was a 90-minute visit the first evening with three-time major champion Padraig Harrington, who is an official supporter of Fairways for Freedom. He regaled the group with stories about his Ryder Cup experiences and what it's like to play golf under major championship pressure, then posed for photographs with each veteran and Ambassador. One of the veterans, Juan Gonzalez, presented Harrington with a Navy Seal challenge coin. Harrington was truly moved, smiling ear to ear.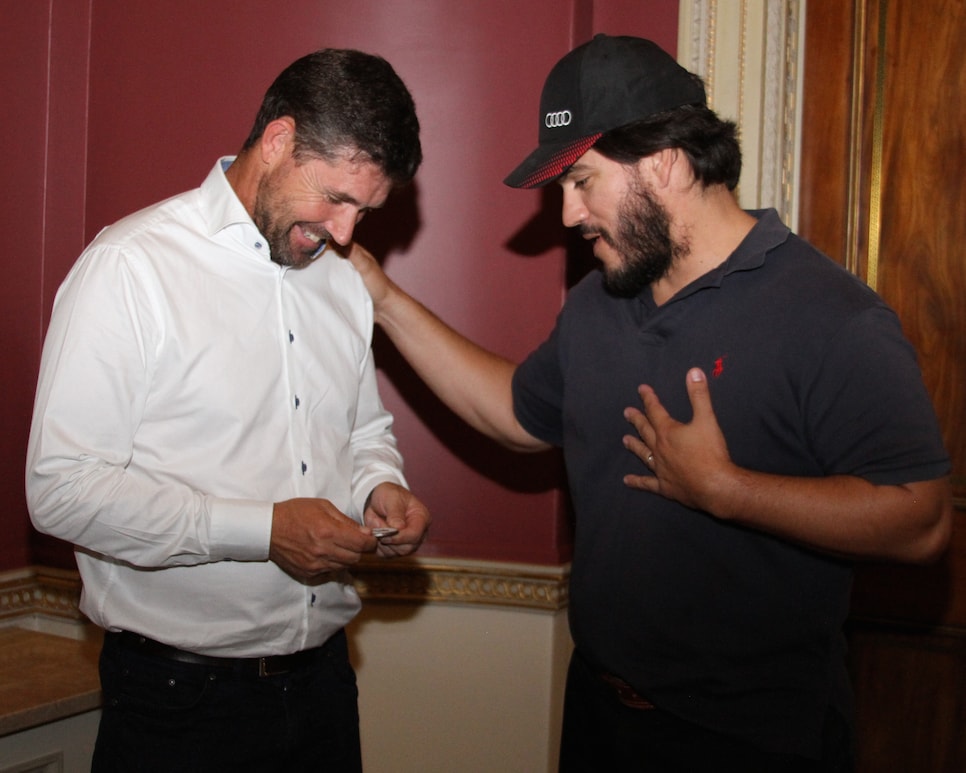 "That discussion with Padraig was worth the price of the trip," said one of the Ambassadors, Henry Schwendiman, from Salt Lake City. This was Schwendiman's second Fairways for Freedom trip. Another Ambassador, Stan Preston, also from Salt Lake City, was also on his second trip. "It was an honor for me to spend a week golfing in Ireland with a group of impressive veterans," Preston said.  "It was a wonderful privilege for me to get to know these remarkable men.  We played some of the finest golf courses in Ireland, giving me the opportunity to forge lasting friendships with these American heroes who have sacrificed so much for our country."
Randy Abood has also been supporting Fairways for Freedom for the past two years. "Poise, professionalism, discipline, camaraderie, pride, modesty, friendship, extreme national pride and of course seven fantastic rounds of golf," Abood said after the trip. "I don't know how else to describe my experience with these veteran Navy Seals, Special Ops, medics and paratroopers. These guys were the real deal, and boy was it great to spend time with them."
Abood, as did some of the Ambassadors, extended the relationship after the trip. "A few weeks later I met one vet and we played Spyglass Hill together—the thrill to hang together not having passed," Abood said. "After two such trips with Fairways for Freedom, I look forward to next year's trip to Scotland. It is a small thanks we can give to these men and women (on my first trip) for their inspirational service to our country."
The veterans on the Dublin trip were all Special Forces and, in addition to U.S. Navy Seal Juan Gonzalez, included:
• Jeff Decker, U. S. Army Ranger • Grant Derrick, U.S. Army Special Operations • Ken Hamill, U.S. Navy Seals • Izzy Hillyer, U.S. Army Special Operations • Rob LaVeyra, U.S. Army Special Operations • Tracy Linch, U.S. Marine Corps Special Operations • Clifford Lumpkin, U.S. Navy Seals • Paul Mills, U.S. Army Special Operations • John Sanabia, U.S. Navy Seals • Sundance Scardino, California Air National Guard Pararescue Squad • Chris Windisch, U.S. Army Special Operations • Brian Zagata, U.S. Army Ranger
Grant Derrick, who was awarded two Purple Hearts for combat operations in Afghanistan, communicated from his home in Pinehurst after the trip that he was eager to continue working on his golf game as well as the mindfulness training he learned in Ireland. (Fairways for Freedom is looking to connect him with a teacher near his home.) It must be noted that Derrick's powerful fades off the tee and sharp short game defy the fact he's been playing golf less than two years.
"I loved the mindfulness sessions and am continuing to incorporate them into my life and getting my wife to do it as well," Derrick said. "I have been blessed for this opportunity. It has definitely changed my life, and I am very grateful to all of the Ambassadors [who enabled me] to attend such a life-changing event."