The Loop
For any number of players, this PGA is there for the taking
ROCHESTER, N.Y. -- Hey, wait! I've seen this movie before. The leader board at the PGA Championship looks a lot like all the others at the majors this year. Jason Dufner, Henrik Stenson, Steve Stricker, Adam Scott and Lee Westwood, who always seem to be in the hunt in the big events, all have a chance to win on Sunday at Oak Hill. Jonas Blixt and a suddenly resurgent Rory McIlory join them in the fray. But perhaps the most impressive name on this star-laden list of hopefuls is the guy on top of the heap: Jim Furyk. Furyk, a 16-time winner on tour, looks like any other 43-year-old bald guy who could easily disappear in any Home Depot when he takes off his hat. But put a golf club in his hand and he is something special, with a swing that's memorable -- or at least unforgettable. Mostly, he is one tough cookie.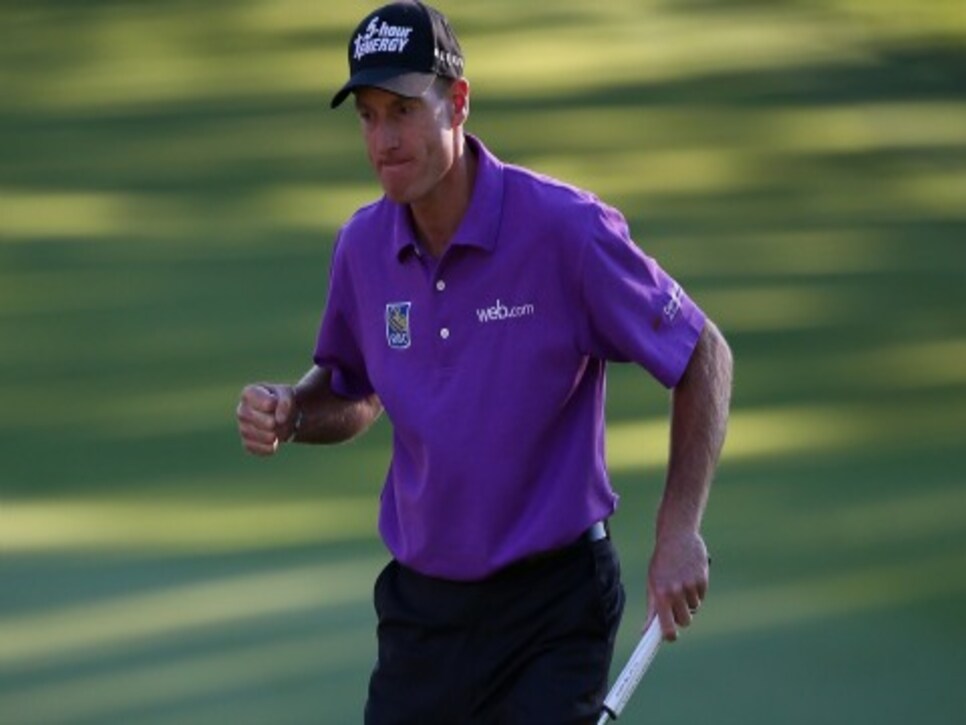 Related: Swing Sequence: Jim Furyk Now we will see how it holds up on Sunday in the PGA Championship, a tournament that has not been kind to him, with his best finish a T-6 at Winged Foot in 1997. But the mere fact that we are talking about a tournament he contended in 16 years ago says a lot about the guy. He is as blue collar as they come in this buttoned-down game. "My parents grew up in Pittsburgh and my grandparents were mill workers," said Furyk, who had the DVR set to Saturday's opening pre-season game for the Steelers. "I learned a great work ethic from my parents and they learned that from their parents. It's part of Pittsburgh. I think probably not a lot of bells and whistles, but go out there and give it your best and play hard." Of those within six strokes of Furyk going into the final round, only Scott and McIlroy have won a major. Dufner, Stenson, Blixt, Stricker and Westwood will be going for their first. And each brings an interesting story with him. Dufner, of course, is the guy who is supposed to lack a pulse. The only problem is that several times this week he has shown a putting stroke that seemed to have an erratic pulse of its own, flicking wildly at the ball. Stricker is a sort of part-time player who is moved to tears by a good McDonald's commercial and will be a sentimental favorite because he is such a good guy. Stenson and Blixt are both trying to be the first Swede to win a major. Well, except for the 10 by Annika Sorenstam. OK, first Swedish man to win a major. And then there is Westwood. In his last 22 majors he has finished in the top three eight times without winning, most recently at Muirfield in the British Open when he took a two-stroke lead into the final round and shot 75 to finish T-3.
"My game is a strong game, getting better every day," Westwood said after a 68 on Saturday. "I'm pleased with the work I'm doing with [swing coach] Sean [Foley] and I feel like I'm getting more control on the golf ball. And the work I'm doing on the green as well, I feel like I'm putting a good roll on it." Among those sleeping well after the third round because they have no chance to win are Justin Rose, who shot a 77 and is 10 back, Matt Kuchar, who fell eight back with a 76, Tiger Woods, 13 back after a 73 and Phil Mickelson, who is only a Gary Woodland away from being dead last after an 81.
Related: Day 3 at the PGA, as told by GIFs Perhaps the most surprising guy still in contention is Rory McIlroy. He's been such a non-factor this year that no one really expected much of him here, but maybe having the pressure of expectation lifted from his shoulders is what he needed. A 67 on Saturday moved McIlroy up 21 places to T-7 going into Sunday.
"It's getting there," he said about his game. "It was good to feel the sort of rush again." There are at least eight guys who will be feeling that rush Sunday at Oak Hill. And the stout way this old course fought back on Saturday after being overrun by birdies when rain turned it into a dartboard makes you feel the back nine Sunday will be a survival test. It's an examination Furyk has passed before, and one he has failed. What we do know about him is that he will figure out a way to be there until the end. But that's a fascinating group in his rearview mirror. This will be well worth the watch in a year in which none of the majors have failed to entertain and all have produced deserving winners.